The word "slides" in the title of this post is actually pretty accurate. This post is a kind of presentation. And Lego company plays no part in this discussion — I just like such style. The information I present in this article was partially announced in research performed by Eurostat, FOM-Ukraine, VTsIOM, Forrester, Gfk, DigitalGuru, ZenithOptimedia, AoRCA, UAC, ComScore, McKinsey, Go-Gulf, eMarketer, TNS, Miniwatts Marketing Group, Omnibus, State Statistics Service of Ukraine, Innopay, Ecommerce Europe, Deutsche Card Services, Centre for Retail Research, Ukrainian Processing Centre, Federal State Statistics Service, Morgan Stanley Research, Fintime, National Bank of Ukraine in 2012-2013.
Another part of this information was calculated additionally. Still I'll present a synopsys of a valuable information that will allow us to understand how this market works. First of all let's see how exactly ecommerce share grows in global retail. As you can see, it grows steadily by 10% a year. DigitalGuru also forecasts that trend of 10% will still be ongoing.
Ecommerce share in global retail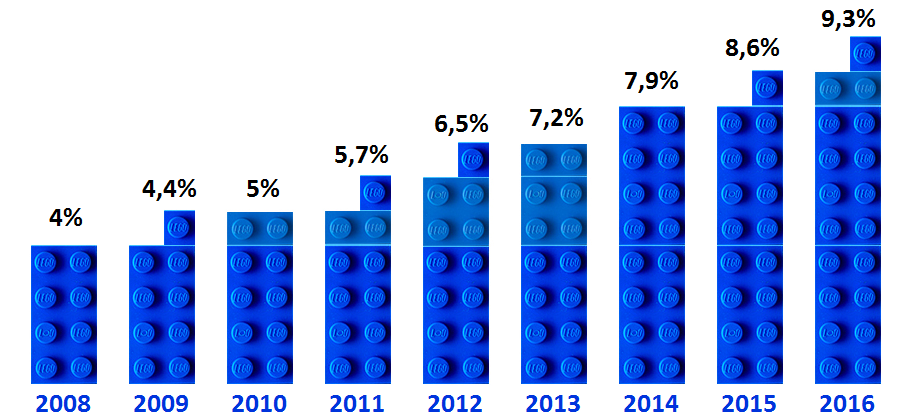 Now let's analyze this data in prospective of different countries. On this slide we can clearly see how far behind is Ukraine compared to developed countries. In most indexes we should catch up to Russia first. Only then we can run a race with Europe.
Share of online-retail in general retail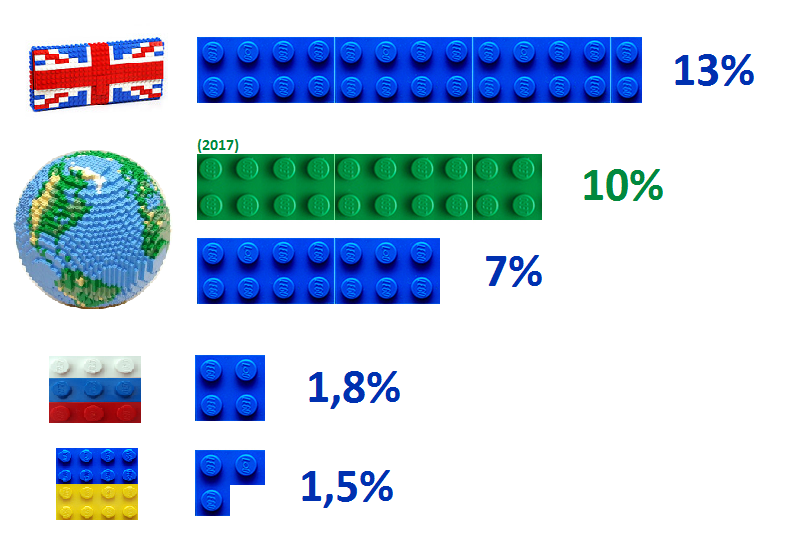 But let's go back to the present day and compare ecommerce market size of each country. As you can see, the difference is more distinctive. First of all we need to catch up to small fish, then to middle-sized fish, and only after that we can deal with big fish.
Ecommerce market size, $ billions

Someone could argue that "Ukraine is not a big country, population of Russia and USA is much bigger". So let move to another data slice. Here are the ecommerce spendings per person. If I followed the proportions, USA lego would cover the whole page. This amount equals the sum of money spent by Ukrainians in web-markets per year.
Ecommerce spendings per person

So if our colleague buys a laptop in the web-store, he'll fullfil the ecommerce spendings plan for himself and 30 other Ukrainians.
Here comes the only sad slide in this presentation. The thing is that other slides show upcoming trend - everythings grows and will grow in the future, and we think about catching up to other countries. And in previous graphics we will come close to them.
Promotional returns in ecommerce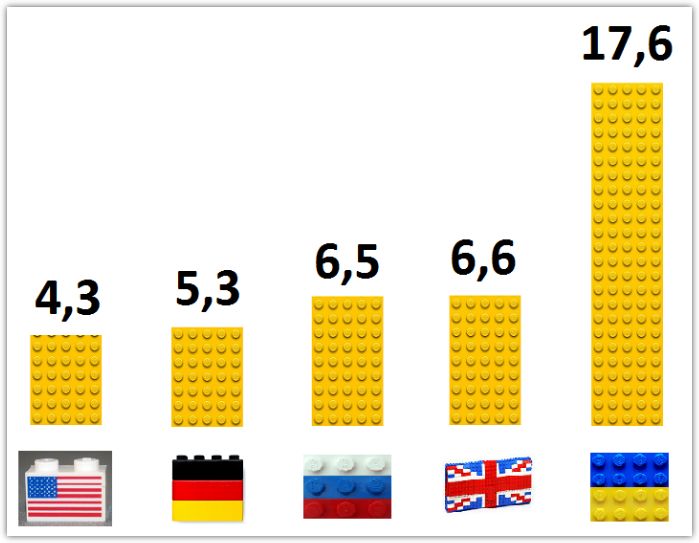 This slide shows promotional returns of ecommerce. In fact, it's a pure ROI. And this index will decrease. Right now it shows that Ukrainian ecommerce market is in embryo, so any major cash infusion will generate tremendous output. In other countries market is more saturated, so advertising won't have such an impact there.
Size of internet advertising market, $ billions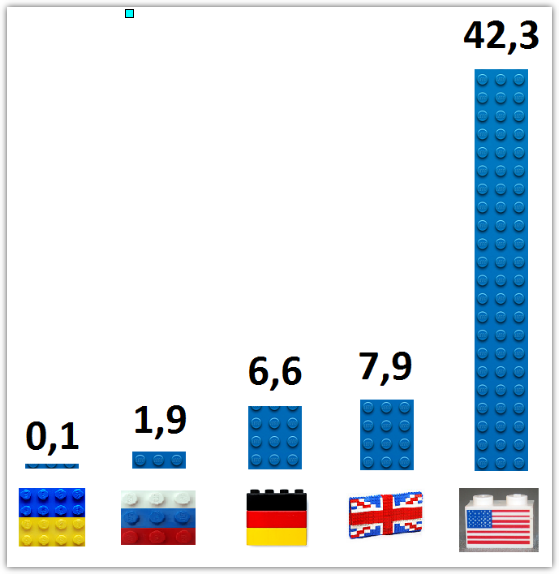 Here is a diagram that depicts internet advertising market even more accurately. Once again we see a huge gap between us and Russia. Russia is far behind Europe accordingly. Well, States are as usual. Every diagram shows that Ukraine has to make 2-3 huge leaps. First of all, to catch up to Russia, then - to Europe and USA in one leap. Once again let's look at this data per person.
Internet advertising spendings per person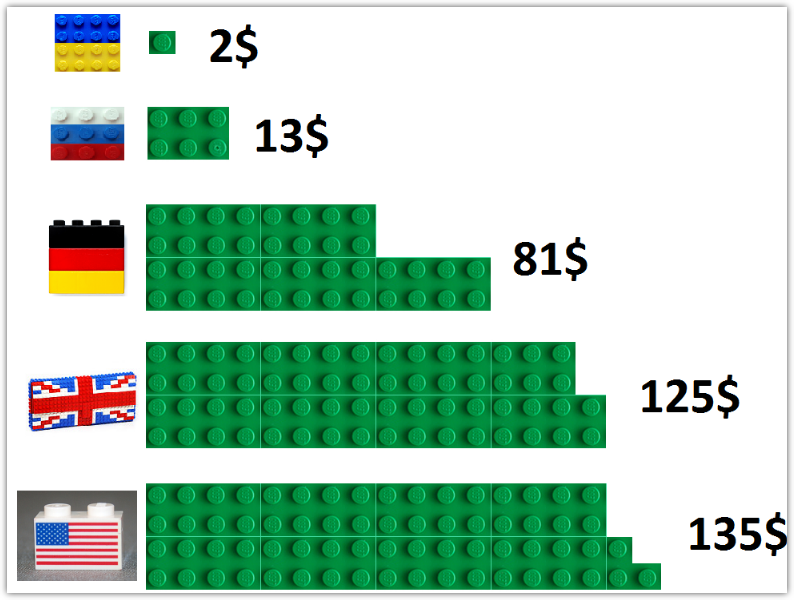 FYI: Ukrainians spend $33 a year in internet-stores in average. Advertisers spend $2 on them in return. The difference makes 16 times. Americans spend about $800 and have $135 spend on them. The difference is only 6 times.
There are 3 slides about the number of internet buyers in each country below. Let's see absolute figures first. It's actually an number of the most active internet-users.
The number of internet buyers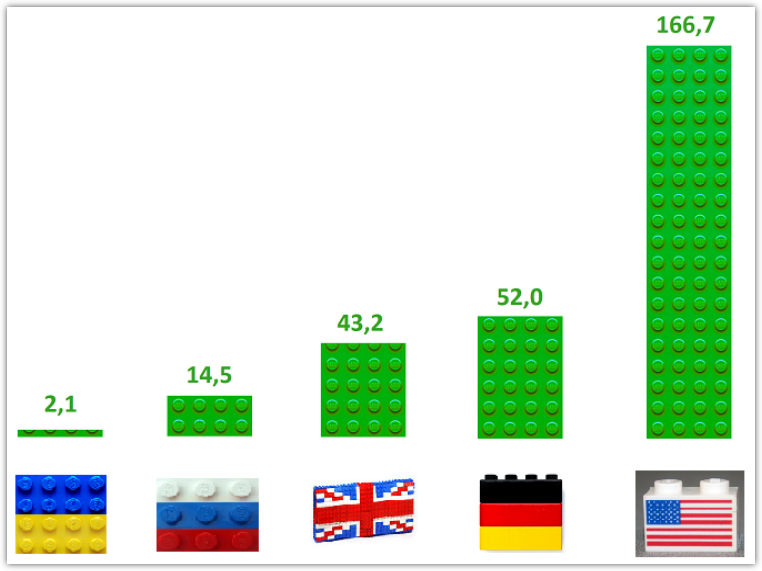 This is the share of these buyers compared to all web-users. Once again numbers are optimistic. Ukraine has to make two leaps: the first one is pretty short - it's Russia. Second one is much more serious - it's Europe and USA level.
Internet buyers share in general public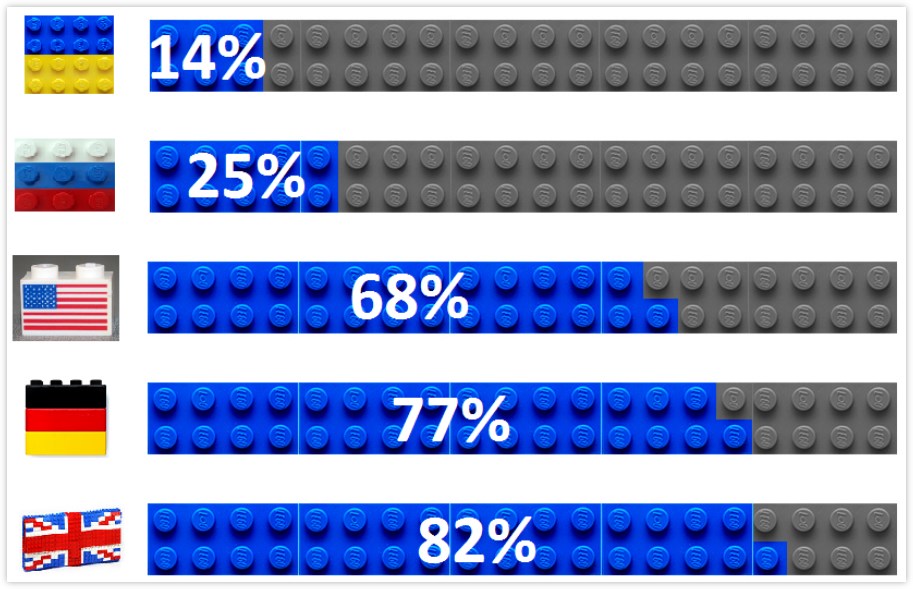 Let's not stop on these figures and do some more profound data slice. Let's find out the number of internet buyers compared to the general population of the country, not only internet public.
Percentage of internet buyers compared to general population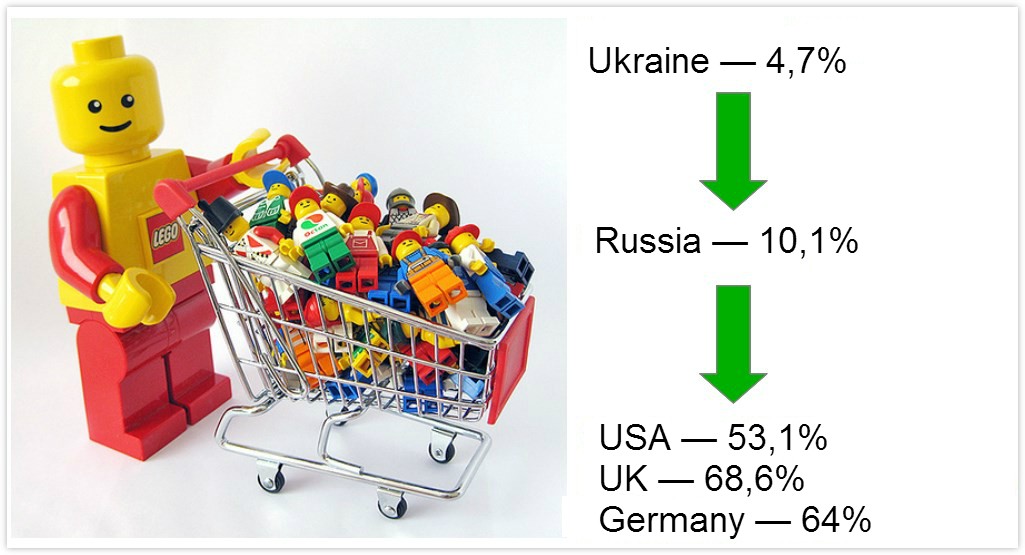 Let's see the internet penetration rate. This diagram is pretty optimistic: we're not so far away from Russia, but it's a long way to go if we want to reach the level of more developed countries.
Internet penetration rate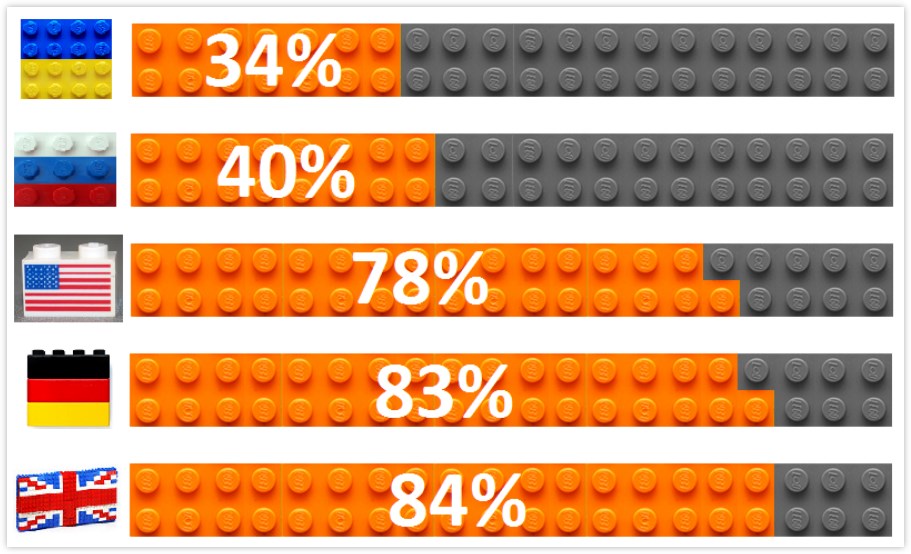 And what about the audience itself and Ukraine's population? Some time ago there was a popular phrase: "There are 52 millions of us". Right now there are not even 45 millions of us, people! Nevertheless the number of internet users in our country grows tremendously. Right now there are 15-17 million of users according to various sources. Let's take most common numbers (but let's not believe them).
Ukraine's population and internet audience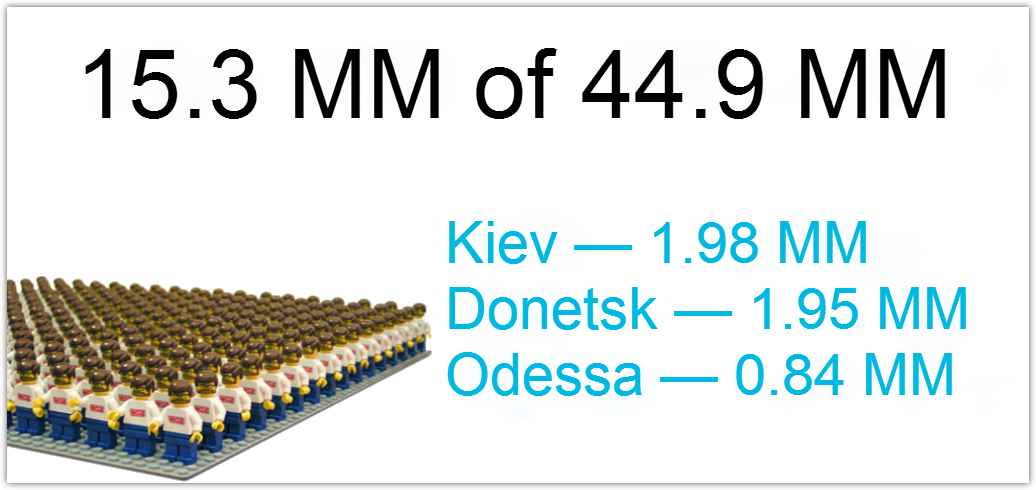 Authors of these information don't decript it, so it looks like 15 million of Ukrainians are the internet users. But take a look at statistics on cities. While Kyiv and Odessa data looks trustworthy (though it's highly unbelievable that 85% of Odessa citizens have internet access), Donetsk data looks suspicious. It's population is a bit less than million people, but according to research info there are two times more citizens with internet access in Donetsk. So we should refer to these numbers with some caution and not use them in terms of general population numbers.
Let's see the number of home internet subscribers. These numbers are much more down to earth. As we see the last year's growth is about 1 million. It's 1 million families to be accurate.
Home internet subscribers
But aside from internet penetration there is another interesting index which level of ecommerce development depends on. It's the share of payments made with bank cards. Development of this market depends on how many people choose to make purchases on the Internet with cards and trust this type of payment.
Share of purchases made with bank cards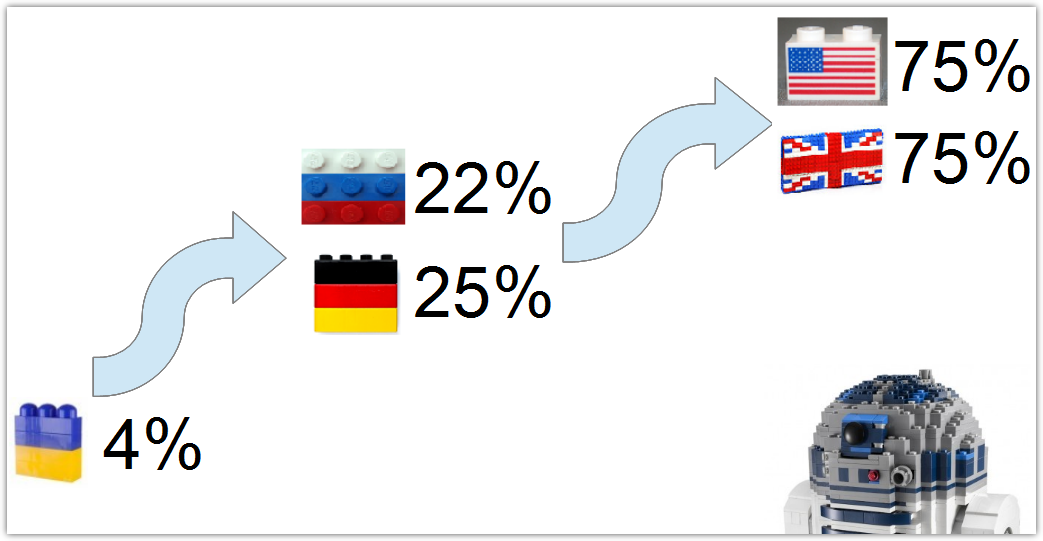 So today only 4% of online-purchases are made by cards. You can see how higher this index is for Russia and Germany. And we can also see how big is the leap we have to make to catch up to Great Britain and USA. Ukrainian National Bank offers an informaion about dynamics of bank cards operations' growth.
Bank cards operations' growth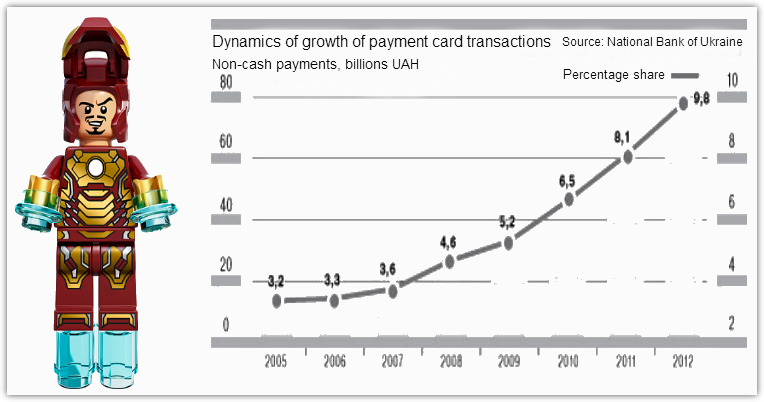 We see that the share of bank cards operations growth for the last 5 years in 25%. In absolute monetary terms this growth rate is even higher: these gray columns grow for 1.5 times each year.
In the end I'd like to state 5 facts. Please, read them — they are pretty motivating.
Global internet advertising market makes $99 billion.
Global ecommerce market has exceeded $1 trillion. By the end of 2013 we expect this index to grow up to $1,3 trillion.
60 years older users are the most dynamic segment of audience. For the last year this index grew up to 44%.
Most active web-buyers have 3-5 years of this experience.
General rate of internet-users exceeded $2,4 billion.
So, my point is that we should expect a colossal growth of this market: budget growth, growth of the clients number and of course growth of the number of competitors. It means we'll have a great deal of work to do!
Found a mistake? Select it and press Ctrl + Enter
Subscribe
to the most useful newsletter on internet marketing
Most
discussed
popular
viewed