Ukraine is the biggest European country with an emerging free market, convenient geographical location and unlimited supply of outstanding professionals. Being positioned between two massive economies makes Ukraine a place of unlimited possibilities. Since the dissolution of the Soviet Union, Ukrainians were working hard to become a part of European community, by constantly improving Ukraine's image on the international arena.
A regional leader of IT outsourcing in Eastern Europe – Ukrainian IT industry – was unfazed by recent political disturbances and keeps growing. This article will cover the benefits of outsourcing and starting an IT business in Ukraine. There are 6 main reasons for international companies to enter Ukrainian market:
1. Growing IT industry
For years, IT industry in Ukraine was developing independently of the foreign market, relying on on a high-quality engineering pool. But international projects quickly started dominating the market and set a new pace for the industry. By the end of 2015 IT industry in Ukraine accounted for 3% of the GDP (in 2012 it was only 0.8%). Experts prognose that by the year 2020, the IT industry will make up to 6% of total Ukrainian GDP.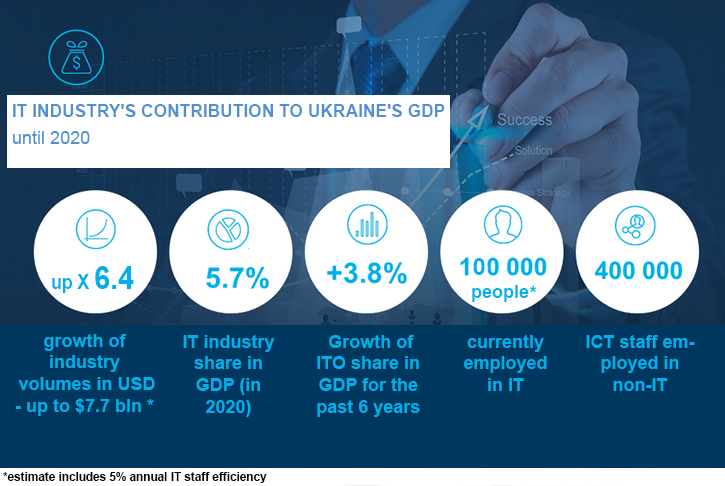 Foreign capital allows local IT companies to grow and increase the number of employees, which led to near 100,000 professionals working in the industry today.

Freelancers, working for foreign companies make the number of people employed in IT even bigger. Upwork (formerly Elance.com) – one of the biggest online freelance websites, ranks Ukraine third in the list of top freelancer countries. With More than 1000 IT outsourcing and 2000 product companies, IT industry ranks 3rd by export volume in Ukraine, and at its current pace, IT is expected to outrun Metallurgy (currently 2nd) by 2020. In 2014, Ukrainian IT specialists earned approximately $851 million. In 2015, only in the first quarter the number was $755 million. Yevgen Sysoyev conducted a detailed research about Ukrainian IT that has a lot of useful information and analytics about the state of the industry:
2. Massive Talent Pool
Most of IT companies in Ukraine reside in 5 major cities, which account for 86% of the market.

On August 17, 2015, Odessa IT community officially announced the launch of Odessa IT Cluster, so we expect it to move up the list.
23,000 (approximately 25%) people in the industry are employed by 25 biggest companies. Most engineers are employed in outsourcing. Startups and product companies are catching up. In 2015, local projects had a 4% gain on Outsourcing in the number of jobs they created. The overall jobs distribution in the industry currently looks like this:

Number of Applicants and Job Postings are growing too. DOU (a community of Ukrainian developers) states that the number of applicants tripled over the last 2 years and number of Job Postings had a 60% increase.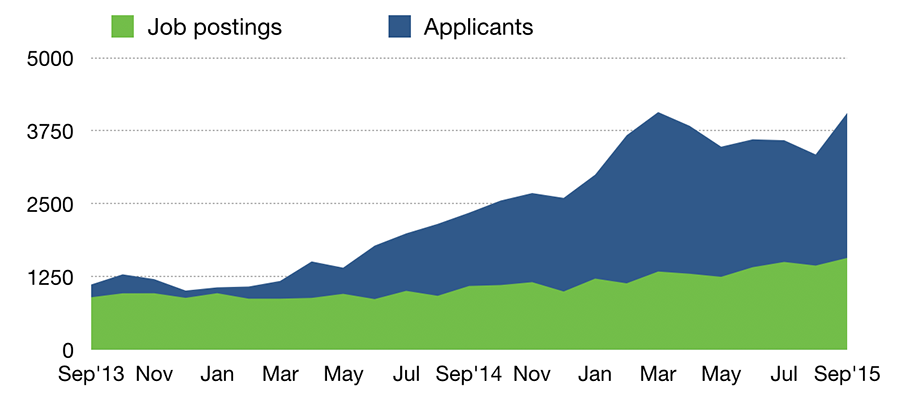 Over the last 5 years, average salary in the industry didn't change much and ranges between $1,500 to $2,200 depending on the city and the type of job.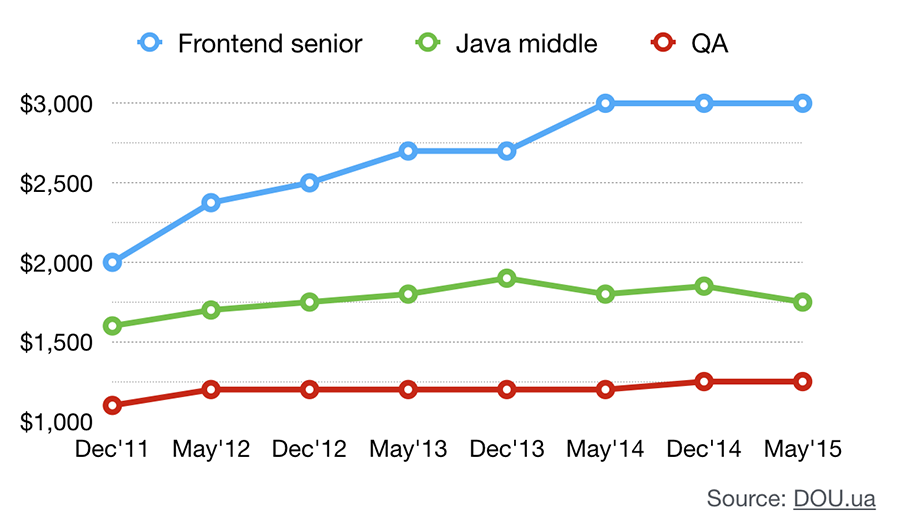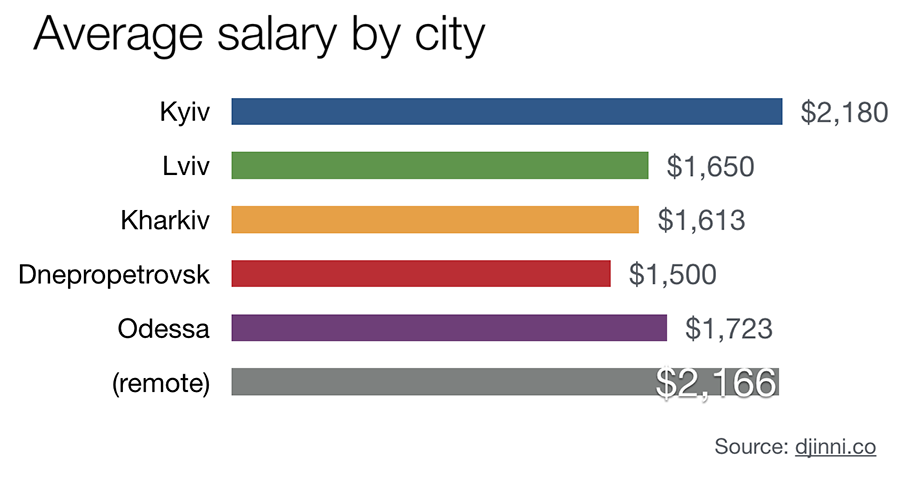 3. Welcoming Conditions For Running A Business
Despite being a center of geopolitical tension, Ukraine has moved up 17 positions in A.T. Kearney Global Services Location Index in 2015:

This index tracks the contours of the offshoring landscape across three major categories: financial attractiveness, people skills and availability, and business environment. Ukraine also improved its position in World Bank's Ease Of Doing Business Rank:

For 2016, Government of Ukraine has already released a strategic plan: it's goal is to put Ukraine in the top 50 of the World Bank's Doing Business rankings. Ukraine already has a lot of benefits of running an international business:
Lowest operating costs in Europe
Professionals with European mentality
Easily obtained work permit and no visa requirements
Only 18% individual income tax
Absence of trade unions, allowing simple recruiting and laying-off
4. International Acknowledgement
Given Ukraine's fortunate geographic position, welcoming conditions for international business and the world's high demand for quality IT solutions, the country is set to become a major IT hub. Could Ukraine Be The Next Silicon Valley? In his Forbes article, Greg Satell of Digital Tonto claims that Ukraine has a great potential and can become an international Startup Hub in addition to becoming a premier outsourcing destination over the next few years. Tolerant, inviting and full of top notch specialists, IT Industry in Ukraine keeps growing and improving its international authority.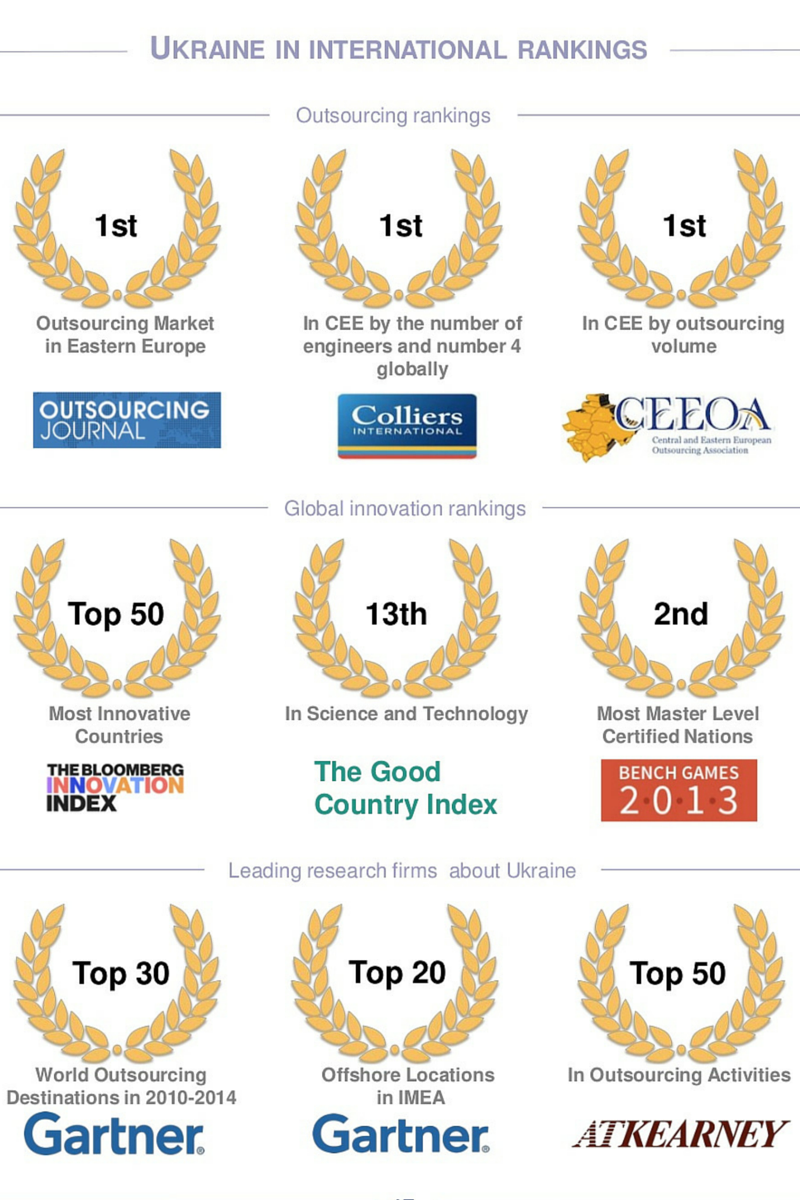 5. A Lot Of Major International Companies Already Run Their Business In Ukraine
Ukrainian IT currently hosts over 500 outsourcing companies and more than 100 global R&D centers, with more than 50,000 employees combined. Many world-known brands such as Samsung, Siemens and Crytek have hundreds of employees in their R&D centers in Ukraine: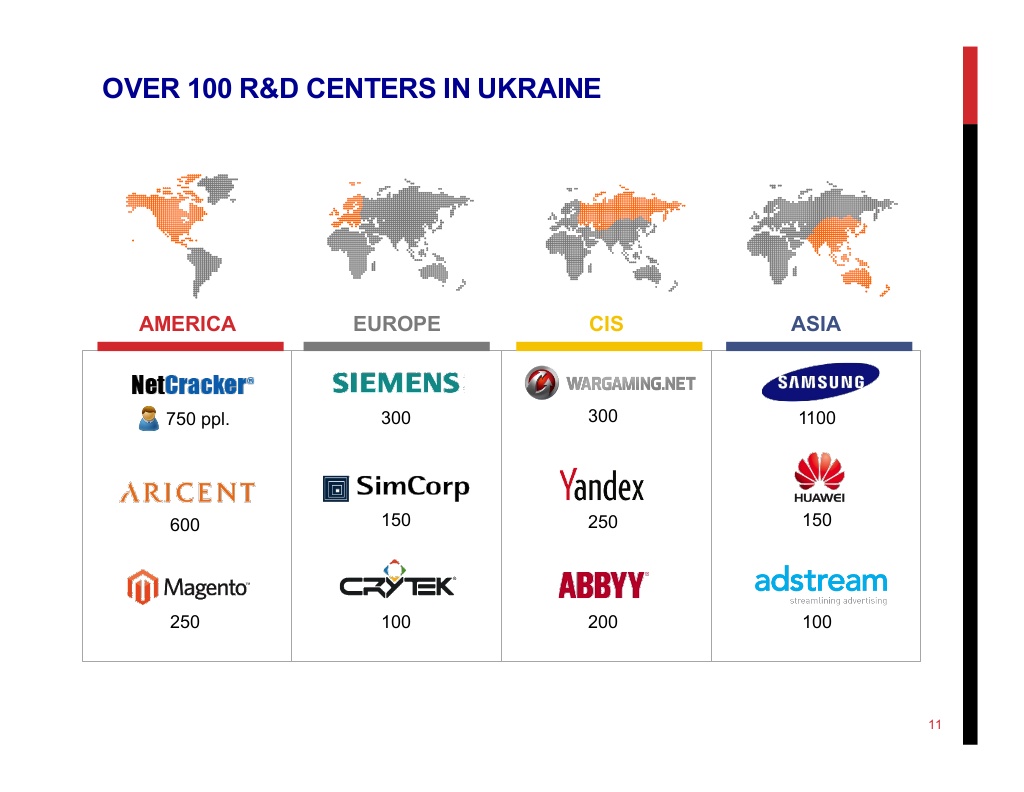 Other global companies, that don't have R&D centers in Ukraine are also heavily present on the market. There are numerous Support, Marketing, Sales and Processing centers in Ukraine: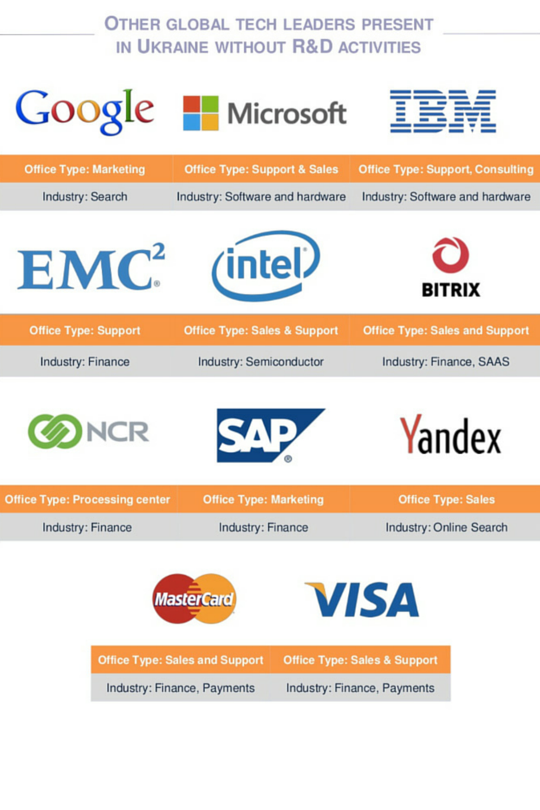 6. Developing Startup Market
Ukrainian startups are mostly oriented at the global market, as demand on domestic market is quite small especially for consumer-oriented products. Some Ukrainian startups managed to attract a significant amount of foreign capital and serve as an inspiration for other arising startup companies. There are currently more than 700 active Ukrainian startups, with majority of them being developed in Kyiv: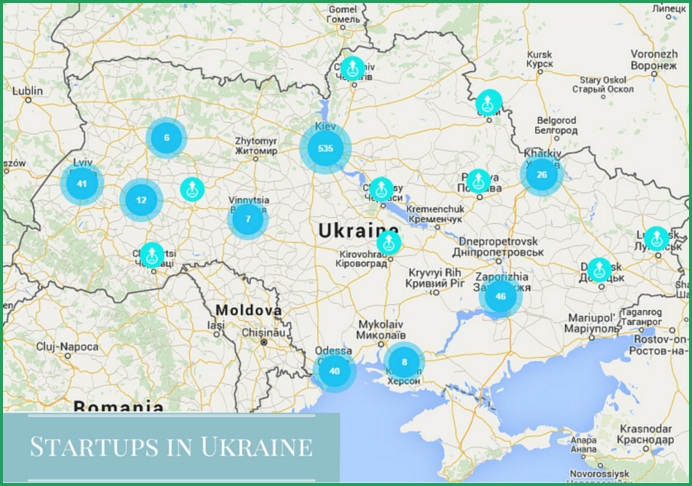 Providing solutions that are interesting for global market spikes interest from foreign investors. Some of the biggest deals involving Ukrainian startups haven't gone unnoticed by international community, for example, in 2015 Snapchat bought Ukraine's own Looksery for $150 mln and Depositphotos received $5 mln investment from EBRD and TMT. For Depositphotos this wasn't the first big investment too, in 2011 they received $3 mln. from TMT Investments. Investments in Ukrainian startups are not limited to just big international deals. Smaller startups get financed by both foreign and local investors. Below are just some of the deals that took place in the first quarter of 2015:
| | | | |
| --- | --- | --- | --- |
| Name | Category | $ mln | Investor |
| Clickky | Mobile application | 2 | iTech Capital |
| Petcube | Product | 1,1 | AVentures Capital и Almaz Capital |
| Augmented Pixels | VR | 1 | The Hive |
| Ajax Systems | Internet of things | 1 | SMRK |
| Kwambio | 3D-printing | 0,65 | WannaBiz, 2 Angels, Imperious Group, TechStars |
| Traqli | Digital media | 0,3 | Polish VC fund Xevin Investments |
| DelFast | Commerce | 0,25 | Imperious Group |
| Skidka.ua | Data analysis | 0,25 | Private Investor |
| Wishround | digital payments | 0,2 | BeValue |
| Nravo | gaming | 0,2 | Digital Future |
Netpeak's own Serpstat was among the startups that got financed later same year and received $250,000 investment from Digital Future.
Conclusion
World-known business geniuses already acknowledge Ukraine's potential. Richard Branson said that "Ukraine is a good place to invest" and George Soros pledged to invest $1 bln in Ukraine's economy. Soros, by the way, already bought stake in Ciklum Holding – one of the biggest software developers in Ukraine. The easiest way to join this rapidly growing market and one of the most promising industries of international IT is by financing local startups. Every day, extremely talented people in Ukraine work on creating tech solutions for global market Ukrainian IT companies in general are strongly oriented at collaboration with European and American businesses. IT professionals in Ukraine fit the requirements even of the most picky international companies. Increasing efficiency, productivity and lowering the cost of running a business are great reasons to consider Ukraine as a reliable outsourcing partner. Text was written in collaboration with Yevgen Sysoyev and AVentures Capital.
Found a mistake? Select it and press Ctrl + Enter
Subscribe
to the most useful newsletter on internet marketing
Most
discussed
popular
viewed