Cases
Case Study on Contextual Advertising of a Travel Company Website: 100% Increase in Online Bookings
Service
:
contextual advertising
.
Category
: recreation and tourism.
Region
: Ukraine (Odessa and Odessa region).
Campaign duration
: 4 months.
Budget for 4 months
: $3,680 (including agency's service fee).
Cold September rains became a wall between us and the summertime. To reminisce those sunny days we decided to publish the case study on contextual advertising of a travel company website. That's the first case in this category which is published on the Netpeak's blog. There is no Ecommerce and ROI data within this case. One of the most important client's wishes was to bring traffic to the site. Following that, it was up to client's managers to decide what to do next. And we got a great chance to check which banners sizes are currently in demand on Google Display Network. "To go on vacation or not?" — the answer is obvious. The main thing is — who will organize your travel. Modern travel agencies perfectly cope with the "we'll take care of all arrangements – just enjoy your holiday" role. Sounds very optimistic, but how to survive in a whirl of travel agencies when the market competition is really intense?! It was one of the main reasons why a travel company decided to resort to our agency's services.
Goal
Our main goal was to attract great number of interested people wishing to book a holiday deal or a specific service (passport, visa, etc.). Before contacting the Netpeak agency, client was independently carrying out the advertising campaigns, but the account needed a complete reconstruction. Besides, our client refused to use our automatic calls tracking service. All the holiday deals were arranged into separate campaigns. Gradually we covered all categories: an individual search campaign was created for each holiday deal. A little later we launched a Google Display Network campaign.
And Now the Detailed Info about Networks
Search Network
1. We created a separate search campaign for each holiday deal. 2. We launched a brand campaign, where we used the keywords with the name of the travel company, as well as general search queries on travel agencies.
You, probably, can't help but wonder: "Why should I pay money for the traffic that I can get for free?" The answer is simple — the name of the travel company very much resembles the general search phrases related to the holiday deals' search.
3. For better coverage of target audience we launched a dynamic search campaign. 4. We drew up a common list of negative keywords that were used at the account level, as well as separate lists for the ad groups. 5. The low quality score keywords were allocated in separate groups for further optimization. 6. Ad texts were displayed both with and without the price indication. Those aiming at higher conversion rate – were shown without the price (by conversion we mean the holiday booking confirmation). Also we used texts in Ukrainian language. In early September, there appeared a new AdWords option — "callout extensions" that allow you to add additional information to the ad's text. We launched it immediately. The results for 2 weeks were inspiring.

Google Display Network (GDN)
Statistics on banners: on the basis of 4 million impressions (Odessa and Odessa region) we received data on various banner formats and eventually defined the TOP-3 most popular and clickable ones (read more about the most effective ad sizes ever).
Impressions Data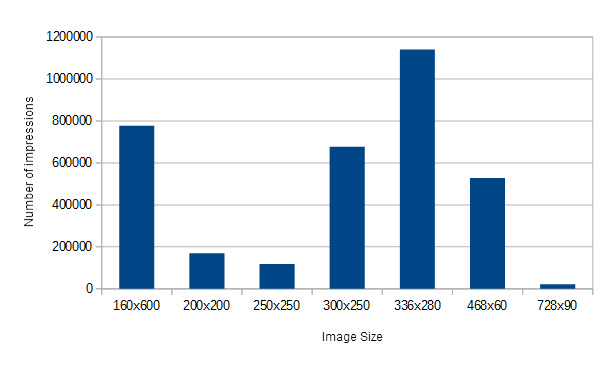 TOP-3 – the most popular banner formats
:
Large Rectangle: 336h280.
Wide Skyscraper: 160x600.
Inline rectangle: 300x250.
CTR Data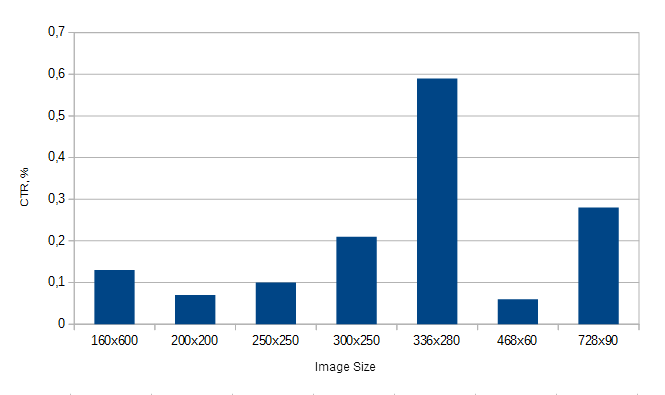 TOP-3 – the most clickable banner formats
:
Large Rectangle: 336h280.
Leaderboard: 728x90.
Inline Rectangle: 300x250.
Audience
The greatest number of conversions fell to share of young women aged 24-35 years who are interested in travel and leisure. For remarketing we created 25 lists, including:
All visitors of the site;
Visitors of a particular holiday deal page;
Users who did the conversion (in our case – submitted a request for a holiday deal selection/ requested a callback / booked a holiday deal).
Conclusions
For clarity, we present data from Client Dashboard: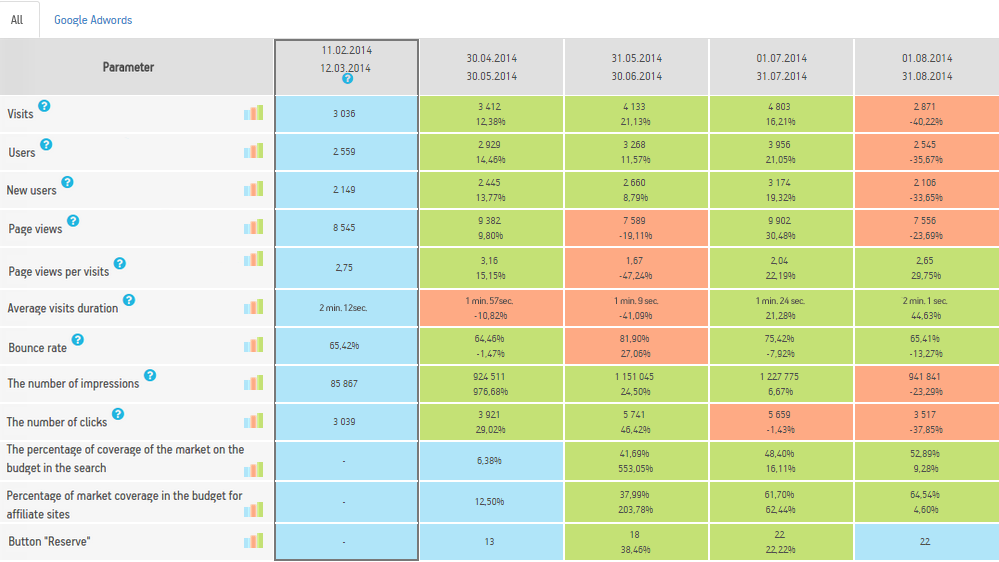 In August, the quality of traffic decreased due to the priorities reallocation: for the same budget, we started promoting less popular holiday deals which had few requests, but, as you can see, the main goal — to book the holiday deal — was achieved. During website promotion the most popular holiday deals' destinations were:
Turkey;
Montenegro;
Greece;
Egypt.
Let us remind you that before applying to the Netpeak agency there were no correctly set goals in statistics collection systems. So, let's compare the data for the current and previous 2 months of website promotion.

Let's summarize the positive dynamics of "to book" a holiday deal ultimate goal (here, we didn't take into account the orders via telephone): data on sessions, bounce rate, session duration, number pages per session — remained virtually unchanged, but we did achieve the main goal:
increasing the number of "to book" a holiday deal goals' fulfillment by 100%;
increasing conversion rate of "to book" a holiday deal goal by 96.59%.
And the most important achievement — the satisfied client :)
Found a mistake? Select it and press Ctrl + Enter
Subscribe
to the most useful newsletter on internet marketing
Most
discussed
popular
viewed