Service
:
SEO promotion with monthly fee
.
Niche
: pizza delivery.
Budget for 3 months
: $2,121 (including payment for agency services).
Targeting
: Kiev, Kharkov.
Client used to work with another agency before, but he wasn't satisfied with the result. So we inherited previously purchased links and the site without any optimization. Before the start of cooperation client couldn't give us any information about ROI, because he wasn't counting this rate. Also he didn't have the ecommerce tracking set. What goals were set?
sales increase from the site;
reduced spending on linkbuilding for the account we've got;
removing Google manual penalty.
What have we done to achieve these goals? Primarily we made SEO audit for the site. As a result we've found problems with duplicated content and lots of unnecessary pages in the search engines index (the Netpeak Spider helped to find them). Main pages were almost without any text. We closed unnecessary pages from indexation, wrote optimized content for all pages of the site and implemented special tags for multilanguage pages. We used previously prepaired keywords list for the internal linking script for more coverage of the target low-frequency queries. While working on inner site tasks we were removing the Google manual penalty for low-quality links. After all the links were analyzed (it was performed using Netpeak Checker), we decided to remove 74% of links, that were bought before, and to replace them gradually with higher-quality links. As a result, we got manual penalty removed in a month. When we finished with the initial part of the work, we implemented a block of related products for order and a block of special offers with most popular dishes. It allowed us to increase the average check and to test various combinations of items to increase the conversion rate. Working results for 3 months (september-november 2013) from client's Private dashboard: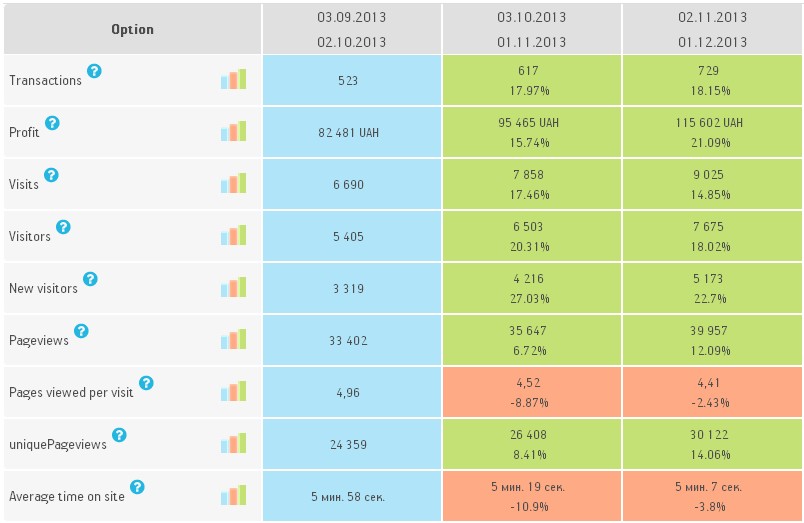 Search engines traffic graph: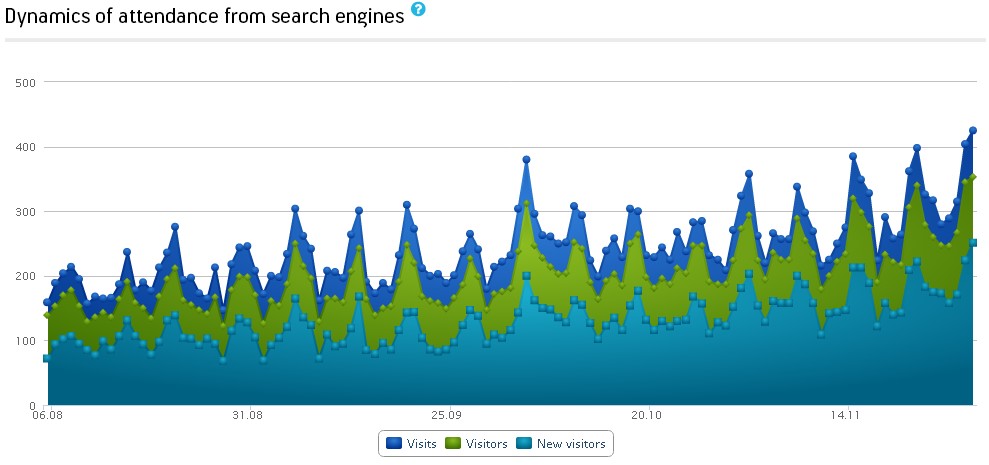 What results have been achieved? Monitoring phone calls on the site is not set, that's why we can only evaluate the results according to ecommerce from Google Analytics:
Average margin for all groups of products according to the client: 40%;
Income from Google Analytics for 3 months: $37,452;
Gross income for 3 months: $37,452 * 0,4 = $14,981;
Promotion spending: $2,121;
ROI = ((Income × Margin) — Promotion spending) / Promotion spending = (($37,542 × 40%) — $2,121) / $2,121 = 606% (for 3 months).
Average conversion rate for non-branded organic search traffic was amounted to 7.87%, average check — $18.85.
Google manual penalty was removed, and spendings on linkbuilding were reduced in 2.11 times.
To be continued...
Found a mistake? Select it and press Ctrl + Enter
Subscribe
to the most useful newsletter on internet marketing
Most
discussed
popular
viewed