ASO for Hairstyle & Haircut Try On – growth of installations by 413%
Service:
App Store Optimization
.
Niche: Mobile applications.
Team: Yaroslav Vorona (ASO specialist), Maxym Melnyk (ASO Team Lead), Oleksiy Volkov (Project Manager).
Region: USA, Europe.
The Client
Hairstyle & Haircut Try On – a mobile application that allows users to virtually try on different hairstyles, change hair color and length, and experiment with styles directly on their smartphones, providing a risk-free experimental environment to experiment before committing to any drastic transformations in real life.
The Goal
To improve visibility in target countries and increase the number of downloads through App Store Optimization.
The Solution
To achieve this goal, we first conducted a thorough analysis of the app's niche and competitors. To do this, we used our own RadASO Tech Boosted Solution tool.
With its help, we can:
identify as many competing applications as possible;
based on our calculations, we were able to project the estimated number of downloads and purchases for these apps;
to see the overall traffic picture in the niche and prioritize countries with the highest potential for promotion.
For promotion, we selected eight locales, gathered semantics, and prepared metadata, which was released in two stages:

September 27, 2022: French, French (Canada), English (Canada), English (U.K.).
October 4, 2022: English (US), Russian, Spanish (Mexico), Arabic – cross-locales in the USA.
The Result
Following the release of the metadata, the application secured the top positions in the search results for new keywords and immediately started receiving impressions and downloads in France, Canada, the United Kingdom, and the United States.
As a result of incorporating relevant keywords, the application's impressions increased by 72%, and downloads by 413%.
Let's examine the results in more detail.
The graph below shows the increase in impressions following the two metadata releases (App Store Search):

Now let's see how the download metrics have changed (App Store Search):

In France and UK, we promptly witnessed the first impressions and downloads after the release:
Let's take a closer look at the growth of organic impressions and installs in the UK:

While the number of installations may be limited at this stage, it's important to note that these are the initial outcomes following the application's first release, during which it has already secured positions for relevant search terms.
Canada also exhibited similar trends, with organic metrics experiencing growth following the iteration: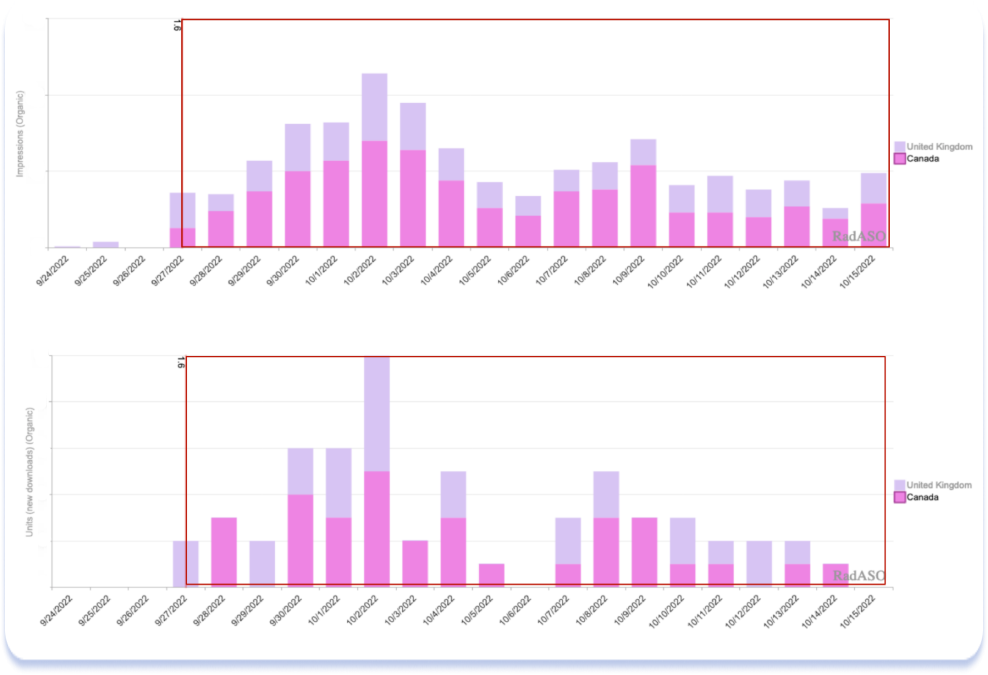 The observed growth can be attributed to the application successfully indexing and occupying positions for new keywords.
Conclusion
Through conducting an extensive niche analysis and employing meticulous metadata selection, we have attained remarkable results in the selected countries immediately following the initial iteration.
Topics:
Found a mistake? Select it and press Ctrl + Enter