Engaging Users with a Mobile Application: Understanding User Acquisition as a Strategic Process
User Acquisition is a marketing process that works to increase the audience of a mobile application, website, landing page, etc. through paid traffic channels such as Google Ads (UAC), Apple Search Ads, and social networks (Meta (Facebook, Instagram, TikTok). It also includes free channels, such as App Store optimization, own media, guest blogs, and so on. At RadASO, we know from our own experience that in mobile marketing, user acquisition is crucial for advertisers, as it is the most effective way to get customers and enter new markets. Let's take a closer look at mobile user acquisition.
First and foremost, UA will help you attract different categories of users: those who have already searched for apps similar to yours, and those who are not looking for new apps at all.
Advantages of User Acquisition
UA helps to understand: which marketing approaches are most effective at attracting users, and how well advertising campaigns convert to real downloads, which in turn helps to optimize the marketing strategy correctly.
Smart budget management: by implementing effective user acquisition strategies, you will clearly understand the expediency of certain expenses and can cut unnecessary costs or increase spending in areas where advertising seems most profitable.
Effective planning: a company that better understands its user acquisition strategy can plan its future marketing activities based on the data obtained from its UA campaigns.
Increased revenue: implementing UA strategies aims to increase traffic, and the more users interact with the mobile application, the more potential revenue grows.
Development of strategy: data based on implemented UA campaigns can tell a lot about your target audience and their needs, which in turn opens up avenues for developing or improving your overall marketing strategy.
Main types of User Acquisition campaigns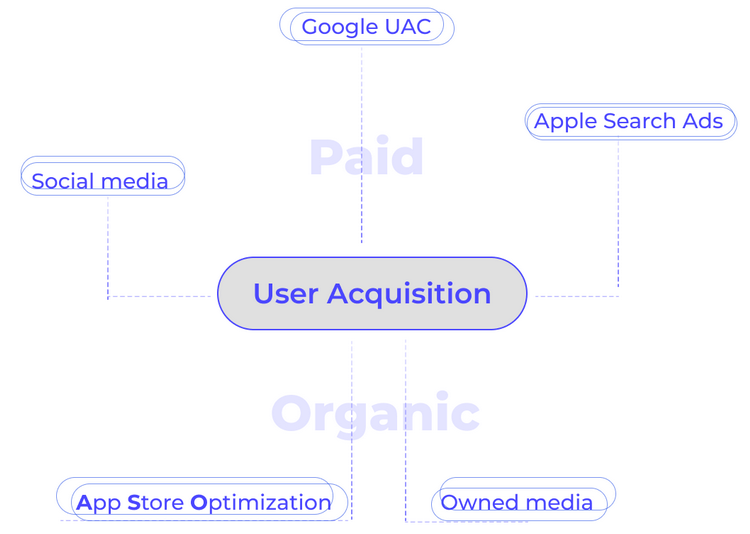 1. Paid User Acquisition
This type of campaign helps a brand increase its market reach and is used in direct response channels such as Google Ads (UAC), Apple Search Ads, Meta (Facebook, Instagram), and TikTok. Such advertising can take various forms, from simple text messages to complex artistic designs or videos.
Paid campaigns almost always lead to an increase in organic indicators, i.e., an increase in your free audience. Let's take a closer look at some of them:
1.1 Google UAC (Universal App Campaigns)
This is a universal advertising campaign in Google Ads designed specifically for mobile applications. Advertisements allow not to be limited to creatives and are broadcasted on all possible channels - search, Youtube, Google Play, and contextual networks. Most settings are fully automatic, but Google UAC works on machine learning or artificial intelligence algorithms, so campaigns need time to "learn" to find the most targeted audience.
It should be noted that such campaigns take search queries by keywords and also in the advertisement description, so it must be as relevant as possible, clearly conveying the benefits to the user and encouraging them to take action - install your application.
Setting up UAC campaigns at the first stage is quite simple and intuitive.
To create high-quality advertisements that do not fall into a ban, follow the Google App Campaign recommendations.
1.2 Apple Search Ads (ASA)
This is a tool for advertising mobile applications, one of the most popular methods of attracting users for iOS applications. It allows you to place ads at the top of the App Store search results page for iPhone and iPad.
Apple Search Ads offers an extended pricing option based on the cost-per-tap (CPT) strategy. This means that the advertiser pays each time a user clicks on an ad and gets higher results with less investment. Such advertising is seen by the most relevant users because ASA allows targeting by keywords, not interests or user behavior.
1.3 Remarketing
The main goal of remarketing is to re-engage users who previously used your app but didn't make the purchase or register. Remarketing focuses on reminding users of your app's benefits and motivating them to take the action they want to take.
Several methods can be used to implement remarketing, including push notifications, email newsletters, and in-app notifications.
2. Free User Acquisition: App Store Optimization
App Store Optimization (ASO) is the process of optimizing your mobile application in the Apple App Store and Google Play to increase organic traffic. The goal of App Store Optimization is to improve the application's position in search results, increase conversion rates, and installations, and improve the rating of your application, which in turn enhances its visibility. This creates a single, constant cycle, where the higher the application's position in the category, the more users you will receive.
If you break ASO down into smaller components, you can say that it's working with all aspects of a mobile application – from metadata and graphics to reviews and ratings.

Important. It is worth paying attention to the combination of these tools when planning the promotion strategy of your mobile application, as they complement and strengthen each other. For example:
ASO tools help to find new relevant search queries for working with ASA, and vice versa – discovery campaigns in ASA allow expanding the semantic core when working with ASO.
High-quality ASO provides a high conversion rate from views to installations due to the implementation of graphic hypotheses, as well as optimized headlines, and high conversion rates, in turn, reduce the cost per install in ASA.
Launching paid UA sources improves application indexing. For example, for a new application in Google Play, you should immediately launch UAC, which will speed up its indexing and increase organic visibility by position.
3. Own media resources
Utilize your own media platforms for marketing among existing users. These include a blog, website, social media profile, and even an email newsletter. The constant development of your own media resources can help increase awareness of your brand's mobile application. Targeted advertising to existing website users increases the likelihood of conversion to your mobile application. Additionally, loyal users are more likely to recommend your application to others.
This user acquisition method does not work instantly and rather pertains to systemic solutions, but it still has its results. The advantage of working with your own media resources is that you have no financial or rotational limitations, and in your own marketing field, you have no competitors.
How to create a user acquisition strategy for mobile apps?
Determine your target audience and their needs. It will help you customize your advertising campaigns for engaging the right people.
Perform an ASO optimization of your app. Then choose the most effective channels to promote your app – social media (Meta, Google, TikTok) or other types of paid advertising.
Prepare creative and compelling advertising messages that are best suited to your target audience
Plan to retain returning users. For example, enhance the user experience, and prepare personalized recommendations and exclusive content. You can use email newsletters and Push notifications to notify users about new features or app updates.
In addition, track the results of your user acquisition efforts to improve and optimize your marketing strategy in time.
Hint: Analyze users' feedback and behavior. This will help you improve your app's functionality, detect and fix bugs in time, expand features, and ultimately increase user retention.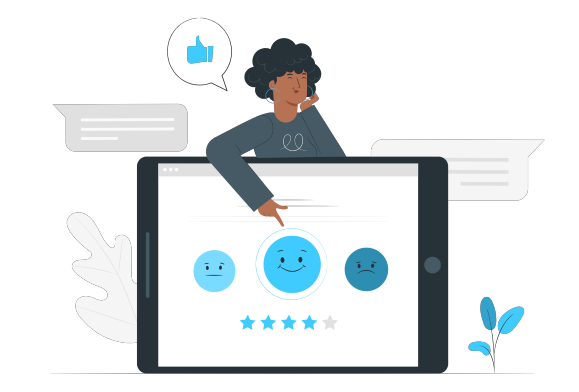 Here are the main general KPIs that are important to consider when developing a marketing strategy:
App installs – the number of app units on different platforms. The conversion rate in the app store is the number of installs divided by the number of impressions of the product page or app listing.
Split of organic and paid installs.
Costs of user acquisition (CPI, CPA).
Return on advertising spend (ROAS) – the indicator is calculated by dividing total revenue by advertising costs.
Customer lifetime value (CLTV) is the amount of profit that one customer will bring to the business over the entire period of interaction with the application.
Uninstall rate is a metric that shows the ratio of the number of uninstalls to the number of app installations over a certain period of time.
How to forecast user acquisition costs?
Determine the key performance indicators (KPIs) that will be relevant to your app for the aim of user acquisition. For example, CPA (Cost Per Action) or CPI (Cost Per Install) are metrics for monitoring the success of user acquisition campaigns.
Once you've identified the KPIs, you need to analyze industry benchmarks. This will help you understand the CPI or CPA performance of similar apps, and what numbers you need to build off of. Application benchmarking is comparing the performance of your application with the performance of others to improve your own.
How to do benchmarking:


1. Choose apps in your category or apps with related features.
2. Define your objective. It can be one or a few KPIs for UA analyses.
3. Compare your competitors' performance with yours. If you have a mobile game, for example, you can analyze Daily Active Users (DAU).
4. Finalise results and evaluate what changes are needed in your strategy.
5. Implement the changes.
You can also make budget projections using the experience of your previous campaigns.
To optimize UA campaigns, you must regularly monitor and timely adjust forecasts based on KPIs and performance indicators. This will allow you to abandon ineffective methods in time, keep your marketing strategy working, and control costs.
Who is a User Acquisition Manager and what does he do?
UA manager (User Acquisition Manager) is a marketing specialist who specializes in attracting new users to a product – a mobile application, game, website, program, etc. UA manager uses all available channels and platforms, creates advertising campaigns, and analyzes and optimizes them.
Responsibilities of a User Acquisition Manager
Develops and implements campaign strategies to attract users and increase their activity.
Launches advertising campaigns through various channels, such as social media, search engines, and referral programs.
Analyzes campaign results and effectiveness, and optimizes them as needed.
Collaborates with other teams: product developers, and designers to ensure a seamless user experience.
Keeps abreast of industry trends and best practices in user acquisition and retention.
Why is a User Acquisition strategy necessary? Conclusions.
User growth is one of the key elements of any mobile business. The mobile application ecosystem expands every day, and in the fight for your user, it is sometimes not enough to rely solely on organic promotion. And user acquisition through paid channels is support during a decrease in organic activity and an important component for its further growth. In addition, User Acquisition is an effective way to survive in such a highly competitive environment as the niche of mobile applications.
However, it should be remembered that user acquisition campaigns are not a panacea, limited to only one launch.
The success of such campaigns requires in-depth analysis, constant optimization, testing, and a strategic approach. A well-planned strategy is closely linked to increasing the revenue of your brand and its overall promotion.
FAQ
What are the average mobile app user acquisition costs?
According to Statista on August 2019, the average cost to acquire an app user who registered with an app or created an account was 3.52 U.S. dollars.
What are the key indicators of mobile app user acquisition strategy?
The number of app installations.
App store conversion rates.
Organic & non-organic installations split.
Costs of App User Acquisition (CPI, CPA).
Return on ads spends (ROAS).
User lifetime value (LTV).
Uninstall rate.
Topics:
Found a mistake? Select it and press Ctrl + Enter