How to succeed with social media marketing: Growing your Twitter reach and followers
Let's talk about reaching out to your audience or potential customers through Twitter. As most marketers today agree: content is king. This is true for every platform, and Twitter is no exception.
Your tweets have to bring value, but they have to reach people first. Using images and videos, utilizing post scheduling to publish exactly when your audience reaches the peak of its online activity, tracking and swiftly replying to people who engage with you – these are all correct strategies, but they mean nothing if you have no audience to work with.
In this article, I want to talk about several approaches to expanding your audience and gaining new followers. After all, more followers equals more exposure and more exposure equals more leads.
Even if you are interested in growing your popularity and followers count just for the numbers or to cater to your ego, you will still find this information useful. So let's start.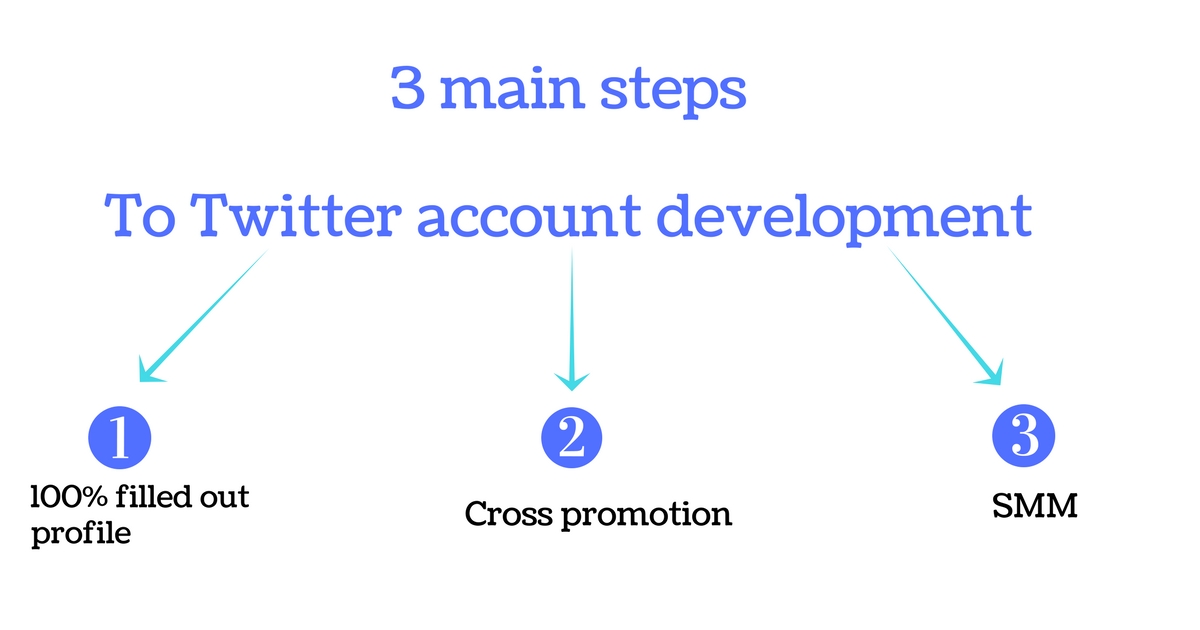 Account visibility
If you haven't read our previous article How to jump-start your Twitter account, take some time to go over it. It covers the subject of filling out your Twitter profile to make it more compelling and recognizable.
In short, you have to completely fill out your Twitter profile in order to present yourself to anyone who comes across your account and deliver a clear message about who you are and what you do. This is a key to your account visibility. People, especially on Twitter, won't spend time figuring out what's your deal, it's your job to convey that message.
Another tip for increasing your online visibility is cross promoting your Twitter account through your other information channels. For example, you can write a longread on your blog on a topic related to your business, or feature it on Medium, and at the end invite people to follow you on Twitter, or even encourage them to engage with you there.
You can also promote your Twitter account through other social media, like Facebook or Youtube, for example. Actually, since Twitter is really good at being a news stream media outlet, you can ask your Youtube fans or Blog readers to follow you on Twitter where you will let them know when your new content comes out.
Use hashtags
Hashtags are used on Twitter to associate your tweets with a certain topic. You do this because you want to reach people who are interested in what you have to say and these people will be searching for specific terms.
For example, if you want to talk about Search Engine Optimization or Pay-per-click Ads, you should use hashtags like #SEO and #PPC in your tweets. Just don't overuse them. The rule of thumb here is to have no more than 3 hashtags per tweet.
Selecting a proper hashtag is a work in itself. However, there are services that can help you out with that. For example, take a look at Hashtagify and Ritetag.
Increasing your followers count
Before your account becomes popular enough and your tweets end up in other people's streams organically, you are the one who has to go out and find new followers. At first glance it may look like a boring routine, but it will pay off in the future.
What you need to start doing first is find your target audience and people who are relevant to you. You can use twitter search to accomplish that by simply typing in a few keywords related to your business or interests. For example, if you search for "content marketing", you can browse through the top and latest tweets related to this topic, see people who mention content marketing in their profile, etc. You can even find live broadcasts related to this topic.
However, you can also use third party services to find influencers and people interested in your niche. We won't go over the tools themselves, but here is a couple of good examples:
Now that you see who is on the same page as you – start engaging them: reply to their tweets, start a conversation, but most importantly – follow them. If you mix these things together (meaning you will not silently follow them and never say a word) there is a very good chance they will follow you back, because you made a personal connection.
However, do not go out spam useless comments and follow 100 people per day. This type of behavior has a very good chance of resulting in an account suspension. Nobody likes spammers.
On that note, try to always bring something useful to the conversation or at least something positive. As someone on the internet said: "Being funny is good. Being useful is gold."
I recommend you to start with following about 20 people per week, and then increase this number as your followers count goes up. The trick here is to check back in a few days and see if they have followed you back (unfollow them if they did not). You do not want to end up with an account which follows 1000s of people and is being followed by 20.
This is called a Follow-Unfollow strategy. To keep track of who is following you back you can use Twitter itself or external tools like:


Have a personality
Twitter is full of nameless, boring, annoying bot accounts who tweet a lot but in reality bring nothing of interest and just create noise. It is not in your best interest to be considered one of them. No matter what your account is about, having a personality that people can associate you with is generally a good thing.
The way in which you will show your personality is completely up to you. For businesses, the simplest way is to mix in some tweets that are unrelated to business. This can be something like a holiday congratulation or a tweet about how your employees did a mannequin challenge video. Basically, anything that will show you are also human, not all business and seriousness with no emotions (like a robot).
When you combine your useful content, personal engagement and add a flavour of individuality to your tweets, then you are on the right track to making your account popular and influential among your audience.
We would like to hear how you manage your Twitter account and grow your followers number. Hit us up on social media or add your comments below.
Found a mistake? Select it and press Ctrl + Enter