The 2023 Guide to Posting Perfect Facebook Carousel Ads
The goals of every advertising campaign are to increase the number of conversions and boost revenue. An ad format known as carousel ads can help you with this. Carousel ads can significantly increase the number of visitors to your website and allow you to interact with potential or existing customers in an interactive way.
In this article, I will discuss in detail what a carousel ad is and when it is best used. I will also share instructions and tips on setting up a carousel ad, so be sure to read until the end.
What is a carousel ad on Facebook?
The carousel ad is a type of format that allows you to display up to ten images or videos in one ad post, each with a separate link. It is available for Facebook, Instagram, Messenger, and Audience Network, a network of Meta partner websites where you can place ads. Carousel ads allow you to show different products in one ad. Alternatively, you can share different details about one product, service, or promotion. With the help of a carousel ad, you can tell the story of your brand at different stages of development.
How to Use Facebook Carousel Ads
You can use carousel ads to advertise products or services in a variety of ways:
Highlight several unique characteristics of one product or service. A carousel ad will enable you to show the product from different angles and demonstrate its product characteristics. This is especially useful if you are launching a new product and want to introduce it to a customer.
The carousel ad format is also very convenient for promoting software or an app. You can use it to show your audience how your program works.

Present different products or services using cards with a link to the relevant page. If you are promoting a collection of products rather than a single product, a carousel format will work better than one image. Offer your customers a variety of options to choose from, so you can increase your conversion rate and CTR (the ratio of clicks to impressions).

Demonstrate how to use your product. You can create step-by-step instructions and add infographics for a better understanding of the service or product.

Tell a story about your company or brand. Sharing the origin story of your business or product can improve brand awareness and increase ROI.
Promote your blog posts or online publications. You can highlight the main points and visual elements in the Facebook post, and give the user a chance to understand the main idea of the publication. A carousel can also be useful if you are interested in driving traffic to your website or social media pages. If the ad is eye-catching, viewers are more likely to subscribe and read your posts in the future.
Technical requirements for designing Facebook carousel ads
To maximize performance, your ad creatives and texts should comply with Facebook Meta's design requirements.
Image requirements:
Image size: 1080 x 1080 pixels.
Image file type: jpg or png.
Image file size: up to 30 MB.
Image/video aspect ratio: 1:1 (square).
Number of cards: 2 to 10.
Ad text requirements
Text: 125 characters.
Title: 40 characters.
Link description: 25 characters.
Video requirements:
Video file size: up to 4 GB.
Video file type: MP4 or MOV.
Video length: up to 240 minutes.
How to create a carousel ad
1. Choose your ad campaign objective.
Not all campaign objectives support the carousel ads.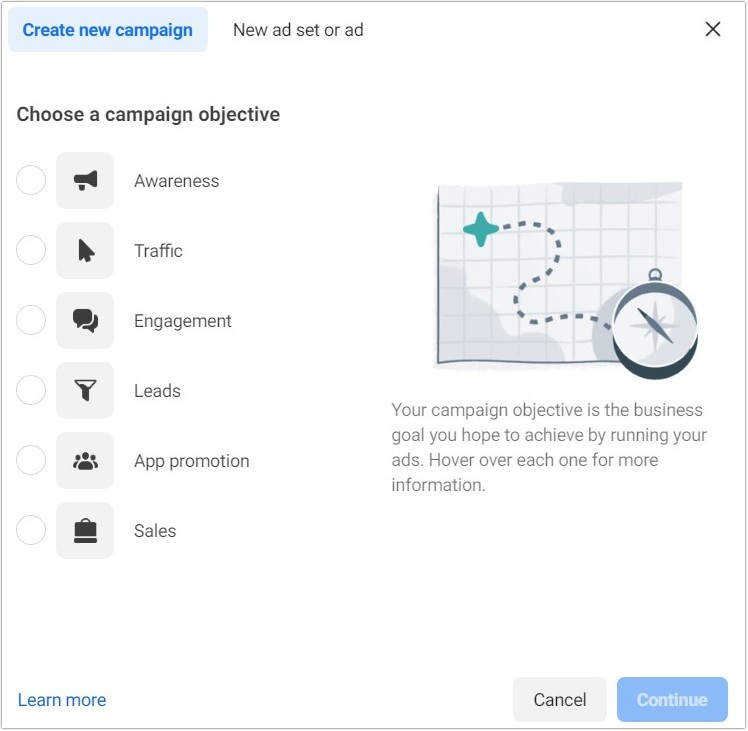 Here are some of the objectives you can choose from when creating a carousel ad:
Engagement.
Awareness.
App promotion.
Traffic.
Conversions.
Leads.
Sales.
Also, be sure to select the right Facebook page from which to display your ads.
2. Set the budget and audience for the ad.
In the Meta advertising account, you can decide whether a budget applies for each day or for the entire lifetime of the campaign.
The choice of audience depends on the ad campaign objective and the stage of the sales funnel your campaign is at. I recommend that you narrow down your audience by interest or alternatively use special or similar audience segments to effectively deliver ads to your customers. This will allow you to show your ads to those who are more likely to perform the targeted action and increase the ROI of advertising.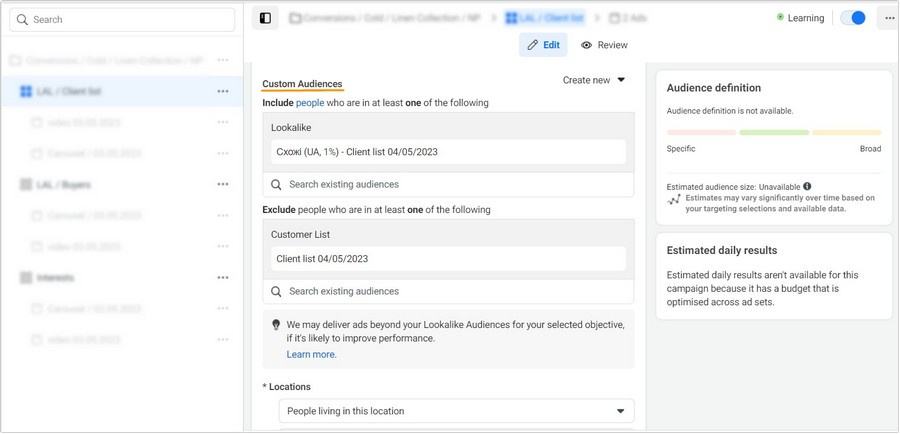 3. Download visual content.
Upload high-quality images, GIFs, or videos, and add a title and description for each image. Grainy, low-resolution ads are less likely to grab attention.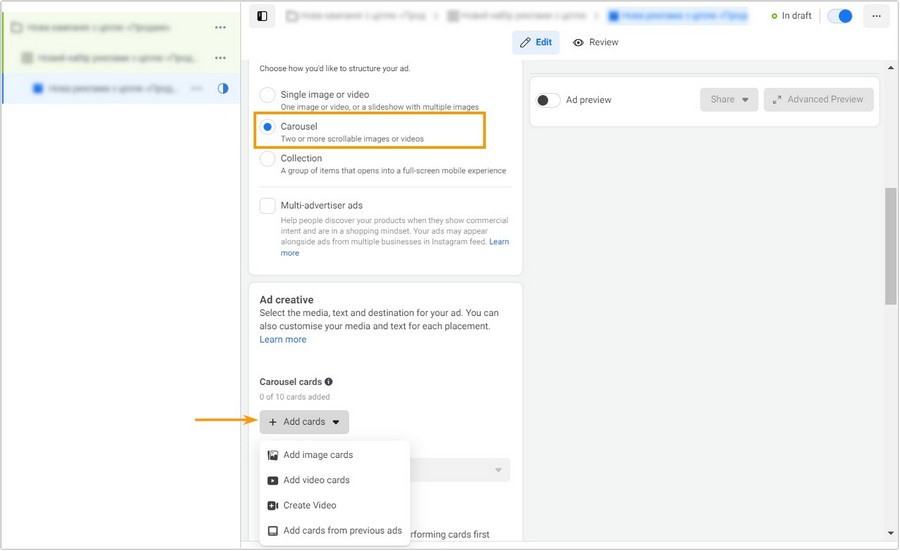 4. Show the best-performing cards first.
This feature allows you to display your best-performing cards first, both on Facebook and Instagram. It ensures that potential customers see the most attractive image first, which will increase conversion rates.
5. Add the primary text.
Your text should relate to the entire carousel and convey the main idea of your campaign. Write concisely. Users are less likely to read long and complex texts.
6. Add a call-to-action button.
A call-to-action (CTA) button is very helpful if you are selling a product. A call to action will increase the conversion rate of your ad. You can also add a Free Shipping or Partial payment banner if necessary.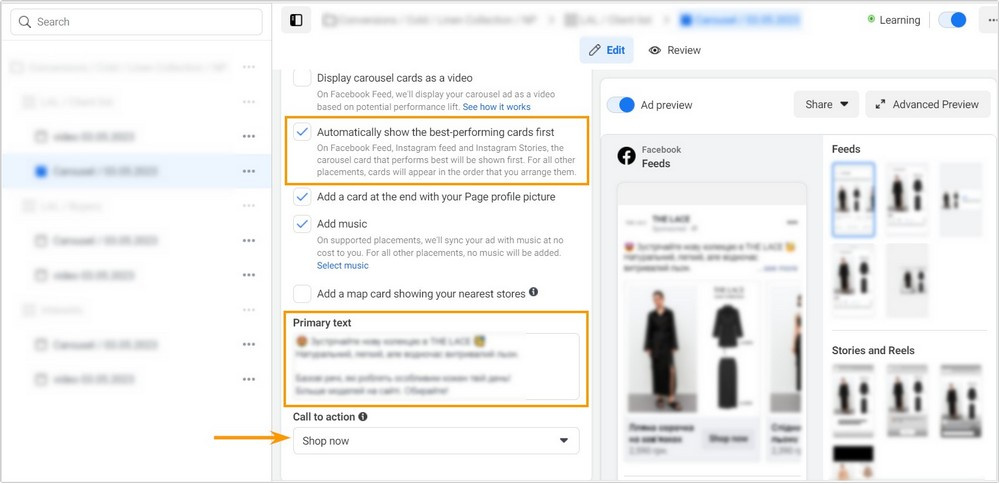 7. Set the order of the cards on the carousel.
You can drag and drop cards to arrange and reorder them. This feature is available both before and after you create carousel cards.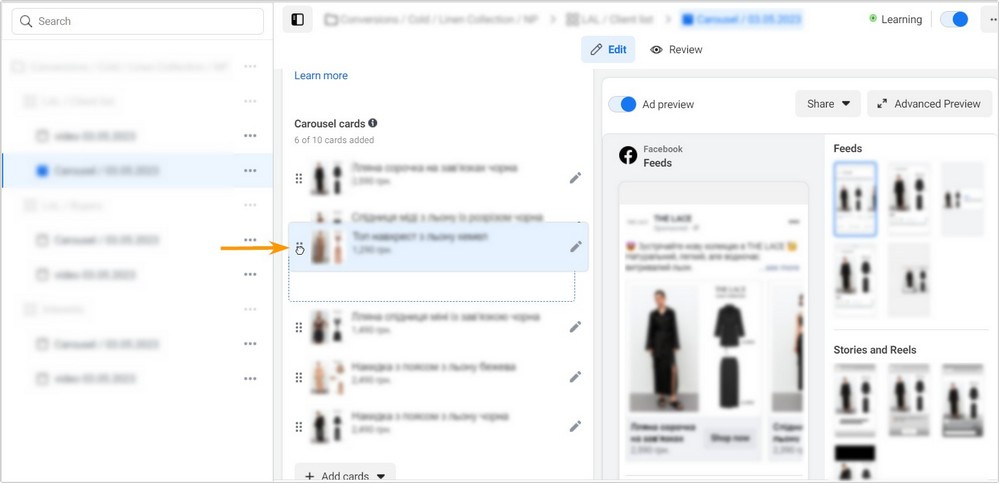 Facebook carousel customizing tips
Knowing the basics of ad setup is not enough to convert users into actual customers. You need to have a few more tricks up your sleeve. Here are a few tips from Netpeak specialists to create a high-quality carousel ad campaign!
The first image should be unique and creative enough to grab users' attention.
Due to the large number of ads on Facebook, it is very important to be unique so that users do not scroll through your ad. A carefully chosen image will encourage potential customers to spin the carousel to look forward to the next interesting slides.
Use all possible components.
Images and videos are the two most important components of any carousel ad. However, you can't neglect the rest. The title, primary text, description, and CTA buttons are also key components of a carousel. They provide context and convince consumers to click on the ad.
Use consistent and engaging images and videos.
Make sure all the photos used in one card look related and have a logical order. If possible, try mixing static images and videos. For example, if you're selling a physical product, you can use a few photos of it to grab attention and then add a video that demonstrates the product in action.
Place the most important text over the image.
Since viewers tend to focus on the image and not the text, it's important to put the most important text over the image. This way, you can make sure that everyone reads the information and doesn't miss it.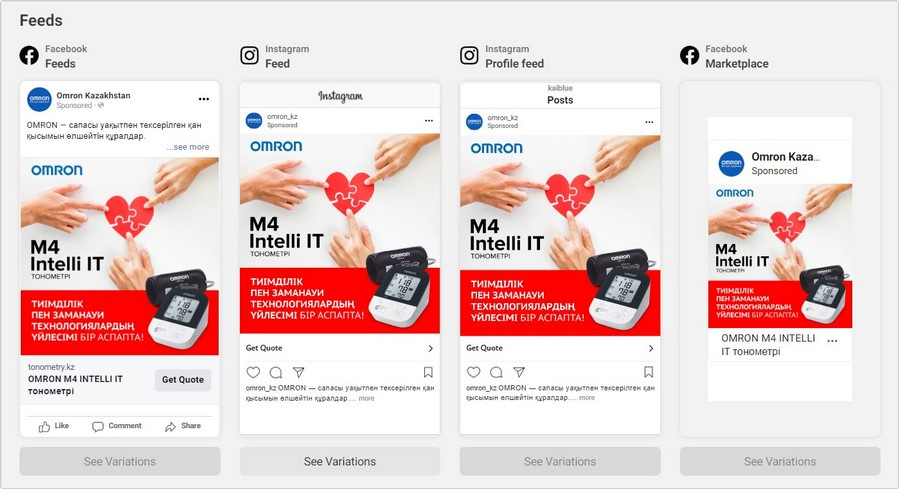 Add a call-to-action (СТA) button.
The ultimate goal of any advertising is to reach users and convert them into customers. You can do this by including a call-to-action in each of your ad creatives or videos. Another option is to include several links in one carousel ad. Ads are most effective when they are directed to a relevant landing page. The carousel allows you to link each ad card to a separate landing page, which you can A/B test to maximize your ROI.
Be sure to follow the instructions and specifications.
If you want your ads to be effective, they need to meet all design standards and technical requirements mentioned above.
Performance metrics for carousel ads
After launching the carousel, you can analyze its results in Ads Manager or use the Ads reports tool.
How to view the carousel ad's performance results in Ads Manager:
Open Ads Manager. Click More in the left sidebar menu on your Facebook home page.
Click on the drop-down columns menu.
Select Carousel engagement. You will see columns with special metrics for carousel ads.

To see the results by cards from the ad, click on the drop-down menu Breakdown > By action > Carousel card.

How to view the performance results of carousel ads in the Ads reports tool:
Open Ads Manager.
Find the Ads reports section.
Go to Customize pivot table, click Metrics, and check the boxes next to the metrics you want to view.
To see the results by carousel card, click Breakdown, scroll to Action, and check the box next to Carousel card.

Conclusions
Carousel ads on Facebook are a great way to interact with your audience and can significantly improve the results of your advertising campaign. By following the setup instructions and recommendations mentioned in this guide, you will spend your advertising budget efficiently and improve the financial performance of the business being promoted.
This type of ad can go a long way in showcasing your product, its usage, and its benefits, as long as certain conditions are met.
The right objective is chosen for the ad campaign.
The target audience is correctly selected.
The visual content is of high quality and complies with technical requirements.
The ad is properly set up.
All available ad components are used.
FAQ
What is a carousel ad?
Carousel ads are a kind of advertising format that combines multiple videos or images into a single ad. They are used on social media to showcase several products or features at once.
How many images are best for a Facebook carousel ad?
The maximum number of images and videos in a carousel ad is 10. Each ad creative must have an external link. However, you can start with 3-5 images so that the ad campaign starts optimizing the most effective image and provides really useful information for your customers.
What makes a good carousel ad?
A good carousel ad is cohesive and includes related images or videos. It should tell a story, share a process, or highlight a set of products, features, or services.
What are the benefits of a carousel ad?
If used correctly, carousel ads work much better than other types of ads:
They increase engagement. A moving carousel ad is more likely to grab the attention of your target audience and encourage them to take action.
They are interactive. Even if customers are just scrolling through your carousel to see more images, they are still interacting with your brand and becoming more familiar with the products and services.
They are cost-effective. Carousel ads can drive conversions for 30-50% of the cost of regular ads. Not only that, the cost per click can be 20-30% cheaper than the same for an ad with links to a single image.
Topics:
Found a mistake? Select it and press Ctrl + Enter