AMP Emails: Take Your Mailing List and Customer Engagement to the Next Level
If you want to improve user engagement in your business using email marketing, you need more than just useful and well-written text. Other elements must be added to improve interactivity. Thanks to AMP technology, you can easily include dynamic elements in your emails: product cards, animations, sliders, checkboxes, or subscription forms. Read our article to learn how it works and why you should use such elements in emails.
What is AMP technology all about?
An AMP email is a more advanced, interactive type of email that is essentially a step up from a static HTML email. The recipient can perform actions or view animations within the email itself. You could say that it partially replaces a web page.
Another essential feature of AMP is that the information in AMP email changes in real time. You can change the content if something changes after you send an email. This is especially useful for promotions.
For example, you might send an email on October 10 with a special price that expires on October 15. Users who open the email on October 16 will see that the promotion has already ended. You can also replace the selection of products with other products that are currently being promoted.
This is a great feature: it ensures that your emails are relevant, no matter how long ago they were sent.
What can you do in an AMP email?
Users always appreciate it when they can act without going to the website. This convenience is exactly what dynamic content emails provide. What types of actions can you add to such emails?
Scroll the image gallery.
Select items to add to the cart.
Fill out a survey or form.
Sign up for an event.
Vote in the email body.
View product features and product cards in the email without going to the site.
Reply to comments.
Confirm subscriptions in the email.
Access company games and lotteries in the email without opening the website.
Write reviews in a special window of the email.
How are AMP emails beneficial to businesses?
Increase conversion. AMP emails will save the user's time, make the ordering process more convenient, and, therefore, encourage users to purchase. Buying in an email is still not a common feature, so it could be an opportunity to be one step ahead of your competitors.
Generate a positive user experience. There is no need to navigate the website, which only makes the user happier.
Gain information on subscribers. Learn more about your audience with dynamic emails. For example, when a user marks the products they like in the email, you can learn more about what they're interested in, and you can then send them more personalized offers.
Improve the relevance of emails. Change the dates of a promotion, webinar, or seminar. Add an email countdown timer before the event starts so recipients can see how much time is left and rush to attend. Add iconic attendees, ratings, and comments for the next level of social proof.
Examples of interactive emails
One way to use an interactive email is if you have a customer interested in booking a room and they have requested options to choose from in the email.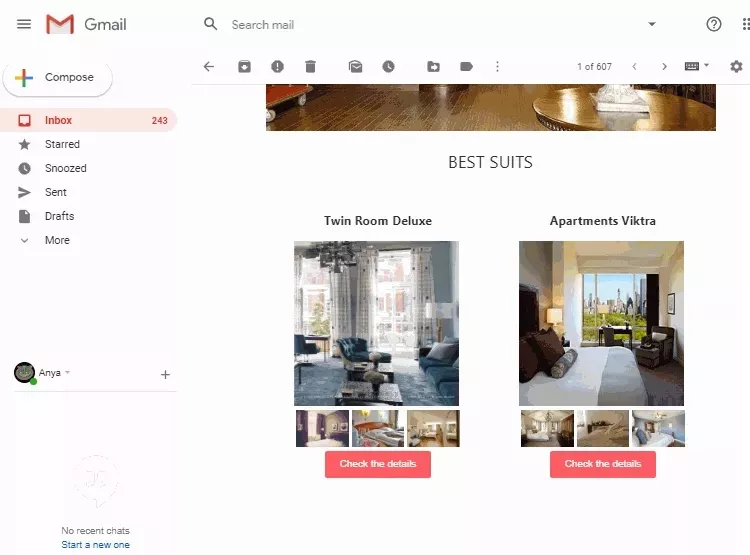 To make it more convenient for the customer, you can show photos of the available rooms in the body of the email. Having to navigate to the website for any reason discourages many customers. With AMP technology, they can get all the information they need from email. A booking functionality can also be implemented.You can even include full-fledged product cards with reviews and photos of the author.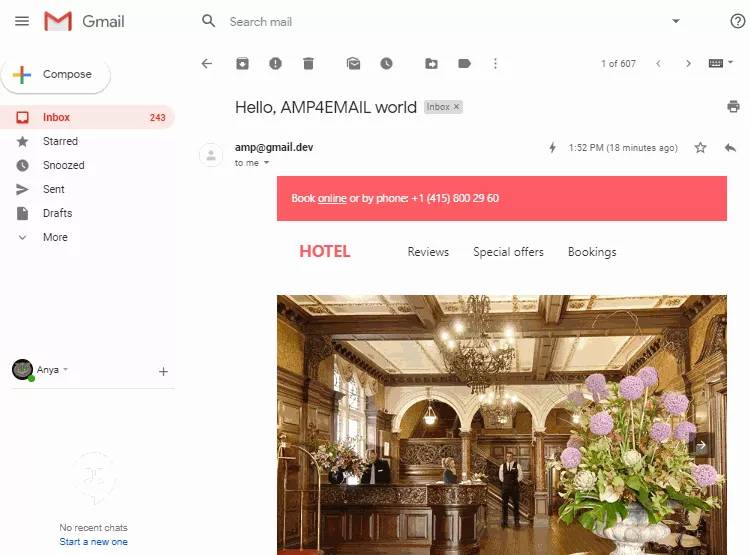 In addition to viewing offers and their images, the user can select the frequency of emails, whether daily, weekly, or monthly.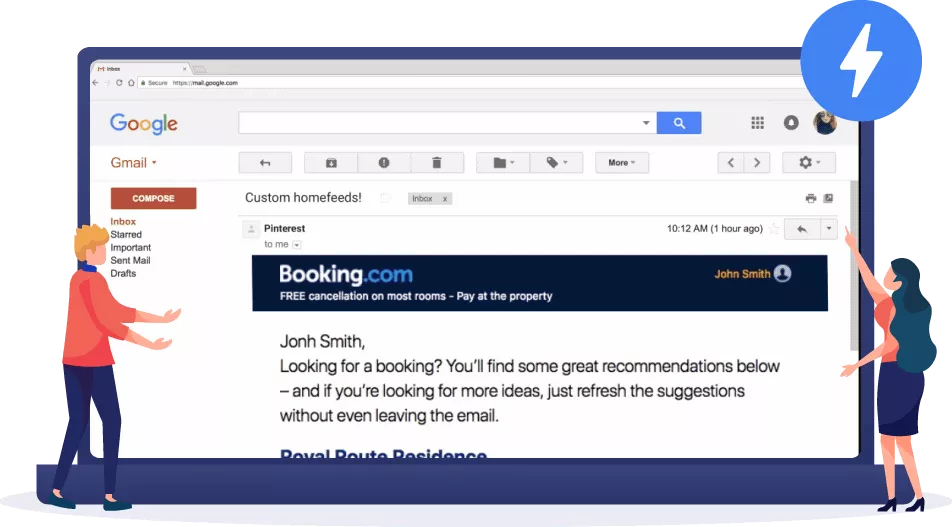 Switching between tabs is also possible with AMP.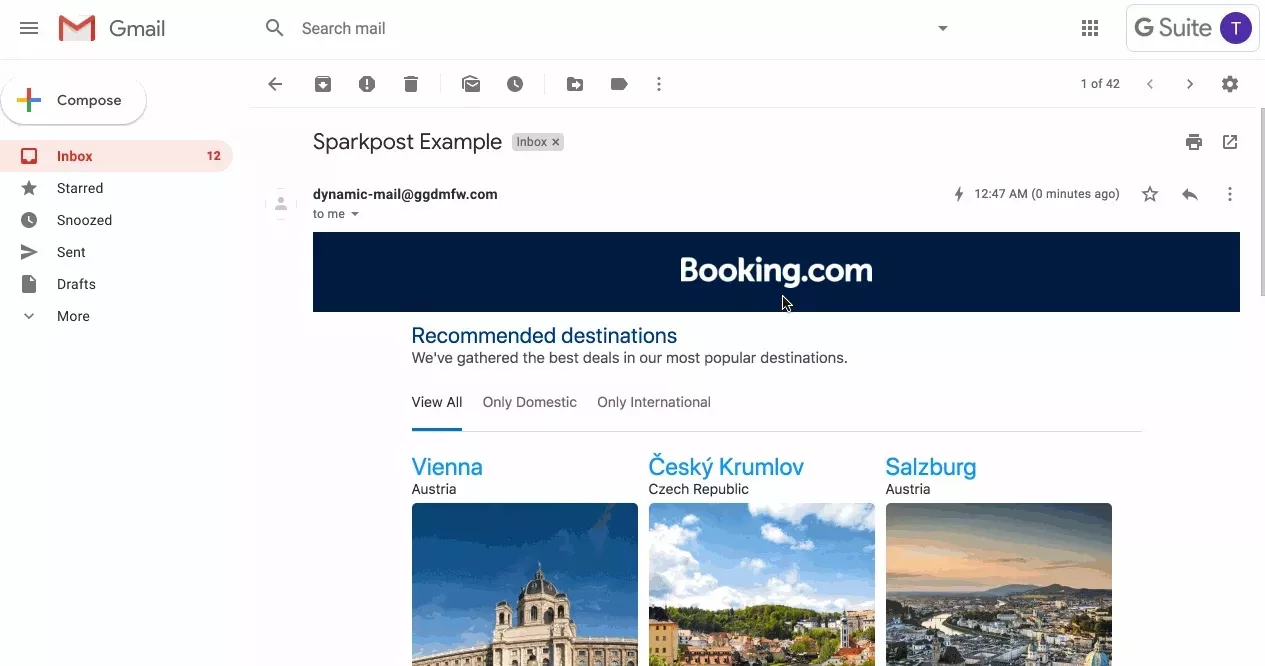 AMP allows you to include more relevant information for the customer in the email. For instance, you can use Pinterest to pull recipe recommendations into the email with all the details at once. You can open the card, save it to your board, and study the ingredients and cooking order.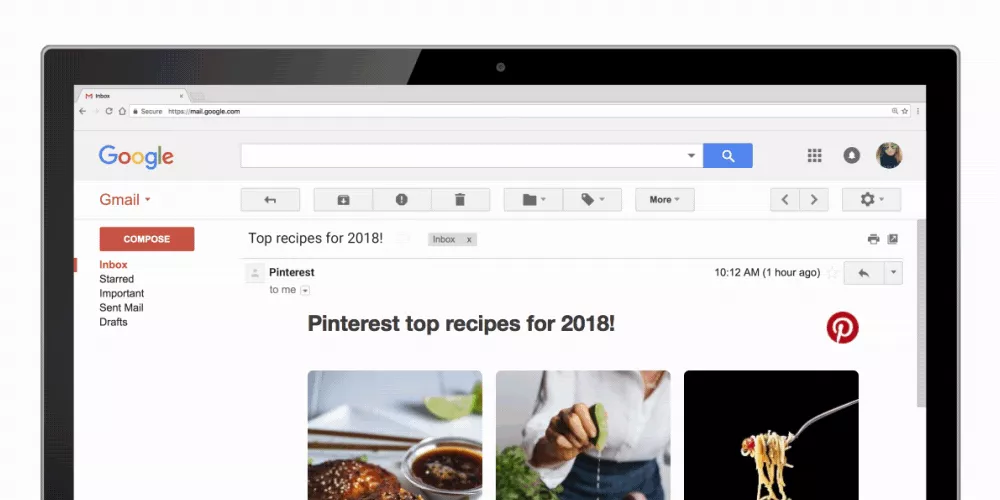 Apart from sharing information, AMP emails allow users to attend offline or online events without leaving the email — it's convenient, fast, and visual. You can add an upcoming event to your calendar to get a reminder the day before.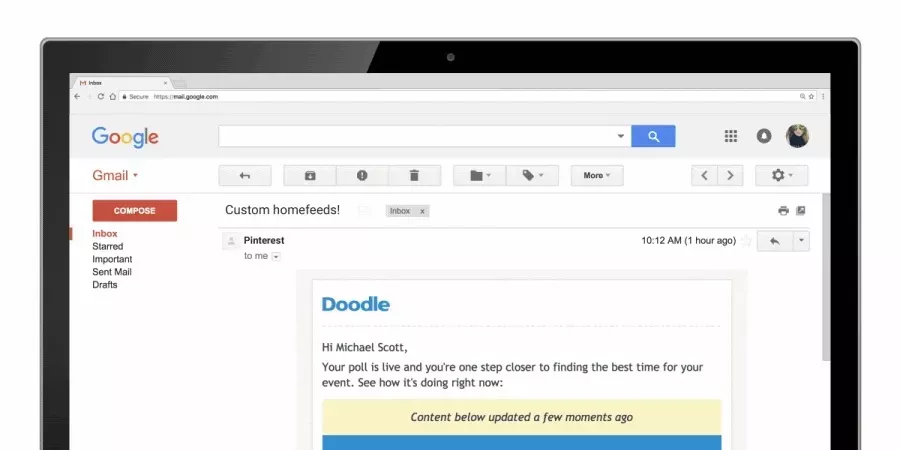 Last but not least, AMP makes collecting feedback much easier. Adding a short feedback form to emails makes users more likely to take advantage of the opportunity and let you know what they think. There is no need to go to the website or a feedback form on an external site; the ability to select an option and write a comment is right at their fingertips.

Mail clients that support AMP technology
AMP emails are supported on Gmail for its web versions and mobile apps on iOS and Android. Yahoo! and Outlook are in the process of implementing AMP support.
A checklist for sending AMP emails
Before you send out your AMP email, remember a few things. Here is a checklist:
✓ Your mailing service should support the AMP feature.
✓ DMARC, DKIM, and SPF need to be in place.
✓ Your email client should whitelist the email address from which you will send emails.
✓ When configuring a server with dynamic content, ensure the headers are correct in the final version.
✓ The AMP component needs to be validated.
✓ An HTML version is necessary if your email client doesn't support the technology.
✓ Preview your email to correct any errors before bulk sending.
Topics:
Found a mistake? Select it and press Ctrl + Enter