How to Promote Products on Amazon
Amazon is one of the world's largest and most popular online marketplaces. It has more than 310 million active accounts – users who make ten or more purchases per month. Fulfillment by Amazon makes the service faster and better, as the marketplace distributes goods to different logistics centers to speed up delivery.
In this article, I am going to talk about the prospects and opportunities for promotion on Amazon, as well as the tools that can be used to do it effectively.
Why promote on Amazon
Promoting on the Amazon marketplace has several significant advantages.
Huge customer base
Convenient logistics solution
Amazon offers the Fulfillment by Amazon (FBA) service, through which vendors can store goods in Amazon warehouses. The marketplace takes care of the packaging and delivery of goods, as well as customer service.
Also, the marketplace's internal search engine tends to provide higher rankings for the products of vendors using Fulfillment by Amazon.
What you need to do before launching on Amazon
A few steps can resolve most of the issues related to launching on Amazon.
Analyze the niche
One of the advantages of this marketplace is its very open data. Amazon reports, third-party services, and PDF statements via the API provide detailed data on competitors, such as the number of times each product was sold. Thus, by knowing the product cost and the approximate number of sales, the vendor can estimate the fulfillment cost before they start working.
Also, the vendor can find out the total number of sales for goods in a certain niche monthly. This metric shows whether the niche has a turnover, how many players there are, how much they sell, and how much they earn.
It may turn out that the niche is low-margin; the main competitors have been registered for over ten years, and all new ones quickly burn out. Conversely, the niche's turnover may be more than a million per month; it may have only 20 strong players, and 18 of them were companies that were registered during the previous year. This signals there is a chance to achieve large amounts of sales in a year or two with investments and sufficient work.
Choose a country for sales
Amazon operates on different websites in different countries. For example, Amazon.pl in Poland and Amazon.de in Germany. Before starting work, vendors should analyze the best country for their products in terms of prospects.
For example, there may be two promising regions to choose from: France and Germany. After analyzing the sales volume of one of the categories in these countries, we see that it is €1,284 in France and €19,639 in Germany. The choice is obvious.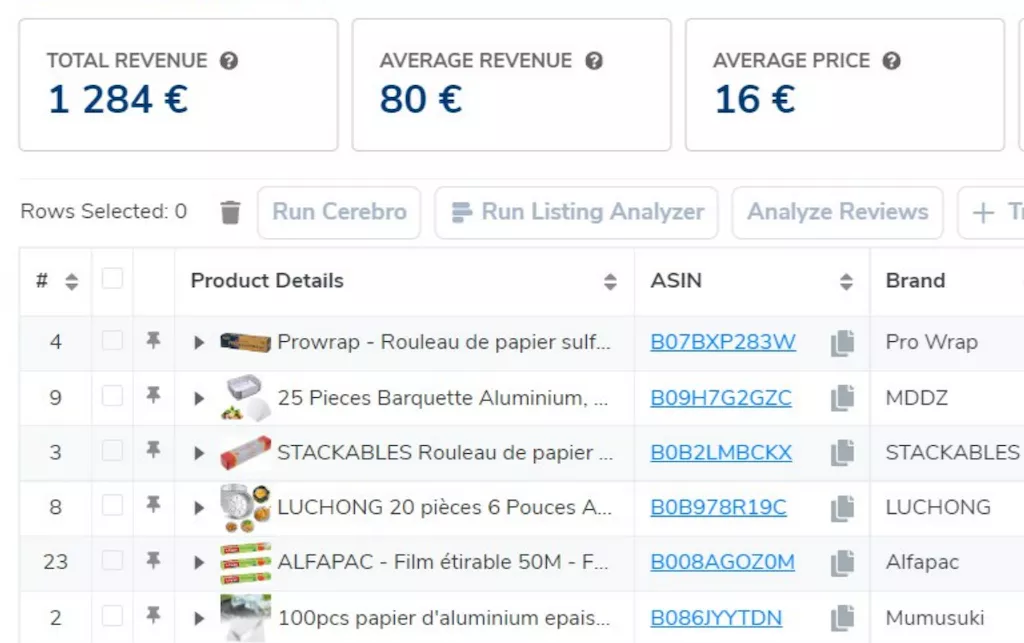 Total revenue in France
Total revenue in Germany
Register a brand
Sometimes, several vendors on Amazon sell the goods produced by one manufacturer. For example, there is an official manufacturer and distributor with goods in stock. If you are a manufacturer, registering your brand to protect your rights and become the only vendor of your goods on the platform is worth registering. This way, you will be able to file a complaint against goods that are sold or used without your permission, as well as against copies of goods and counterfeits.
When it comes to protecting the rights of brand owners, Amazon is very responsible. The rules are upheld to a very high standard.
Case study: One of the top vendors on Amazon made a Harry Potter-themed product without the copyright holder's permission. The marketplace banned the goods, the vendor, and all the beneficiaries associated with the vendor.
It is recommended to register the brand in a European jurisdiction, in the USA, and in the UK. After that, provide Amazon with the registration code.
Get acquainted with the legislation
Study the chosen country's laws and ensure that the product and the business do not violate them. To avoid legal problems, check the product's certification requirements, tax policies, and packaging requirements.
Ways to promote on Amazon: organic search
The principle of organic sales on Amazon is similar to that of search engines like Google. A customer searches for a product in the search engine, and the Amazon A10 algorithm shows them the offers that best match the query. To make your offer appear more often, your listing needs SEO.
A listing refers to a product card on Amazon and other marketplaces.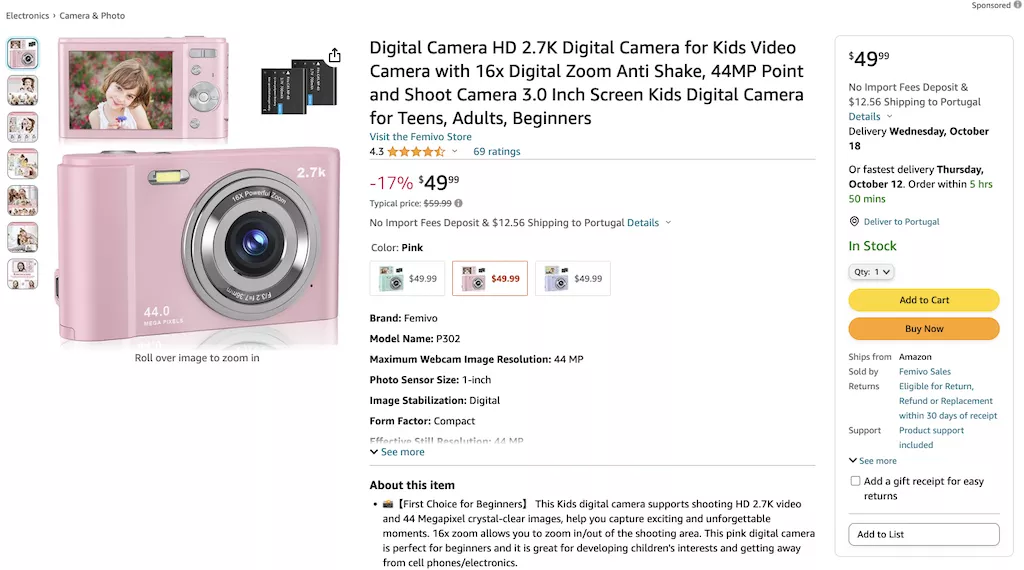 To optimize your listing, you need to:
specify the company name and add relevant keywords to the description;
create high-quality photos and videos;
add characteristics that describe the strengths of the product;
register the brand to get access to A+ content – this way, the listing will have more photos and short videos, as well as a link to the brand's store inside Amazon;
provide Amazon with backwords, which are additional keywords not visible to the user, but the platform can use them for ranking.
Read more about listing optimization in this article from Amazon.
Effectiveness of search engine optimization
Optimizing your listing requires investment but will pay off in the long run. There is a misconception that it is better to save money on organic search and invest it in paid traffic. However, there are projects where organic traffic accounts for up to 70% of purchases, with large budgets for online ads.
Unlike classic SEO, you don't have to wait six months for results on Amazon; you can see them quickly. Moreover, the marketplace usually gives new vendors a slight boost. The algorithm will immediately push up a correctly filled product card and show it to users.
Case study: The vendor created the listings in early January, the goods arrived on 20 January, and the store received the first orders before the goods arrived at the warehouse. The vendor created high-quality photo content and product descriptions, set an attractive discounted price, and added coupons. Amazon quickly showed these offers in organic search results, and users bought them.
The date of receipt of the goods in the warehouse: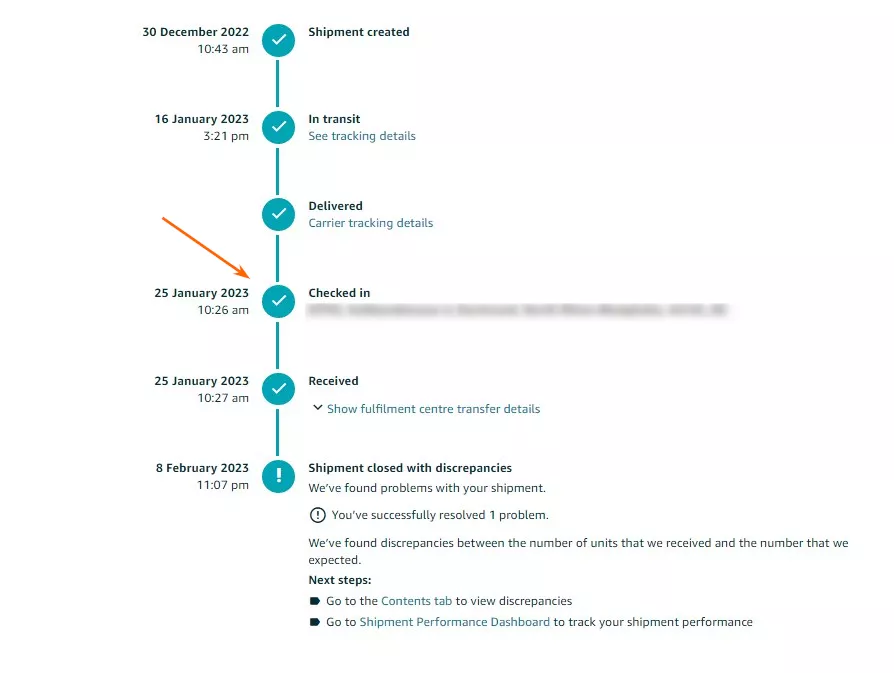 First sales:

How Amazon's A10 search algorithm works
The A10 algorithm pays attention to the vendor's rating and conversion rate. A product that is often shown at the top but does not receive many clicks from buyers will have a lower ranking. And a product that is constantly sold gives a quality signal to the marketplace, so it is ranked higher.
Amazon A10 weighs customer requests in a more serious and relevant manner than Amazon A9. In Amazon A9, the algorithm pushed users towards more profitable products. At the same time, Amazon A10 has shifted the focus to providing users with more accurate results, even if the results are not as beneficial.
It is more difficult to implement pay-per-click (PPC) campaigns successfully. PPC campaigns still have a lot of value, but vendors need to be more strategic.
You should pay special attention to the vendor's credibility. They should have a lot of positive feedback, a low percentage of returns, and efficient processing. Also, products from vendors who have been on Amazon longer are ranked higher.
Another aspect of vendor credibility is the depth and breadth of the product range. You need to determine how many categories your products belong to and expand this list. This doesn't mean you should sell toothpaste along with electronics; but rather, think about the common sets of products. For example, combine certain products into one offer, such as laundry detergent and fabric softener.
Amazon rewards listings that attract external traffic sources with higher rankings. You should link to products on Amazon from other websites, blogs, social media, message boards, and other platforms. Amazon places a higher value on users who learn about products elsewhere.
Maintain a good sales history, as A10 considers it a key factor for high search rankings. The number of organic sales is significant. When Amazon sees that a vendor is doing an excellent job without the help of marketing, it tends to reward those efforts.
Paid advertising on Amazon
To set up ads on the marketplace, you need to register for Amazon Ads and choose the type of ad you want. Let me tell you more about the different types of ads.
Sponsored Products Ads
This type of advertising is suitable for beginner vendors who have yet to gain traffic and experienced marketplace partners who want to increase their reach.
Ads with the Sponsored sign are shown in search results when a user searches for a product. Creatives can appear in tabs with details when users click on a product or as a banner next to the review block. One ad displays one product.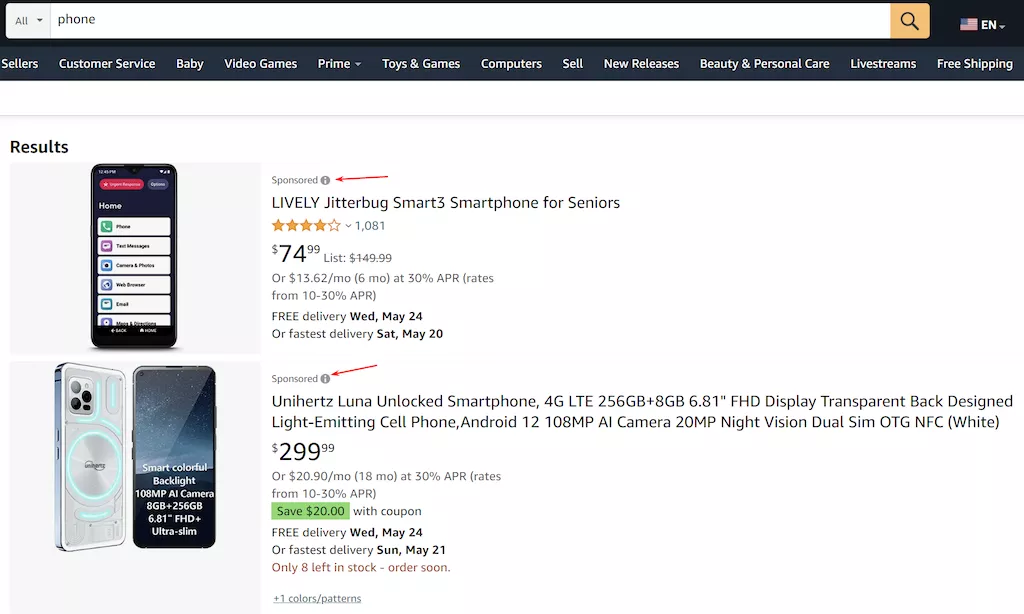 Advertising campaigns can be manual or automatic.
In manual campaigns, the vendor chooses the type of targeting, sets up keywords, and sets the bid.
In automatic campaigns, the user only specifies the daily budget. Amazon does everything else, such as collecting keywords from the listing description and monthly training on different users at different prices.
Usually, automatic advertising campaigns start working effectively in the 3rd-4th month and should not be touched.
Sponsored Brands
This type of advertising is available only to vendors who have registered their brand. Sponsored Brands ads help to increase visibility as traffic is directed directly from the ad to the listing or Amazon Store.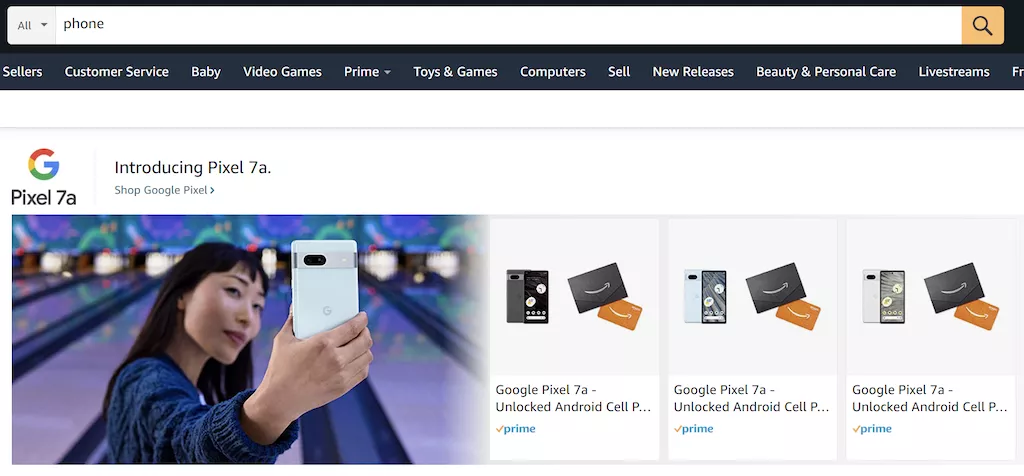 This ad has a higher conversion rate. It is placed in search results above Sponsored Products ads, making the ads larger and more visible. If users view the marketplace from a phone, they will see only Sponsored Brands ads on the first screen, so it has no competitors.
Display Ads
There are two types of Display Ads.
Video ads. There are separate videos (Outstream) and ads that are part of another video (Instream). The former lasts 15-30 seconds, and the latter up to three minutes.
Display ads. Display ads are shown in different sizes on desktop and mobile devices. They can contain thing content or enriched content when the ad has audio or video in addition to text or images. They look like banners and mobile interstitial ads with a CTA button that adjusts to the screen size.
To use this type of advertising, you need to be confident in your offer and have many reviews and attractive media content. It should be used by experienced vendors who have been promoting for more than six months.
This ad is displayed on:
the home page and product detail pages of the marketplace itself;
sites owned and operated by Amazon, such as Twitch and IMDb;
third-party platforms owned and operated by partners.
The placement is automatically selected based on targeting tactics and optimized to achieve the desired results.
External sources of promotion
There are niches for which advertising on Amazon will cost 2-3 times more than on Google. For example, in the beauty industry, a small manufacturer that sells skincare products will have to compete with top companies like Nivea and L'Oreal Paris. Such giants would invest $2 million in advertising campaigns that won't even make a profit just to outbid their competitors.
In such cases, they need traffic from external sources. Let me tell you about the most common ways to attract such traffic.
Social media
Posts on social media are a very effective source of traffic for Amazon products.
Case study: A company that sold handmade wooden toys for children decided to invest $1000 in paid traffic. But they also bought a post for $300 in the New Jersey Moms Facebook group. And this post was so effective that their products sold out in one day.
YouTube
Some companies choose the hard way to get traffic: they create their own YouTube channel, record and promote videos, and then provide links to products on Amazon in the video description.
However, most vendors choose a more straightforward approach and work with already-promoted influencers. To do this, you need to find a popular channel that is watched by the product's target audience. Then, you need to agree with the video's author (for example, a 10% discount for viewers on a specific product) and leave a link below the video.
Affiliate links
You should work with influencers through affiliate links with UTM tags. They allow you to determine precisely where the lead came from. Amazon has a special Amazon Associates program that allows you to receive 2% cashback from each product sold through an affiliate link.
An excellent way to profit is to order articles like "Top 10 bicycles" on popular websites and provide affiliate links to your products on Amazon. In this case, in addition to product advertisement and accurate information about the source of the lead, the vendor will also receive 2% cashback from each sale and compensation for the cost of placing the article.
Reddit
This is a popular platform where users are used to reading long threads. To advertise a product, you need to write a detailed post, for example, describing a situation when your laptop broke down, and you had to buy a spare part on a specific website and provide a link.
The difficulty is that it is forbidden to provide links in Reddit threads. But an extra space or period in the link will make it inactive. :)
Promotions on Amazon
Amazon periodically creates special pages for holidays, such as Black Friday. But to get on these pages, you must be a top player and have a hot offer.
Therefore, paying attention to classic discounts, coupons, and crossed-out prices is better. They positively highlight the product in the search results and encourage users to click on it.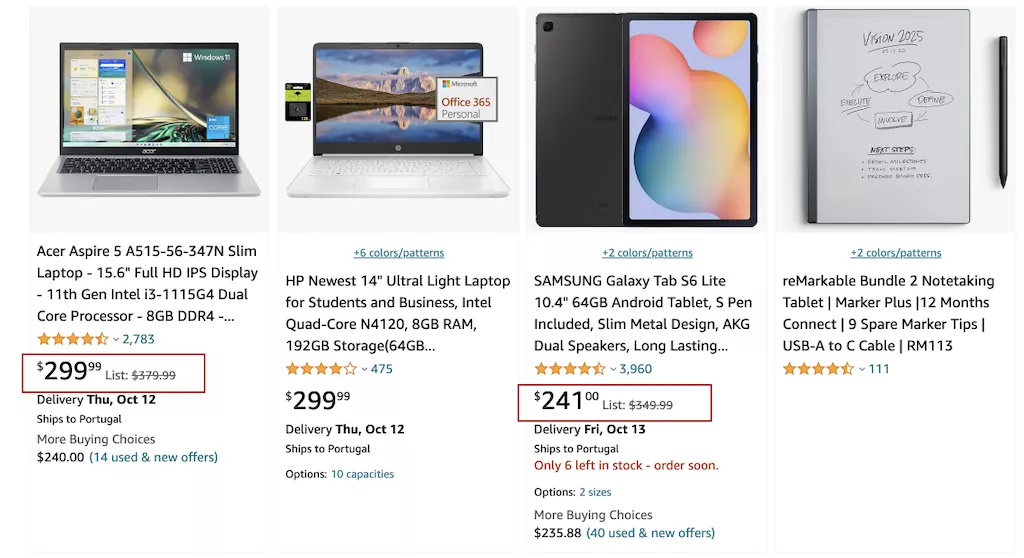 Another good attention-grabber is the red Limited Time Deal plate.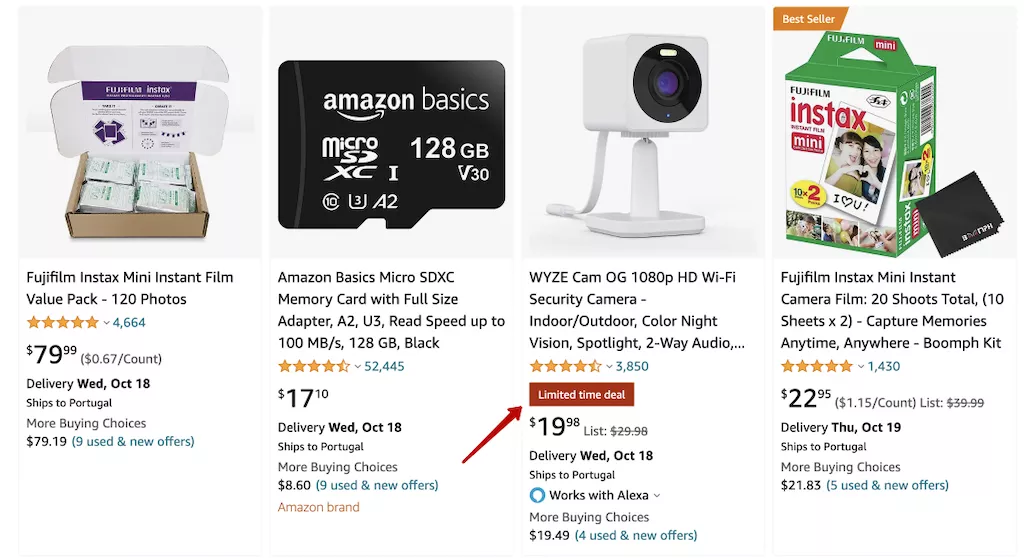 There is also a special page called Coupons, which gives a big boost to sales. To get featured on this page, offer generous discounts. For example, first set the price at $60 and then give a coupon for 60% off.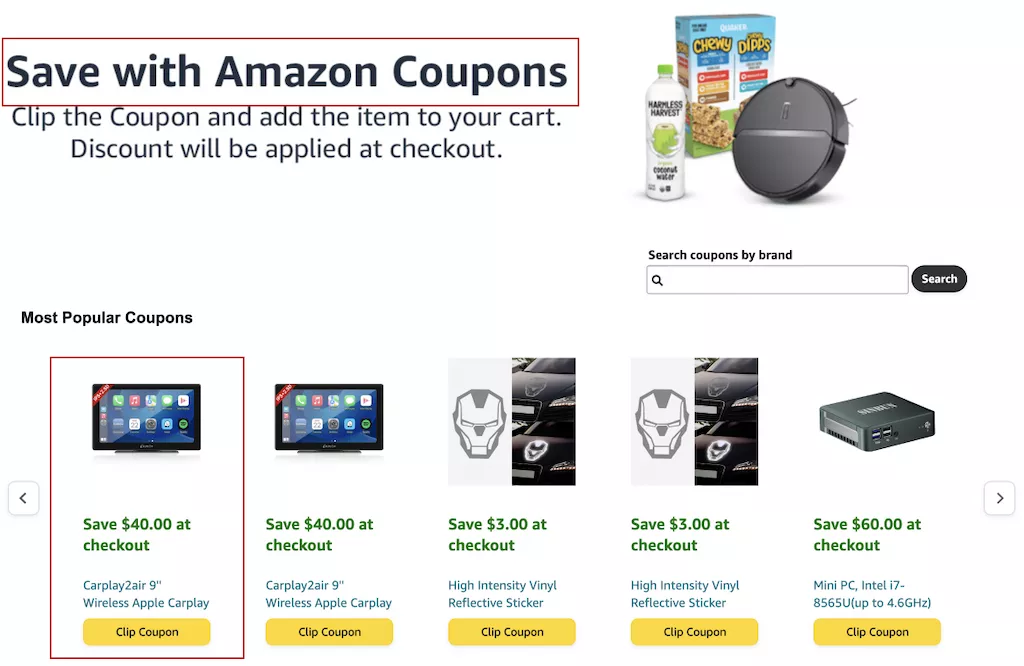 Amazon also collects profitable promotional offers on separate pages, such as Today's Deals.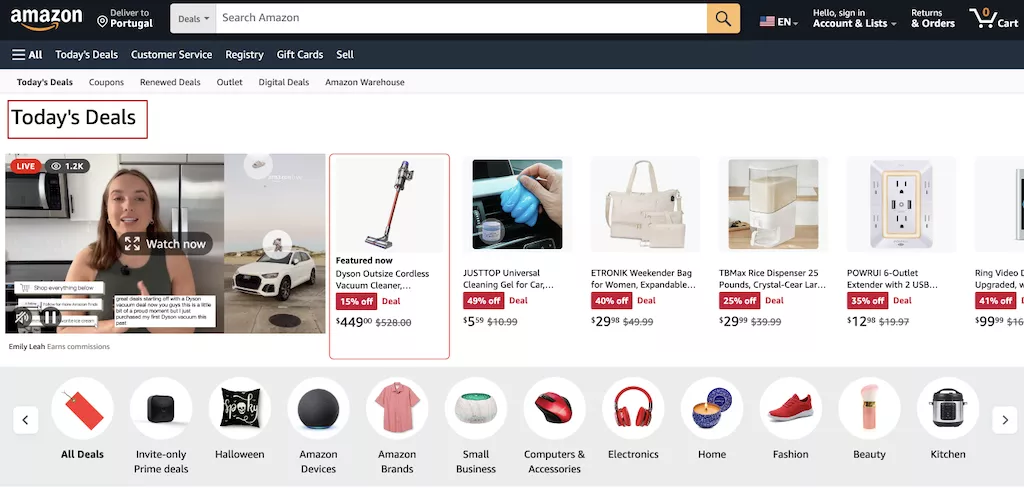 Working with Amazon reviews
Amazon reviews are critical. Buyers do not trust products without reviews and are less inclined to buy them.
But do not fake reviews with gray schemes. The risk is not worth it. You will be banned for life and will never be able to watch TV shows on Amazon Prime again. :) Amazon owns the world's largest server, and if anyone knows about your activity, it's them.
Case study: The promotion worked, and customers visited the listing, but the vendor got banned because they faked reviews two years ago.
Amazon launched the Amazon Vine program to ensure that vendors receive honest reviews.
The manufacturer sends its products for free to active Amazon users who buy more than ten products per month in its niche.
These users then write honest reviews.
Such reviews will be published as "Vine Customer Review of Free Product."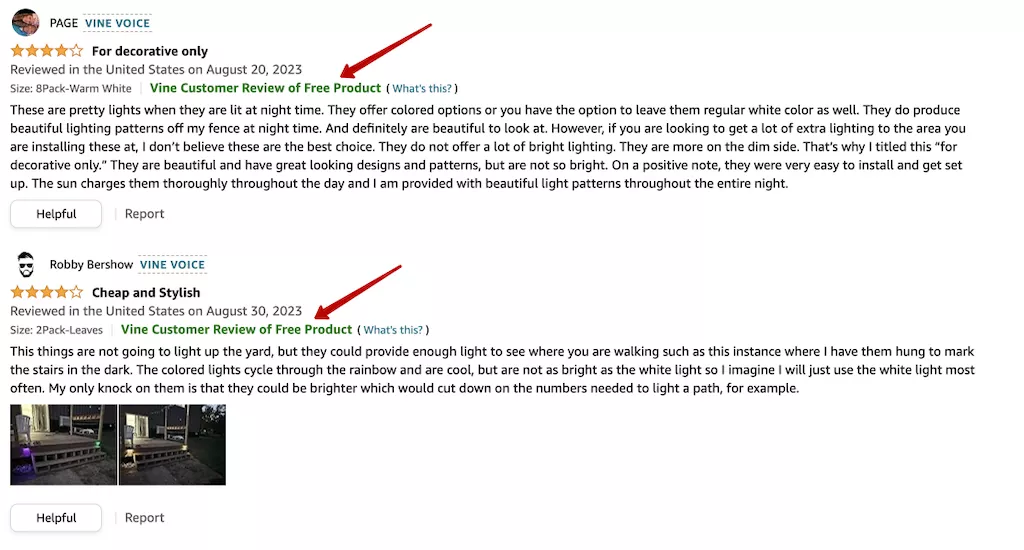 Amazon allows you to submit up to 20 products for review for free, depending on the niche. This is an excellent opportunity for manufacturers who are confident in their products.
How to analyze the results
In organic promotion, it is worth analyzing CTR (the number of clicks to a listing), sales, and conversion rate. It is better to look at this data over long periods, such as year to year or month to month.
In advertising campaigns, you need to see how much money you spend on advertising and how much you earn. Also, remember to monitor the number of ad views and clicks. If an advertiser buys 2 million views and only a thousand people click on a product, the views are not bought by the target audience.
Warehouse stocks. It is essential to analyze which products sell more and which sell less to predict the delivery date of new products correctly. If certain products are selling poorly, you should either offer a discount or remove them altogether.
Case study: A vendor brought a thousand products to the Amazon warehouse and sold ten a day. While this sounds acceptable in theory, he went into the red at the end of the month because he paid more for storage than he earned from sales.
Difficulties on Amazon that you should know about
1. Competition is high. It is difficult for small garment manufacturing companies to compete with global giants like Zara and H&M, also represented in the marketplace.
2. There is market monopolization in niches where Amazon acts not only as a platform but also as a vendor. Amazon's product range is extensive and includes everything from wet wipes to electronics. Promotion in such niches is not promising, as the platform is interested in selling its own brand of products.
3. Amazon's commission can be 30-40% of the price listed on the site. Sometimes more, depending on the niche and type of product.
4. Usually, advertising on Amazon is 2-3 times more expensive than on Google. However, the conversion rates of Amazon ads are higher because they work with a warm audience.
5. The storage and delivery of bulky goods incur high costs. But this point is leveled out by the Fulfillment by Merchant (FBM) system, where Amazon transfers the order to the vendor, and the latter stores and delivers it.
6. The tracking of external traffic sources needs to be more accurate.
Case study: Advertisers knew for sure that their ads brought 100 people to Amazon, but only 50 were listed in the platform's reports.
7. It can be difficult to withdraw earnings. The marketplace transfers part of the money to the card and freezes the rest for advertising. Sometimes, this amount can be from 50 to 100% of the monthly sales.
Best practices
The key to successful Amazon promotion is the right product and niche choice. With careful selection of both, the probability of success goes up to 90%. Even if you perform mediocre SEO optimization and set up advertising that is not too effective but offers a profitable product, the user will find it and remain a regular customer.
FAQ
How do you promote a product on Amazon?
Optimize your product listings to increase visibility and sales.
Make full use of Amazon's advertising tools.
Expand your product line.
Encourage customers to leave reviews and respond to them promptly.
Use Amazon's logistics services, such as Fulfillment by Amazon (FBA), to reduce delivery times and improve the customer experience.
Use external marketing channels.
Consistently analyze sales data and use this information to improve your business.
How much does it cost to advertise on Amazon?
While advertising in some niches is cheap, it is costly in others. But let's imagine an average manufacturer who promotes four listings on Amazon. During the first month of operation, their marketing budget will be $0 because they first need to optimize the listing and send products to Vine to get feedback. Without this, the effectiveness of advertising will be low.
You should expect to invest at least $500 in the second month and at least $1000 in the third month. And these figures should grow along with your earnings.
How do you get your first sales on Amazon?
The first sales will come from SEO. Before launching, upload high-quality texts and photos to the listing. Also, specify the actual price, the discounted price, and the price for business buyers (wholesale).
Conclusions
The main reasons for promoting on Amazon are a huge customer base and a convenient logistics solution – Fulfillment by Amazon (FBA).
Before entering Amazon, you need to analyze the niche and competitors, choose the promotion country, get acquainted with its laws, and register the brand.
The main ways of promotion are organic search and paid advertising.
To increase the chances of your product being found in organic search, you need to optimize your listing, have good vendor authority, and have high conversions.
Paid advertising on Amazon is divided into three types: Sponsored Product Ads, Sponsored Brands, and Display Ads.
There are external sources of promotion for Amazon products: YouTube, Reddit, social media, and affiliate links.
On Amazon, you should use classic promotions, such as discounts and coupons.
Reviews are critical. Fake reviews are severely punished, but there is an Amazon Vine program where the vendor sends goods to active buyers in a niche for free, and they write honest reviews.
For optimization, it is worth analyzing the conversion percentage from organic promotion, the effectiveness of advertising campaigns, and warehouse stocks. It is better to look at this data over long periods.
There are certain difficulties with promotion on Amazon: high competition, monopolization of some niches, and a significant commission.
On Amazon, choosing the right product and niche will give you a 90% chance of success.
Topics:
Found a mistake? Select it and press Ctrl + Enter