Mobile app promotion in 2023 – How to promote a mobile app
In the modern digital world, mobile applications have become an essential tool for business development and simplifying our everyday lives. As a result, competition in this market is extremely high. If an app remains unnoticed, it will simply get lost among countless alternatives.
Nevertheless, the issue can be effectively tackled by promoting the app in question. It constitutes an independent approach that encompasses a diverse array of actions aimed at capturing the interest of potential users, enhancing the app's popularity, and amplifying its download numbers.
Mobile app promotion methods
App Store Optimization
The foundation for successful app promotion on the Apple App Store and Google Play is ASO.
The core concept revolves around understanding how the algorithms of the Apple App Store and Google Play work and leveraging this knowledge to improve the textual descriptions of the app by incorporating keywords, as well as optimizing icons, screenshots, videos, and ratings. The goal of ASO is to increase the app's search visibility and organic traffic.
The process of App Store Optimization includes thorough competitor analysis, keyword selection and metadata compilation, analytics, and reporting.
With the help of ASO, you can also increase your app's rating, improve conversion rates, and consequently, increase the number of downloads. This success not only extends to your specific niche, but also positions you favorably within the broader market.
Advertisement
To captivate your intended audience and draw their attention toward your application, you can also leverage advertising campaigns such as Apple Search Ads and Google UAC (Universal App Campaign). These campaigns serve as effective means to promote your app and reach a wider audience.
Google UAC is a form of mobile application advertising campaign within Google Ads, which are displayed in Google Search, YouTube, and Google Play. This platform provides users with the flexibility to employ a diverse selection of creative options to successfully captivate and engage their target audience.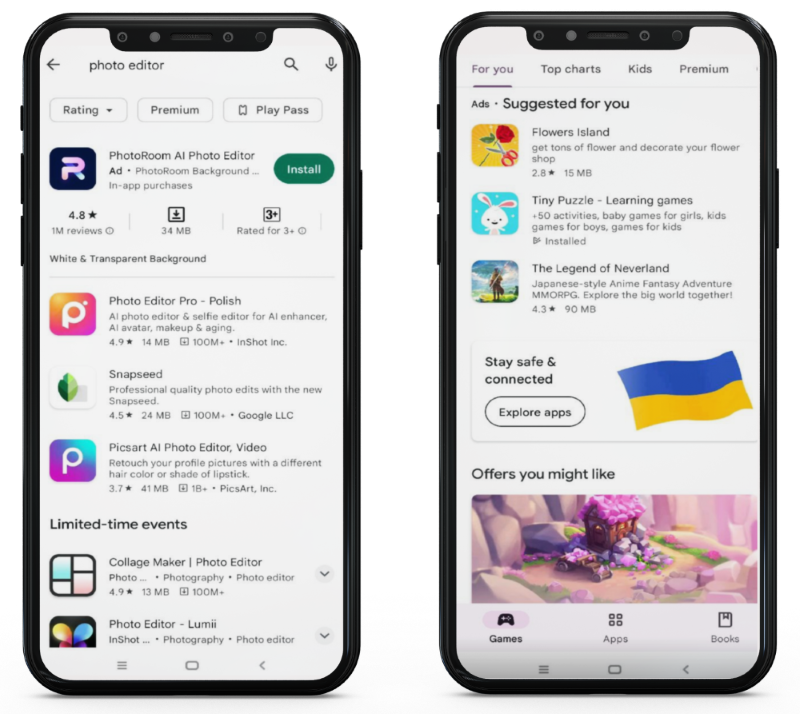 Examples of Google Universal App Campaign advertisements
Advertisement Apple Search Ads are exclusively accessible within the App Store for search queries. Creatives are placed on the main page (Today tab), on the app listing page (Product page), in the search results under the recommended section (Search tab), as well as in the advertising "zero" position for advertising. In addition to driving traffic, this type of campaign allows you to obtain keyword statistics, a feature unavailable in App Store Connect. Both platforms offer robust analytical tools that enable you to gather comprehensive data regarding the performance indicators of your advertisements. This invaluable information empowers you to optimize your campaigns effectively and attain superior results.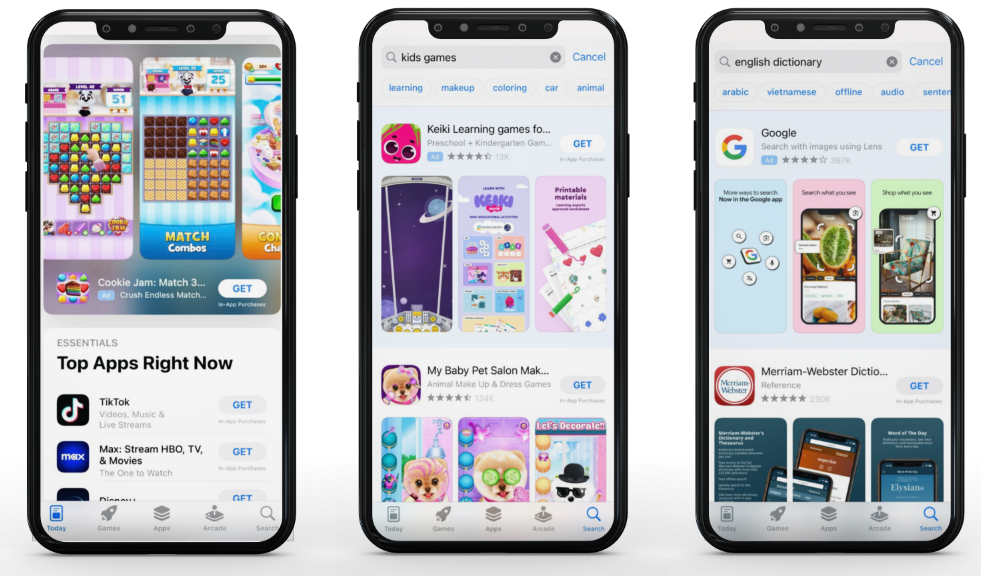 Examples of Apple Search Ads advertisements
Advertising on social networks
An alternative and highly effective approach for promoting mobile applications is through advertising on social networks. Platforms like Facebook, Instagram, Twitter, LinkedIn, and others boast a significant and engaged user base, making it highly likely that your target audience is among their active users. Here are the main aspects of running advertising campaigns on social networks:
Define your target audience. Before initiating your advertising campaign, determine who your target audience is and select the social network where your audience is most active.
Address your specific target user. Leveraging social media platforms for advertising grants you the ability to customize and refine your target audience parameters, such as gender, age, interests, and location, among others. This enables you to minimize unnecessary budget expenditures and precisely direct your advertisements toward users who are likely to be genuinely interested in your application.
Create quality creatives. The visual component plays a pivotal role in capturing attention. It is imperative to create attention-grabbing images, videos, or animations. These can be posts or interactive, engaging stories with high-quality images and a call to action. Demonstrate how your application can help users solve specific problems or make their leisure time more enjoyable.
Test and optimize. Conduct A/B testing to check different advertisement variations and settings. Track performance indicators such as CTR (click-through rate), conversions, and costs. Optimize your campaign based on the data collected and implement changes where necessary to improve the results.
SEO
SEO can also come in handy when promoting an application as it improves the visibility of your business and, consequently, improves the visibility of the application in search results.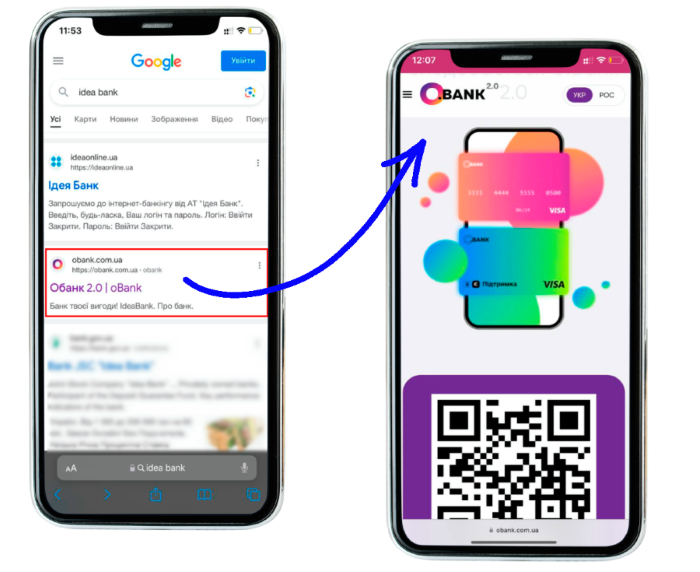 In accordance with established practices, it is advisable to optimize the application description to ensure its immediate visibility in searches across various queries. Furthermore, creating a dedicated landing page for the application or promoting it through third-party informational websites, reviews, and compilations can also be effective strategies.
By utilizing these approaches, you have the opportunity to captivate even those users who may not have initially planned to visit the App Store or Google Play. Through your application, you can offer them solutions to their inquiries, thereby effectively addressing their needs and enticing their interest.
Maintaining consistent technical SEO support for your website and increasing the number of backlinks to your application can significantly enhance its visibility on the first page of search results. This, in turn, allows for the attraction of a larger user base and ensures success within a fiercely competitive environment. Furthermore, there is the option of linking your website to the mobile application using
App Indexing
technology. This functionality operates by presenting the web page associated with the mobile application in search results when a user searches for relevant content on their smartphone. In such cases, the operating system promptly suggests installing the application. This convenient feature is accessible on both iOS and Android platforms.
Reviews and ratings
Reviews and ratings have a tremendous impact on the application as a whole, as they play a key role in building trust and aiding users in their selection process. Positive reviews and ratings have a positive impact on conversion, while negative ones can harm the application's reputation and lead to user attrition. At the same time, negative comments serve as valuable insights for developers, highlighting areas of the application that require improvement.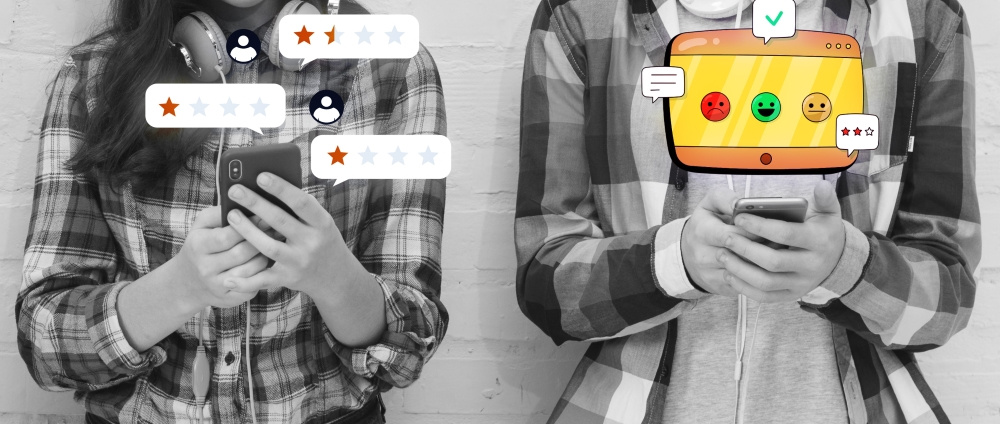 The main takeaways about working with reviews and their role in promotion:
Ensuring high-quality applications and continuous user support is an important factor that affects conversion.

Motivating your users to leave reviews by offering incentives is a recommended practice, an example of which is giving bonus rewards in the game. Additionally, it is recommended to display pop-up windows asking for ratings at the time when users are most likely to leave a positive comment, such as, for example, after successfully completing a game level. This will improve the application's rating and increase conversion from impressions to installs.
Furthermore, both reviews and responses to them are indexed in Google Play. Therefore, it is beneficial to include keywords and phrases in your responses to users, as this can improve your ranking for those specific terms and enhance the visibility of your application.
Incentivized Traffic
First and foremost, let's define what incentivized traffic is. The term refers to users who perform a desired action in exchange for a "reward". This approach is used for:
Improving search terms rankings
Enhancing application ratings
Implementing such marketing strategies yields several advantages, including enhanced app ranking for specific keywords in search results and steady growth in ratings.
To mitigate these challenges, use data from your Apple Search Ads (ASA) campaigns to assess the conversion rates for the keywords you're using for incentivizing your users. We recommend targeting only those keywords that have a conversion rate from impressions to installs of no less than 10%. It is advisable to calculate conversion rates for keywords that have at least 30 taps (clicks) and 1000 impressions in ASA. Additionally, for understanding the effectiveness of keywords, we suggest using a Mobile Measurement Partner (MMP).
Additional methods for promoting mobile applications
1. Creating a landing page (website)
Create a convenient and informative environment where potential users can learn about the main advantages and functionality of your application. Focus on key benefits, highlight unique features, and demonstrate them through video presentations, animations, screenshots, and user reviews. Include a call-to-action that encourages users to download the application.
Having a landing page or a dedicated website for your mobile application improves SEO metrics and increases its visibility in search engines.
2. Social media management
Engage with your audience on social media platforms. Depending on where your target audience spends their leisure time, create official accounts on various popular networks such as Facebook, Twitter, Instagram, or LinkedIn. Regularly publish news, useful tips, video reviews, and application updates. Interact with your followers by responding to their questions and comments. Sponsor advertising campaigns on social media, tailoring them to your goals and target audience.
3. Content Marketing
Promote your mobile application using relevant content that meets the needs of your audience. Create articles, infographics, video clips, or even podcasts where you explain the benefits your mobile app brings and the problems it solves.
Distribute this content through various different channels such as websites, social media, guest blogs, media outlets, and newsletters. Don't neglect SEO strategies to make your content accessible to search engines and attain high positions in search results.
4. Influencer Marketing
Influencers wield considerable influence over their audience, and their recommendations and reviews garner trust among their followers. When selecting influencers, opt for thought leaders who closely resonate with your target audience, demonstrate high levels of engagement and involvement from their followers, and align with the values of your brand.
5. Email Campaigns
Implementing an email campaign is a long-term strategy that requires the establishment of a subscriber base. To build this base, collect email addresses through multiple channels, such as your website and social media platforms. It is crucial to consistently update this database and provide recipients with the option to unsubscribe from receiving further emails.
The main goal of email campaigns is to engage users with your application. To accomplish this, use clear call-to-action buttons that prompt specific actions such as downloading, updating, or registering.
To achieve high conversion rates, we recommend personalizing your emails by leveraging data on recipients' previous actions and interests. By creating tailored offers for specific user segments and delivering relevant content, you can demonstrate a higher level of effectiveness in engaging your audience.
Steps you need to take before starting the mobile app promotion:
To ensure the successful promotion of your mobile application, there are several steps you need to take.
Goal and Value. Determine the main goal of your application and its value and uniqueness compared to your competitors. Thorough market research and audience analysis will help you gain insights into users' needs and requirements.
Competitive Analysis. Research your competitors and their promotional strategies. Identify their strengths and weaknesses to develop a unique approach that makes you stand out among them.
Bug Fixes. Make sure your application has undergone all necessary bug fixes and testing. It should be stable and provide the necessary functionality as promised.
Design and Usability. Your application should be attractive, user-friendly, and provide an intuitive user experience.
App Store Optimization. Ensure that your application meets all requirements and recommendations of app stores such as the App Store or Google Play. Use keywords in the title and descriptions, and optimize creatives to enhance visibility in search results and achieve a high conversion rate. Additionally, take advantage of Apple's boost during the initial release phase. The title of your application will appear in auto-suggestions for queries that are included in it. Therefore, add highly relevant and popular keywords to it and thus maximize its visibility.
Marketing Plan. Develop a step-by-step marketing plan to promote your application through various channels such as social media, content marketing, advertising, and influencer collaborations.
Ratings and Reviews. Pay attention to user feedback. Ratings and reviews have an impact on increasing your app's rating and provide valuable information for improving your application.
These aspects should be considered before starting the promotion of a mobile application to ensure its successful market entry and maximum promotional effectiveness.
Mobile App Promotion Analytics
Analyzing the promotion analytics of mobile applications is a crucial stage for evaluating their effectiveness. To conduct this analysis, several key steps can be followed.
Define specific performance metrics that you want to measure. These can be indicators such as download numbers, user activity, conversions, revenue, or others. They can be roughly divided into external and internal metrics. The former is accessible to all users, while the latter is only available to developers.
External metrics are related to search queries and the visibility of your application. This should be your key KPI when evaluating the effectiveness of text optimization. The higher your application ranks for popular search queries, the greater its visibility, ultimately leading to increased organic traffic.
Internal metrics encompass all application analytics data. Primarily, this includes revenue. You should also track performance indicators such as downloads, ratings, and other application metrics.
Collect data about the application and its user interactions. Utilize analytical tools such as Google Analytics or Firebase to track user activity, behavior, conversions, and other important indicators.
How to Choose an Effective Mobile App Promotion Strategy
You can choose the most effective promotion strategy for your mobile application by considering factors that best suit your needs and resources:
Target audience. Carefully analyze your target audience and research the platforms and channels where they are active. For example, if your target audience primarily uses Instagram, consider the possibilities of promoting through this social network.


Budget. Its allocation is a crucial consideration in determining your promotion strategy. Evaluate your promotion budget and assess which methods are feasible within its constraints. For instance, advertising on Google platforms or social media may require a substantial financial investment, whereas collaborating with opinion leaders may be a more cost-effective option.


Time and resources. Evaluate the time and human resources available to you for implementing the chosen method of promotion. Some methods may require a lot of time and effort, such as creating content for a blog or maintaining social media presence, while others may be more automated, such as advertising on search engines.


Competitor analysis. Study the promotion methods used by your competitors. This can give you an idea of what works in your industry and help you find your niche and stand out from the competition


Testing and analytics. Do not forget the importance of testing and analyzing the results. Try different promotion methods, conduct A/B testing, and measure their effectiveness. Analyze data to determine which methods work best for your application.
Top 5 Most Common Mistakes in Mobile App Promotion
To ensure that the promotion of your mobile app is not doomed to failure, it is important to be aware of the common made mistakes by others and take measures to avoid them.
Insufficient research of the target audience.
Not knowing the needs and expectations of users can lead to the creation of an application that does not meet their requirements. This, of course, diminishes the chances of installation and usage.
Inadequate focus on marketing.
The absence of a well-developed marketing strategy and active promotion can result in low visibility of the app and, consequently, a low number of new users. Your strategy should be clear and based on knowing your target audience and the channels through which you plan to promote the application.
Neglecting app support.
This includes regular bug fixes, feature updates, and responsiveness to user feedback, which can result in a loss of trust from users. It is crucial to provide ongoing support to address issues and improve the app's functionality, ensuring a positive user experience and maintaining user trust.
Releasing an app without proper testing.
This can result in functionality issues, instability, and a poor overall user experience. Such shortcomings can have a detrimental effect on the success and reputation of the app. It is crucial to invest time and resources in comprehensive testing to ensure that the app performs optimally and meets user expectations.
Lack of analytics and performance evaluation.
Neglecting analytics and performance evaluation can impede the ability to assess the effectiveness of app promotion and identify areas for improvement. It is crucial to collect and analyze data on user interactions with the app to gain insights into its performance. This allows for informed decision-making and the identification of opportunities to enhance the app's promotion strategy and overall success.
Conclusion
Promoting mobile apps requires a clear understanding of your target audience and the presence of a well-defined strategy to follow. Boost your marketing efforts by employing a multi-channel approach for promotion – this will allow you to become noticed by your audience more quickly.
Remember that without upholding proper quality control measures in all aspects of your app and its marketing – from the app's functionality to advertising creatives – achieving great results will be more challenging or they will be short-lived.
Topics:
Found a mistake? Select it and press Ctrl + Enter