Performance Max Campaign Optimization: 10 Steps to Maximize Efficiency
Performance Max campaigns are fully automated ad campaigns. Advertisers are only required to set conversion goals, and real-time intelligent bidding strategies will optimize ad impressions to drive more valuable conversions. However, if you make the effort to further optimize your PMax campaign, you can get even better results. This post will show you ten ways to optimize the performance of your Performance Max campaign.
What are Performance Max campaigns?
Performance Max campaigns are goal-based and conversion-oriented. By launching this type of ad campaign, advertisers can interact with customers across all Google advertising networks, including Search, Display, YouTube, Discovery, Maps, Shopping, Gmail, partner websites, and others.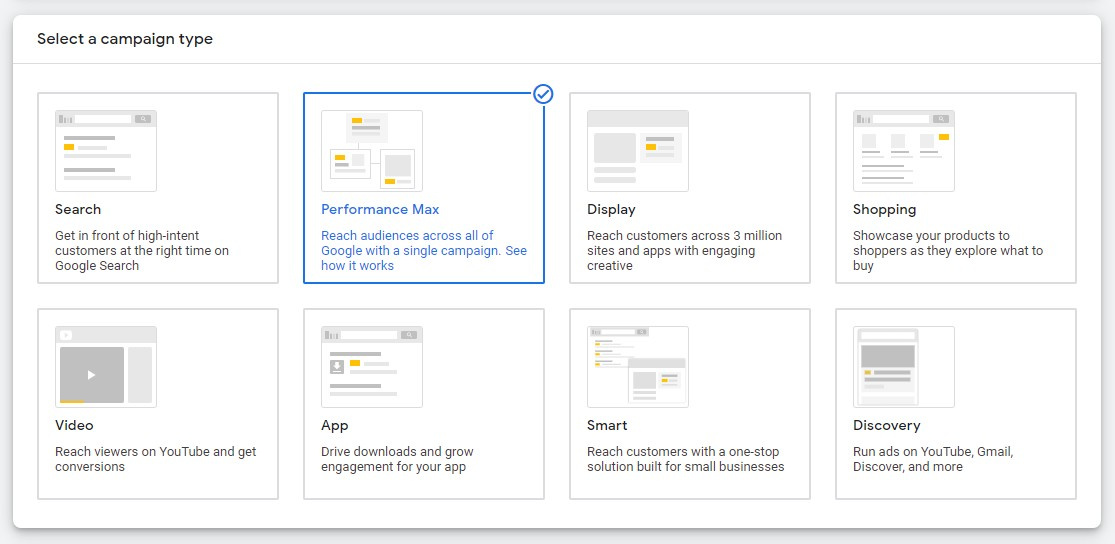 Use PMax campaigns when:
You have specific advertising and conversion goals, such as driving online sales and generating leads.
You want to show ads from one campaign across all Google channels and maximize their effectiveness.
You want to gain additional reach and conversion value beyond keyword-based search campaigns.
However, like any type of Google Ads campaign, Performance Max has its pros and cons.
Pros:
Full automation. Google does the work for you, but you can control this automation to further enhance performance.
Wide reach. A PMax campaign allows you to reach new audiences across all Google channels simultaneously. It is more efficient, as you won't have to create separate advertising campaigns for search and display networks.
Conversion oriented. Due to their focus on creating conversions, PMax campaigns are perfect for ecommerce and lead generation.
Cons:
Low level of control over the ad campaign elements. This is one of the downsides of full automation. In particular, you won't be able to carefully moderate the search queries for which your ad is displayed and won't get keyword statistics.
Limited statistics. PMax campaigns display only limited statistics when comparing remarketing or new customer campaigns or impressions for branded and general search queries within the same campaign.
Several ad assets are needed. To be effective, the campaigns need a large number of creatives and ad assets (images, logos, and videos) to increase variability.
Long campaign training period. According to Google Ads Help, the campaign training period can last up to six weeks. At the same time, campaigns of this type can demonstrate unstable performance.
Higher costs. As a large number of channels are covered, Performance Max campaigns require a bigger budget than Search or Display campaigns.
The PPC specialists at Netpeak have been working with Performance Max campaigns since they were launched back in 2021. Through our experience, we have identified ten steps for optimizing PMax campaigns to boost their effectiveness.
Things to consider before launching an ad campaign
The first steps to optimizing your PMax campaign can be taken even before you launch the campaign.
Step 1: Choose the right betting strategy
When launching a new Performance Max campaign, you have two options for setting bids:
Maximize Conversions — get the highest number of conversions within your budget.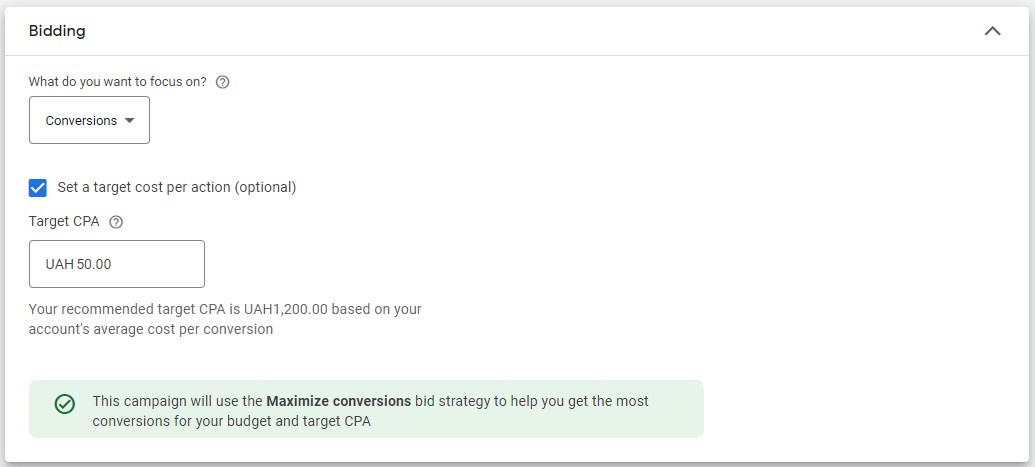 Conversion Value — get fewer but more profitable conversions. The priority is the value of the conversion.

We recommend starting with the Maximize Conversions option. This will allow you to collect all the important conversion data needed when launching a new campaign.
Once you have collected enough statistics, you can experiment with the other options, such as Maximize number of conversions with a target CPA or Maximize conversion value with a target ROI, to increase your campaign's effectiveness.
If your ad campaign is not using the allocated budget entirely, the bid is too low. Increase your CPA or decrease your ROAS.
If you find yourself maxing out the entire budget every day, you can gradually lower your bids or increase your budget.
Step 2: Select relevant campaign settings
Location setup
If you notice traffic coming from irrelevant regions or cities, make sure the Presence location setting is enabled.

Ad schedule
Depending on the specifics of the service or product you are promoting and statistical data, adjust the time of ad display in the Ad schedule tab. This way, the system will show ads at times when they can bring results, and you will use your budget more effectively.

Final URL expansion
Final URL expansion is a setting that is initially enabled when you create a campaign. When enabled, the campaign can direct traffic to the most relevant URLs on your website and display a dynamic headline based on customer intent.

While this setting can increase the effectiveness of your performance campaign, it is important to exclude any URLs that are not relevant to your ad campaign. This is to prevent Google Ads from showing ads for service pages on your website (e.g., the Terms and Conditions page).
Step 3: Keep an eye on the Customer Acquisition feature
This setting is unique to PMax campaigns. You can set up a campaign to show ads only to users who have not interacted with your business. Another option is to set higher bids for new users and interact with existing customers at the same time. You can bid for new customers only, but on one condition: a segment needs to be added to the audience signal that contains at least 1000 active participants on at least one network.

Step 4: Add the maximum number of assets for your ad
Maximizing ad assets will make your ads suitable for display on all types of advertising platforms. It will also ensure high-quality ads.
Key points to keep in mind:
Add as many titles and descriptions as possible, and incorporate keywords that customers will use to search for your product.
All texts, images, and videos should be relevant to your business to ensure the ad ranks highly.
For PMax to work to its fullest potential on different networks such as Shopping, Search, Display Network, and video, you need to add high-quality ad creatives.
Important! If you don't include a video in your ad, Google will create a video from the available images. Therefore, it is wise to add at least one video creative of your own to your ad. If this is not possible, you can create a video using a template in Video Builder, which is found in Google Ads > Tools & settings > Shared library > Asset library > Create video.
Be sure to include ad creatives of different sizes in the assets. This will give the system more options when choosing where to display your ads. Create the following:
square images 1200×1200 (1:1)
rectangular images 1200×628 (1.91:1) and 960×1200 (4:5)
logos 1200×1200 (1:1) and 1200×300 (4:1).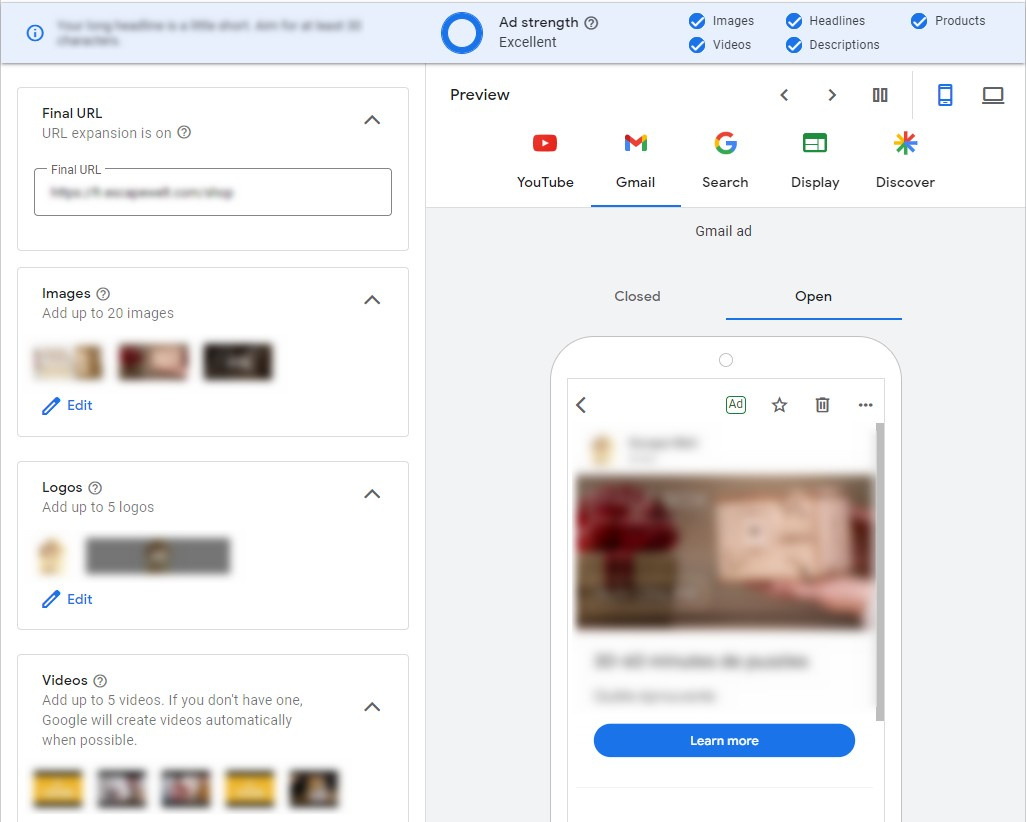 Step 5: Use assets (extensions) in ads
Assets (extensions) in campaign ads maximize the relevance and CTR of your campaigns by providing additional information about the product. It is a must for every PPC specialist to use them. Google Help recommends adding four or more types of assets. For example, you can include additional links and information, images, and another asset of your choice. Choose the additional assets that best suit your main advertising goal. The most common ones are listed below:
additional links

additional information (footnotes)

structured descriptions

addresses

calls (phone numbers)

prices

links to applications

forms for prospects

promotions.
Optimization after launching Performance Max campaigns
Now that we have covered the steps you can take before launching your PMax campaign, let's take a look at how you can further optimize your campaign even after launching it.
Step 6: Monitor and optimize your budget
On the main page of your Ads account, you will find an Overview tab where you can view campaign costs over a long period of time. Compared to other types of ad campaigns, Performance Max campaign budgets have a greater impact on the results.

If you notice that your PMax campaign is using the entire budget, test it by expanding the budget to see if you can increase efficiency. Compare the progress to make sure the profit margin remains the same or increases. Google's algorithms will view the budget as an indicator that new search queries, signals, or channels should be searched for. If the budget has a higher balance at the end of the day, this search will be more effective. A smaller budget balance does not stimulate the campaign to find valuable traffic as much as a larger one.
Don't increase your campaign budget sharply. A strong increase will shock the system and make it look for new traffic sources randomly. If you decide to increase your ad expenditure, add 10-20% to the budget every week. With gradual budget increases, the system will distribute the budget more efficiently between different traffic channels.
Try lowering your budget if you want a higher ROAS. In some cases, you can get more profit by lowering your ad budget rather than increasing your ROAS target.
Step 7: Optimize your advertising assets
Click on View Details in the Asset Groups menu to see how Google ranks each asset. The Performance column in the table will rank the quality of each asset as Low, Good, Best, Pending, or Planned (if not enough data has been collected).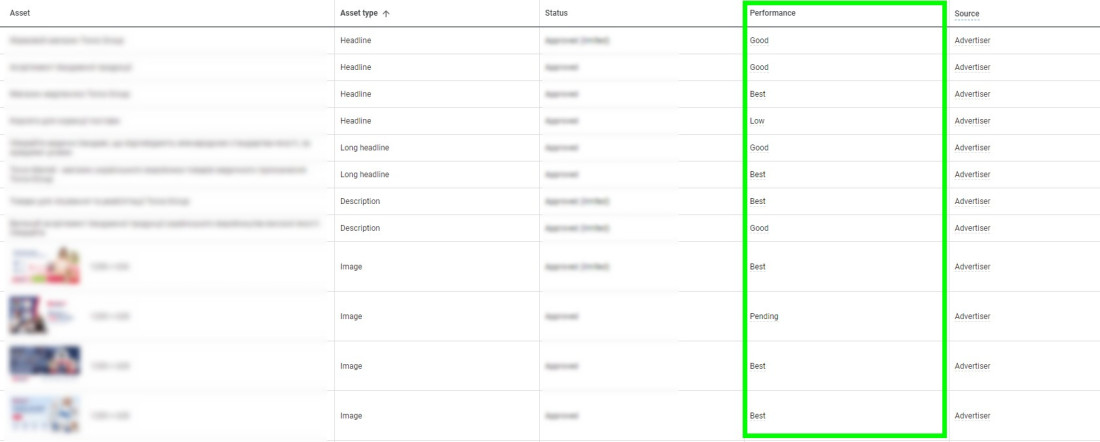 Replace assets depending on their effectiveness compared to other ad elements. If you have only one type of asset, your campaign has nothing to compare it to, and you won't get a performance rating. Therefore, it is important to have a large number of assets of all types.
Step 8: Expand audience signals
Initially, audience signals can and should be added at the stage of creating an advertising campaign. Signals created based on your data sources or interests will allow Google to show ads to the users you want.
If you don't get the desired results after the launch, you need to further check and customize or replace the audience signals.
Create an audience signal based on your existing customer list. This is a powerful signal because Google finds customers who are similar to existing ones.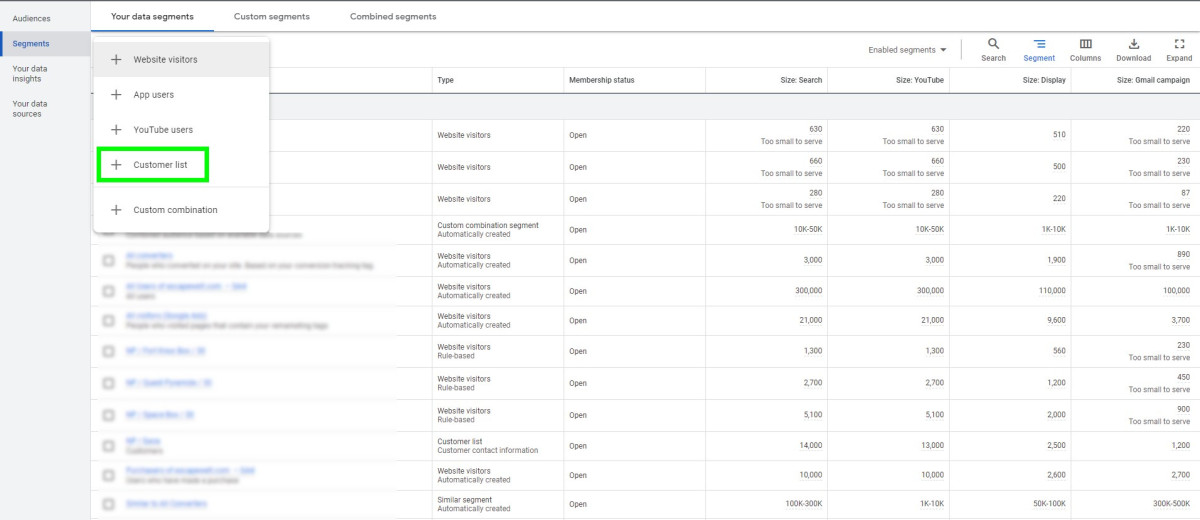 Create audience signals based on a special segment of customer intent data by adding relevant keywords. If you have previously collected keywords for search advertising campaigns, this will be a great audience signal.
Use an audience signal based on website visitors, app users, or YouTube channel users.
Create several groups of assets with different audience signals and analyze their effectiveness.
Step 9: Make sure all products are suitable for display
If you intend to use Performance Max campaigns as sales campaigns, you need to make sure that all your products are suitable for display. You can check the status by going to the Products menu and looking at the Product Status column. If a product is not ready to be displayed, it will not appear in any ads.

After sorting products by status, you will be able to see rejected catalog items, if any.
Make sure that your data feed is set up correctly. It should contain complete and up-to-date information about your product.
To understand what exactly you sell, Google looks at these data feed columns:
Brand Name
Manufacturer Part Number (MPN/SKU)
UPC Code (GTIN)
In addition, it is important to have the following columns:
Descriptive titles
Google taxonomy/categorization
Product type.
Step 10: Add exclusions
One of the PMax optimization strategies is to use exclusions to prevent budget misuse and increase the effectiveness of the campaign.
All products in the catalog that are not available for purchase must be excluded.
It is also a good idea to exclude products or services that are not profitable or have low profit margins, as well as products or services with low conversion rates. To achieve this, you can use listing groups and exclude these products by brand, product ID, category, special tags, and so on.
Exclude unwanted keywords. Currently, this can be done by adding a list of negative keywords at the level of the advertising account. You can add up to 1000 keywords to the list.
If your campaign is focused on acquiring new customers, use the Customer Acquisition setting to exclude existing customers.
Exclude non-targeted end URLs to prevent the system from directing customers to pages that you do not promote.
Add placement exclusions to prevent ads from being shown on websites with a non-targeted audience. You can analyze the placements and the amount of traffic from the websites as shown in the chart below:

Don't forget:
Performance Max campaigns open up many opportunities for advertisers and businesses. Apart from cross-channel promotion and ad display on new platforms, you can also find new customers and take advantage of Google's automation and machine learning technologies.
Here are ten steps you can take to maximize your Performance Max campaigns:
Choose the appropriate bidding strategy.
Use relevant campaign settings.
Monitor the Customer Acquisition feature.
Add the maximum number of objects to your ads.
Use assets (extensions) in your ads.
Monitor and optimize your budget.
Optimize your ad objects.
Expand audience signals.
Make sure all products are suitable for display.
Add exclusions.
FAQ
How long does it take for Performance Max to work effectively?
Performance Max campaigns use machine learning to optimize performance. Based on data obtained through audience signals and campaign performance, the process can take 1 to 2 weeks.
Can I show only shopping ads in a Performance Max campaign?
Yes, you can turn a Performance Max campaign into a Smart Shopping campaign.
Set up a group of information (products), but don't add any images, videos, or text ads to the asset group (ads).
This way, your Performance Max campaign will display mostly shopping ads.
Can I choose the channels to launch my Performance Max campaigns?
No. According to Google, Performance Max campaigns are goal-oriented. If you correctly set goals that are relevant to your business, its bid system will prioritize channels that help you achieve those goals and ignore channels that don't.
How do I track my results in Performance Max campaigns?
Performance Max uses the Insights page for tracking and monitoring. Instead of showing detailed data in different view modes, it shows some useful statistics:
weekly and monthly performance factors of your campaign;
search terms for which your ads are displayed;
performance issues and recommendations for fixing them;
marketing data from Google to help you adapt and grow your business and advertising.

When are Performance Max campaigns not recommended?
The current use cases for PMax are online sales, lead generation, and in-store visits. If your goal is to boost brand awareness or app installs, Performance Max alone is not a good fit. However, you can run PMax alongside other awareness campaigns.
Additionally, if you're looking to drive performance through specific channels, formats, or audiences, consider using Display, Video, and/or Discovery campaigns.
Found a mistake? Select it and press Ctrl + Enter