Advertising on Spotify: What Is It and How to Сreate The First Campaign
Spotify is a digital service that gives you access to millions of songs and other content from creators worldwide. Many of us listen to our favorite music there, but what about Spotify Ads? After reading this post, you'll understand what it is and how to get the best out of this type of advertisement.
About Spotify Ads
Spotify Ads refer to advertisements played on the Spotify music streaming platform. These ads can take various forms, including audio, image, and video ads. They are targeted at Spotify's user base, which consists of millions worldwide listening to music and podcasts on the platform.
Here are a few digits to show you how giant Spotify is today:
Spotify has 551 million monthly active listeners! As of the second quarter of 2023, 220 million are its premium subscribers.
Europe accounts are the most significant stake of all listeners, 29% of Spotify's monthly active listeners.
North America (USA + Canada) comes second with a 20% share.
Spotify has 331 million monthly ad-supported users, so there are many people to work with.
On average, 1,800,000 songs are uploaded on Spotify every month, so the platform is getting bigger and bigger!

29% of Spotify's global users belong to the 25 to 34 age group. People aged between 18 and 24 make up the second biggest user group with 26%.

Spotify's ad-supported revenue increased 17% year-over-year to €329 million in the first quarter of 2023.
The revenue increased to €404 million in Q2, bringing the total to €733 million.
This demonstrates Spotify's ability to generate revenue from its non-paying user base by improving ad targeting capabilities and offering innovative ad formats.
The platform would be helpful for:
Musicians and bands. They can use Spotify Ads to promote their music to a wide audience. Ads can help them gain exposure, attract new fans, and increase their chances of getting discovered.
Record labels. Labels can use Spotify Ads to promote their artists and releases, helping to boost the visibility of their catalog.
Brands and advertisers. Companies looking to reach a diverse and engaged audience can use Spotify Ads to promote their products or services. This is particularly effective if their target demographic aligns with Spotify's user base.
Podcasters. Spotify is a significant platform for podcast consumption. Podcasters can use ads to promote their shows and attract new listeners.
Event promoters. Whether it's a concert, festival, or any other event, using Spotify Ads can help promote the event to a large and relevant audience.
Three levels of advertising at Spotify Ads
Your advertising can be divided into three levels: Сampaigns, Ad groups, and Ads.
Campaigns
At the campaign level, you can choose an ad type:
non-music-related promotions such as raising awareness of your company;
music-related promotions, such as promoting an artist's music on Spotify.
You can select placements, ad formats, targeting parameters, budget, schedule, goals, and bid caps at the ad group level. You will also see an overview of your projected coverage, frequency, and budgeted delivery probability there. You can upload audio or video creative at the ad level or create ads from scratch using free audio creative tools and services.
Ad Sets
A campaign can contain one or more ad groups, and an ad group can include a set of ads. You can create a new campaign with multiple ads and ad groups and copy or delete existing ones.
Ads
Audio ads last up to 30 seconds and display a clickable image during the ad. If you already have a pre-made audio ad, you can easily upload it directly from your computer to Ad Studio.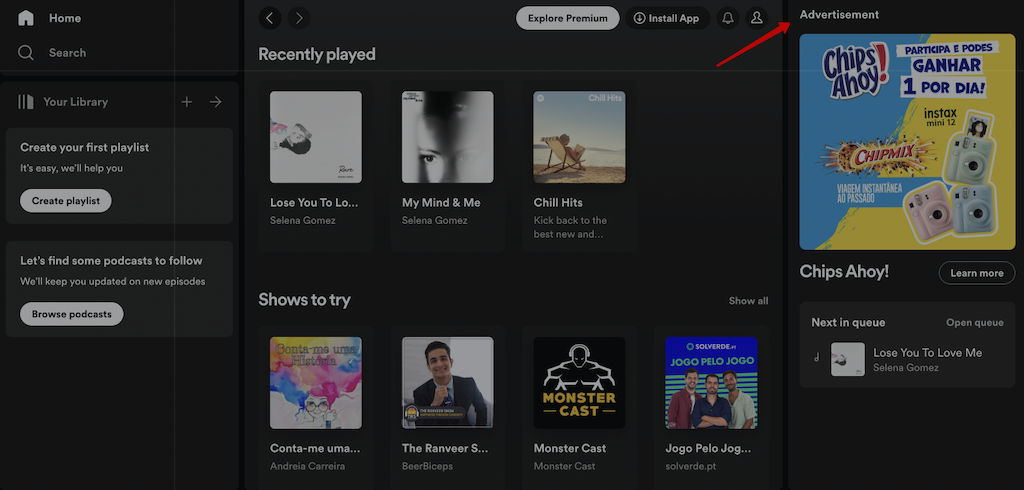 Ad-supported listeners will see video ads on mobile or desktop when the Spotify app is opened. Essential parameters for video:
Length: 30 seconds or less.
Max file size: 500 MB.
File types: MOV, MP4.
Aspect ratio: 9x16 (portrait), 16x9 (landscape).
Resolution: HD 720x1280 or similar (portrait), HD 1280x720 or similar (landscape).
Only one clickthrough URL can be used.
All files must include sound.
The frame rate should be NTSC or PAL compatible.
Video must be submitted without slates, countdowns, etc.
Your video message will be sent to listeners during the ad break, including a clickable image and a call-to-action of your choice.
Companion image dimensions: square, at least 640x640 pixels. File type JPEG or PNG.
The default CTA for each ad you create in Ad Studio is "Learn more." You can choose another: Apply now, Buy now, Click now, Get info, etc.
Types of objectives at Spotify Ads
Impressions
Impressions refer to the number of times your ad is displayed or viewed. In the context of Spotify Ads, this means how often your audio or image ad is played or shown to a user.
Impressions are crucial for building brand awareness. The more times your ad is seen or heard, the more likely it is to be remembered by your target audience. It measures how many potential customers have been exposed to your ad.
The main metrics:
Total Impressions. The overall number of times your ad has been viewed or played.
Impressions per User. The average number of times a single user views or hears your ad.
Frequency. How often a single user views your ad.
Reach
Reach is the total number of unique users exposed to your ad. It represents the size of your potential audience. Reach is about expanding your audience base. It helps you to tap into new markets and demographics, increasing the chances of attracting new customers.
The main metrics:
Total Reach. The total number of unique users who have seen or heard your ad.
Unique Reach. The number of distinct individuals who have encountered your ad.
Clicks
Clicks refer to the number of times a user interacts with your ad by clicking on it. In the context of Spotify, this could involve clicking on an image ad that leads to a landing page or interacting with a clickable element within an audio ad.
Clicks indicate active engagement with your ad. They signal interest and can lead to further actions such as website visits, sign-ups, or purchases.
The main metrics:
Total Clicks. The number of times users have clicked on your ad.
Click-through-rate (CTR). Calculated as (Total Clicks / Total Impressions) * 100. CTR is a percentage that indicates how often people who see your ad end up clicking it.
Types of budget
Average daily budget
The daily budget lets you plan how much you want to spend each day. The minimum amount you can deposit is $15. With a daily budget, you can set a start and end date or set your budget to have no end date.
Some days, you can spend double your daily budget; others, you can spend less. The most you'll spend each calendar month is 30.4x your average daily budget.
Lifetime budget
A lifetime budget allows you to choose a large amount of money you can spend as opportunities arise until the budget is exhausted or the project ends. The minimum you can set is US$250.00 (in local currency).
A lifetime budget should have a start and end date. By default, promotions start and end at midnight on the specified dates. To start or stop advertising at a specific time, use time blocks to set your time and budget to choose the time you want. Start and end times are set based on the time zone where you create your ad.
How to create a campaign on Spotify Ads
1. First of all, go to Spotify Ad Studio to log in. Then, fill out the email field and choose a preferred language, e.g., English.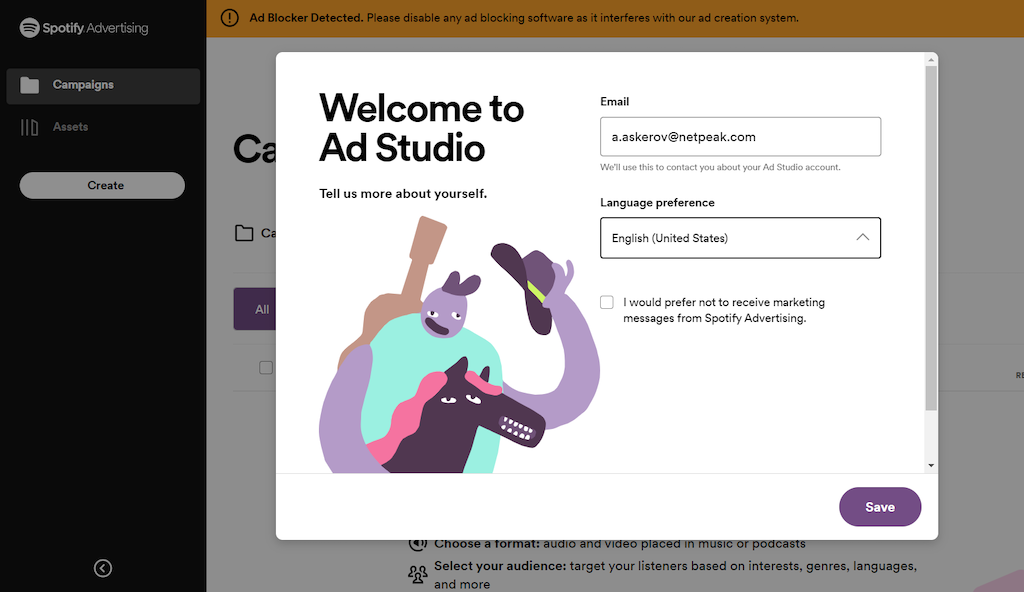 2. You'll see two options: Create campaign and Add team.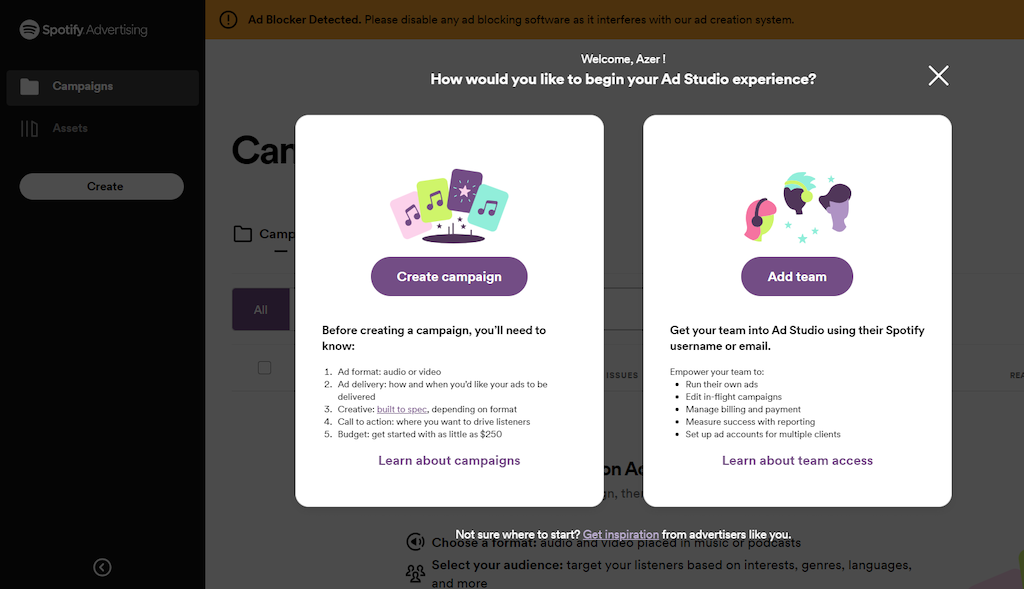 3. Choose one of them, e.g., Create campaign.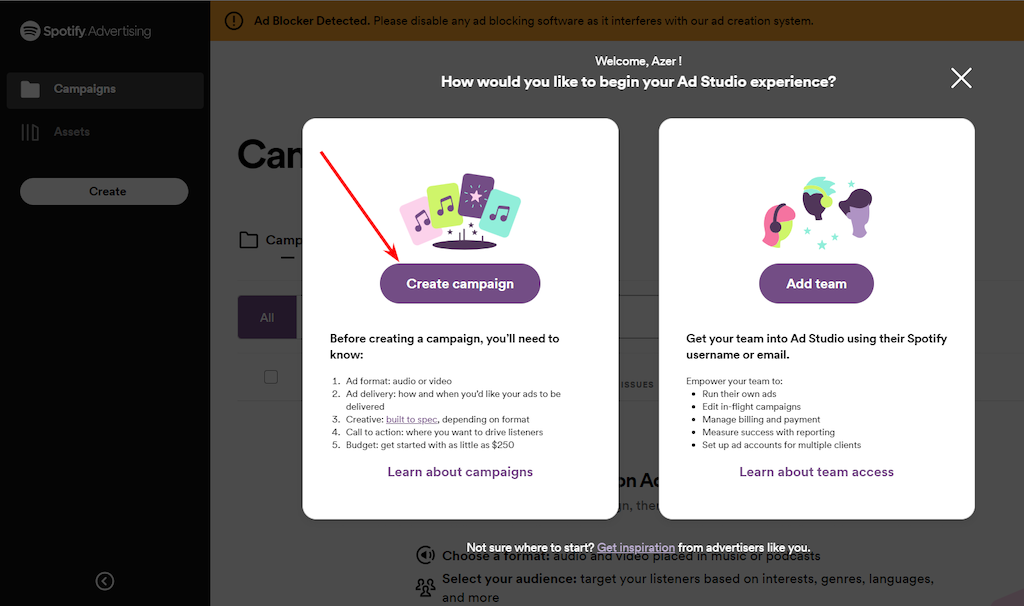 4. Fill out the form to set up the campaign. Put your Business Name in, and select your Business Type – for example, Brand advertiser.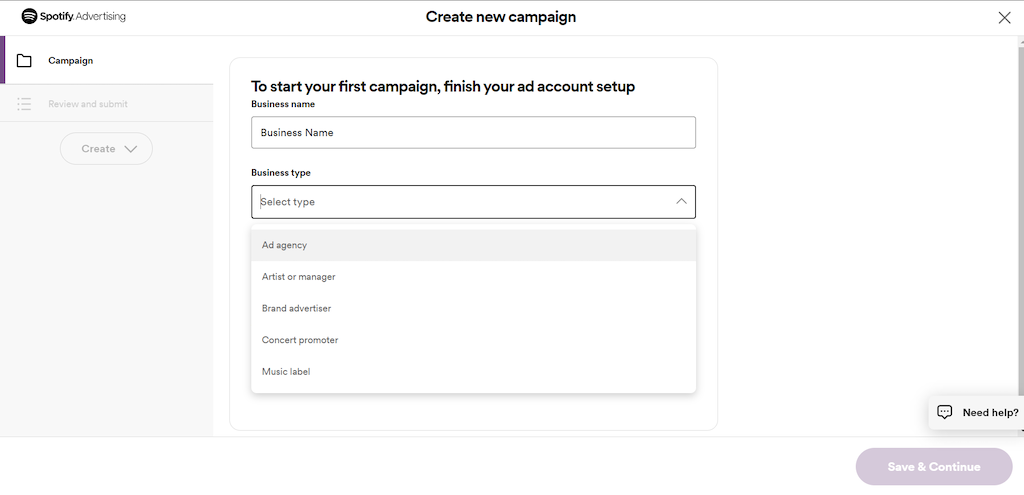 Then, you have to pick your industry – Education & Training, Financial & Real Estate, etc.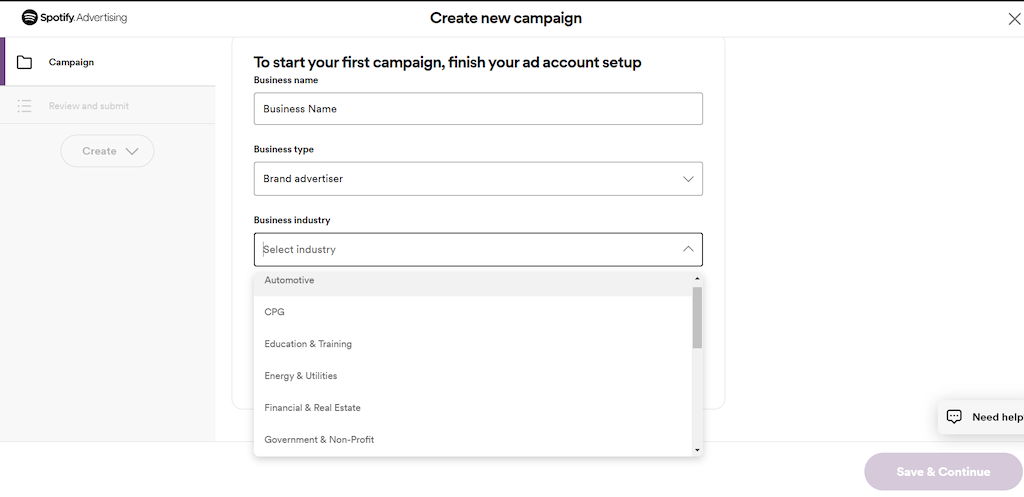 6. The next step is to choose the region, e.g., the United States.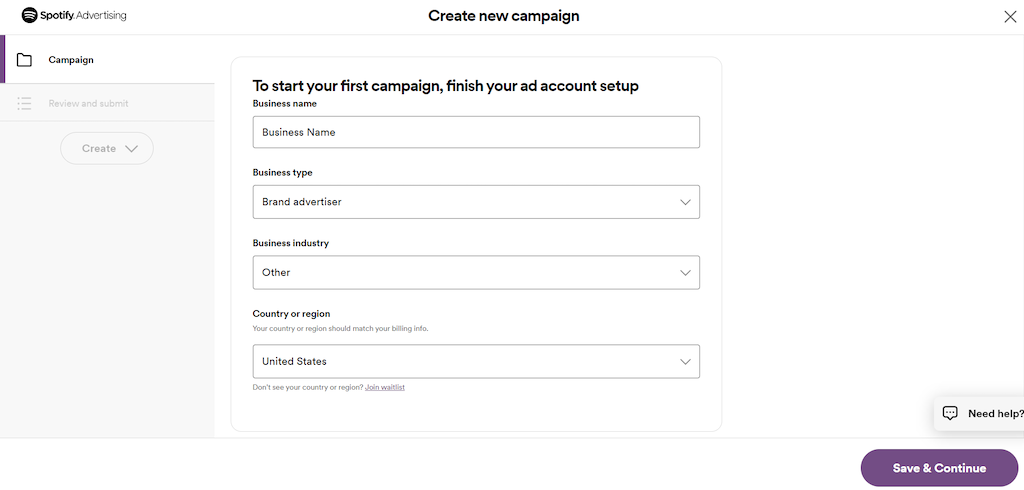 Name the campaign and pick what you advertise, e.g., "A brand, product, or organization." Then click Save & Continue.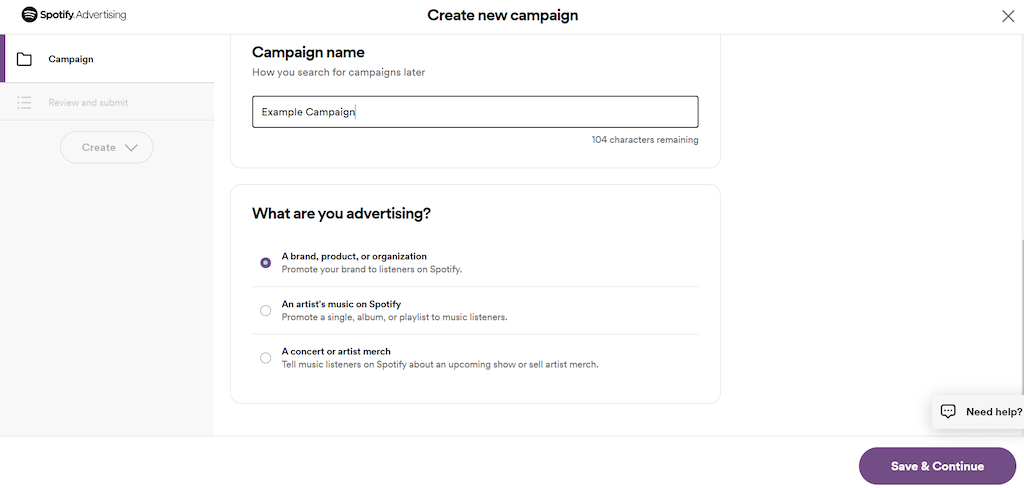 Name the Ad set and choose the Ad category. There is an excellent list of categories: Beauty, Food, Pets, Politics, etc.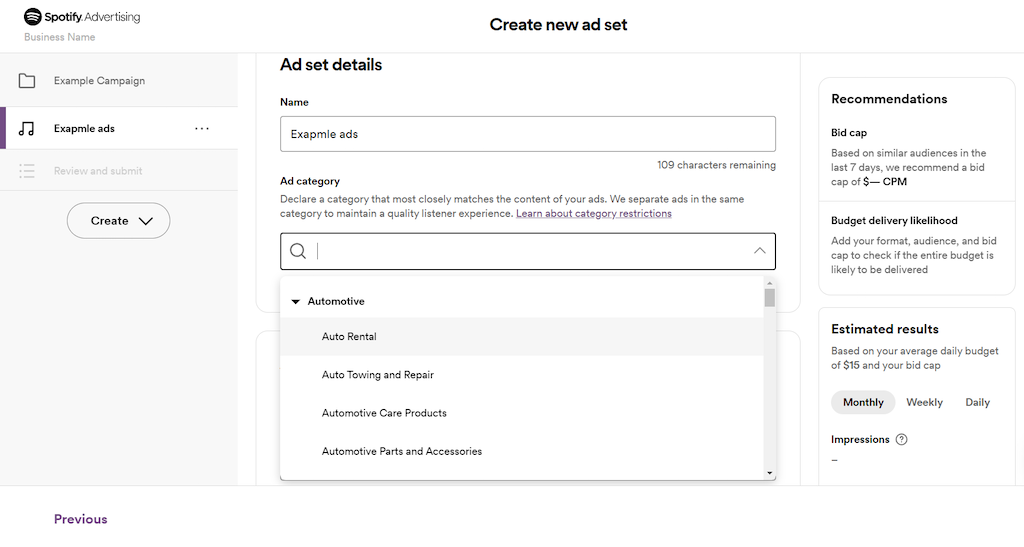 Subcategories are detailed inside as well.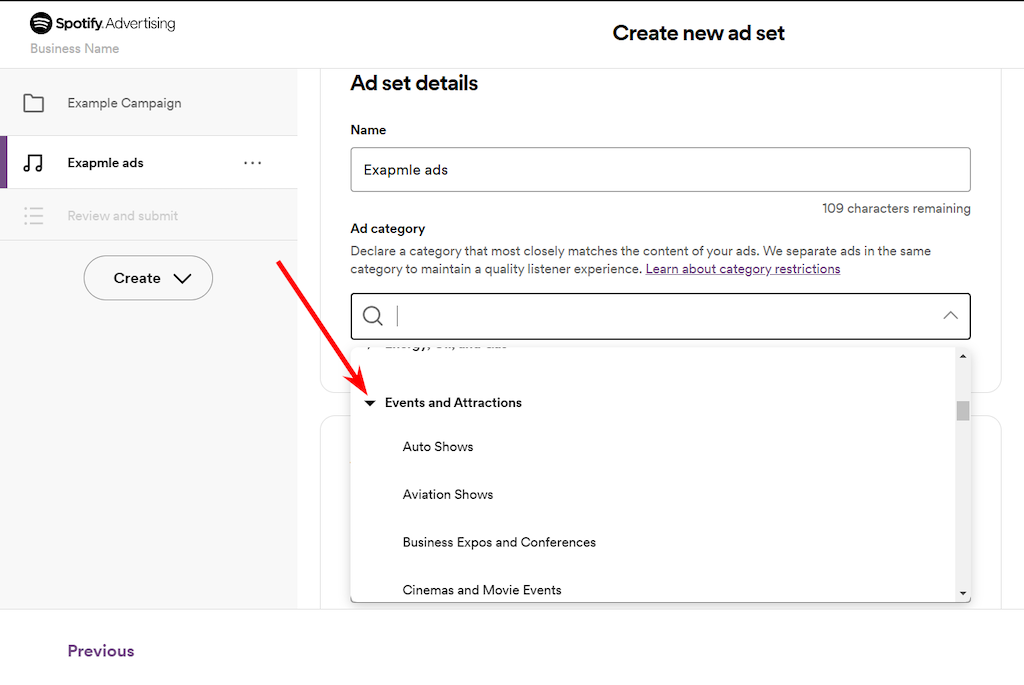 9. Then, create your audience by targeting. You can choose a country and a specific city, e.g., NYC.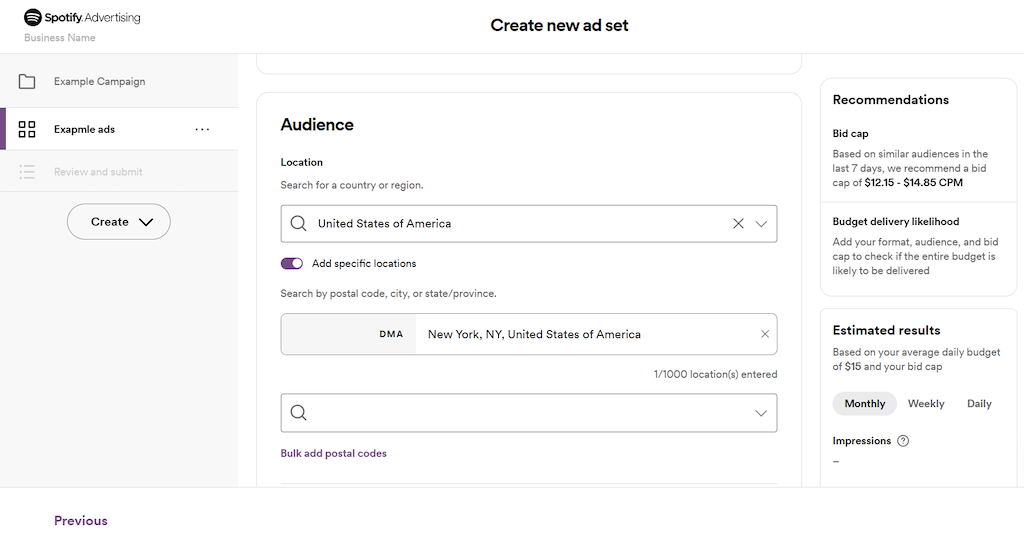 10. Specify age and gender targeting options as well.

11. Scroll down and choose Interests – for example, fitness, business, books, or education.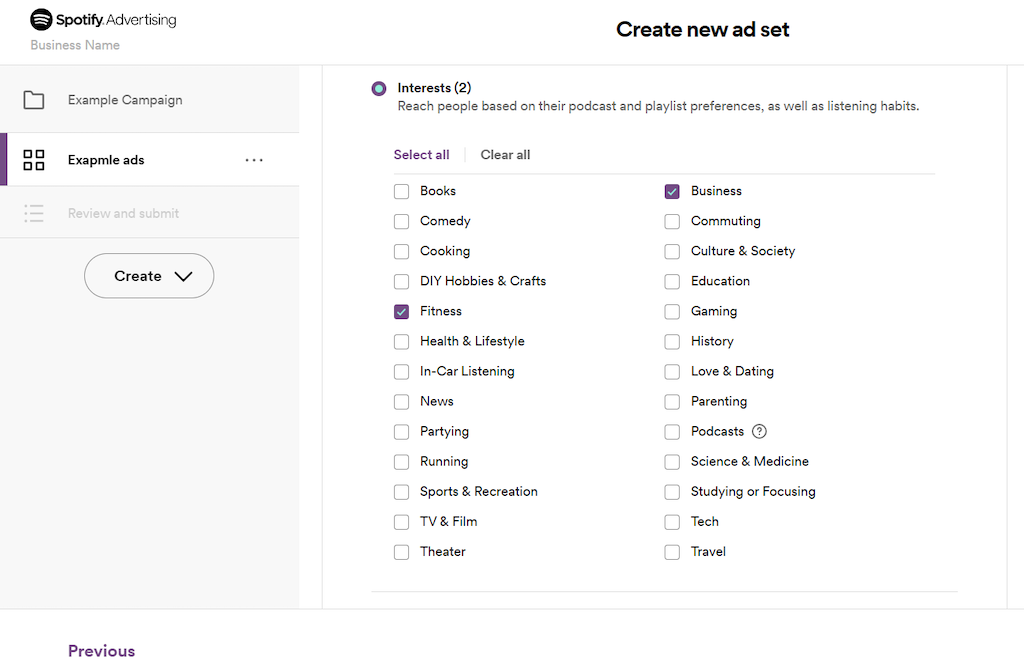 12. Pick the music genres of the audience: hip-hop, pop, funk, etc.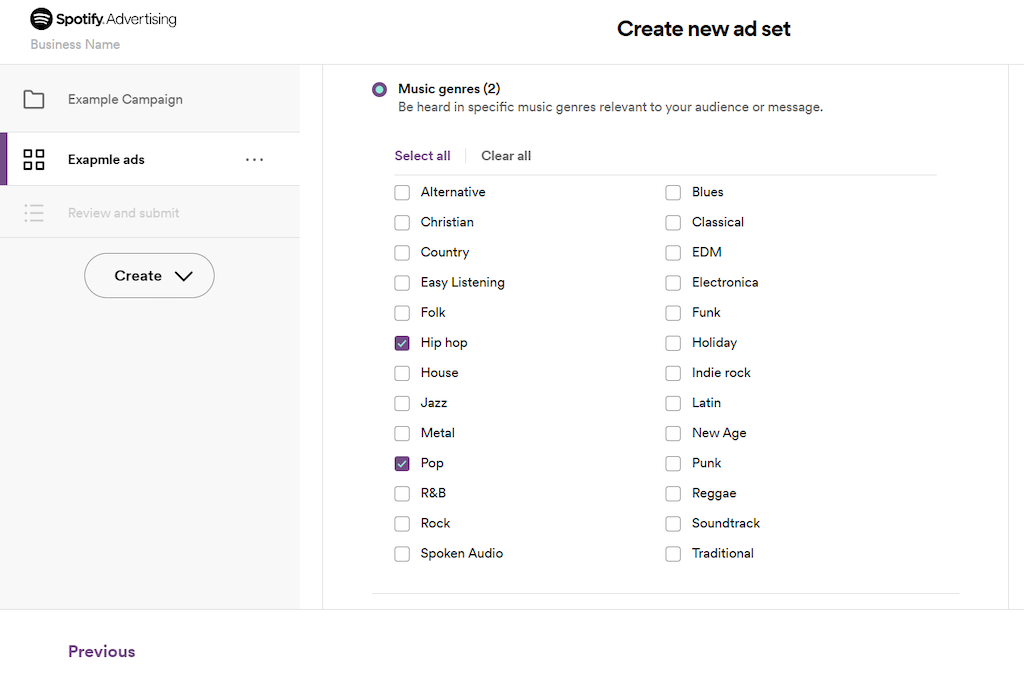 13. Choose Contextual playlists, e.g., chill, holidays, study, or workout.

14. Then specify the Language (English, French, German, Italian, Portuguese, Spanish, or all) and Platform options – iOS (iPhone, iPad), Android, or desktop.
15. Choose the type of ad, e.g., audio, horizontal, or vertical video.

16. Pick placement settings: Automatic or Music only. Furthermore, you can exclude irrelevant topics that don't align with your brand, e.g., adult content, illegal drugs, and weapons.
17. Move on and go to the Schedule and Budget. For example, choose to set an end of the campaign, specify that it will run for a month, and set a $25 budget as a daily spend. You can pick one of the recommended five budgets or set your own.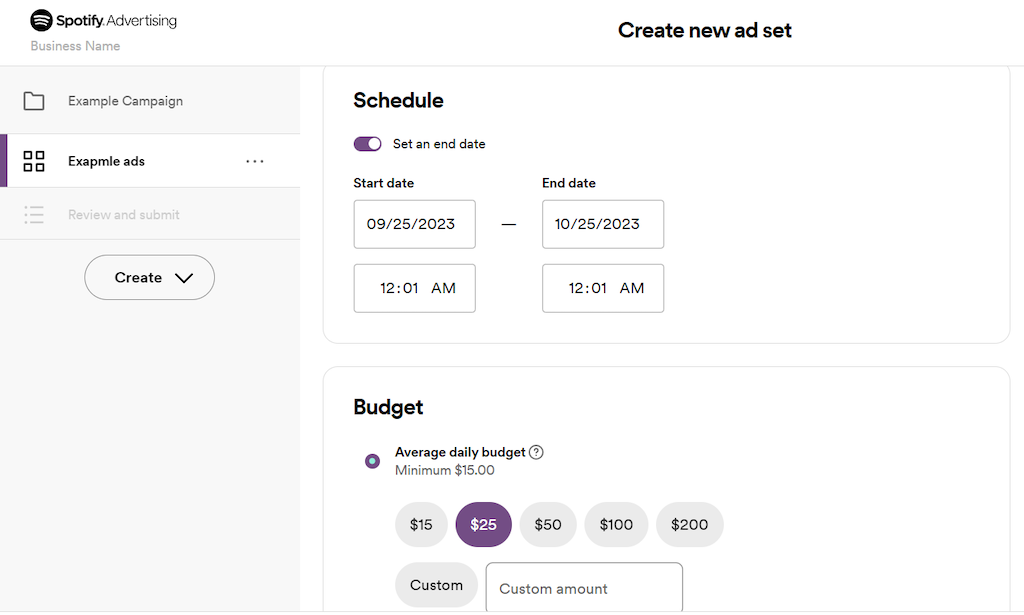 If the daily budget is not the way, you can pick the lifetime budget of the campaign as well; you can find it as you scroll down straight after the daily budget.

18. The next step is choosing the objective of the ad – for example, Reach, Clicks, or Impressions.

19. Then, choose bid for CPM (Cost-per-thousand impressions) and press Next.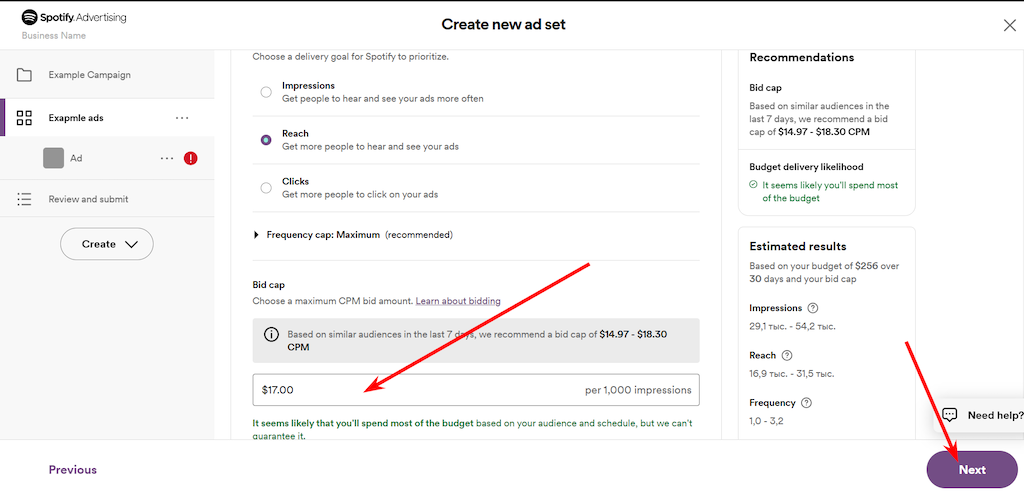 20. Now, you have to write the name for an ad, put the advertiser's name, and add a tagline – it is up to 40 characters. On the right-hand side, you can also see the ad preview. You can see the given info is up there without a banner yet.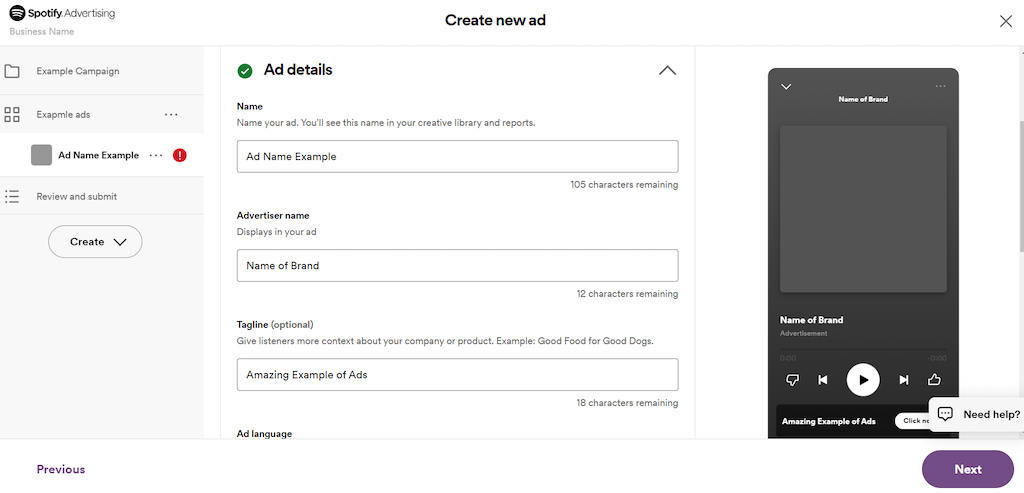 21. Then scroll down and pick the language.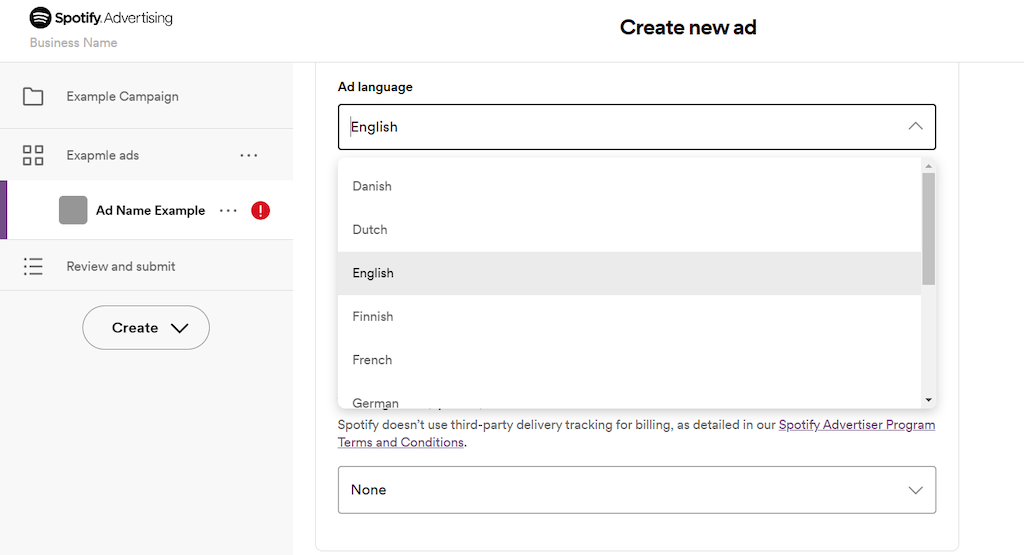 22. The next step is to pick a call-to-action phrase, e.g., Click Now. You'll immediately see the changes on the right-hand side of the preview panel.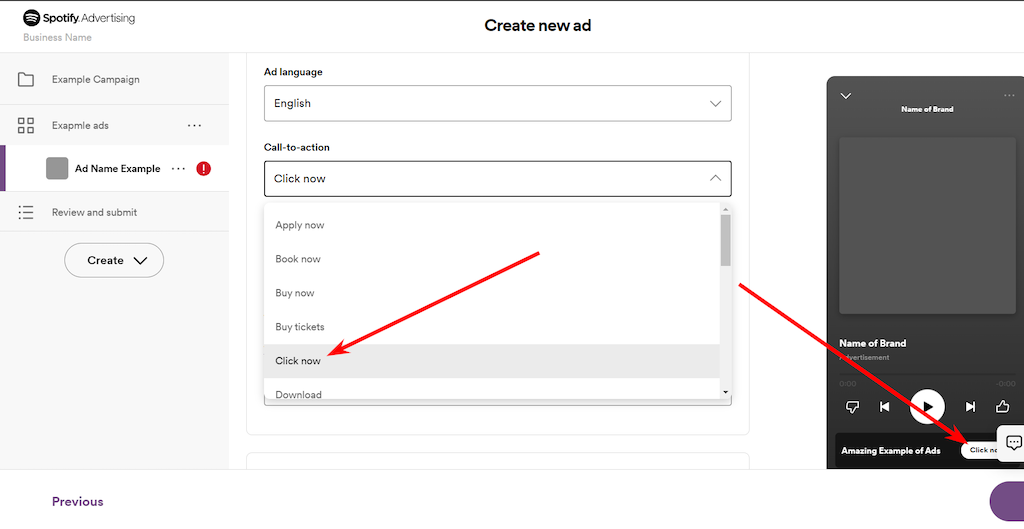 23. Then, add a destination URL for your call-to-action as well.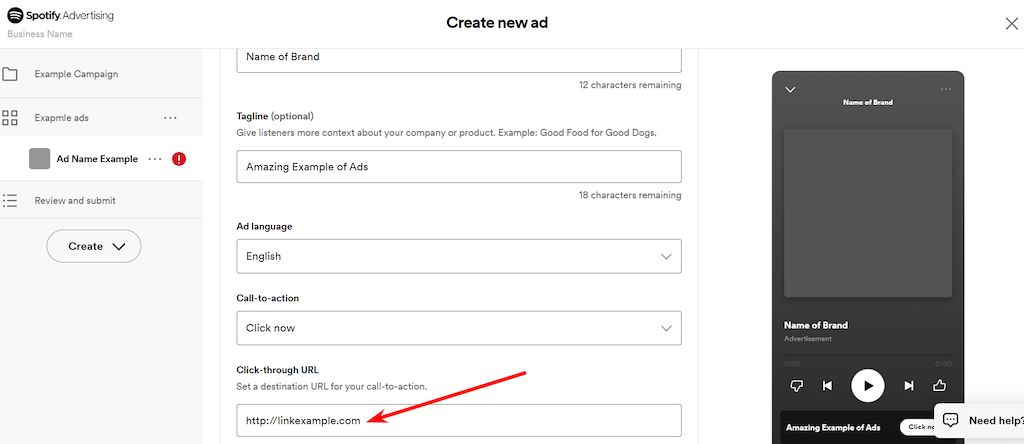 24. The next step is to upload the image and logo in the JPG or PNG format – minimum size: 640x640 pixels.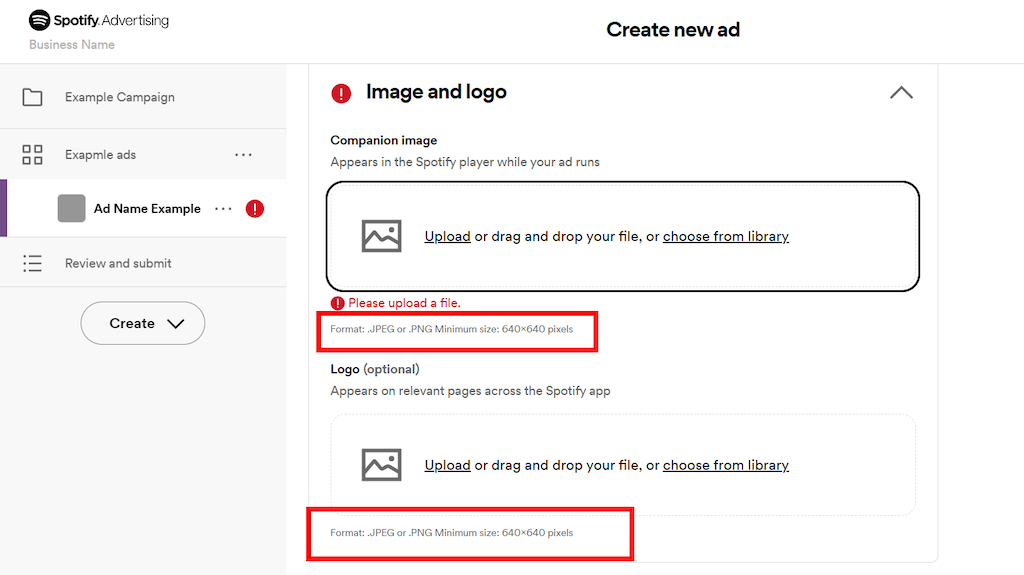 25. Then, you can upload your audio creative or choose it from the library. Or use the "Create new audio" option.
26. When finished with creatives, click Next in the bottom right corner.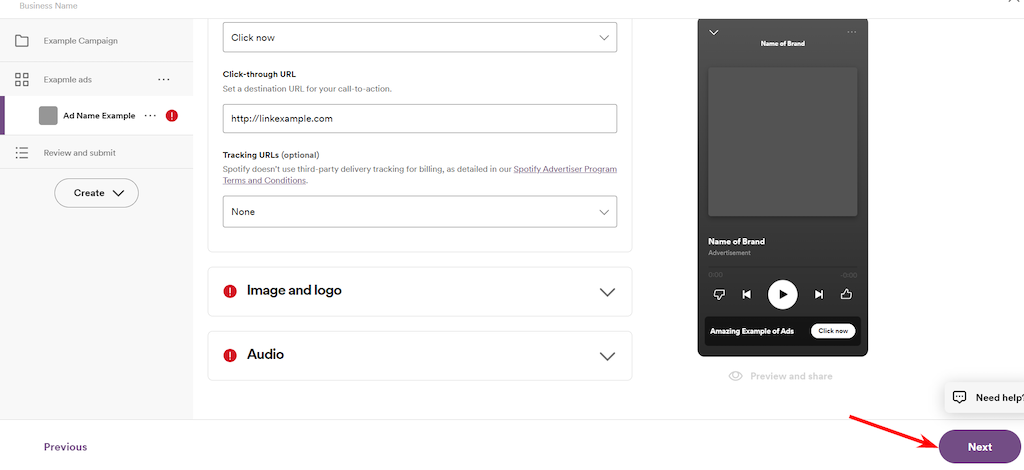 27. Now, the next important thing: choose a Payment Method. After clicking on the Add card, you'll be redirected to the checkout page.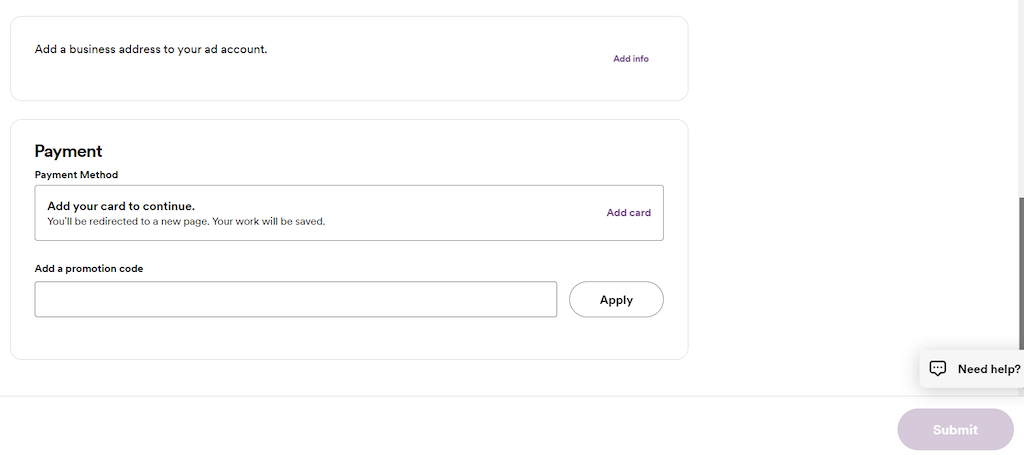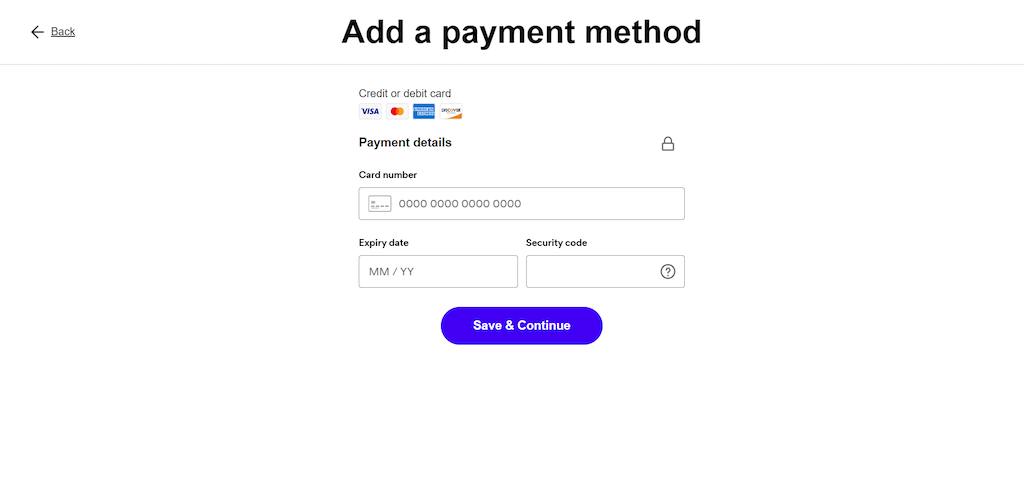 So that is how you create your first ad campaign at Spotify Ads.
Why you should use Spotify Ads?
Wide Reach. Spotify has a massive base making it an excellent platform for reaching a large and diverse audience.
Targeted advertising. Spotify offers various targeting options based on location, age, gender, music preferences, etc. This allows advertisers to reach a specific demographic.
Creative possibilities. Spotify offers different ad formats, including audio, display, and video. This allows advertisers to be creative in how they present their message.
Cost-effective. Depending on the budget and targeting options, Spotify Ads can be a cost-effective way to reach a large audience compared to traditional advertising methods.
Conclusions
Spotify is a popular, successful platform with a massive number of visitors.
Spotify Ads has three levels of advertisement: campaigns, ad sets, and ads.
The effectiveness of Spotify Ads can vary depending on factors like the quality of the ad, targeting, and the appeal of the product or content being promoted.
It's essential to clearly understand your target audience and goals when using Spotify Ads.
The platform would be helpful for musicians and bands, record labels, brands, advertisers, podcasters, and event promoters.
Topics:
Found a mistake? Select it and press Ctrl + Enter