Building a Keyword List: A Comprehensive Guide for Ecommerce Websites
Create or optimize content to improve search engine visibility, analyze competitors and customers, or think through a marketing strategy or advertising campaign – you can do all of that with a properly built keyword list. Using the example of an online store, I will show you how to perform keyword research step by step, compile a keyword list, and use tools to streamline the process.
What is a keyword list?
A website keyword list is a set of keywords and phrases most relevant to the topic of the website, organized into individual groups. It is important that the keyword list accurately describes the content of the website and its pages, so that search engines can identify the website's niche and services or products.
A keyword list is an important component of the website, and it affects the ranking of the website in search engines. The more accurately the keywords describe the content of the page for search engines, the higher the chances that it will be shown for relevant search queries.
Keyword list structure
When building a keyword list, there are three basic rules to adhere to:
All keywords should be organized into clusters or groups.
A group of search queries should contain all the keywords and phrases that correspond to one particular page of the site.
All queries within a cluster should correspond to the same type of keywords.
There are three main types of keywords and keyphrases:
Navigational. The query contains the name of a particular store or toponym.
Informational. The search queries contain question words (when, why, how much, etc.), as well as words such as harm, benefit, forum, photo, or video.
Commercial. The search queries have the words buy, price, or online store. Exact queries seeking additional information about the product or service (model, brand, color, taste, and other characteristics).
Keyword type

Examples of search queries

Navigational

sports nutrition amazon
sports nutrition usa
sports nutrition new york

Informational

when to drink protein shakes
protein bars side effects
side effects of supplements

Commercial (transactional)

buy sports nutrition
how much does the sports food cost
biotech usa sports food
sports supplements price
Different types of queries meet different user goals. For instance, there is no point in promoting a blog page talking about the negatives of sports nutrition using the commercial keywords buy sports nutrition because the content of the page does not correspond to the search query. A user who just wants to buy sports nutrition will quickly leave the page. The search engine will then consider such behavior as a signal to lower the page rank because it does not meet the user's request.
When forming a cluster, keyword frequency is taken into account. The frequency of a keyword or keyphrase indicates the number of times a query was entered into a search engine by users over a certain period.
An example of frequency data from the Serpstat service: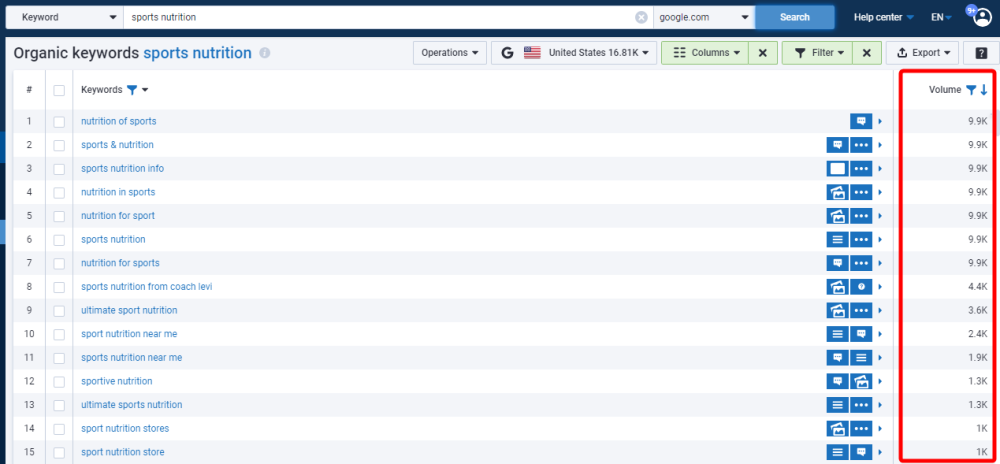 There are three types of keyword frequencies:
HF (high-frequency).
MF (medium-frequency).
LF (low-frequency).
When forming a cluster of keywords, queries with all three types of frequencies are used, including low-frequency or rare queries. Only queries with zero frequency are not used.
The keyword list structure looks as follows: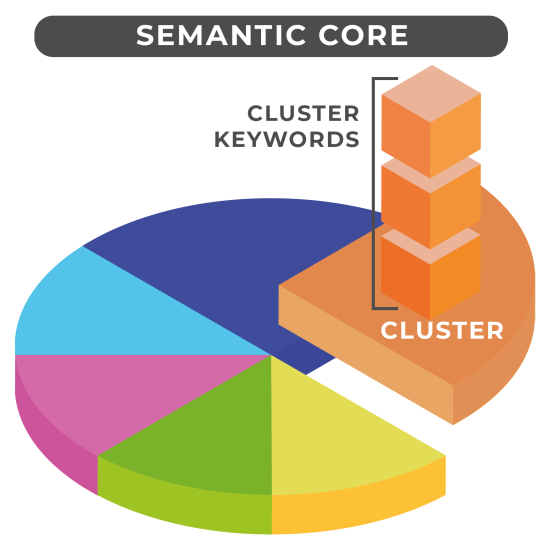 How to build a keyword list for the website: a step by step guide
Using the example of building a keyword list for an online sports nutrition store, I will show the complete process of keyword research, from creating simple queries to clustering.
Important: Do not delete the results of the intermediate steps of the keyword research process. Perform each step in a new tab so that you can always return to the previous search data and make changes quickly at any step.
Creating basic (marker) keywords
Marker keywords are basic keywords that broadly describe the topic of the website. Compiling a list of marker keywords will allow you to create a basic keyword list for further keyword research.
To identify marker keywords:
1. Use your own experience and knowledge of the product. Referring to the example of the online store, sports nutrition can be attributed to two popular categories: proteins and amino acids. After a quick study of the product range, another category ("gainer") is identified. At the first stage, the list of marker requests looks like this:
sports nutrition;
protein;
amino acids;
gainer.
2. Research your niche. Researching a topic on Google search will help you learn more about the types and categories of products. Pay attention to synonyms and alternative names found in the search results for your queries.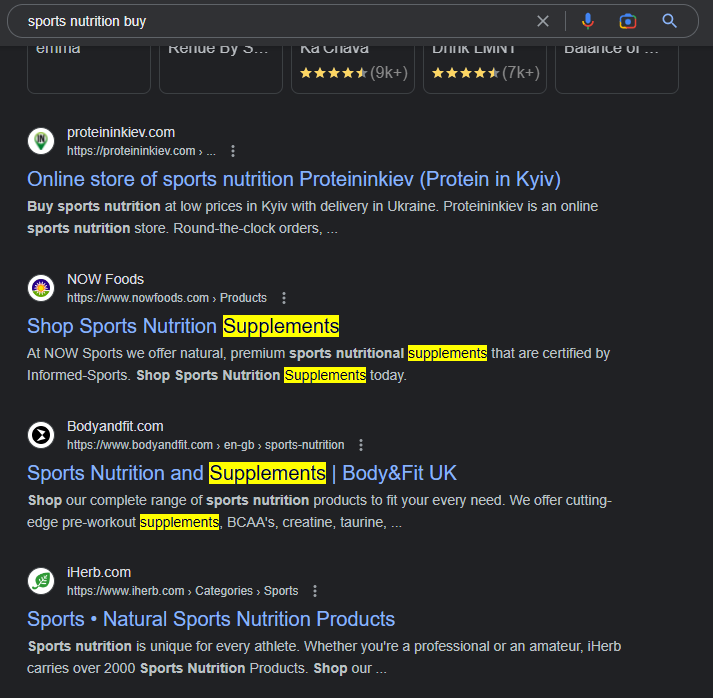 Another quick way to delve into a topic is to use artificial intelligence tools, such as ChatGPT and Notion AI. The free version of these tools is enough to get more information or to immediately request a list of keywords for the topic.
An example of keyword generation in Notion AI:
Please note. Despite their development and popularity, AI tools such as ChatGPT or Notion AI are still not full-fledged tools for building a keyword list. These tools are still being developed and do not have the latest information in their databases.
3. Research your competitors. Category titles, filtering – all of these can become marker keywords and help in creating your own website structure. It is worth mentioning that even if you are focusing on competitors who are at the top of search results, you should not simply copy the structure and keywords from another website without first analyzing the keyword frequency.
Here is the list of marker keywords after researching the product and its competitors:
sports nutrition;
protein;
amino acids;
gainer;
sports supplements;
sports food;
creatine;
BCAA;
arginine.
Building a keyword list and selecting tools
You can collect keywords and keyphrases for the keyword list by using a combination of the following methods:
analysis of competitor websites
Google search suggestions for each of the marker keywords
AI-based tools
SEO tools, such as Serpstat, Semrush, Ahrefs, and Keywordtool.io
the Google Ads keyword planner.
If you are looking to build a keyword list for free, you can use the trial versions of SEO tools and Google Ads keyword planner. The main disadvantage of this method is that some keywords will be inevitably missing.
To build a comprehensive keyword list, it is recommended to use several tools and combine them depending on your objectives. For example, Serpstat and Google Ads are the best solutions for collecting semantics in Russian and Ukrainian, as well as searching for low-frequency and rare queries, which should also be considered when building a keyword list.
Please note. The exact keyword frequency will be displayed only when using SEO tools or the Google Ads keyword planner (provided that your account has an active advertising campaign).
Building a keyword list using Serpstat
Set the search region and insert one of the marker keywords.

Press Enter, and Serpstat will automatically redirect you to the summary report for the requested keyword.
There will be seven basic SEO reports available in Serpstat for the search query you entered.
Report

Type of report

Selecting keyphrases

Search query main report

Similar phrases

Synonyms and similar queries

Search suggestions

Google search engine suggestions when entering a search query

Search terms

Informational keywords

Leading pages





Reports for competitor research

Competitor pages

Top results for a keyphrase
When building a keyword list for existing websites, use the "Competitors" report. It will allow you to view competitors of your niche in a given region.
Once you have identified your competitors, you can use the "Domain comparison" report. Enter the addresses of your website and two competitors from your niche.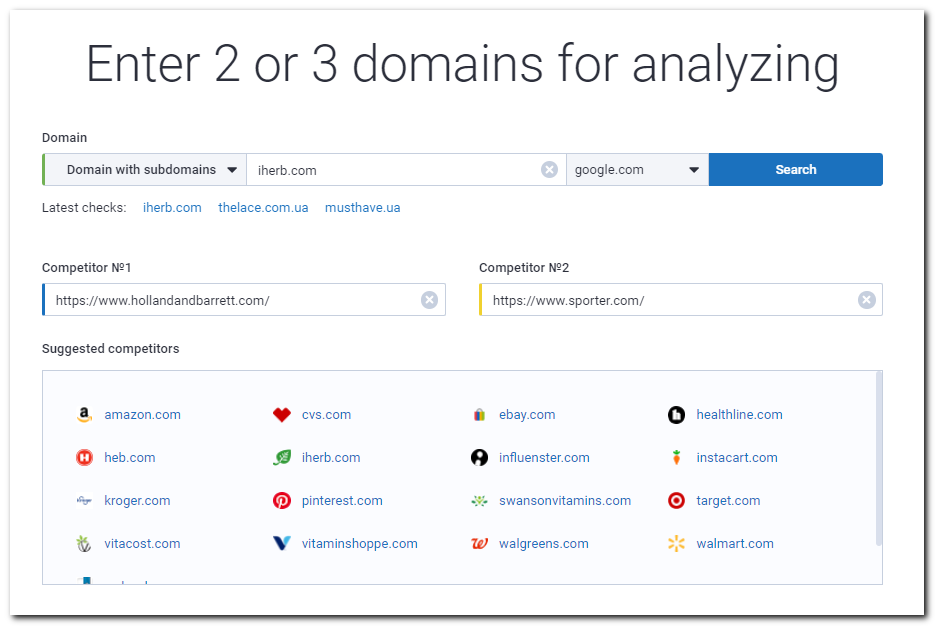 Serpstat will provide reports on keyword overlap between all analyzed domains, as well as unique keywords for each domain.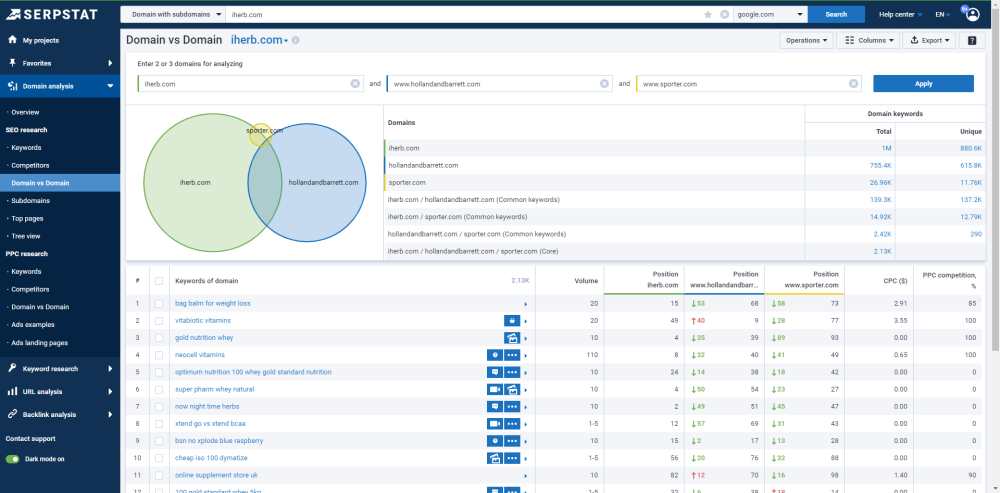 For new websites, it is important to use the "Phrase selection" and "Similar phrases" reports to get more detailed results. I also recommend running the "Search suggestions" report.
Use Serpstat filters to refine your search and filter out unnecessary keywords.

Export reports to Google Sheets or any other suitable format for future work with the keyword list.
Keyword research with Google Ads
Create a Google Ads account. See Google Help for detailed instructions on how to create an account.
After creating your account, you will be redirected to your advertising account. Select Tools & Settings from the top menu, and click Keyword Planner.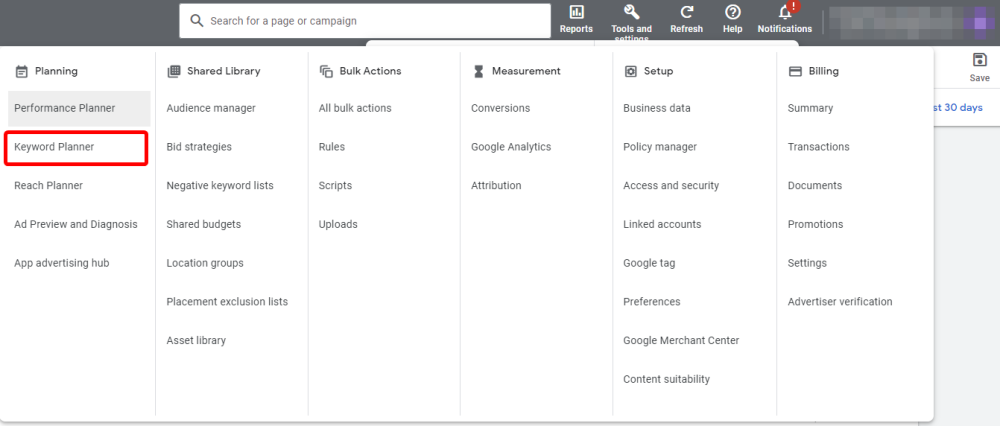 Select Find New Keywords, enter no more than 10 marker keywords, and click Get Results.
Please note: The regional settings for new keyword searches must match the region of promotion and the language of the keywords.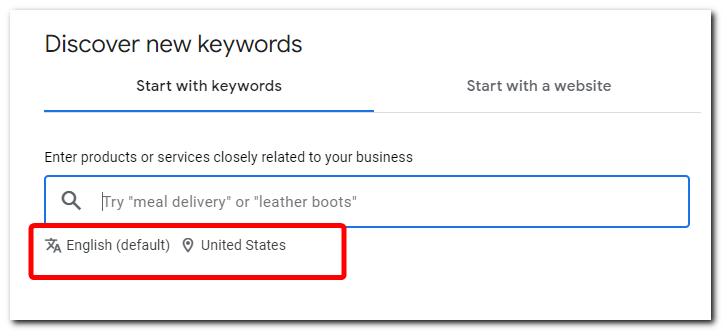 Google will display available synonyms and similar keywords in the report. To broaden the search, you can use additional filters to specify the results and keywords directly.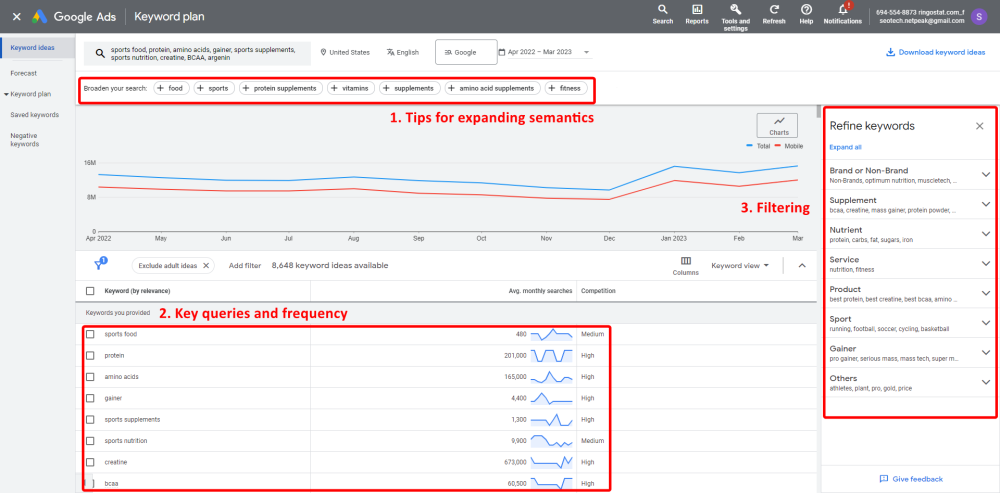 If your advertising account does not have an active advertising campaign, you will see the frequency data in the range format "from... to...". If there are ads running on your GoogleAds account, you will see the exact number of queries per month and a graph showing the dynamics of the query's popularity.

Use suggestions and filters to specify keywords, and be sure to save the data for future work with the keywords.
Making a list of stop words
To properly distribute the keyword list between the pages of the website and remove unnecessary garbage from the list, you need to make a list of stop words.
Stop words are words or phrases that characterize a keyword or group of keywords and are not relevant to your keyword list.
For example, I need to exclude all informational keywords from the commercial keyword list:
what
why
what for
photo
video
review
forum
compare
etc.
Note that question keywords can be of mixed type and conversion keywords. For example, the key phrase compare prices may display both links to online stores and links to articles and reviews in the search results.
To check, enter a keyword in a search field and look at the first page of Google search results: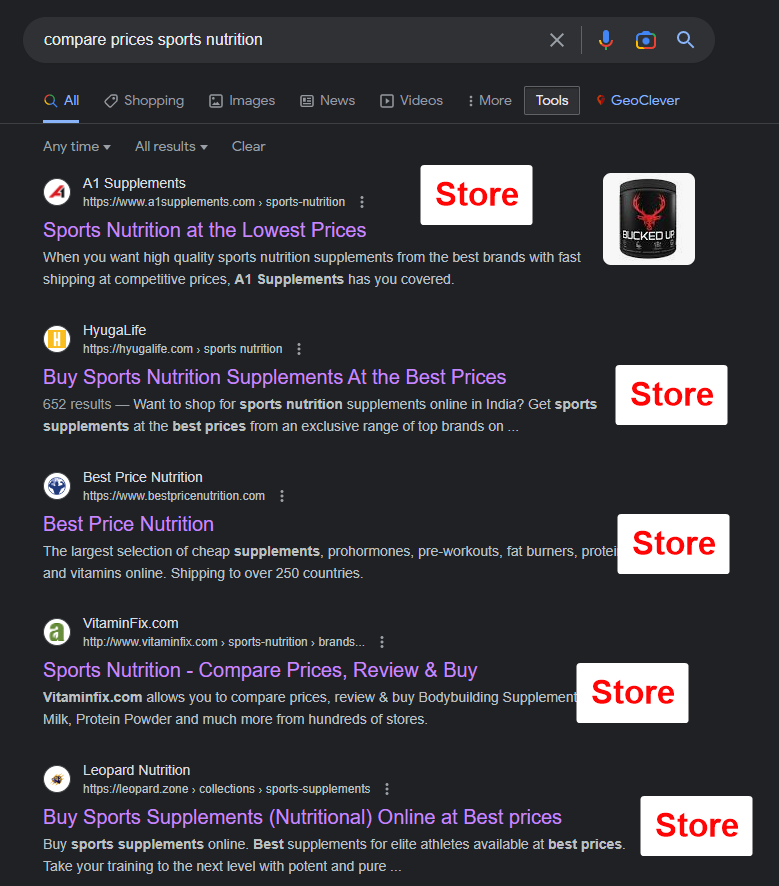 If all the links on the results lead to articles and blogs, the keyword is informational. If the search results contain online stores or mixed results, the keyword can be classified as commercial. Universal stop words in a commercial keyword list should also include the names of competitor stores, as well as regions where it is impossible to make an order in your online store.
Making a list of stop words with lemmatization
If your set of keywords and phrases is too large, you can use the lemmatization method to form a wider list of stop words. The idea is to unify keywords: convert them to the nominative case of the singular. This will help you find unique words that do not belong to the keyword list you create.
Use the Sparv 2 service to bring your keywords to a single view:
Choose the language of your semantics and set the following service settings.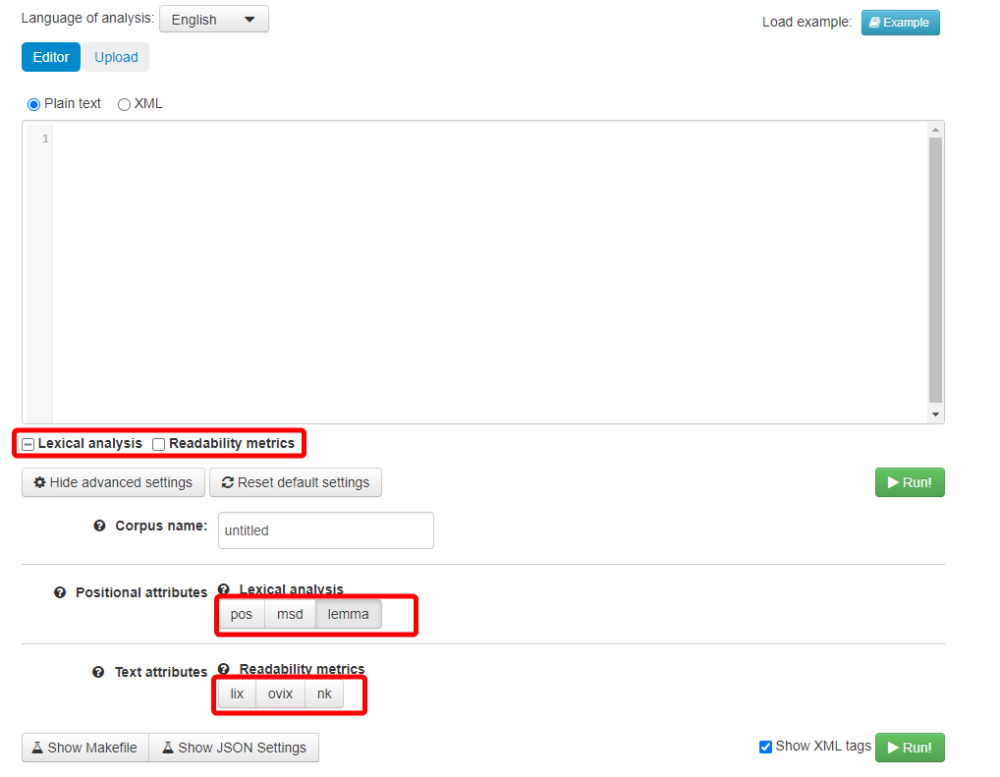 Copy or upload a list of your keywords to the Sparv 2 service and click Run.
Wait for the task to complete. At the bottom, you will see a list of your keywords and their lemma, as well as a button to download the XML file.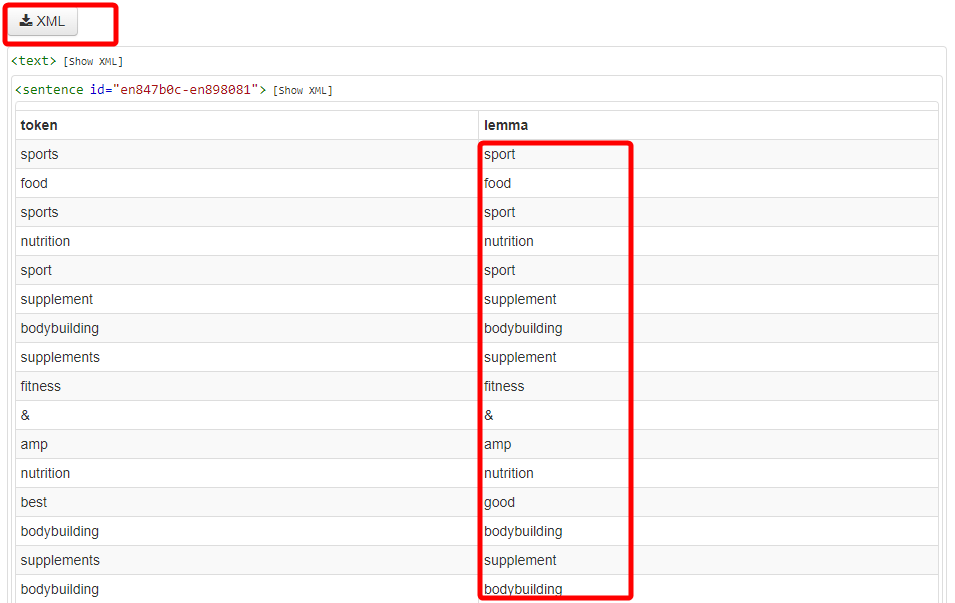 Download the XML file and open it with a regular Notepad or Notepad++.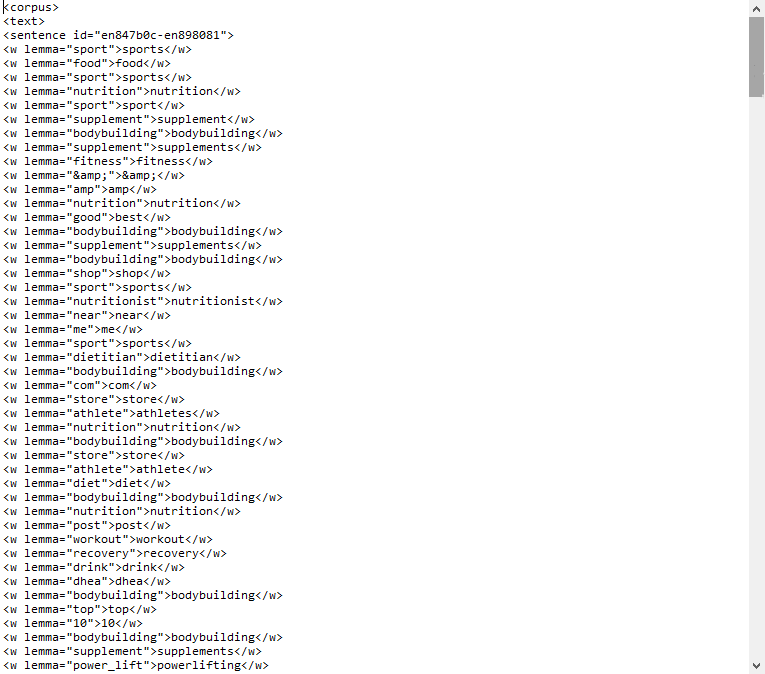 Paste the resulting list into Google Sheets, using the split function with a " as the delimiter to separate text into columns.
Remove columns A and C, and use the Data menu to remove duplicates and get a list of unique keyword lemmas.
Analyze the obtained list of lemmas and add irrelevant keywords to the list of stop words.
In this case, the store assortment does not contain vegan products. Therefore, the keyword "vegan" must be added to the stop words. The word "snack" should be checked in the content of the keyword, because it can be used in both relevant "sports snacks buy" and irrelevant "sports snacks ideas" keywords: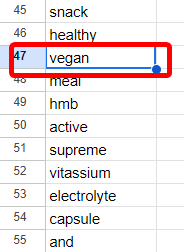 This is why it is important to refer to the original keywords when adding the stop words and check the search results for keywords that raise doubts.
Creating stop words is a meticulous, manual process that requires time and patience, but it will greatly facilitate the last stage of building a keyword list – clustering.
Keyword filtering: stop words and keyword frequency
To reduce the number of garbage keywords in the compiled keyword list, use the frequency data and remove all zero-frequency keywords before applying the list of stop words.
To do this, analyze the keyword data for keyword frequency with Serpstat or Google Ads. It is important to use one service to check the frequency indicator for all keywords, regardless of the number of sources you use to build the keyword list.
Checking keyword frequency in Google Ads
Open the tool to see the number of keywords and forecasts.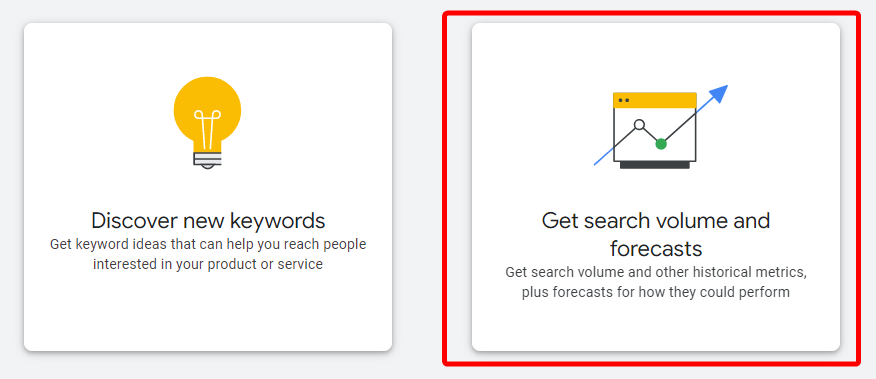 You can copy and paste your keywords and phrases directly or upload them as a CSV file.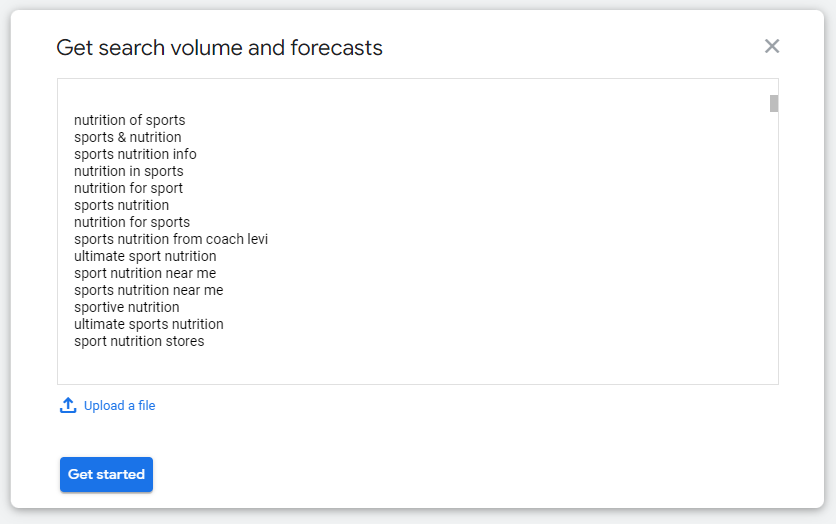 You can check the frequency of not more than 20,000 queries at a time.
Select one of the formats under Historical Plan Metrics to download the resulting data.
Checking keyword frequency in Serpstat
Go to the Batch Analysis category and select Batch Analysis of Keyphrases.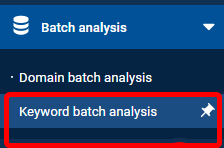 Create a new project and be sure to check if the region is set correctly/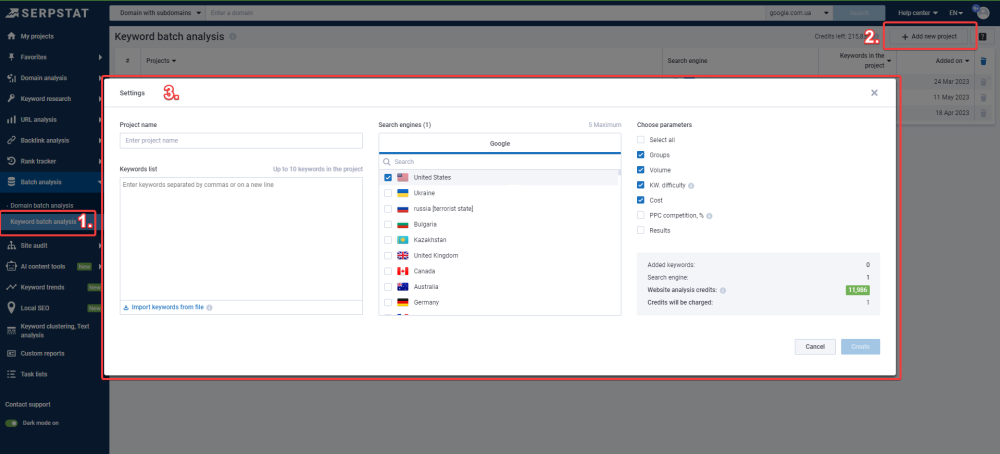 Add the keywords and click Create.
Select a format that is convenient for you to export the report.
In the Google Ads or Serpstat report, filter out and remove all keywords with the frequency "zero".
Now, clean up the keyword list obtained using the list of stop words you created earlier. To do this, use a special Google Sheets template that works using regular formulas. Click here to download the template.
Add a list of keywords to column A.
Add a list of stop words to column C.
Column E will automatically generate a list of keywords that do not contain stop words.
Column G will display a list of keywords that contain stop words.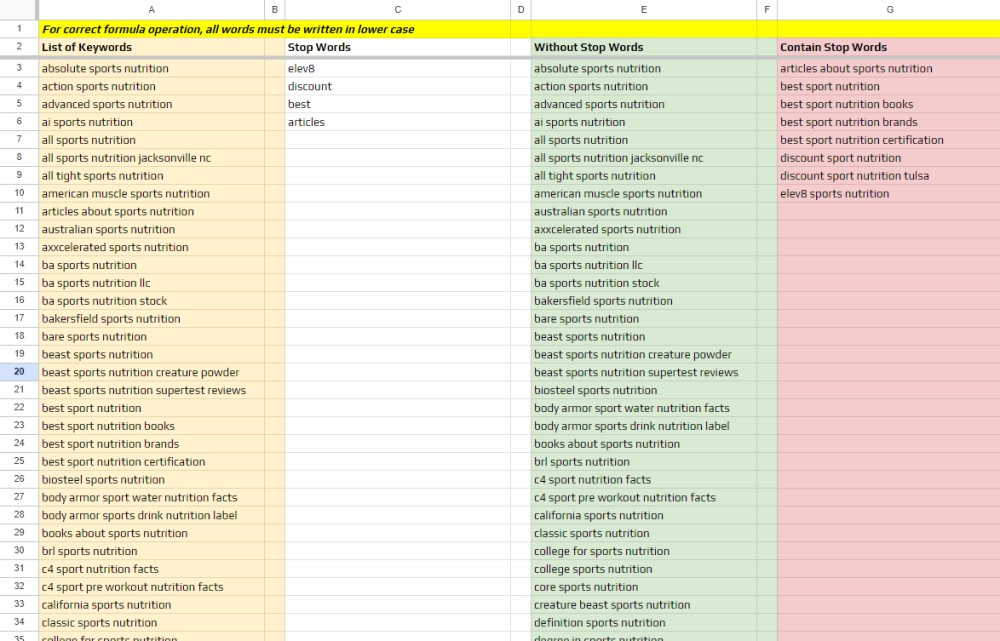 Be sure to check these lists for errors. Some of the stop words may be incorrect and can affect relevant keywords.
Keyword clustering
Services can use two types of algorithms for clustering:
Based on the search results. Keywords are formed into groups based on how similar the search engine results are. This method of clustering is used in Serpstat.
Based on the similarity of key phrases. All similar queries will fall into one group even if they have very different search results. It is possible to create clusters this way using the free service Streamlit.app.
The best way to cluster keywords is based on search results, since grouping keywords by similarity may not always match the actual distribution of user queries.
To cluster keywords in Serpstat:
Go to Clustering in the left-side menu and create a new project.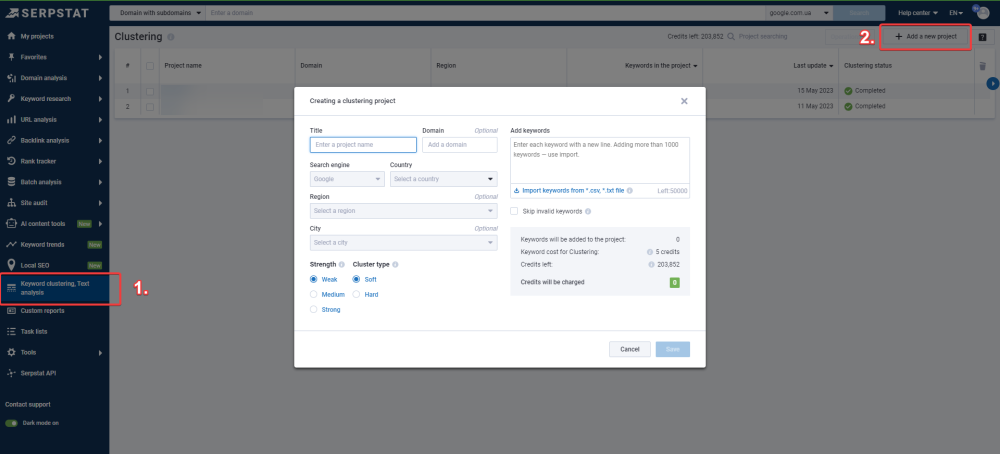 Fill in the project data and insert no more than 1000 keywords for clustering.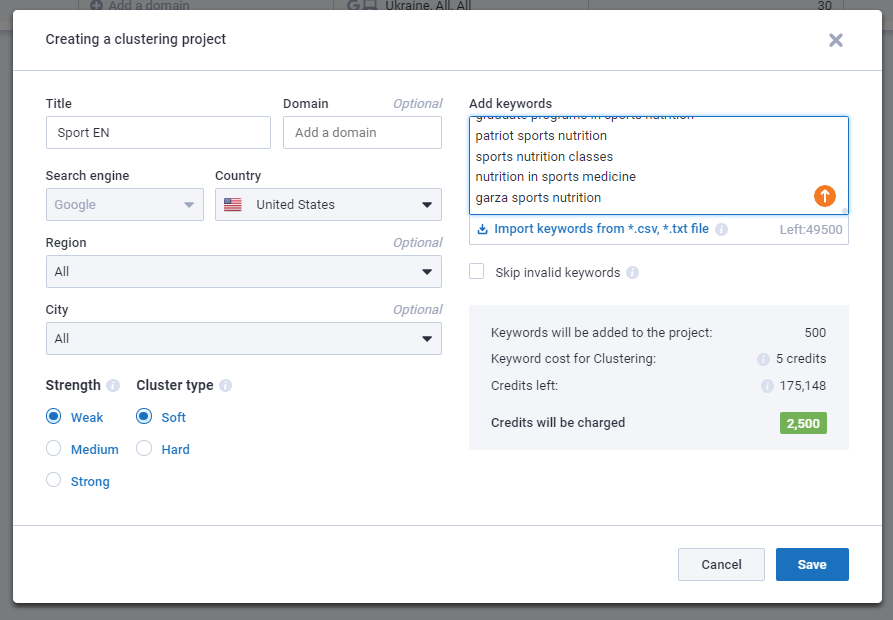 Click Save and wait for the clustering to complete.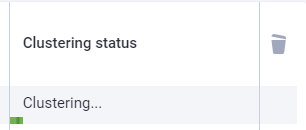 Important: The results of automatic clustering are not 100% guaranteed.
Be sure to distribute the clustered keywords between pages of the website, and use them to create content and write meta tags.
An example of clustering keywords in Serpstat: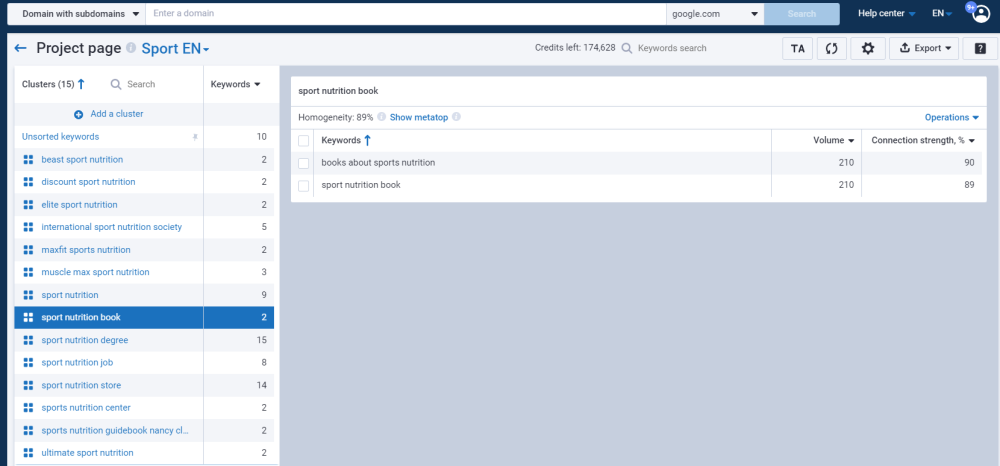 Keyword list usage
After all stages of cleaning and clustering, you'll get a list of keywords that is divided into clusters. An example of the keyword list for the "sports nutrition" topic: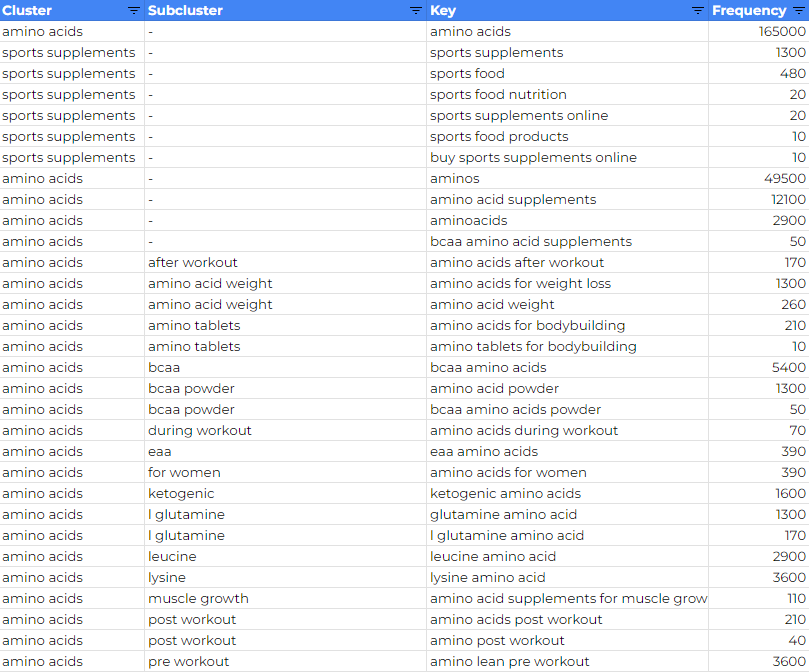 Keywords with additional "tails" are combined into smaller groups (subclusters) that are linked by a clarifying characteristic. The main clusters should be used for categories and subcategories by product type, and subclusters should be used to form new landing pages and filters.
For example, to the "Amino acids" keyword cluster, you can add subclusters by type of amino acid (leucine, isoleucine, valine, arginine), by prescription (for women, for men), by form (powder, pills, liquid). All of these subclusters can be used to create filters that not only help improve website usability but also bring traffic when filter pages are optimized.
Conclusions
The most important ranking factors are a keyword list specifically built for the website and the proper distribution of keywords.
Do not delete the results of intermediate steps when building a keyword list. Add all the steps to the same document but on different tabs. That way, you can easily make edits if necessary.
Use Ahrefs, Serpstat, and Google Ads to build your keyword list.
The exact frequency of a keyword is very important: it is required for the proper distribution of keywords on the website pages and content. Only one service should be used to identify the frequency.
For clustering, it is best to use tools that form groups of keywords based on the search results, instead of similarity of phrases.
There is no magic button. SEO tools, clusters, lemmatizers, and ready-made stop word lists are all just tools that help save time and reduce some processes. At each stage of keyword list building, it is crucial to manually check and proofread the results.
Topics:
Found a mistake? Select it and press Ctrl + Enter