How and Where to Post Free Backlinks to Your Website
One of the most important elements of website promotion is getting backlinks to your website — your traffic depends on them. The quantity and quality of external backlinks can radically affect site rankings in search engines. Low-quality backlinks from domains with poor reputations and irrelevant or prohibited topics will lower the website's ranking in search results and sometimes cause serious penalties, up to complete removal from the search results. In this article, I'm going to tell you how to avoid these problems and get high-quality links, usually without direct monetary payment.
Free backlinks: what's the catch?
Backlinks are links to your website posted on other resources.
There are several ways to get backlinks. For example, you can place an order on link exchanges like Collaborator.pro or get them using outreach strategies. But with this method, you will have to sign a contract with the owner of the donor site and pay for their services.
Of course, free link posting is the most popular strategy. Unfortunately, in most cases, it is conditionally free. You still have to put time and effort into it, and sometimes pay for the services of outside experts.
There is no such thing as a free link
The good news is that such tasks can be optimized and their costs minimized. To begin, you have to understand the variety of techniques that you can use to find donor websites.
Criteria for choosing link donors
A link donor (donor domain or donor website) is a website that allows you to place a link (backlink) in one of its sections.
Netpeak SEO specialists determine quality domain donors by the following criteria:
Domain Rating (DR). This is an Ahrefs indicator of domain quality and is based on an analysis of the link profile of the website. It is measured on a scale of 0 to 100. The higher the donor's score, the better. The minimum DR score may vary by topic, region, and budget.

Traffic. Both general traffic and traffic coming from search engines are considered based on data from Serpstat, Ahrefs, SimilarWeb, etc. The traffic indicator may also vary depending on the subject, region, and other data. It is important to take into account the dynamics of traffic growth or decline.
The ratio of incoming and outgoing backlinks. This parameter can be found on Ahrefs. A link donor must have a greater number of incoming backlinksor at least an equal number of inbound and outbound backlinks. Otherwise, you might find yourself in a link dump among the websites where backlinks are placed without distribution on a commercial basis. This will adversely affect the position in search results.
Topic. Look for donors of a similar topic so that the link to your website looks natural. For example, to promote a website with children's products, choose a women's forum, a beauty or fashion blog, or the website of an agency for children's parties. Websites of broad topics, like regional news websites, will also do.
No spam ads or «black» content. Beware of donors with a lot of intrusive banners, porn ads, casinos, and other resources that are banned by search engines.
Region. For suitable donors, consider the domains that attract traffic from the region where you plan to promote your project. |


Important! Some websites attracting traffic from Ukraine are Russian IPSOs (informational psychological special operations), although they seem to be addressed to Ukrainian users. For example, when building up backlinks for one of our projects, our specialists found a Russian news website from Zakarpattia with content that destabilizes Ukrainian society.

IP location. The donor's server should be in the region your website is targeted at. This metric can be checked with the Netpeak Checker. Note, however, that many Ukrainian websites are now running from servers in Europe and the US.

The number of keywords for which the website ranks. These should be considered in relation to the traffic indicator. If a website, for example, is ranked for 20,000 keywords but receives 500 visits per month, this indicates that it's in the top 10 of the output for a very small number of keywords.
You can also use the guide suggested by Majestic:
Trust Flow is a metric measured on a scale of 0 to 100. It is based on the link connection of a domain to so-called starter sites, as determined by Majestic. According to them, these sites have unconditional trustworthiness.
Citation Flow is a metric that determines a domain's link equity, based on the number of websites linking to it. It is also measured on a scale of 0 to 100.

Please note that when evaluating the performance of link donors, all parameters should be considered as a group based on their combination and interdependence. In no case should each parameter be used separately.
Some of these indicators can be ignored or determined to have a higher priority, depending on various factors. For example, if you manage to find a donor close to the topic with an acceptable traffic rate but insufficient DR, it could still potentially be selected as a potential backlink donor web resource.
How to post backlinks for free
Free linking can be divided into two categories:
Types of platforms — websites where you can directly place backlinks.

Placement strategies — methods to ensure that you get a link after performing a set of actions on your part.
Link posting websites
This is a relatively simple tool, involving one action: identifying a donor and getting a backlink.
Directory
There are two types of directories in which you can register your domain:
Company directories — websites for online and offline projects, such as a travel agent or car company.
Website directories — for backlinks of online companies only, for example, a blog, an article website, or a news website.
Make a list of company directories or sections in directories that are relevant to your business, and start gradually placing links. If you abruptly increase the backlinks in one month and then stop placing them completely, you may be sanctioned by the search engine. Do not use the automatic promotion of directories, so as not to fall into search filters.
Note that many directories have a serious disadvantage: there are more outbound backlinks than inbound. This is an unwanted characteristic for a link donor. I recommend considering only resources devoid of this disadvantage.
Social media
It is worth using backlinks in your accounts and posts, as well as leaving useful comments with backlinks on Instagram, Facebook, and Twitter. Provided, of course, that you regularly maintain and develop your social media profiles.
Social websites
Websites like Reddit, Digg, and Quora combine the functionality of forums and the fun of social media. Here you can post backlinks both in posts and in comments, provided that the subject of your company or website corresponds to the focus of the social platform.
Forums
Search engines consider backlinks that are posted in comments and discussions of thematic forums valuable, assuming that users share them with each other.
For example, when promoting a local firewood company, create a thread on the regional forum titled «Where to buy quality firewood in West Yorkshire?» Then, answer this question from another account and add a link to the company. Do not answer the thread immediately, but wait a few days so that the answer looks natural.
Placing backlinks on social websites, social media, and forums is also known as crowd marketing. Always take into account the rules of the platform's community to avoid being penalized by the administration.
Review websites
Try to use websites that post reviews of products and services as donors. You can leave the link when evaluating the product your company sells, or recommend it as more reliable in a competitor's discussion thread.
Aggregator websites
Aggregator websites collect and categorize information, goods, and services from different companies on one web resource: a marketplace, a product aggregator, bulletin boards, services for the purchase of certain types of goods, etc.
For example, you can register your music store and its products on a marketplace like prom.ua, and place an ad for the services of tuning or repair of equipment on OLX. In both cases, you will get a high-quality and relevant link.
Strategies to build free backlinks
Unlike platforms that focus on specific websites, strategies involve a set of steps that allow you to link to many resources and form multivariable interactions with donors.
Competitor backlink analysis
You can find free platforms by using the resources your competitors use for backlinks. Use the analysis of backlinks provided in the Serpstat module. It's easy to use:
Enter the domain address of the competitor's website.
Click Search.
Go to Backlink Analysis.
Select Referring domains.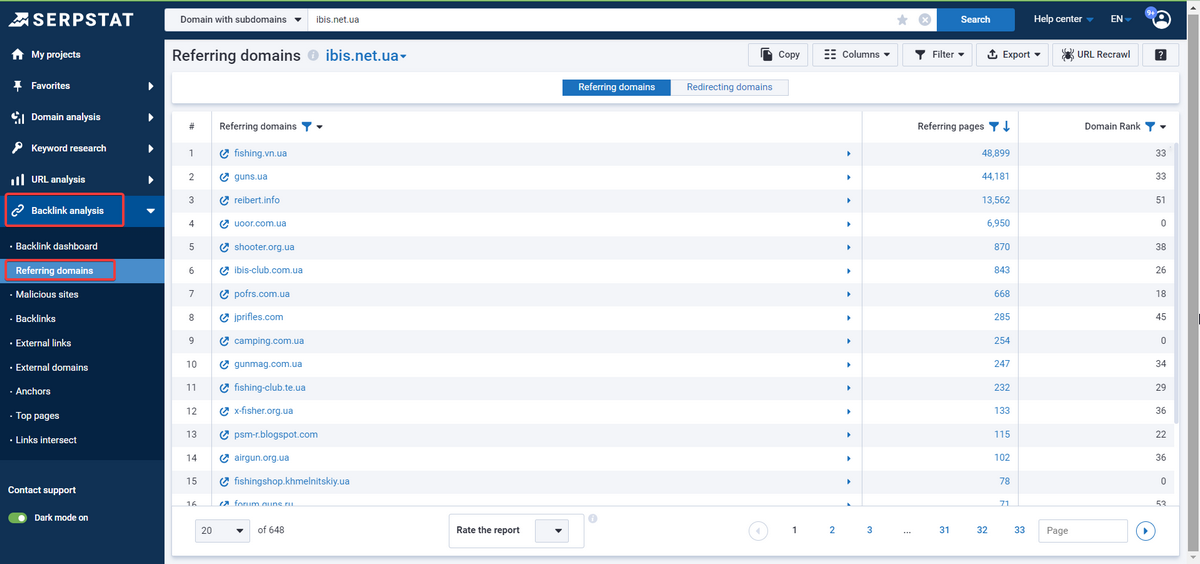 Having analyzed the link donors of a competitor, it is not difficult to find options for placing your own backlinks for free. Sometimes a competitor makes a big bet on the paid segment — in this situation, it is worth considering similar steps.
Link baiting or link assets
This is the content of your website, and it is created to be referenced by donor domains as useful tools or information:
various converters, generators, calculators;
infographics, GIFs, maps, memes;
rankings, top lists;
guides, tutorials, surveys, and lessons.
If you can't find the right fit, again research the link baitings the competitors are creating in your niche and take inspiration from there.
Here's a tip: When writing an article for the Netpeak blog, I contacted the website where I wanted the article mentioned. The potential donor then sent me a list of requirements for the text, and that's how we agreed to post the link.
This method is promising but complicated. It requires the creation of original content: text, visual, or audio (this is how it differs from «Platforms...»). It will integrate backlinks to your company or project.
For photos, graphics, and infographics:
Upload video product reviews, interviews, and video tutorials on YouTube.
For creators of original audio content, there is the free Soundcloud platform.
Working with influencers
You can promote backlinks through the resources of influential people or communities. In this case, there are two things to consider:
The topic should be targeted to the audience of that person or group.
The potential donor will not make contact without a clear interest in presenting your products/services to their community.
Search YouTube, Instagram, or TikTok for content creators who do quality reviews. Provide them with an incentive (not necessarily money), and they may agree to talk about your products, make a commercial, or give you a backlink.
Guest posting
This method involves a kind of digital barter: the owner of the domain agrees to post your link, and in return, a response link to the donor website will appear on your website.
To avoid losing link equity, you can hide the outgoing link to another resource using the «nofollow» attribute or SEO Hide technology. This allows you to make the backlink invisible to search robots.
Important! In Google's December 1, 2022 update, there's a paragraph warning against link spam:
«Excessive link exchanges ("Link to me and I'll link to you") or partner pages exclusively for the sake of cross-linking».
So do not misuse this method.
Conclusions
Take into account the popularity of platforms for posting links, as well as their reputation.
Make use of services that allow you to check on potential donors.
Utilize several donor websites and different types of content.
Do not ignore social media, and respect the rules of the communities.
Closely monitor all changes in link posting rules to avoid getting penalized by search engines.
When using free backlinks, remember that paid options are sometimes more profitable and effective.
If you don't have enough experience to build and maintain a competent link strategy, reach out to Netpeak specialists and we will help you promote your website.
FAQ
Where can I post a free referral link?
Company and website directories.
Social media and platforms.
Forums.
Review websites.
Aggregators websites.
How do I get free backlinks?
There are many ways to get free backlinks , and each has different levels of difficulty. You can add backlinks to directories of websites and companies. You can also create and promote original content, and find free donor domains in the link profiles of competitors.
How do I get the user to place backlinks to my resource on their website or page?
Create interesting content that will serve as link bait. Such content will attract visitors with its authenticity and useful functionality.
Topics:
Found a mistake? Select it and press Ctrl + Enter