How to Train a Team Using the 70:20:10 Learning Model
Is it worth investing in team training? This question is especially unpleasant for business owners in times of crisis. Has an online course made your employee more productive, and can training be organized differently?
For employee training purposes, I recommend one of the alternative learning models, presented as a proportion of 70:20:10. It is less wasteful, tailored to business processes, and helps employees master only the skills they need for specific tasks.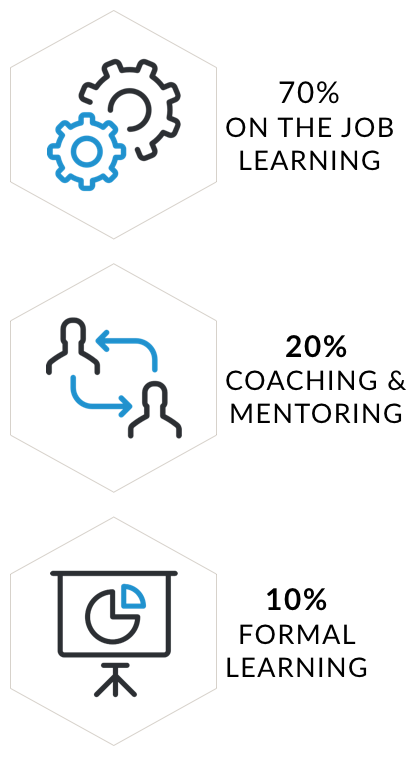 Corporate training: billions of dollars for nothing?
Billions of dollars are spent in the field of employee training. In the United States alone, $83 billion was spent on training (including payroll and spending on related products and services) in 2019. In the US, they spend on average $1,286 and 42 hours a year training one employee.
The budgets were almost unaffected, although adjustments had to be made in the past year due to COVID-19 (distance learning increased by 28%). In 2020, the total cost of training in American companies decreased by only $0.5 billion, amounting to $82.5 billion. At the same time, the average training time for one employee increased to 55.4 hours per year, and training costs decreased to $1111.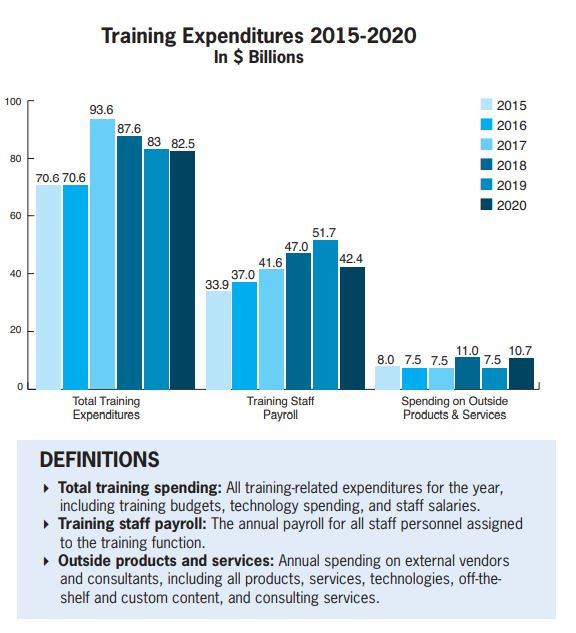 Training costs typically include:
Total training costs: all training-related costs for the year, including training budgets, facility fees, and employee salaries.
Training staff salary: the annual salary of the entire team involved in training.
External products and services: annual costs for external suppliers and consultants, including all products, services, technologies, serial and special content, and consulting services.
Laszlo Bock, Google's vice president of HR and co-founder and board chair of Humu, believes that American companies waste most of this money and time.
He cites the following data: «A survey of approximately 1,500 executives from different industries, regions, and companies of different sizes shows that every fifth organization does nothing to measure the effectiveness of employee training. Of those who do, only 13% calculate profit returns. Not surprisingly, two-thirds of employees believe that their training programs do not contribute to increasing business efficiency.»
Laszlo Bock argues that training effectiveness does not depend on the number of hours spent. Its success lies in providing the right information to the right people at the right time. Instead of spending excessive amounts on expensive training modules, companies should first establish a feedback culture.
«Set training goals and regularly check employee performance. And if you invest in training programs, determine the criteria for success in advance», — Laszlo writes.
In his book Work Rules! Mr. Bock calls the 70:20:10 method a more suitable team development program.
Origins of the 70:20:10 model
American psychologist and doctor of philosophy Morgan McCall is considered to be the author of this method. He derived a proportion of effective development while working as a psychologist at the Center for Creative Leadership in the 1980s.
Morgan McCall believes that for any educational process to be effective, practice has to make up most of it. He also emphasizes the importance of communicating with colleagues and sharing experiences. Therefore, he divided the educational process into three parts:
practice (knowledge gained in the workplace and reinforced by experience) — 70%;
discussion (knowledge gained while communicating with more experienced colleagues) — 20%;
theory (knowledge gained from teachers and textbooks) — 10%.
In 1996, McCall's team members, Michael Lombardo and Robert Eichinger, published a book, Career Architect Development Planner, which detailed the 70:20:10 method. After that, the popularity of this method soared. It began to be used in different spheres: for teaching in schools and institutions, leadership training, and even for distributing finance.
For example, Google used this proportion in 2005-2011 to manage innovation:
70% of the company's resources were allocated to solving key business problems.
20% were allocated for projects unrelated to the main activity (for example, news applications and maps).
10% were allocated to auxiliary programs, such as self-driving cars.
Eric Schmidt and Jonathan Rosenberg described this approach in detail in their book How Google Works.
Many large multinational companies still use Morgan McCall's learning model in corporate training.
For example, companies such as Mars use this approach to train line managers and top managers. Each employee has an annual development plan they make and adjust with the manager. At Mars, the Mars University expertise center creates opportunities for training employees and is responsible for the educational process methodology.
Features of 70:20:10 in corporate training
«The goal of almost any business training is to change behavior to increase productivity», — writes Charles Jennings, one of the followers of McCaul's theory.
He points out that organizations are adopting the 70:20:10 learning model not only because the costs of formal training are high but also because businesses often need the learning process to be quick. Knowledge must be promptly delivered so that specialists can quickly perform the tasks.
According to Charles Jennings, the most important aspect of an educational process is not so much the motivation of the employee being trained as the motivation of the supervisor. The following factors influence the success of training:
supervisor's attitude before the training starts;
supervisor's attitude after the training;
practice after training.
The value of the 70:20:10 model is that it takes learning outside the classroom and brings it into the workplace and social spheres.
Let us examine in detail each of the figures of the McCaul proportion. Growth Engineering CEO Juliette Denny suggests presenting them as the pie components. Let's give it a try.
The basics, or the crust of a pie: 70% of learning through experience
This is the employee's own experience. It represents the knowledge they gain by performing practical tasks, making and correcting their own mistakes, or working independently with reference materials. In a nutshell, it is empirical learning through real-life situations in the workplace.
The employees can then put into practice all the knowledge they have gained and analyze their own experiences. Along with the acquired experience, they develop the skill of self-learning.
70% of practical training includes:
performing tasks;
increasing the number of responsibilities and their diversity;
teaching someone else (when we teach, we learn);
doing minimal research;
self-reflection.
The filling: 20% of social learning
This is so-called social learning and is based on the experience of others. Employees learn by sharing knowledge, observing the behavior of others, and receiving support from mentors.
Social learning usually happens spontaneously. It is not structured and evolves with the employee. They observe, ask questions, and get answers from colleagues, friends, or coaches.
The 20% is made up of:
coaching
mentoring
observation
receiving feedback;
participating in professional communities;
professional discussions.
The decor and the cherry on top: 10% of formal training
Even though it makes up the smallest proportion of the pie, formal training is integral to any development strategy. It consists of theory and facts, which are incorporated into both informal learning types (70% + 20%). The theoretical knowledge gained by the employee complements and explains what they learned during practical work and social interaction.
The 10% looks like this:
courses
seminars
conferences
online training
higher education
self-study.
It should be noted here that formal and partially informal training can be done online using corporate chats and groups, LMSs, augmented and virtual reality, and even gamification. The main principle is sticking to the given ratio for the best results.
Charles Jennings believes nothing will change if innovative learning tools are incorporated into the traditional learning structure. This is because the purpose of traditional methods comes down to management and control.
According to Jennings, the traditional approach lacks flexibility: «It does not meet the goals that the dynamically developing world sets for us. The 70:20:10 model in theory and practice helps to go beyond thinking focused on courses and study programs. The 70:20:10 learning and development strategy is a great starting point for the change process.»
Denis Berdnik, service and sales coach, highlights the following advantages of the 70:20:10 model:
The trainee continuously sees positive and negative examples.
The trainee gets immediate assessment, feedback, and support.
He also emphasizes these features.
The model is most productive in large corporations (for example, Microsoft, Google, HP, and Mars), where all processes are perfectly built and standardized.
It implies that the employee's mistakes during training do not have severe consequences.
It requires considerable time and energy from the manager and supervisor.
In his book mentioned above, Work Rules!, Laszlo Bock formulates three rules for organizing the process of mutual learning, without which the 70:20:10 model will not work:
Adopt the following method: break the training program into small, simple parts with clear feedback and perform them repeatedly.
Let your best employees become teachers.
Invest only in training that allows you to measure changes in behavior.
There are no rules that cannot be broken
Do not dismiss other relationships between practice, theory, and social communication, especially if they produce results.
For example, in his book Flat Army: Creating a Connected and Engaged Organization, Dan Pontefract, the leadership strategist and founder of the Pontefract Group, suggested splitting formal, informal, and social learning equally into three portions of 33.3%.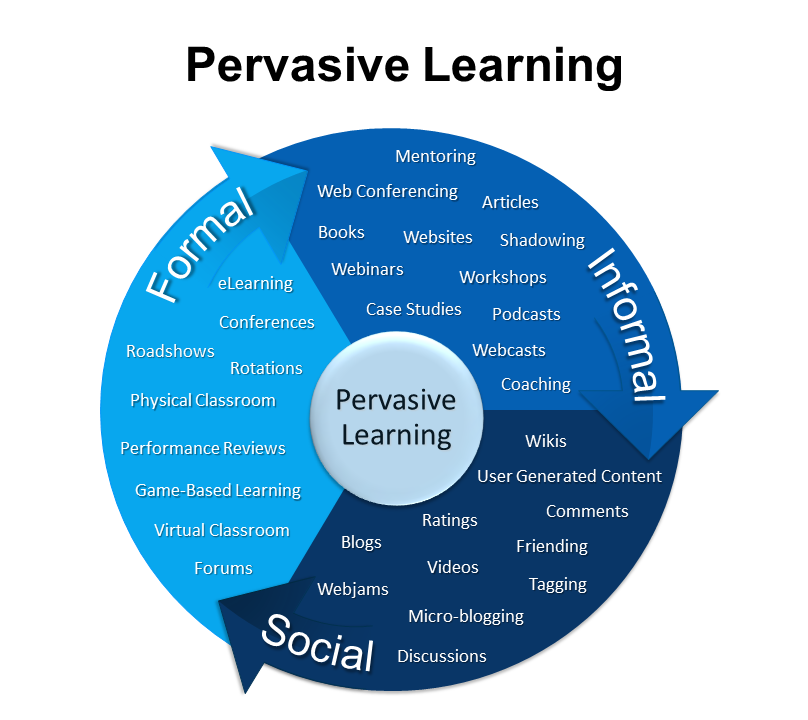 Dan Pontefract's graphics
Other variations are possible. For example, if we talk about innovative companies, the 70:20:10 model can take the following form: 40% practice, 55% social training, and 5% formal training. And conversely, in more regulated areas, where strict adherence to standards is essential, a realistic structure would be 20% practice, 40% social learning, and 40% formal learning.
The main thing is that all three components are present in the training: theory, practice, and social communication.
In practice, as a survey of U.S. companies showed, the emphasis is on costly formal training. Yes, formal training is diverse and takes place both offline with an instructor and online in a virtual classroom. However, there is a clear lack of practical training in the workplace, and social learning makes up a little more than 3% of all training.

Worryingly, no global changes in this structure are expected shortly. Looking ahead, 12% of companies surveyed intend to return to normal classroom volumes after the pandemic. Furthermore, 11% said they would keep the distance learning introduced during the pandemic and create new offline programs. Another 14% indicated they would stay on the current course and continue the distance learning introduced during the pandemic. Most (54%) plan to return to classroom learning while retaining some distance learning introduced during quarantine. And only 9% could not give an accurate answer about their plans for training.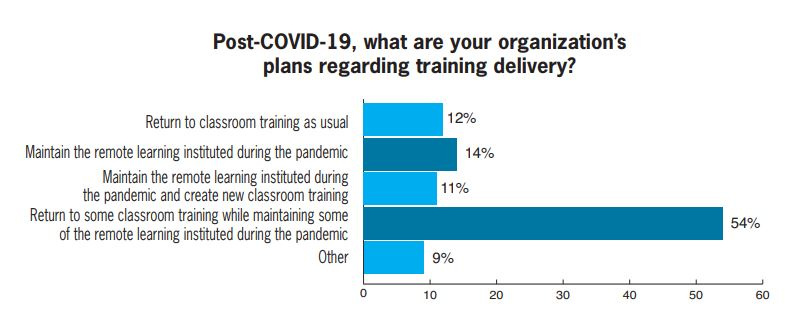 What to remember
The 70:20:10 learning model has been proven to be effective in many companies that have used it. It takes the learning process beyond the audience and shifts the focus from tools to corporate culture. At the same time, the knowledge gained results from the employee's interaction with colleagues and management. Therefore, the costs associated with external teachers and trainers are reduced.
Here are the basic principles of the 70:20:10 model as adapted to the current requirements:
Most employee training takes place in the workplace under the supervision of their manager.

«

Learning by doing

»

is a capacious term that reveals the essence of this process.
The social factor is given sufficient emphasis in the training; it involves communication with more experienced colleagues and a mentor. Communities based on professional interests can help in this process.
The teaching of formal theoretical knowledge should be strictly regulated and adapted to real business processes. Its function is to complement and explain what the employee has already learned in practice.
You can change the ratio of the three parts depending on the company's needs, goals, and tasks. However, all three forms of learning (practice, social interaction, and formal learning) must be present.
Modern technologies, training platforms, and creative innovations only expand the possibilities of learning and function to make learning interesting and exciting.
Searching for teachers among the company's employees increases corporate culture, unites the team, and reveals its potential.
The key element of the concept is the cultivation of employee autonomy in decisions and actions.
Topics:
Found a mistake? Select it and press Ctrl + Enter