Quora Advertising Overview
Are you looking to get targeted leads from English-speaking audiences but want something cheaper than Google Ads? Try Quora ads. It's fine if you've never heard of it. It's similar to other advertising services, making it easy enough to set up for the first time. In this post, I'll explain in detail what it is and how your business can take advantage of all the benefits of advertising on Quora.
Quora platform overview
Quora is a social network where people ask questions and get answers. For instance, if you want to buy a good umbrella, you can get advice on Quora from an expert in the field. Here's what ads on Quora look like when you enter a search query.
Who visits Quora?
Quora has more than 300 million unique visitors every month, asking anything from 3000 to 5000 questions.
The majority of Quora users are from:
USA - 37.94%
India - 15.39%
UK - 5.99%
Canada - 4.45%
Australia - 3.09%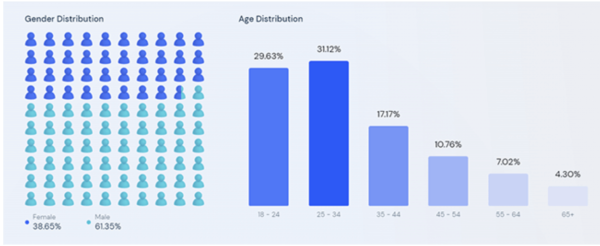 Quora user demographics
According to JD Prater from Quora, 60% of companies that advertise on Quora are B2B, and 40% are B2C. Quora Business claims that companies that use Quora Ads have up to four times more conversions than on other platforms.
Who can build a successful presence on Quora?
As an advertising tool, Quora is not aimed at e-commerce. It mainly attracts users looking for answers to their questions, advice, or discussions on specific topics. This platform is aimed at providing information rather than directly selling products. Therefore, although Quora users may be interested in certain products or services, their primary purpose on the platform is to obtain information, not to make a purchase.
At the same time, Quora is useful for companies providing both B2B and B2C services. In particular, it's easy to find ads on the platform for the following topics:
Marketing
Fintech
Education
Law
IT
Beauty
Health
For example, you can advertise a cafe next to the question "Where to find the tastiest pizza in the city?" or advertise a training session next to the question "What's the best online course to learn PPC?" With such placements, your ad will be truly engaging and useful for the audience, and you will be able to gather lots of new customers!
What is the difference between Quora and Google Ads as advertising platforms?
Of course, the scale of these two platforms cannot be compared. Google Ads will allow you to achieve much bigger business goals. But here's a comparison for you to understand how Quora differs from traditional Google ads.
Places where ads are placed. Google ads are placed on Google's own website as well as on partner websites, while Quora ads are placed on Quora's website only.
Target audience. Quora targets users looking for answers to questions, while Google Ads targets users looking for specific products or services.
Ad format. Platforms have different requirements for the size of banners, videos, and texts. Quora allows you to use more extended text ads, while Google Ads limits the number of characters (a maximum of 90). In turn, Google Ads offers a much larger number of banner ad formats.
Payment method. Quora offers pay-per-click and pay-per-impression models, while Google Ads offers more options like pay-per-click, pay-per-impression, conversion, and more.
What do ads on Quora look like?
Quora's Ads account offers three ad formats.
Text ads
Text ads are displayed in the news feed and on FAQ pages. They can also be customized for specific keywords and interests.
Banner ads
There are three types of banner ads available in the advertising account:
Large banner. It is placed at the top of Quora pages, above the content where users view questions and answers. It has a wide horizontal dimension and can contain text and visuals, as well as a Learn More button.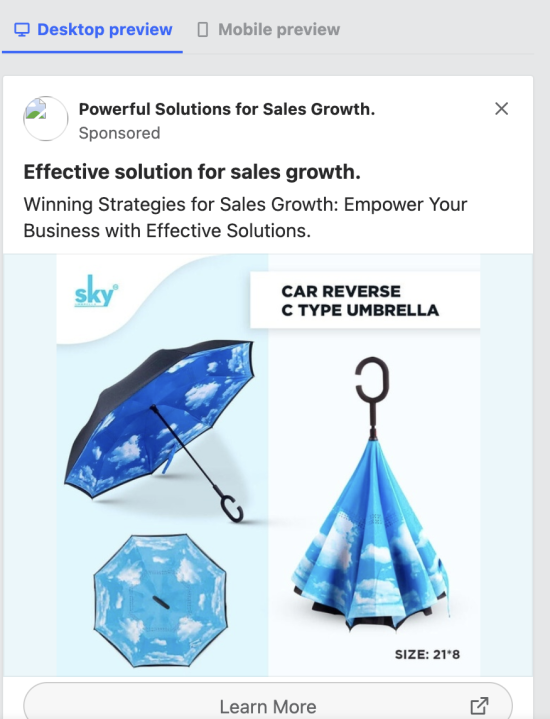 Medium rectangle banner. It is placed on the right side of Quora pages. It is rectangular and can contain text, visuals, and a call to action.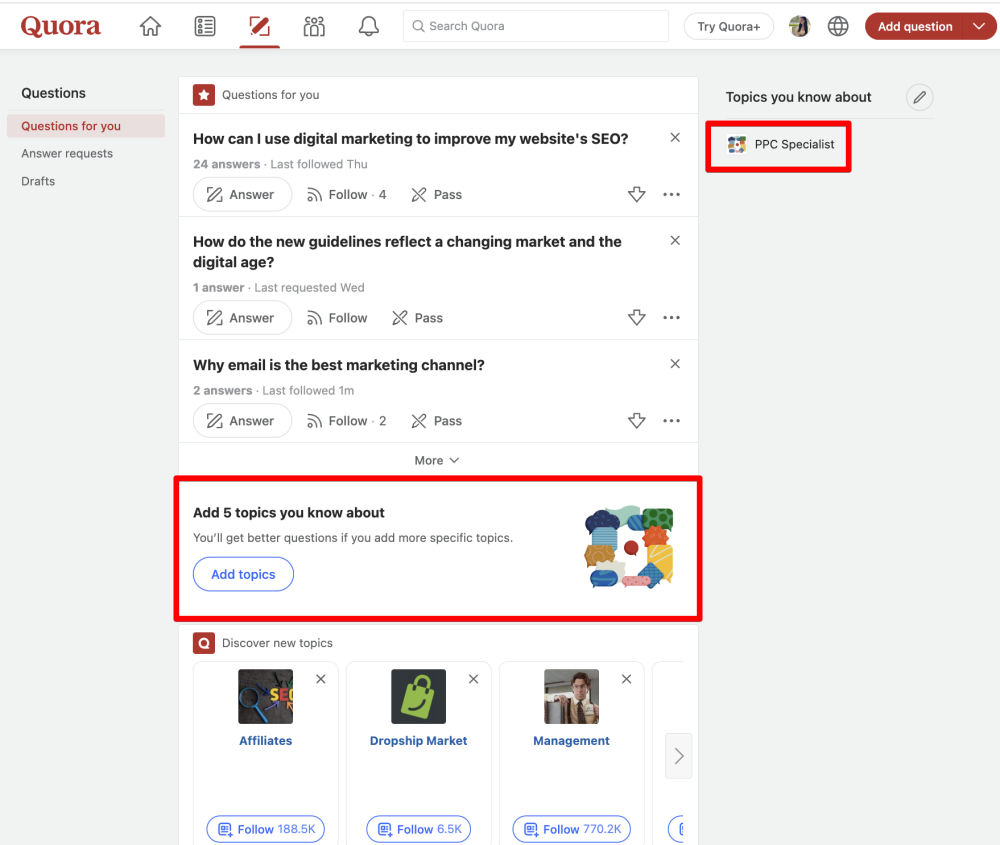 Banner with Tooltip. It appears above the selected question on Quora. It can include visual content, a title, and text.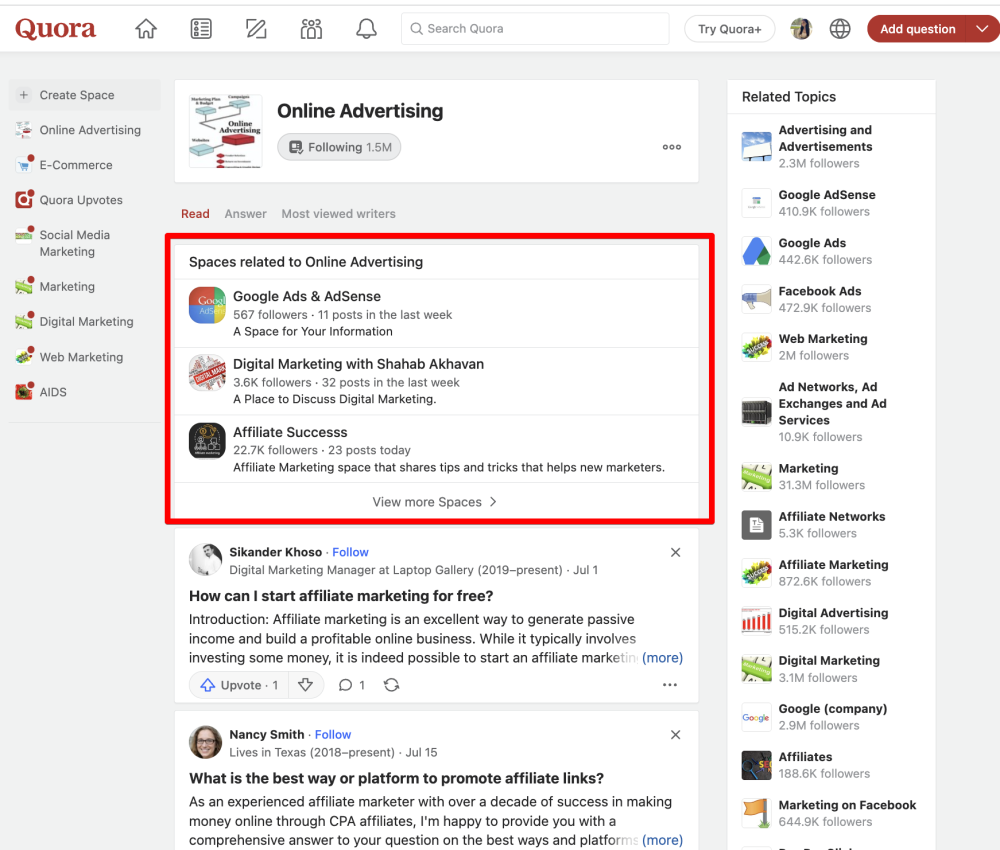 The recommended banner specifications are an image size of 1200x628px or 600x335px and a format of PNG or JPG.
The recommended aspect ratio is 16:9 to 4:5, and the recommended minimum width is 580px.
Video
Quora also supports video ads. Such ads are placed throughout the website, except for the question pages. They are not placed in the Quora digest (email newsletter) either.
A question page is a separate page for each question and its answers on Quora.
A digest on Quora is a list of recommended questions and answers that can be sent to users by email or pop-ups in a mobile app.
You need a video in MOV or MP4 file format to create a video ad. The audio format should be AAC with a 16:9 aspect ratio and 1280x720px resolution. Subtitles are recommended but not required.
Advertisers on Quora also use additional elements and ad forms to attract more customers, in particular:
Promo codes. They can be part of an ad as a code or a word. They can be placed in text blocks, banners, or as separate elements in Quora ads.
Quizzes. Advertisers create quizzes that are aimed at learning about the products or services they offer and increasing their brand awareness.
Ad carousel. This format allows advertisers to create carousels of multiple ads that users can view by scrolling through the slides.
Registration and profile settings
To display ads on Quora, you need an account. Registration is based on a simple algorithm.
Step 1. Sign in to Quora with your Google account.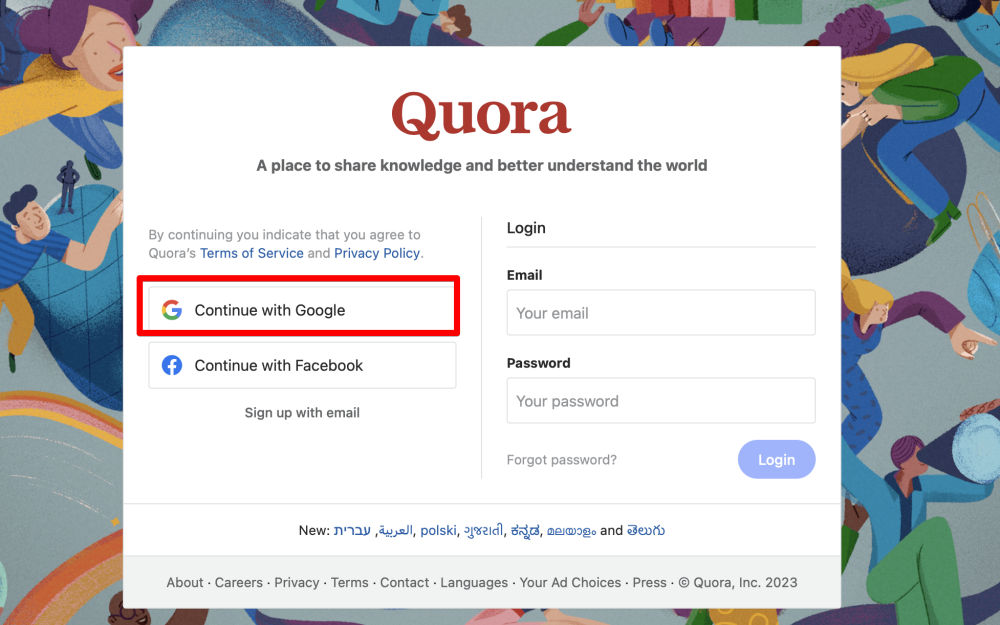 Step 2. Select your interests from the images.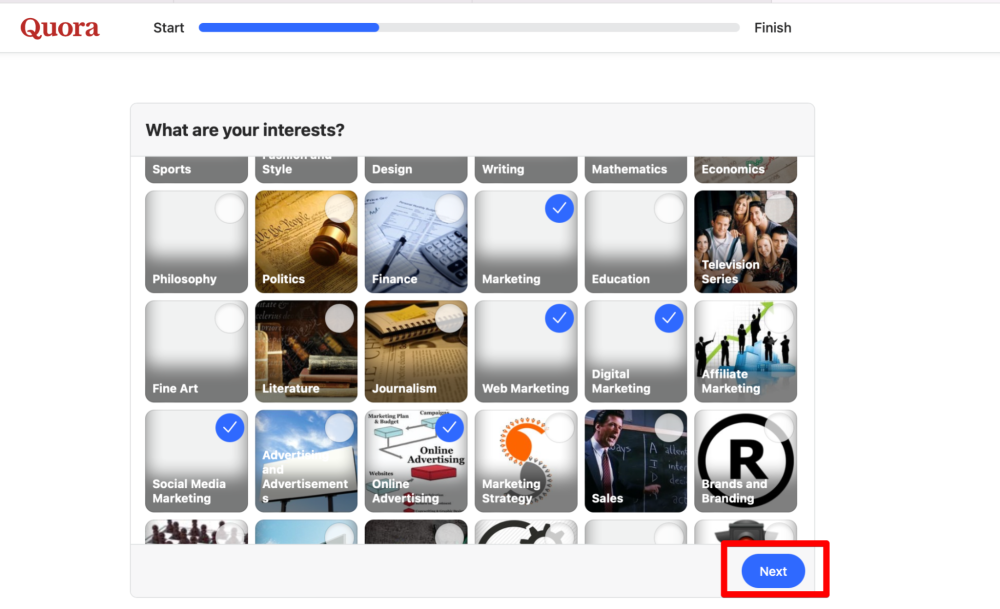 Step 3. Customize your personal account. Also, fill in the Knows about section by selecting topics that you are well versed in.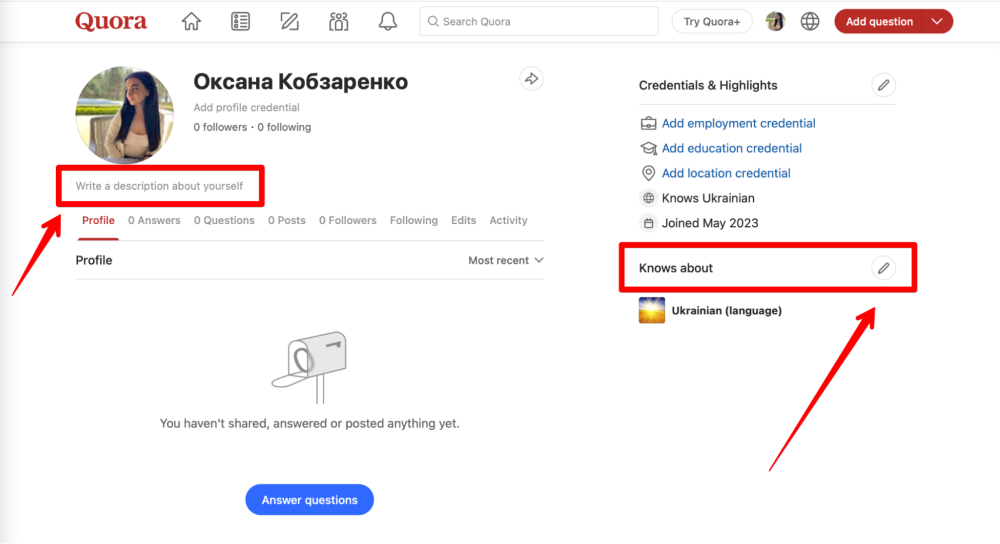 You can also create a page for your company. Fill in the Knows about line with your brand name. If it's not found, select Create topic.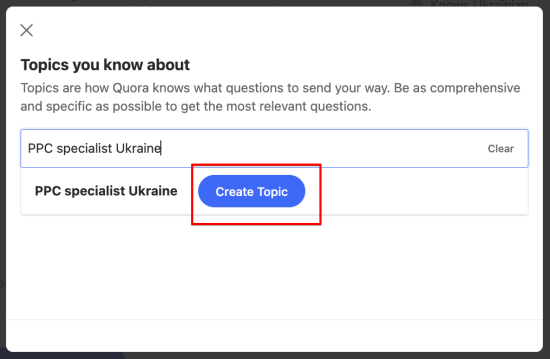 Then click on the name to add a logo.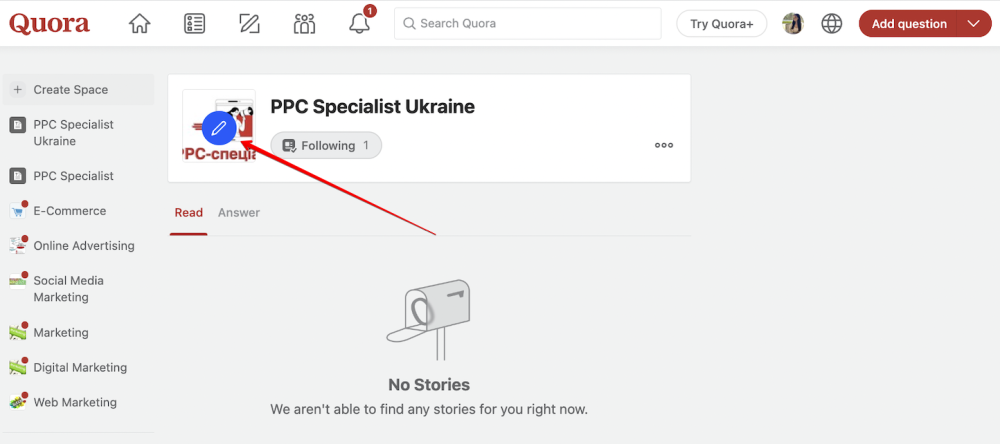 Please take note of the Your content & stats section. After launching an ad campaign, you can view the results here.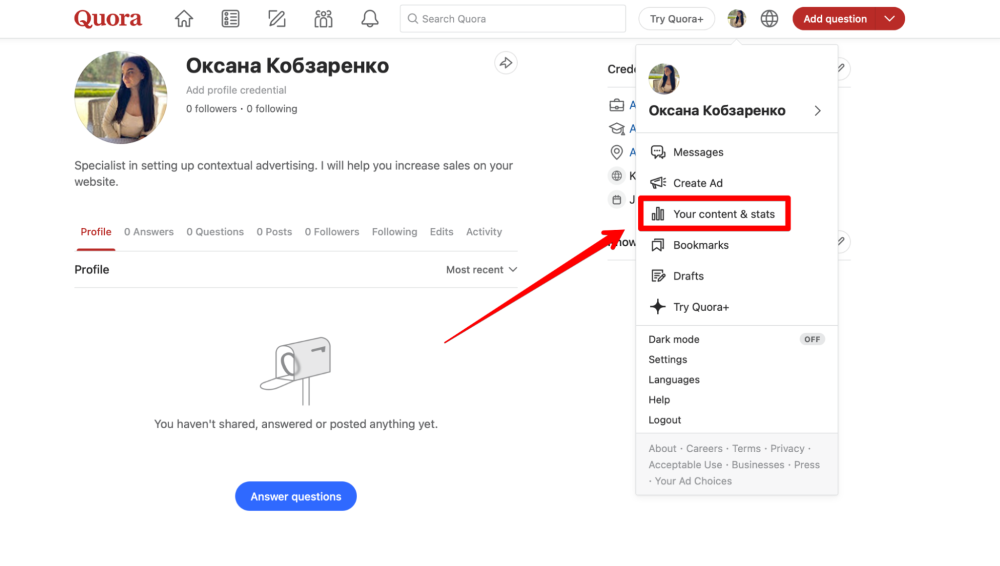 This section displays complete statistics on the ranking, views of responses and comments, clicks, and costs.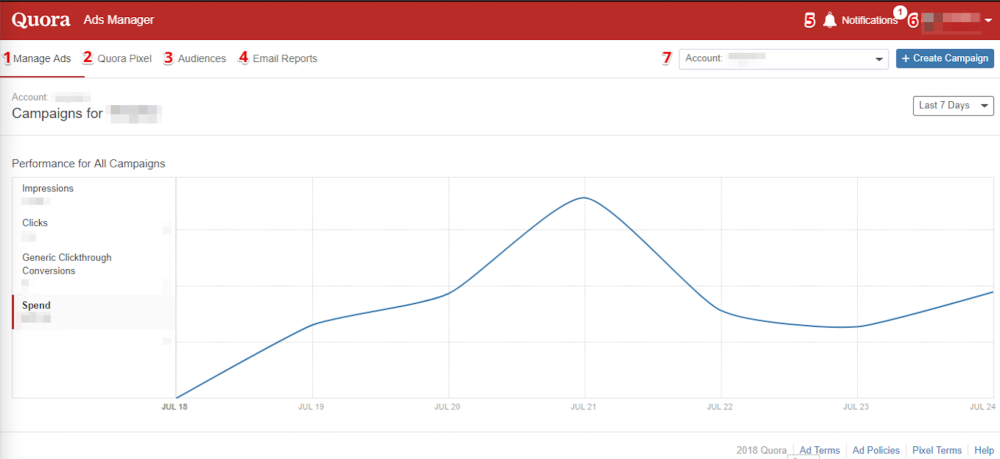 Launching ads on Quora: a beginner's guide
You can launch ads on Quora from your advertising account.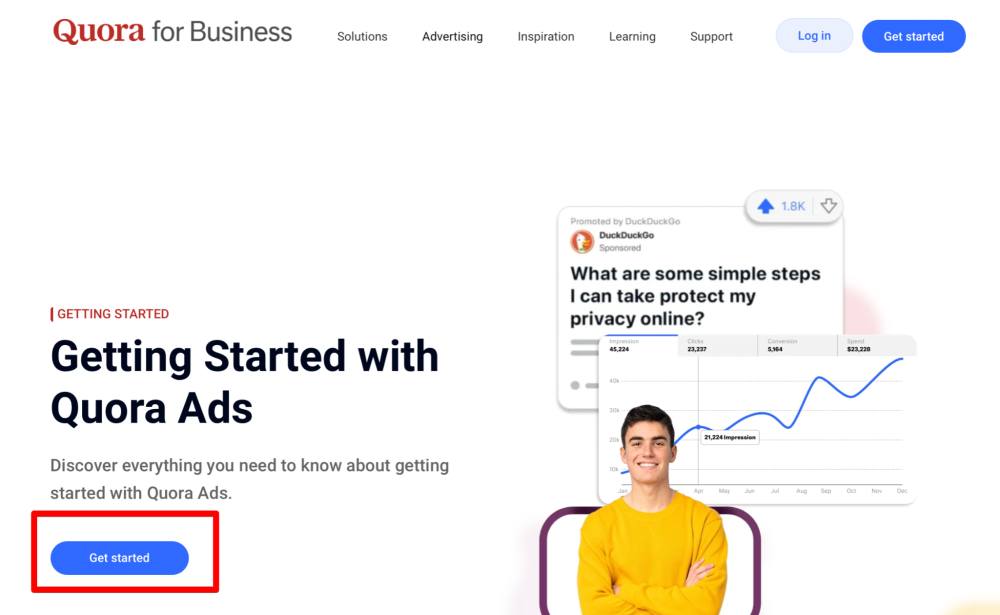 First, the platform will ask you for information about your business. In a new dialogue box, enter your business name, business website, and industry.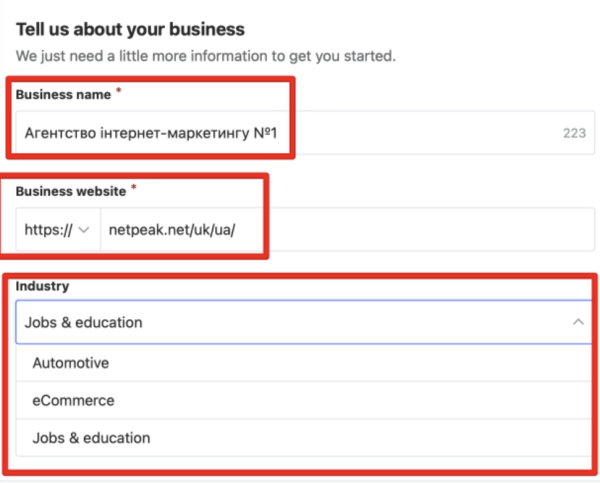 Congratulations! You are now logged on to your Manage Ads Quora account.
Next, to create an ad, you need to choose the country and currency in which you will pay for the ad. Choose the currency of the country that Quora allows you to target.
Please note that not all countries can be targeted on Manage Ads Quora. Certain countries are not allowed.
These are the countries that Quora Advertising (Manage Ads) suggests targeting since they have the largest audiences:
United States of America
Canada
United Kingdom
Australia
Germany
France
Spain
Italy
Japan
Brazil
India
The list may change over time as Quora is constantly expanding its availability in different regions.
Quora is known worldwide, but some countries may have a small audience or low popularity on the platform. Here's a list of countries that I do not recommend targeting due to their potentially limited audience on Quora:
Small Asian countries, such as Bhutan, Laos, Kyrgyzstan, or Tajikistan.
Some African countries, such as Chad, the Central African Republic, or Niger.
Countries with low Internet penetration in Africa, South America, or Asia.
The main menu of the Quora advertising account
You can navigate through the advertising account using the top menu.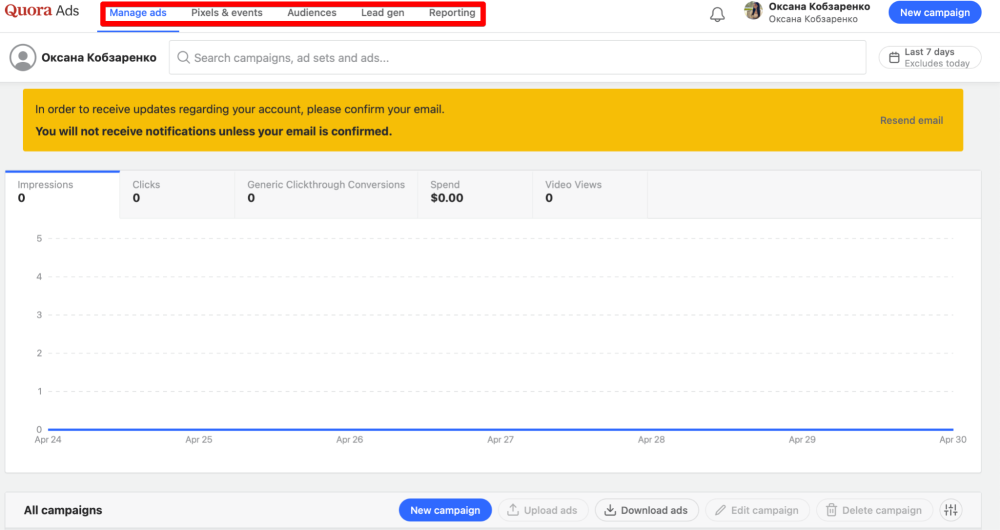 1. Manage Ads is the main dialog box of the advertising account. It displays a graph with "quick" statistics on advertising and the ad campaigns themselves.
2. Pixel & events are Quora pixel setup and conversion tracking. This section displays information about the proper functioning of the pixel and the number of recorded conversions.
3. Audiences is a setup of remarketing lists. In this section, you can create and modify remarketing lists and view statistics on their completeness.
Remarketing on Quora is about showing your ads to people who have previously done business with your brand or visited your website. For example, if you own an online store and some users browsed your website but didn't make a purchase, remarketing can show them your ad on Quora to bring them back.
It's a very powerful tool because people who are already interested in your business are more likely to make a purchase or perform another valuable action when they see your ad again. Essentially, remarketing on Quora helps you stay in touch with your audience.
4. Lead generation automatically transfers leads to any CRM using the Zapier service.
Zapier allows you to instantly connect Quora Lead Gen Forms with 2,000+ apps to automate your work and find ways to improve performance.
5. Reporting is a section that has essential ad reports.
Before setting up your ad campaigns, I recommend setting up Quora Pixel and configuring events in Pixel & Events.
Quora Pixel setup
Pixel & Events is a tool that allows you to collect data about website visitors to use later in ad campaigns. It allows you to create remarketing lists and track conversions on your website. For Pixel & Events to work, it needs to be configured. To do this, you need to install a snippet of Quora Pixel code on the site where your ads will be displayed. There are two ways to do this: manually or with a partner, such as Google Tag Manager.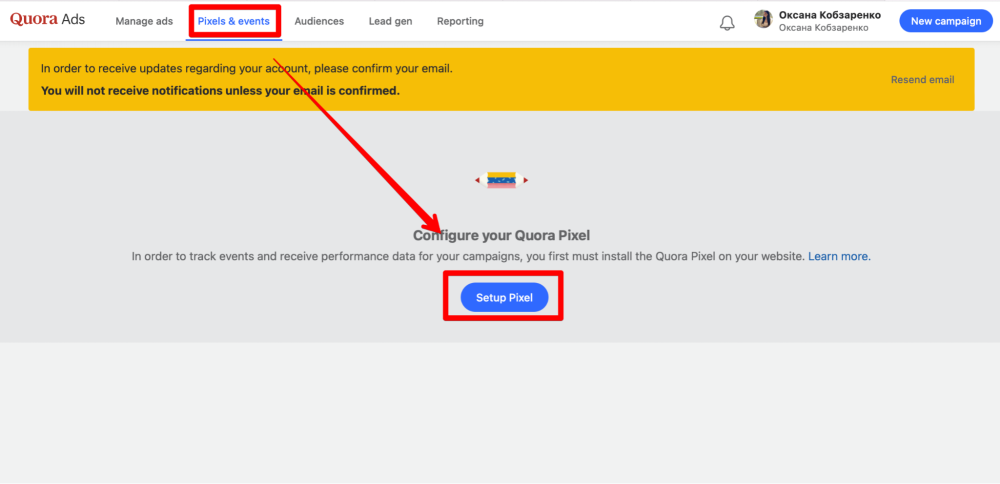 1. Manual installation
You can manually install Quora Pixel by creating a code snippet to add to your website. Select Install manually and click Next.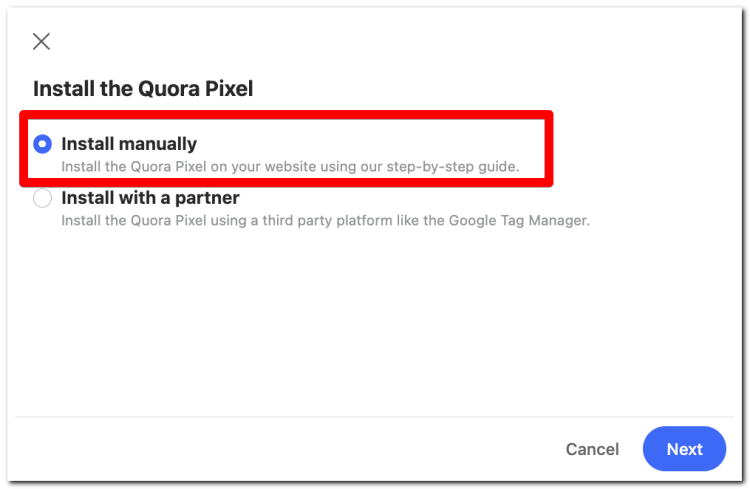 After creating a Pixel, you'll get a unique code.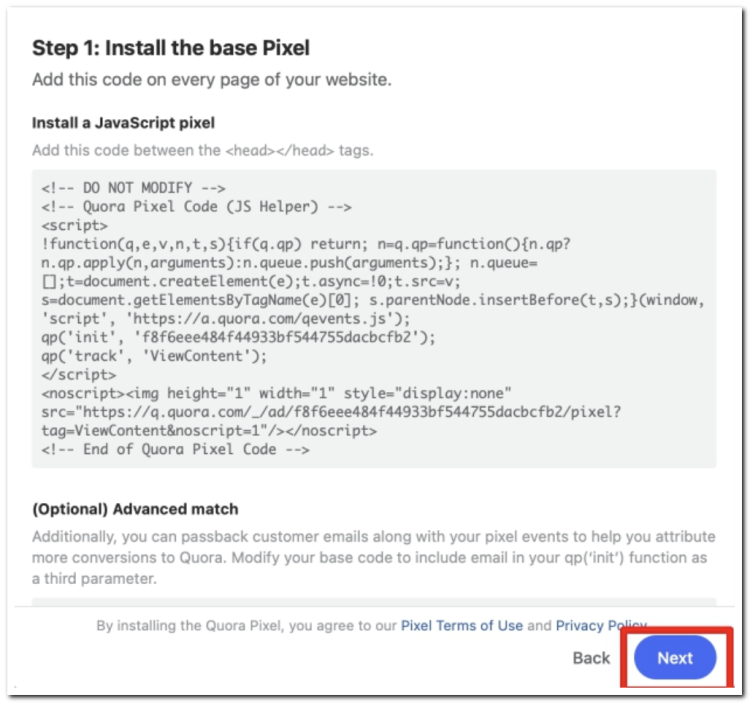 Then, you can create a technical requirement document for developers or insert the code yourself on all the web pages where you want to track interactions in the <head> section of your HTML code.
To install a Quora Pixel yourself, use Google Tag Manager and the following instructions:
Create a tag and name it Quora Pixel.
In the tag configuration, select Custom HTML as a tag type.
Paste the copied code snippet from your Quora account in the Quora & Events section.
Select the Page view trigger.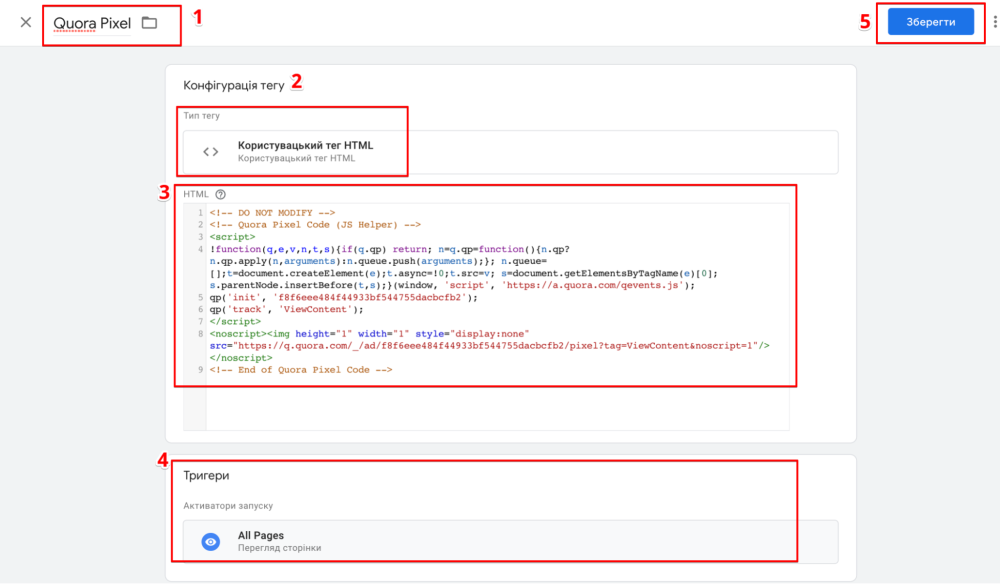 2. Install with a partner
If you want to install Quora Pixel without copying the code, you can use the Google Tag Manager partner. To do this, select Install with a partner when installing Quora Pixel and click Next.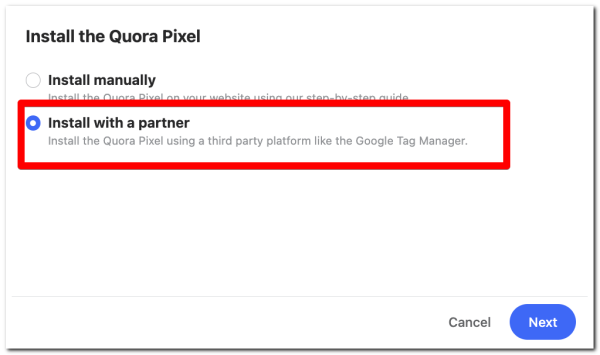 Next, the option with the Google Tag Manager partner will be pulled up. Click on the unique pixel ID to copy it to the clipboard.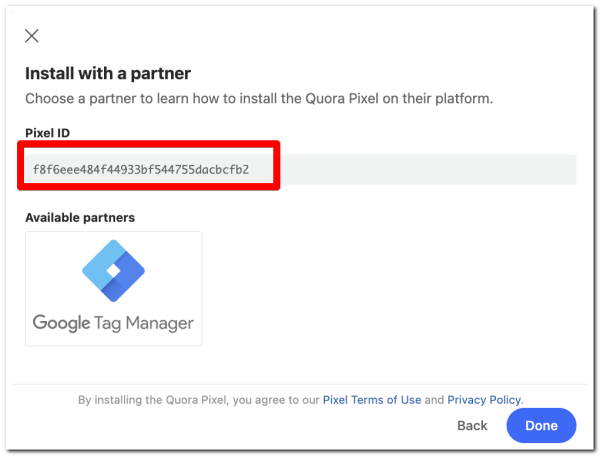 In Google Tag Manager, select Tags > Create > Tag Configuration.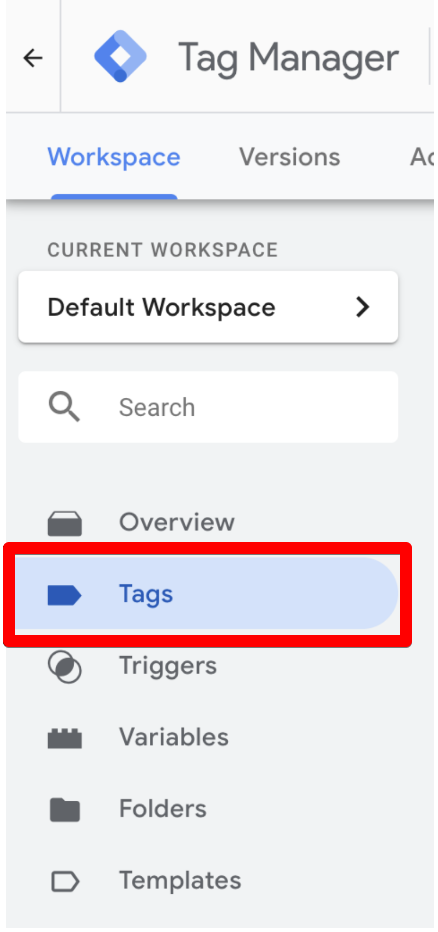 Search for Quora Pixel and click on that line.

Paste the copied Pixel ID into the Quora Pixel ID field and select Page View.
In the Triggering section, select the option that sets the tag on all pages of your website. This is usually All Pages.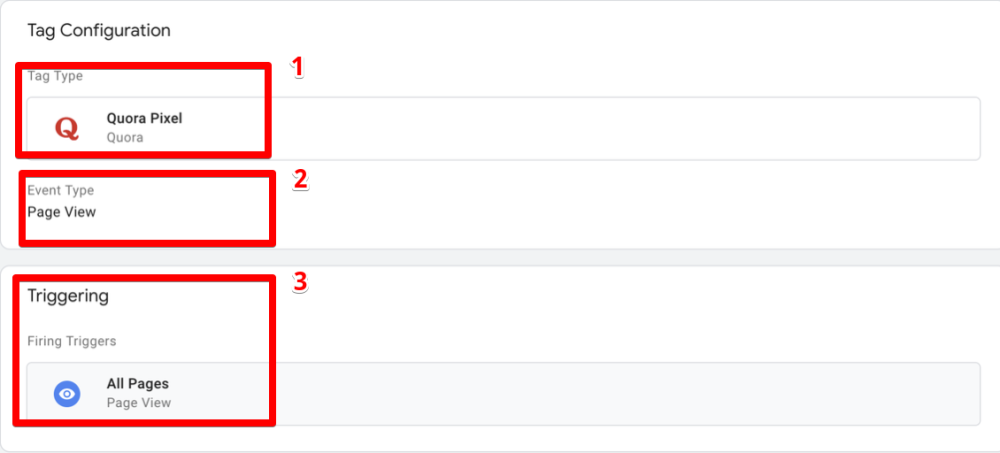 Name your tag in the upper left corner and click Save in the upper right corner to save your settings.

Then go back to Quora. All you have to do now is set up event tracking to measure conversions, understand campaign performance, and optimize your campaign for the events you're interested in.
For example, select Generate Lead if you want to measure the number of leads.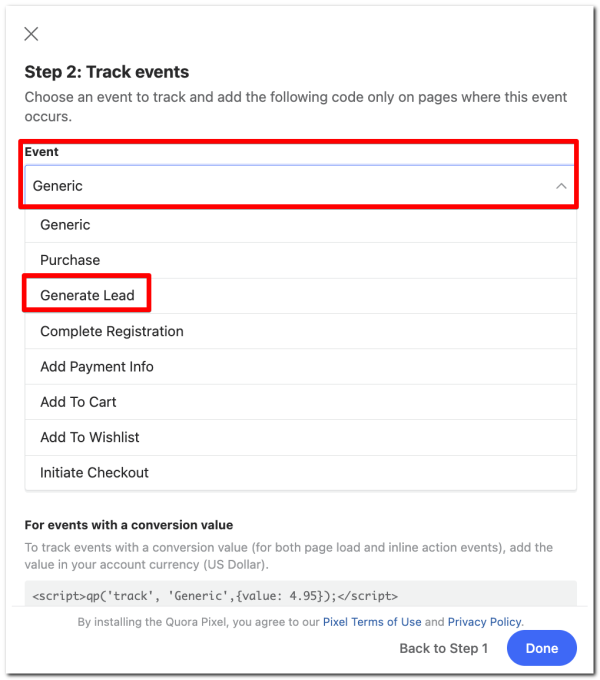 Next, go to Google Tag Manager, click Trigger, and select the trigger that will determine the lead generated on your website; for example, Element Visibility.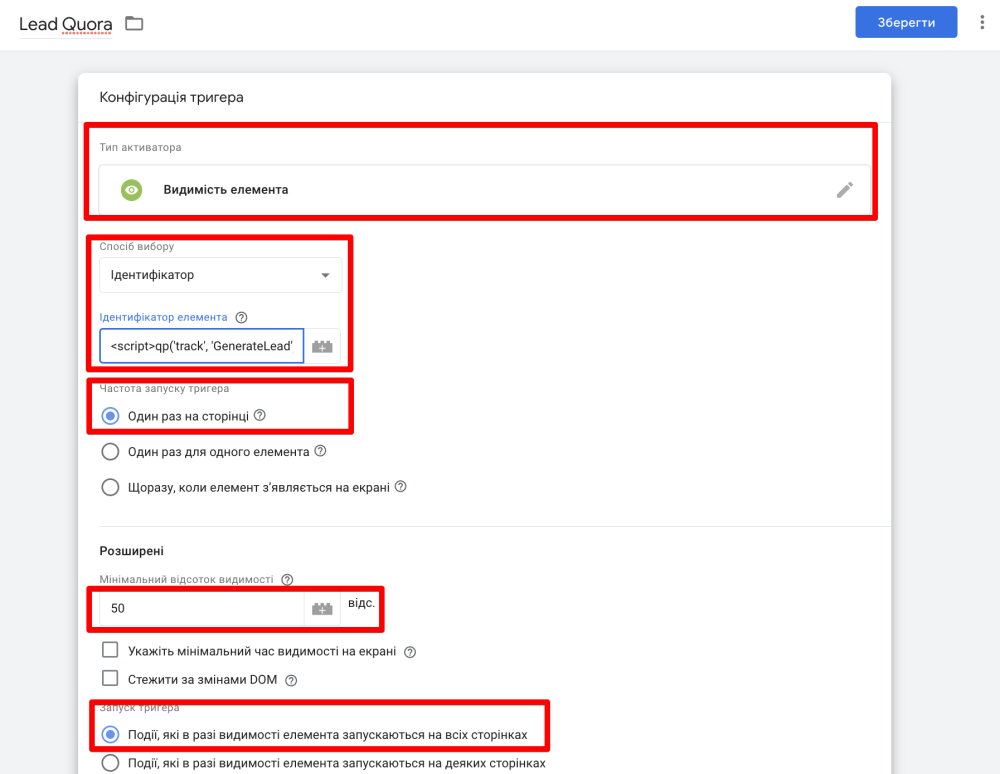 Copy the Pixel ID from Quora.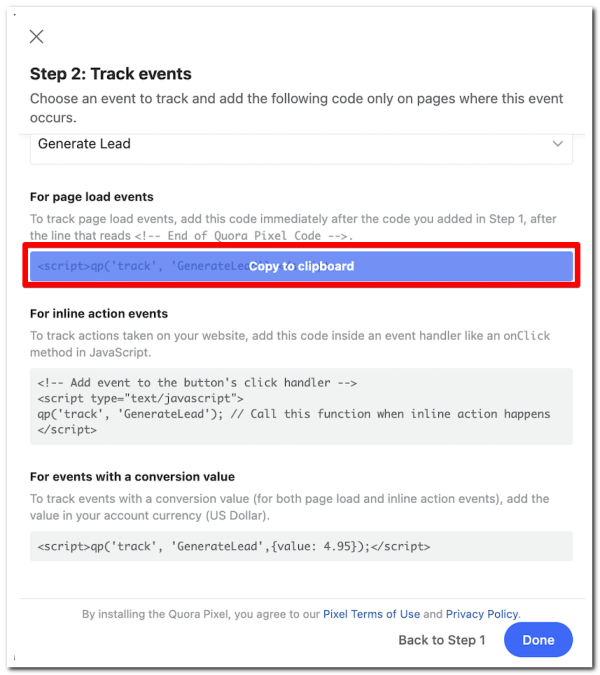 All the other standard settings remain unchanged.
Name the tag in the upper left corner and click Save. To create subsequent events, repeat the previous steps.
When all the events are set up and tracked, go ahead and create an ad campaign.
Creating an ad campaign
You can create an advertising campaign in the Manage Ads section.
It has a hierarchical structure similar to other well-known advertising platforms such as Bing, Facebook, LinkedIn, and others.
The top level contains an advertising account (Ads Manager).
In the advertising account, you can create ad campaigns (Campaign).
In each ad campaign, you can create groups of ads (Ad set).
In each ad group, you can create ads (Ad).

At the campaign level, you can set the campaign type and budget. This means that campaigns will be grouped by type:
Traffic. Drive visitors to your website.
Conversions. Motivate users to take actions, such as purchase or signup.
Video views. Optimize your campaign to maximize video views.
Awareness. Increase the public visibility of your brand on Quora.
Lead generation. Use a form to collect information on prospective customers.
App installs. Drive downloads of your mobile app.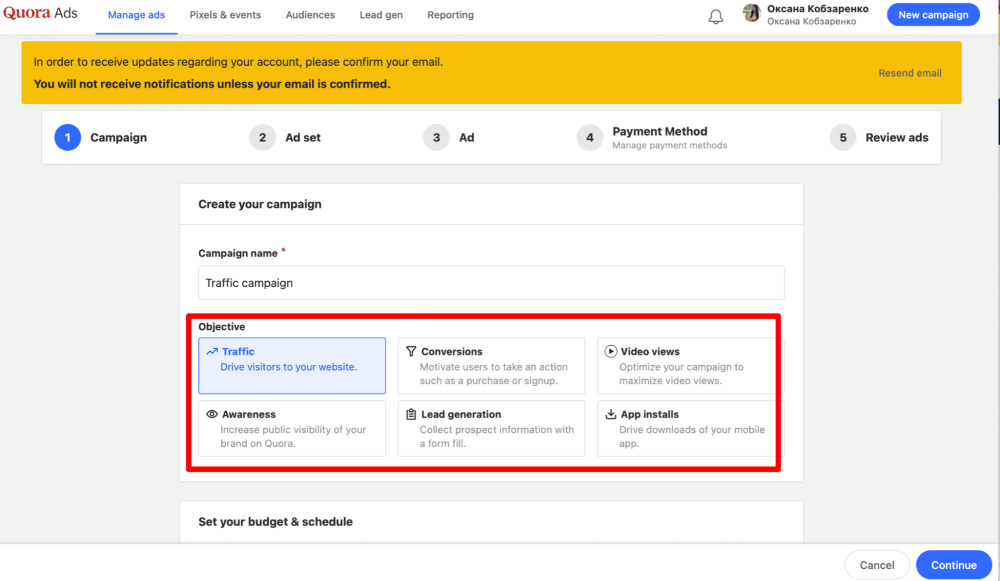 You can set up targeting at the ad group level:
Contextual. Target specific topics, keywords, or questions where your ad will appear.
Audience. Show ads to audiences that match web traffic, lookalikes, or contact lists.
Behavioral. Target users based on their interests or retarget them based on their Quora search history.
Broad. Show ads widely across Quora to maximize potential impressions.
In Contextual Targeting, you can choose:
Topics. Show ads relevant to specific Quora topics.
Keywords. Show ads near questions containing or excluding keywords.
Questions. Show ads near specific questions.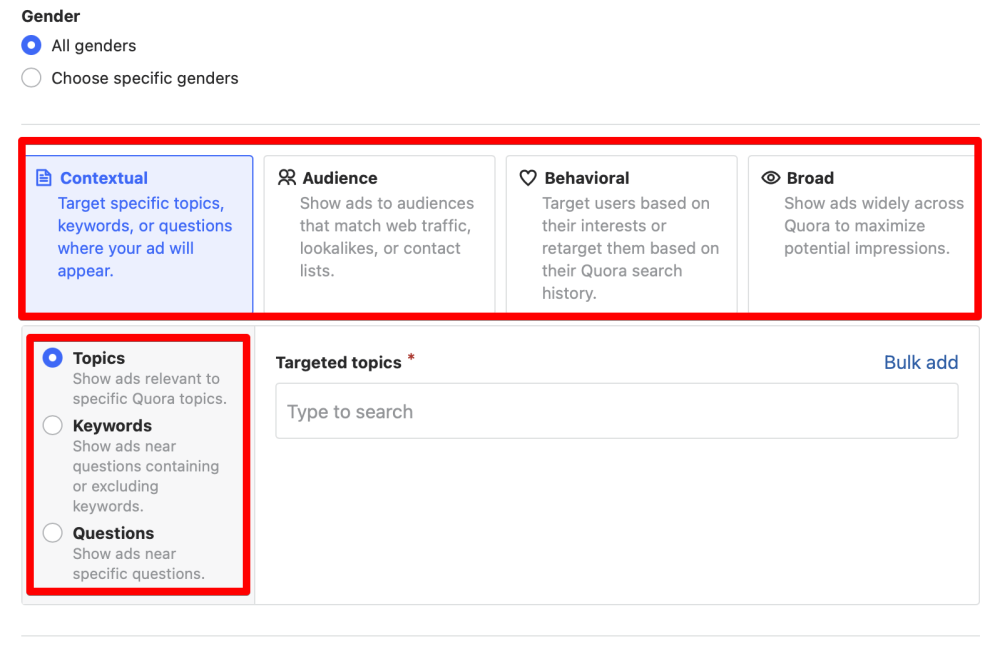 I recommend creating separate ad groups for remarketing and for large cities, as the bids will be higher here than in other cities.
Quora offers several types of ad placement:
All placements.
Feeds. Your ads will appear in a user's personalized feed on Quora.
Questions. Your ads will appear next to questions and answers across Quora.
Digest emails. Your ads will appear in a user's personalized Quora Digest email.
You can also select a specific device and browser.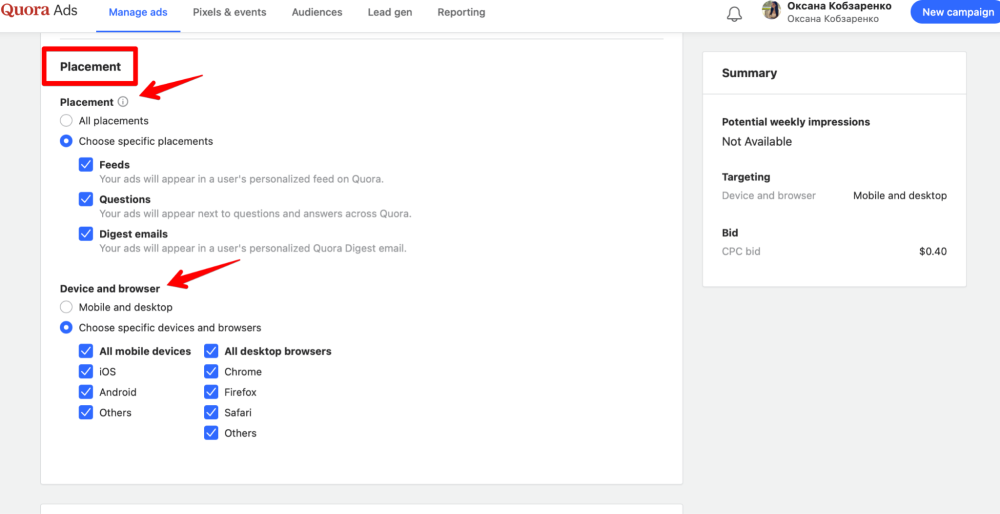 Next, you need to set a bid, which is the amount you are willing to spend on advertising. The actual amount will depend on the auction for the ad. The "Suggested bid" line already offers the recommended minimum and maximum bids according to the auction.
You can increase or decrease the bid according to the desired budget of your ad campaign. There are two options for setting the budget:
Cost per click
Cost per 1000 impressions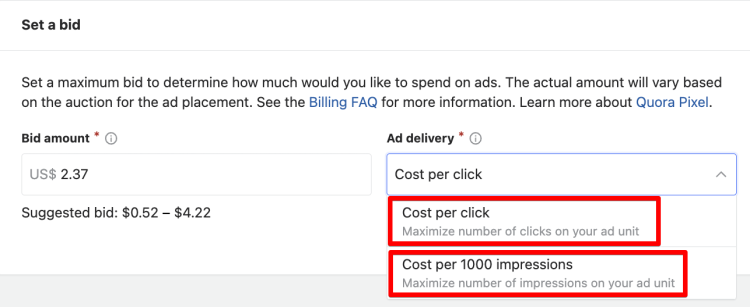 Click Next and proceed to create the ad.
Ads are categorized by the type of media content:
Image ad
Video ad
Text ad
Promote an answer.
All types of ad campaigns have similar settings, differing only in the choice of the media file used. As an example, let's set up an ad campaign on the Quora platform for an ad with an image.
To create an ad, fill in the fields below:
Business name
Headline sentence
Body text
Click Choose image to upload an image.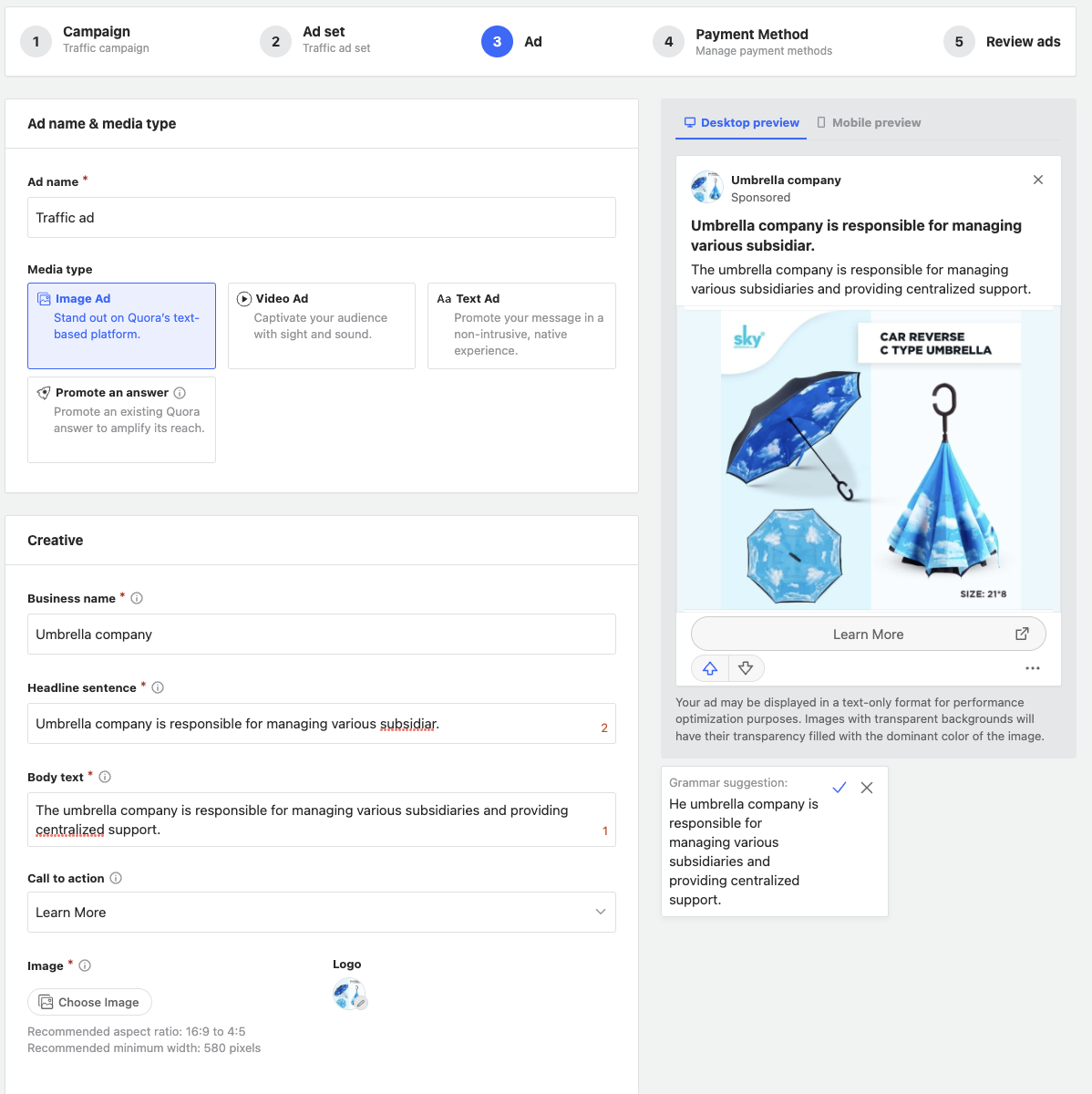 Advertising requirements
Quora recommends that you follow these guidelines for creating ads:
The title and text of the ad should end with "." or "?".
Avoid unnecessarily capitalizing words (including abbreviations) and acronyms.
Excessive capitalization can affect users' clarity, readability, and perception of the text. Text written in capital letters may look aggressive or illegible, which may change the intonation and lead to misinterpretation.
Use proper punctuation and formatting for better readability. Avoid bolding and underlining words to prevent unnecessary and unwanted emphasis.
Check the texts for compliance with language norms; grammar is also very important.
Your ad should be related to what you offer on the website.
Quora also provides the following recommendations for advertisers:
Test the headings of statements and questions.
Use 40-60 characters of the allowed number of characters in the heading.
Use 80+ characters from the allowed number of characters in the text.
Test different call-to-action (CTA) buttons.
Use correct English spelling and grammar. Avoid titles in quotation marks and uncommon abbreviations.
Quora's advertising policy clearly defines the prohibited content for Quora Ads:
Malicious software
Infringement of copyright and trademarks
Counterfeit documents and products
Gambling and loans
Alcohol, drugs, and tobacco products
Food supplements and weight loss products
Weapons, ammunition, and explosives
Sale of endangered species and products made from them
Controversial practices, including astrology, psychology, and religion
Sale of counterfeit goods
Violence
Politics
To sum up
Quora is the right choice if you're looking for a platform to advertise services, education, or training abroad.
The most significant advantage of Quora is that you can find an answer to any question and advertise your product or service according to the context of the question.
Quora offers text, banner, and video ads. It also allows targeting by platform content and audience interests.
To track Quora ad analytics, you need to install Pixel on your Quora website and configure the events to be tracked.
The form for creating a Quora campaign and the ad is similar to other advertising services, so you won't have any problems setting it up for the first time.
So, if you are thinking of creating ads on Quora, do not hesitate! Use our guide and get started now.
Topics:
Found a mistake? Select it and press Ctrl + Enter