A Comprehensive Guide to Creating a Performance Max Campaign in Google Ads Editor
Performance Max (PMax) is a new type of ad campaign that uses the entire Google Ads inventory. PMax ads can appear on Google Search and Display networks, Google Shopping, and Youtube. With Google Ads Editor, you can make mass changes to these campaigns quickly and conveniently. The current version is Google Ads Editor 2.3, and it has new features available for product ads, trade campaigns, and maximum performance campaigns. In this article, I will show you how to easily set up PMax through Google Ads Editor.
Campaign setup
First, create a new campaign in the Google Ads Editor, and select Maximum Efficiency as the campaign type.
Fill in the following:
Campaign name.
Daily budget.
Campaign purpose.
Bid assignment strategy.
Campaign start and end dates.
Language targeting.
Geotargeting.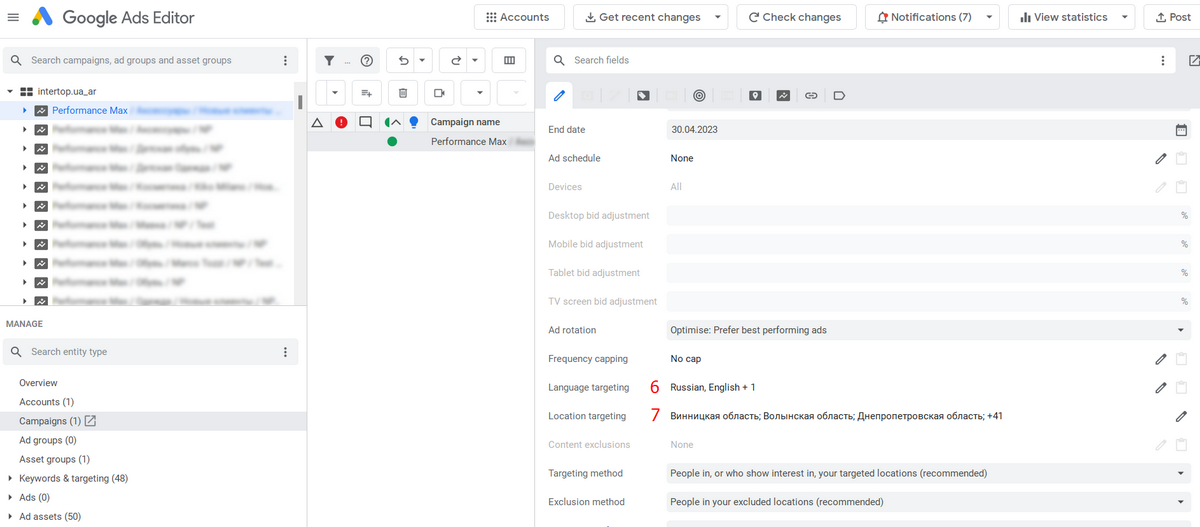 Please note that all campaign setting fields are required. Each item is important and can influence the effectiveness of the Performance Max campaign.
Also, in the current Google Ads version, you can:
choose not to specify the country of sale – leave blank or delete the value;
enable support for an optional feed label.
Choosing a strategy for your Performance Max campaign
Pay special attention to the choice of bid strategy. Here are the available options:
Maximize conversion (target price conversion).
Maximize conversion value (target ROAS).
Top positions (target search page location).
To maximize the effectiveness of a bidding strategy, it is important to set up both number tracking and conversion values.
Creating object groups
In the current Google Ads Editor, you can create Performance Max asset groups There can be several groups in one campaign, but each group should be related to one topic, product category, or service. For example, if it's an online store, you can create separate asset groups for shoes, clothes, and accessories.
An asset group consists of three elements:
an ad;
an audience segment;
the products.
Use feeds for online stores. It's only possible to work with audience settings in certain situations for example, when an ad for the service is launched. Also, you can't add products using Google Editor because they are pulled from the feed and uploaded directly to your Merchant Center account.
To add items from a feed to your asset groups, you can publish a customized campaign. From the Google Ads interface, open the Performance Max campaign you've created and upload the required items.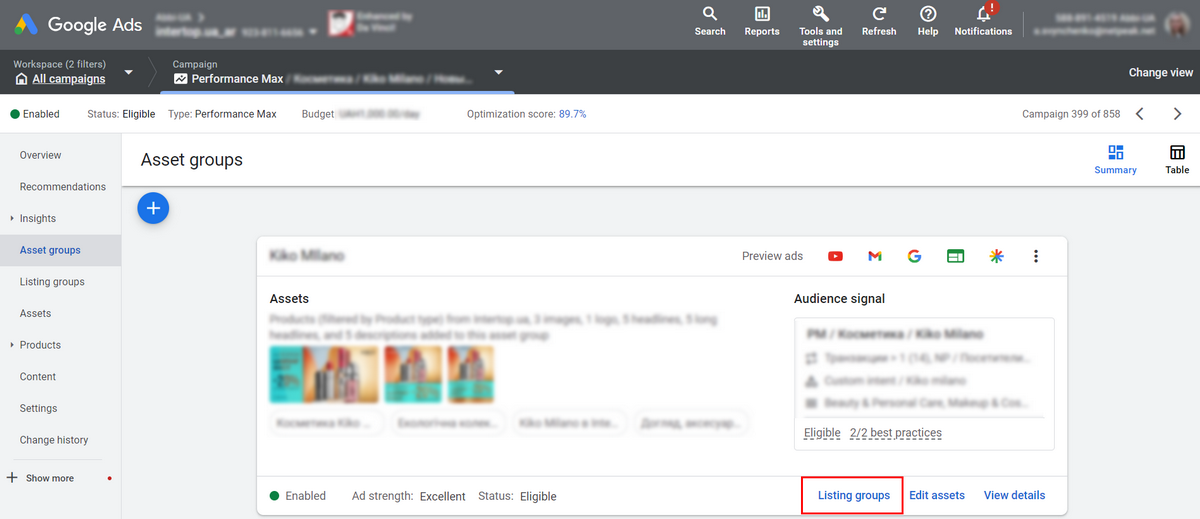 Navigate to asset groups. Then, click the pencil icon to access the Add/Remove assets setting. Use all of the settings as you would with a sales campaign.
You can add products in several ways, e.g., by type or identifier.
All selected items will be displayed in the editor.
Creating ads
The next step is to add titles and descriptions to the ad. Previously, only 5 titles and 5 descriptions were possible; but starting in 2023, 15 will be possible.
Add a landing page and banners. As you create more websites, you can access more ad formats and inventory types (ad platforms) for your ads.
In addition, you can upload up to five videos to the Performance Max campaign. If you do not upload any, the system generates the video itself with banners and ad text. The quality is not guaranteed in auto-generated videos, so it is better to make the videos yourself.
You can check the video in the Google Ads interface. Select an asset group and go to View details.
Measure advertising effectiveness
Creativity is the most powerful tool in a Performance Max campaign. Strive for unique content, and pay attention to headlines and logos. Replace all low-quality titles to maximize campaign efficiency.
To measure the advertising effectiveness in a group, select the Object Info toolbar.
A separate tab opens a report on titles, descriptions, and videos.
There are different levels of effectiveness:
Low – low efficiency compared to other assets of the same type on all resources.
Medium – good efficiency compared to other assets of the same type.
High – the highest efficiency compared to other assets of the same type on one or more resources.
Not available – the efficiency indicator for the asset is unavailable because the system does not have enough information to evaluate it. No action is required from your side. The system will calculate the index when it receives the necessary amount of data for the asset in this campaign.
Use extensions
Search campaigns in Performance Max can benefit from the following extensions:
additional links;
refinements;
structured descriptions;
phone numbers;
prices;
promotions;
addresses.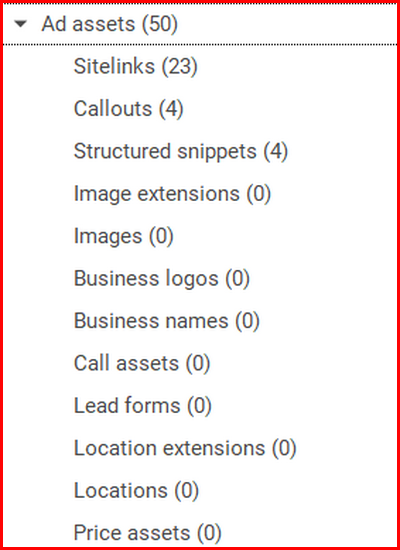 Don't skip this feature. Add all possible extensions – not only will they make your ads more noticeable and attractive, extensions will also diversify the information about the product or service.
Choose your audience signal
For Performance Max campaigns, four groups of signals (characteristics) are available for audiences based on the following criteria:
user segments generated by Google based on search queries, website traffic, and downloaded applications;
demographic data;
your data: website visitors, customers, app users, etc.;
user interests.
It is possible to set up an audience signal with the Google Ads Editor if custom audiences or remarketing lists are already loaded with the Google Ads account interface.
How do you ensure the audience lists are loaded? In Google Ads Editor, click on the pencil icon and choose the necessary, pre-prepared audience from the list.

Use negative keywords
This is an important element of an advertising campaign because negative keywords allow you to exclude words for which you do not want your ad to appear. Currently, you cannot add negative keywords directly to Performance Max through the Google Ads Editor or its interface – there is no such feature as yet.

As you can see, it is not possible to input negative keywords at the campaign or group levels.
That said, it is still possible to add negative keywords to your PMax campaign – you just have to contact Google Support and request for the negative keyword list to be added to your campaign. You can add up to 1000 keywords at a time. If you need more negative keywords, create another list.
Conclusions
There are several benefits to using Google Ads Editor in a Performance Max campaign:
Make massive changes with minimal time and effort.
Conveniently work with several asset groups that have similar ad texts.
Measure and control the effectiveness of your advertising campaigns.
Take advantage of many different types of extensions.
Benefit from audience signal selection.

It is important to understand that setting up Performance Max campaigns with Google Ads Editor is a new approach. It is constantly being improved, so it is crucial to keep up with the updates and immediately apply the latest ones.
Found a mistake? Select it and press Ctrl + Enter
Subscribe
to the most useful newsletter on internet marketing