Service
:
contextual advertising
.
Category
: brand clothes.
Region
: Russia.
Campaign duration
: 2 months.
Budget for 2 months
: $22,077.12. (including agency's service fee).
Gross margin ROI
: 358%.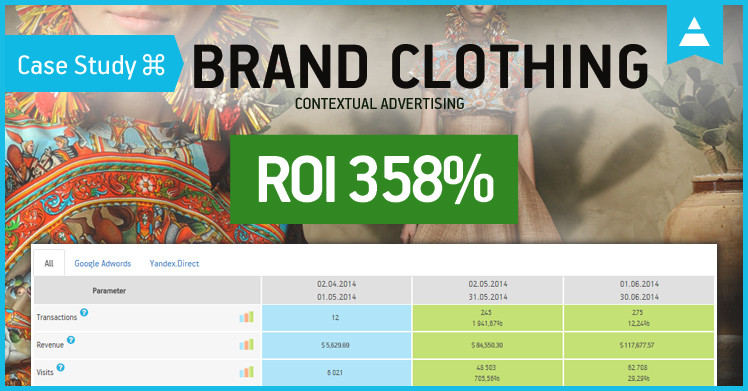 Before contacting the Netpeak agency, the client was carrying the advertising campaigns independently, but due to the absence of properly configured Google Analytics goals and Ecommerce code it was hard to estimate the given result. It's worth noting that our agency's work on advertising campaigns usually consists of 2 stages:
We make all the necessary settings' adjustments for correct data collection.
Launching Advertising Campaign and optimization.
More detailed information on the first two stages dealing with advertising campaigns may be found in our infographics. In this particular case, we started with setting goals and generating the ecommerce website code so that we no longer had to work "blindfold" and could rely only on specific data from statistics collection systems. So, we set the following goals:
To increase the website's traffic.
To bring the target audience to the website.
To increase the number of conversions.
Initially we focused on search campaigns. In order to cover all commodity items we turned to dynamic campaigns - they are easy to set up, but require more elaborate selection of negative words than conventional search campaigns. Also we launched the remarketing campaigns:
Display network remarketing (using lists created in Google Analytics);
Search remarketing (using lists created in Google AdWords).
At this stage, remarketing campaigns ranked No.1 by the number of transactions. Google Display Network (remarketing) ranked next. According to the client's data, the then existing percentage of phone orders was low and didn't exceed 2%. We primarily launched the search campaigns in Yandex.Direct with subsequent retargeting. All these actions had led to the intended results and we continued our work. Data from Client Dashboard after 2 months of promotion: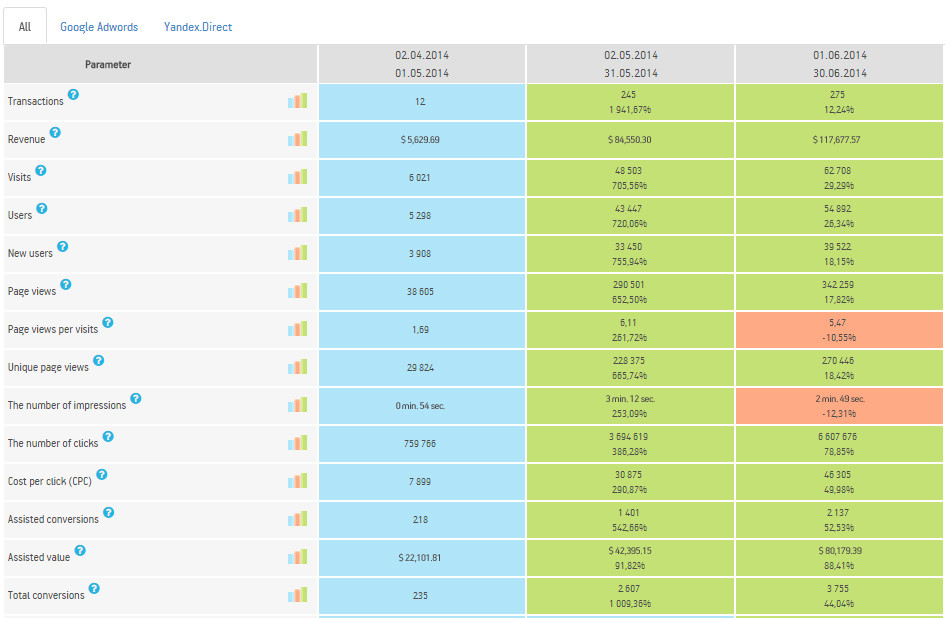 Transactions: 520. Average transaction price: $42.45 Conversion rate: 0.50%. Ecommerce revenue: $202,227.87. Margin: 50%. Advertising costs: $22,077.12. (including agency's service fee) Gross margin: $202,227.87 * 0.5 = $101,113.93 Gross margin ROI (ROMI): ($101,113.93 - $22,077.12)/ $22,077.12 * 100% = 358%.
Found a mistake? Select it and press Ctrl + Enter
Subscribe
to the most useful newsletter on internet marketing
Most
discussed
popular
viewed