Google Search Console Integration with Analytics 4: A Comprehensive Guide
The effectiveness of a marketing strategy depends on a few factors. First of all, the completeness of the data analysis used to form the marketing strategy plays a key role in its success. That's why it is important for a marketer to take into account as much data as possible when making strategic decisions.
One way to optimize the data collection process is to integrate Google Search Console (GSC) with Google Analytics 4 (GA4). There are a few advantages to configuring Search Console data in Google Analytics 4.
Easy to connect. The integration process of two Google services includes a few simple steps, which we will discuss in detail later.
Convenient. By integrating all the data you need from Google Search Console into Google Analytics 4, you can analyze metrics more extensively in one place without having to switch between services in different tabs.
Secure. This is especially important if there are a large number of specialists working on the project. By having all the necessary data from GSC in GA4, eliminates the need to provide direct access to the Google Search Console service. Changes in the Google Search Console settings can seriously damage the site:
Site pages or the entire site may be hidden from indexation.
Referrals from external donors or individual links may be rejected.
Sitemap files may be removed, and so on.
What data can be obtained in GA4 from GSC? And what is the difference between the two?
Google Search Console focuses on data and metrics from Google organic search results (SERPs). For instance, it takes into account:
Queries.
Impressions.
Clicks.
CTR.
Average position in Google organic search.
Landing pages, etc.
The differences in metrics and indicators between GSC and GA4 are clearly described in Google Help.
A step-by-step guide to linking Google Search Console to Google Analytics 4
Step 1. Select the required Google Analytics resource and go to the Admin tab.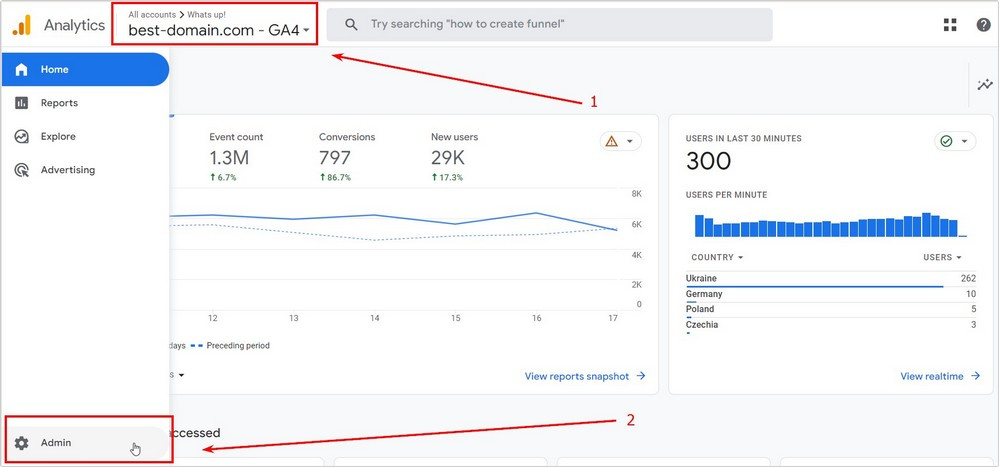 Step 2. In the Property column, scroll to the very bottom and select Search Console Links.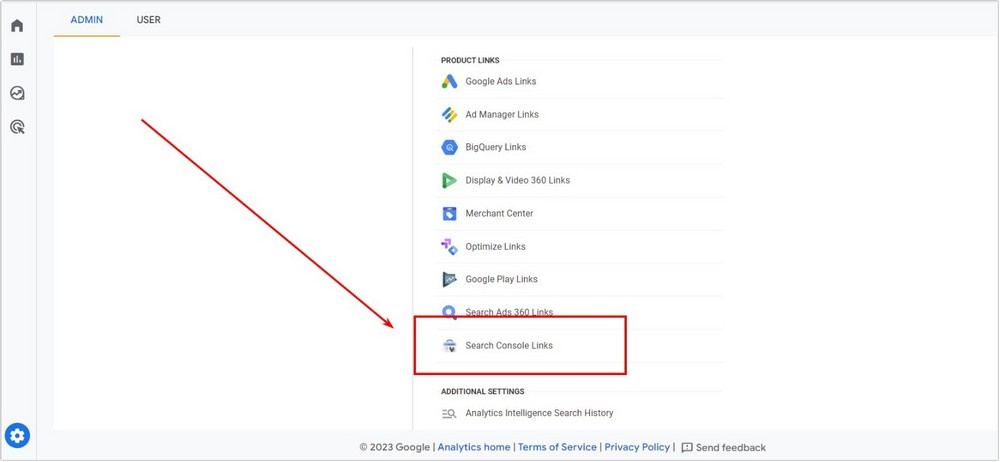 Step 3. Click «Link».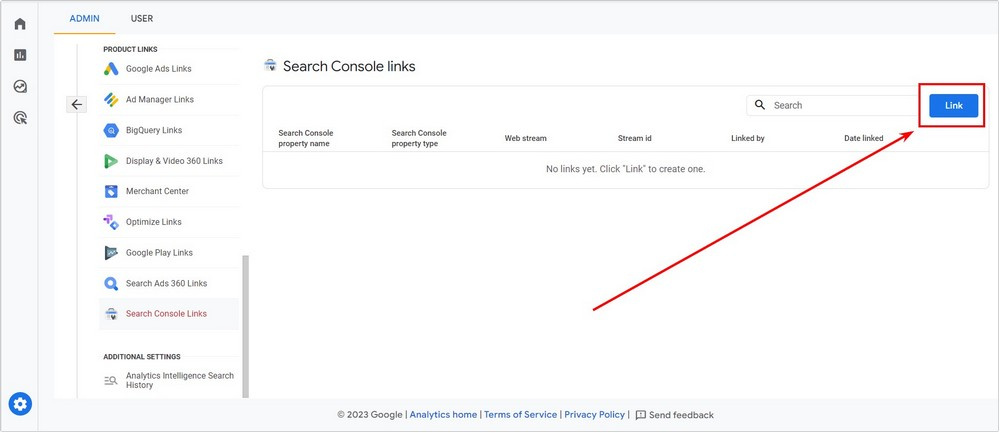 Step 4. Click «Choose accounts».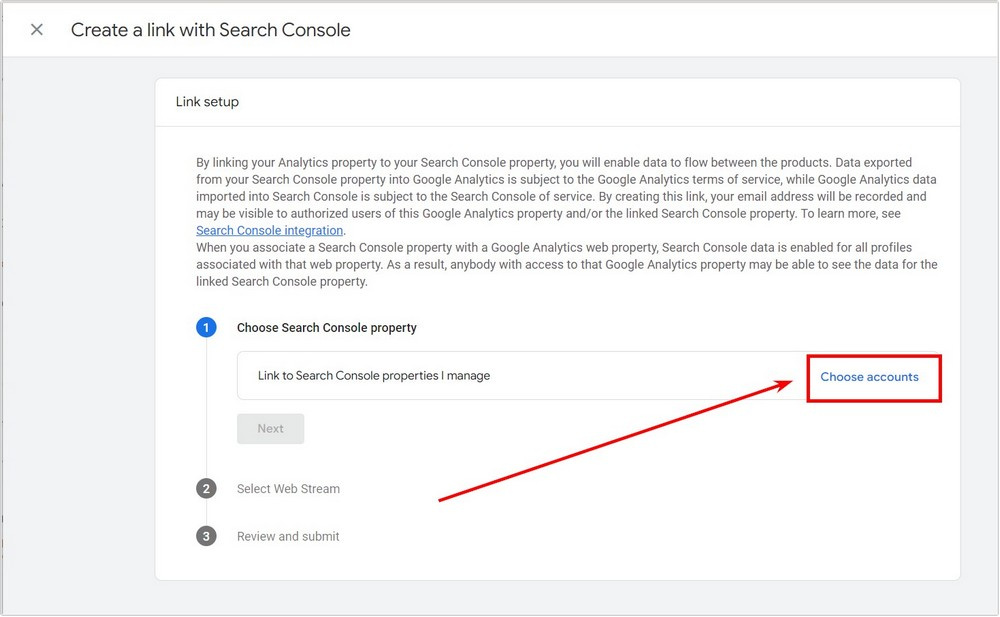 Step 5. Select a domain and click «Confirm».

Step 6. Click «Next».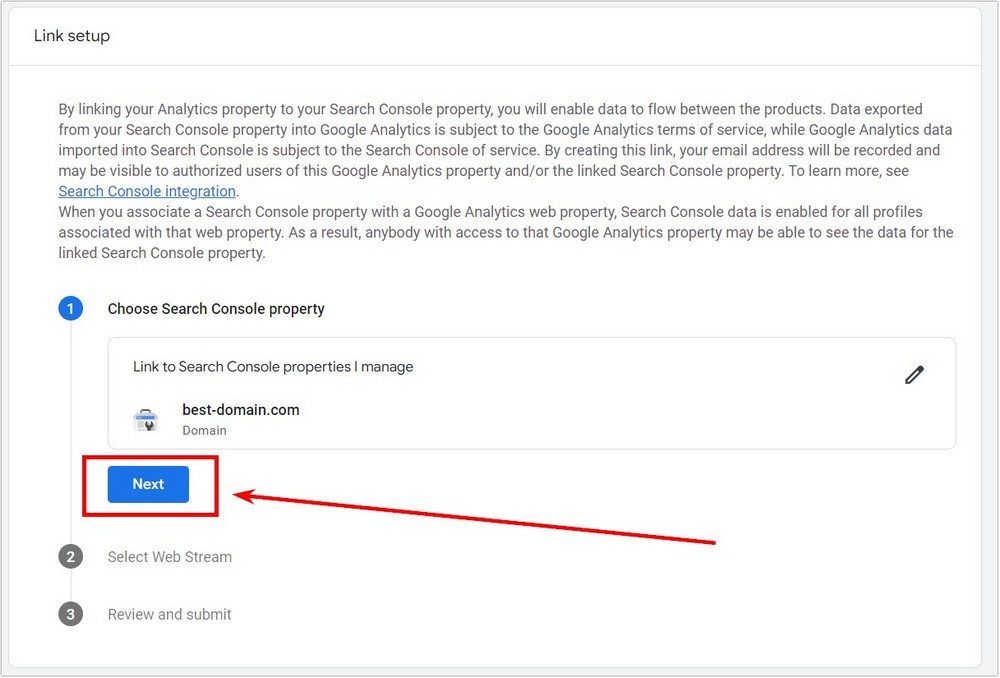 Step 7. Select the desired Web Stream and proceed to the next step.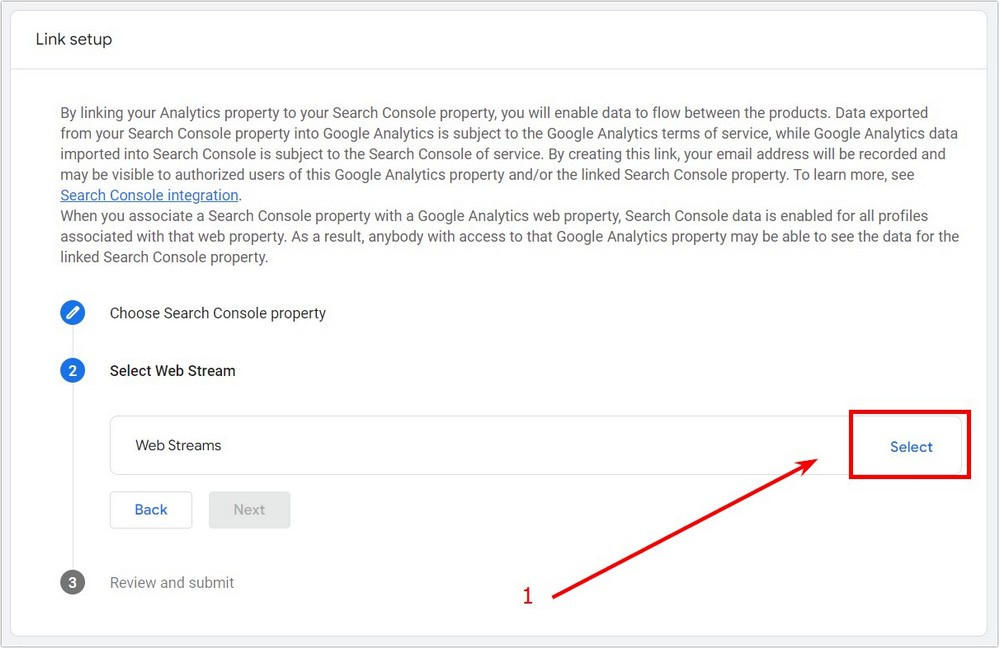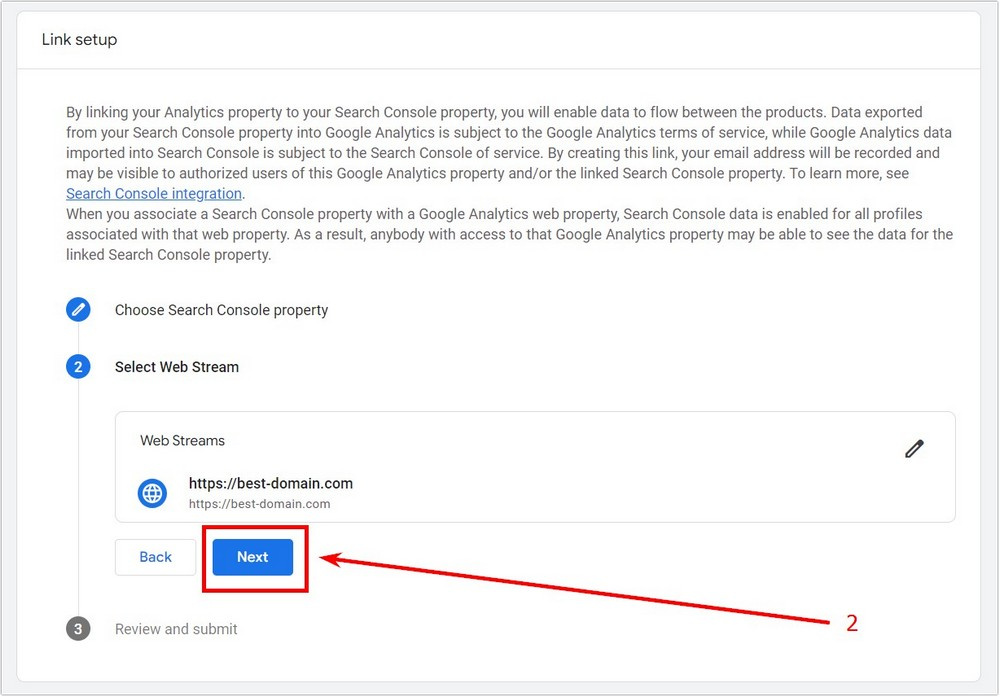 Step 8. Check that the resource and Web Stream match, and click «Submit».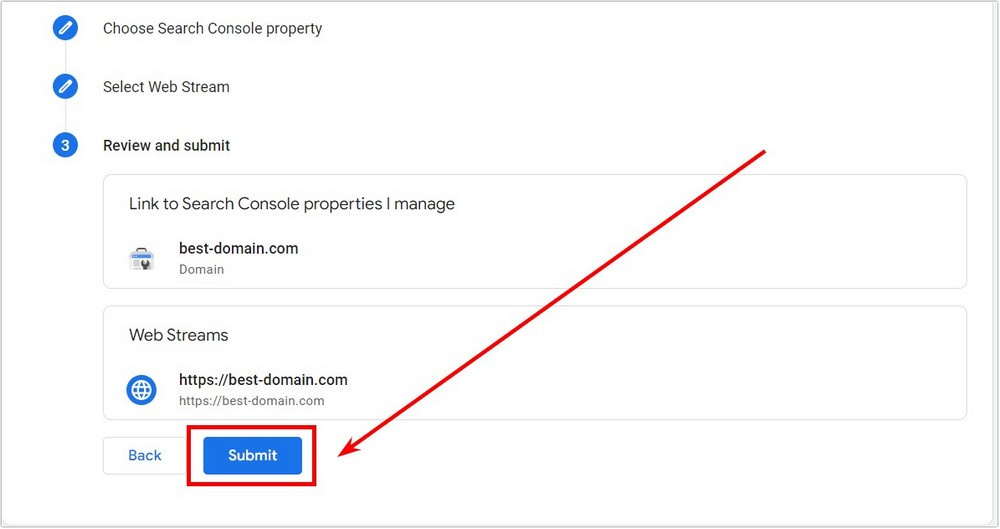 This will result in a «Link Created» icon, which means that you have successfully linked a GSC account to GA4.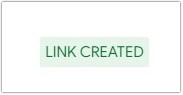 How to find the reports?
Once you have completed the steps above, you're probably wondering where the GSC reports are in Google Analytics. The answer is very simple. Let me show you:
Go to the GA4 account you have linked to the GSC and click the Reports tab.
2. Click «Library» in the side menu.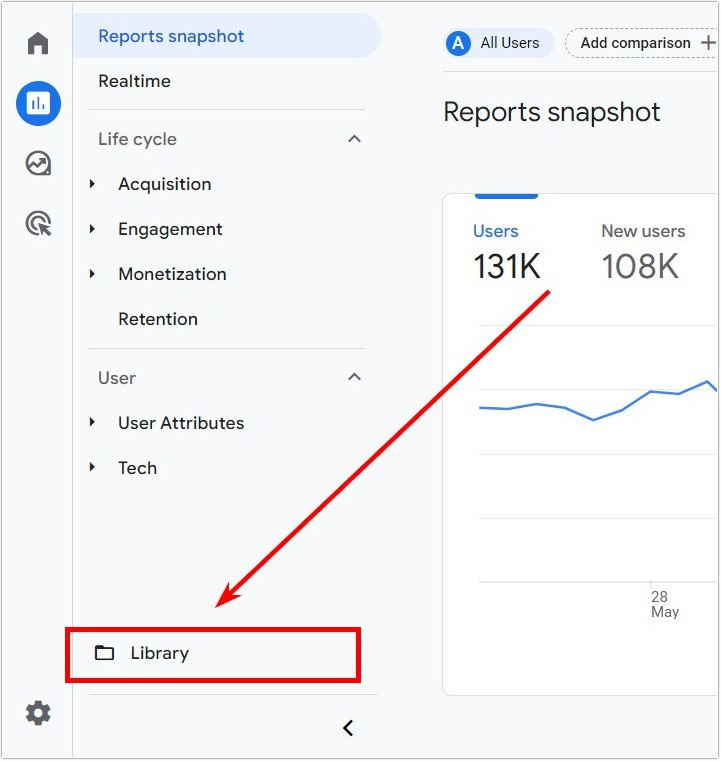 3. If you have a lot of reports, sort them by Collection to find the reports, Queries, and Google organic search traffic related to the Search Console collection.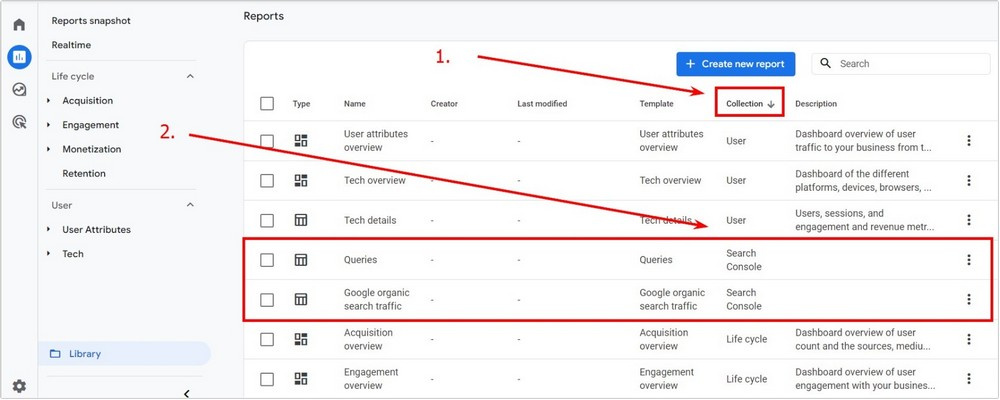 The good news is that you don't have to go through all these steps every time you want to access the GSC reports. You can add them to the sidebar, which speeds up the workflow significantly.
Adding the reports to the quick-access sidebar
To add reports from Google Search Console to the Google Analytics 4 reports sidebar, you must first publish them:
Go to the Library section, find the Collections carousel, and look for the Search Console title with the «Unpublished» status.
Click the three dots.
Click «Publish».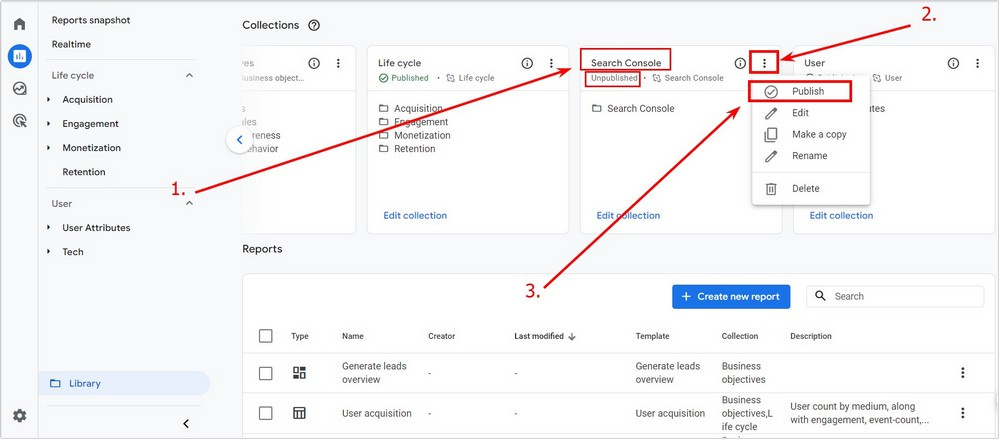 As soon as the status is changed to Published, the reports will automatically appear in the quick access sidebar.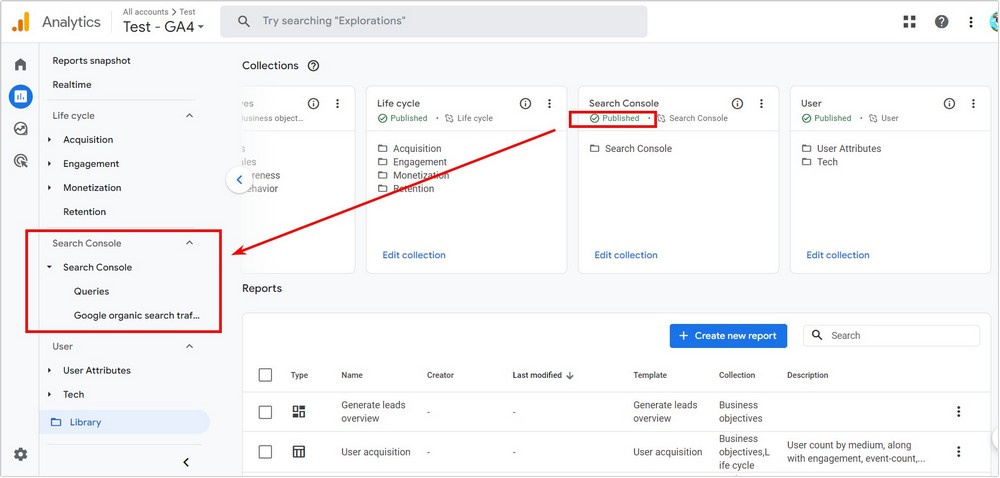 The process takes a few seconds and does not require a page refresh.
The Queries report
In this report, the clicks on organic search results are visually represented in a graph.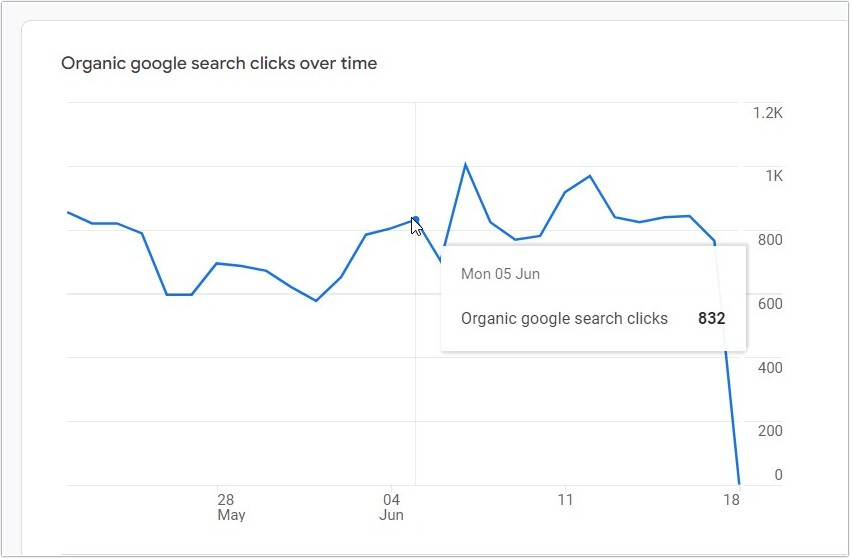 It also shows you the top 5 most popular keywords for your website.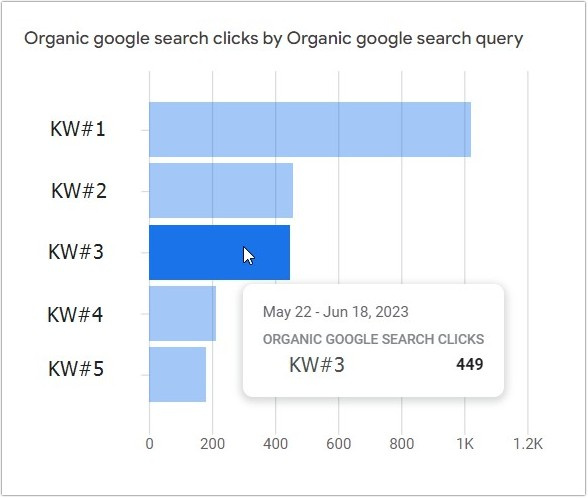 The charts provide detailed information on specific keywords, and you can customize the indicators. Generally, you have access to:
Organic Google search query
Device category/Country
Organic Google search clicks
Organic Google search impressions
Organic Google search CTR
Organic Google search average position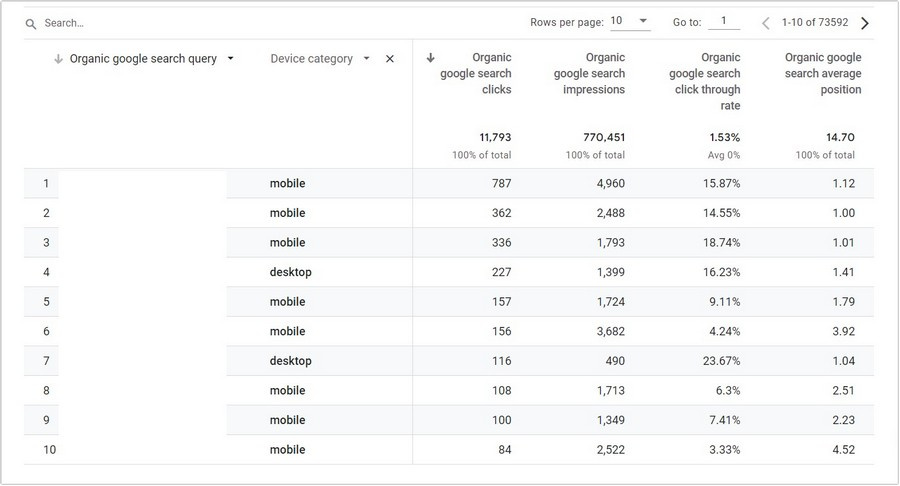 To display the country from which a particular keyword was accessed, select Country instead of Device category.

Therefore, you can get objective information on your website's current search results:
keyword trends
top most popular search queries
the country from which the keyword came
type of device used
number of clicks
number of impressions
CTR
average position
It is crucial to take various factors into account to form a well-rounded and successful marketing strategy.
Landing page + query string report
Similar to the Queries report, the Landing page report allows you to analyze landing page data. The graphs represent the following data:
number of clicks on landing pages
top 5 landing pages

For each URL, you will be able to see the following metrics in the organic search summary table:
organic Google search clicks
organic Google search impressions
organic Google search click through rate
organic Google search average position
users
engaged sessions
engagement rate
average engagement time
event count
conversions
ad revenue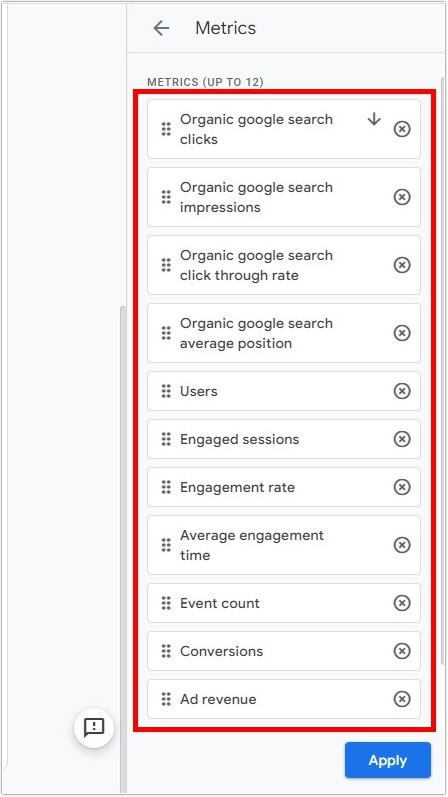 So by combining the two reports from Google Search Console in Google Analytics 4, you can get a comprehensive view of your current performance in organic search results.
Data on keywords and landing pages is an integral part of building a comprehensive strategy and tactics to promote an Internet project of any niche.
Limitations
Despite all the benefits of linking Google Search Console to Google Analytics 4, there are some limitations to be aware of:
Only one Google Search Console property can be linked to one Google Analytics 4 property, and vice versa. You cannot link the same Google Search Console property multiple times to different Google Analytics accounts. Similarly, you cannot add multiple Google Search Console resources to a single Google Analytics account.
After integration, it takes 48 hours for the data to appear. Keep this in mind so that you can access the necessary indicators at the right time.
You will not be able to add the custom parameters that are normally available in other reports.
It is not possible to make comparisons. At the time of writing, the ability to compare data is still not available in GSC reports. However, if Google has expanded the functionality at the time of your reading, you can ignore this item.
Conclusions
What could be more important for an internet marketer than data analysis? That's right! Nothing. The more data that is analyzed, the more successful the potential solutions are.
Combining Google Search Console with Google Analytics 4 gives you comfortable access to the most accurate Google organic search data possible. You will be able to track both keyword metrics and landing page metrics.
Integrating these two Google services is as simple as it could be and does not require any third-party specialists. Therefore, we recommend seizing the opportunity — just do the integration following the step-by-step instructions above.
Once you have performed the integration, don't forget to add GSC reports to a quick access sidebar in Google Analytics 4. Also, keep in mind the limitations when scheduling your workflow.
Admittedly, the GSC toolkit in the GA4 interface is slightly reduced, but it gives you an advantage in security: you won't have to give others access to your full-fledged Google Search Console account. With the latter, dishonest or even incompetent team members can do serious damage to your website and undermine all previous promotion efforts.
Read more about SEO tools in our blog:
Topics:
Found a mistake? Select it and press Ctrl + Enter