Ten Ways for Email List Building
A well-written email is pointless if there's no one to send it to. A key part of email marketing is having a quality email list. This is a list of potential customers who are already interested in the brand, voluntarily subscribe to news about the brand, and regularly receive emails from it.
There are different methods of compiling an email list, and each has its own pros and cons. Not only that, it is important to take into account the legal aspects because a mailing list involves working with personal data. That said, let's talk about everything from ways to create an email list to the legal considerations involved.
Who needs email lists and why
By signing up for a newsletter, your audience is expressing their interest in your brand or service. It is then much easier to lead them to make a purchase. Newsletter subscribers are already familiar with your offerings, and there's no need to spend extra money to attract their attention.
That's why all brands who want to build long-term relationships with customers and increase customer loyalty need a mailing list base.
Online stores

Through a contact database, an online store can inform their customers about promotions and new products, notify them about completed orders and successful payment, and remind them about the products that they have previously viewed or added to cart.
SaaS services

SaaS platforms need a mailing database to tell subscribers about a new service, remind or notify them about payment, and inform them of expiring subscriptions or plan changes. SaaS services can also use email lists to send instructions on using new functionalities and ask for feedback on the service.
Service sector

A mailing list database will help you keep your customers interested: you can send them expert articles, introduce them to specialists, share feedback from other clients, and tell them about successful cases, victories in ratings, and other recognitions.
The email list database should constantly grow and be enriched with new interested contacts.
Methods of obtaining a mailing list
The best method is to collect the mailing list yourself, and by no means should you purchase or parse a list. The latter methods can bring additional problems, such as invalid or non-existent addresses, disinterested contacts in emails and as a consequence of buying lists, spam complaints and blocking the sender.
Ways to collect an email list database
Yes, gathering email addresses by yourself is a difficult and time-consuming method. But it will lead to the most loyal and convertible customer base that will bring you profit.
1. Subscription form in the footer of the site
The most obvious way is to collect contacts through a form that is placed on all pages of the site.
Built-in subscription forms should not visually weigh down the footer. It's better to keep the fields to a minimum because the more time it takes to fill out, the less likely it is that the user will reach the "Subscribe" button.
The form is done – what's next? Now, you need to motivate the user to subscribe to your newsletters. The form itself should mention what the visitor will get if they subscribe, because no one will give you their contacts for nothing. Explicitly mention the benefits that await subscribers:
early access to discounts;
the most up-to-date news;
promotions for subscribers only;
a bonus discount for subscribing.
This way, only loyal customers who really want to receive emails from you will get on your email list.

2. Pop-up subscription form
The issue with the previous method is that not all visitors will reach the footer (the bottom of the site). The solution? A pop-up form. This is a subscription form that appears after the visitor has spent some time on the site or when they click on a special widget in a corner of the site.
It is important to not to show the form immediately, but to give the potential subscriber the opportunity to spend some time on the website. Let them get acquainted with the brand and the products, to create at least a little interest. But you shouldn't wait too long either, because the visitor can leave the site before the form even appears.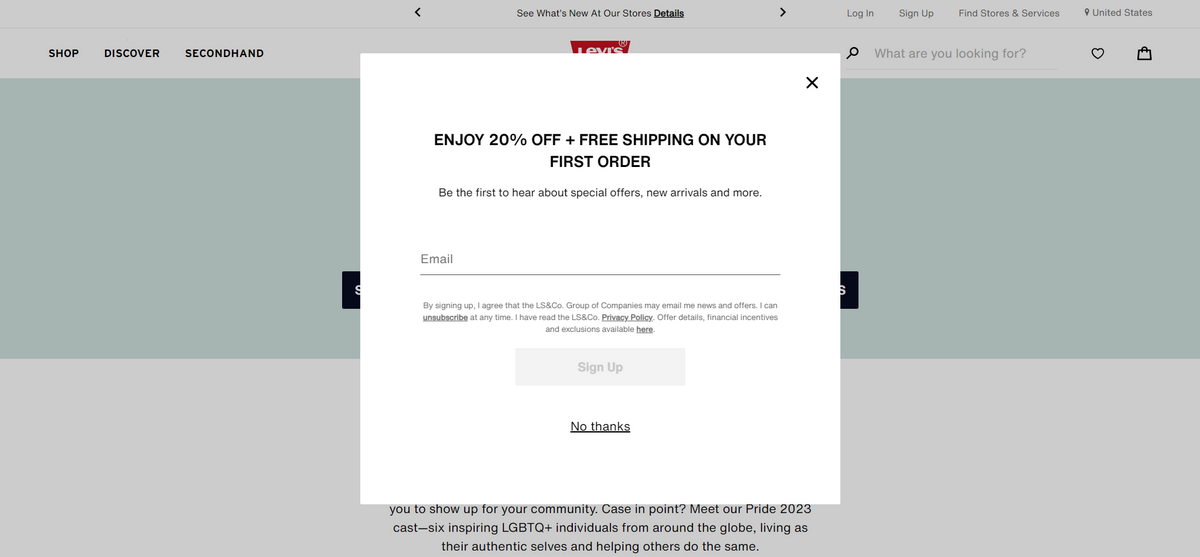 Of course, the form also needs to have information about the benefits and bonuses that the user will receive by leaving their contact details.
Another rule is not to be intrusive. If the user has closed the pop-up, don't show it again in the current session. Give the visitor time to become more interested and voluntarily subscribe to your updates.
3. New user registration
When registering on a site, users typically enter their first name, last name, phone number, and email. These data are more than enough for the newsletter to reach the addressee. There is only one obstacle left: users need to consent to receiving emails. There are several options to get permission.
Create a checkbox to agree to receive newsletters, specifying the benefits the subscriber will receive.
Send users a trigger email thanking them for registering. The email should say a few words about the brand and invite them to subscribe by clicking just one button in the email.
4. Order form
The mechanism of an order form is similar to registering on the site. On some sites, only registered users can place an order. But if the order form exists independently, contacts can be collected directly from it. The main thing is to remember to ask for consent to mailing, following the example of the registration form.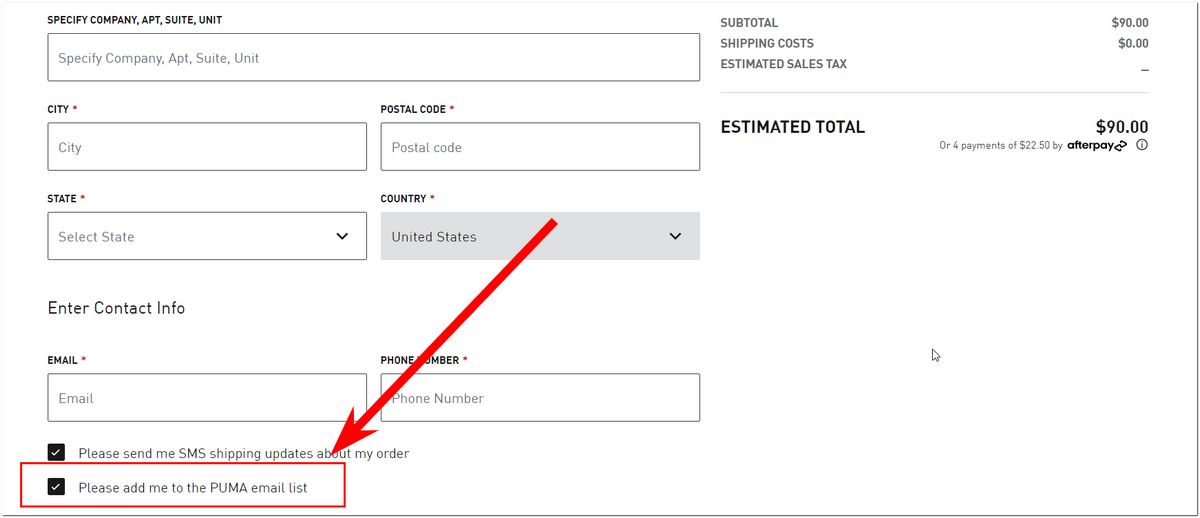 5. Interactive tools: promotions, contests, games, tests
Set up different promotions, contests, games, and events right on the site page. And mention that you have to enter your email address to get a prize.
You have definitely come across various tests where at the end, the results are offered to you through email. Once you've completed the test, it's not so hard to leave your email address to find out which career direction to choose, or to share your phone number to discuss the course syllabus with the manager. Compiling a mailing list uses the same concept. If there is an incentive for their efforts, users will be more willing to leave their contact details.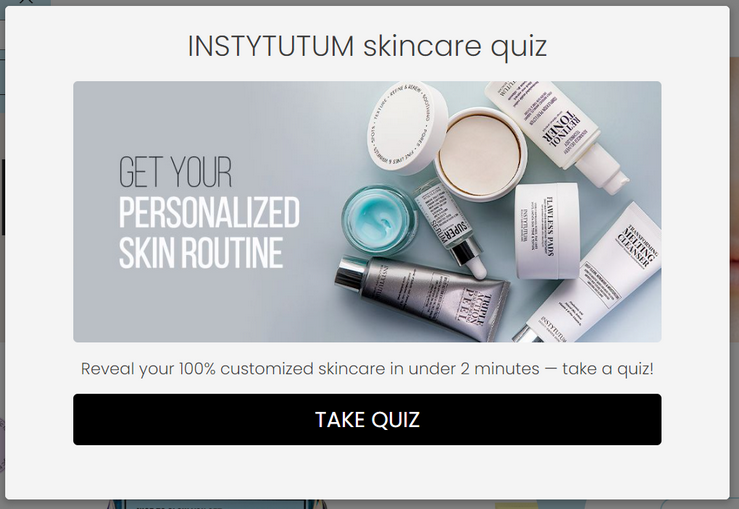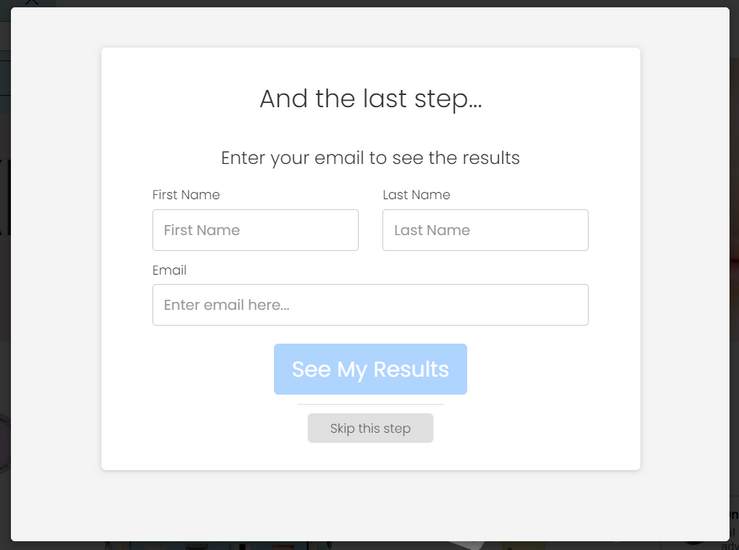 6. Online chats
Some sites collect subscription form contacts directly from online chats. How do you convince users to give you their email? Send them something unique that they won't find on the site. Depending on your niche, this can be catalogs, extended portfolios, presentations, and whatever else you have to offer.
You can also prompt site visitors to ask questions in online chats and get answers by email or phone.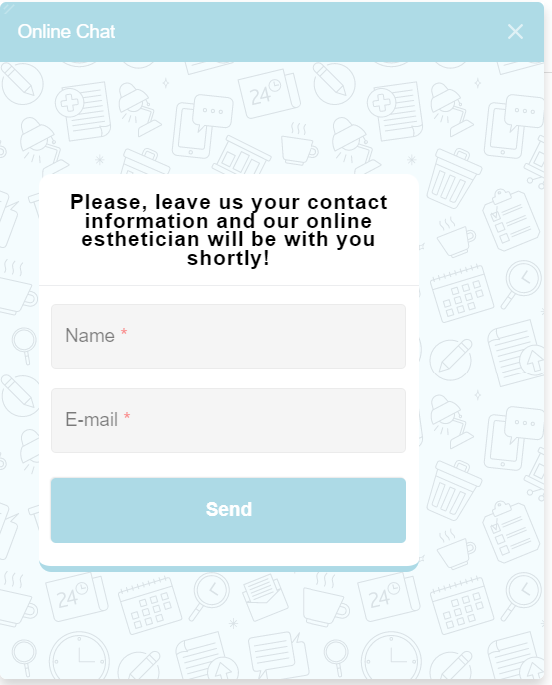 7. Online events
Workshops, expert webinars and consultations, Q&A and other educational events are also good ways to get your audience interested and motivated to leave a contact.
Registration for such events is often by email, where a link is sent to participate in the online meeting. After the event, you can send a follow-up email, presentations, and speaker contacts, and invite users to subscribe to newsletters and be the first to receive updates and useful information.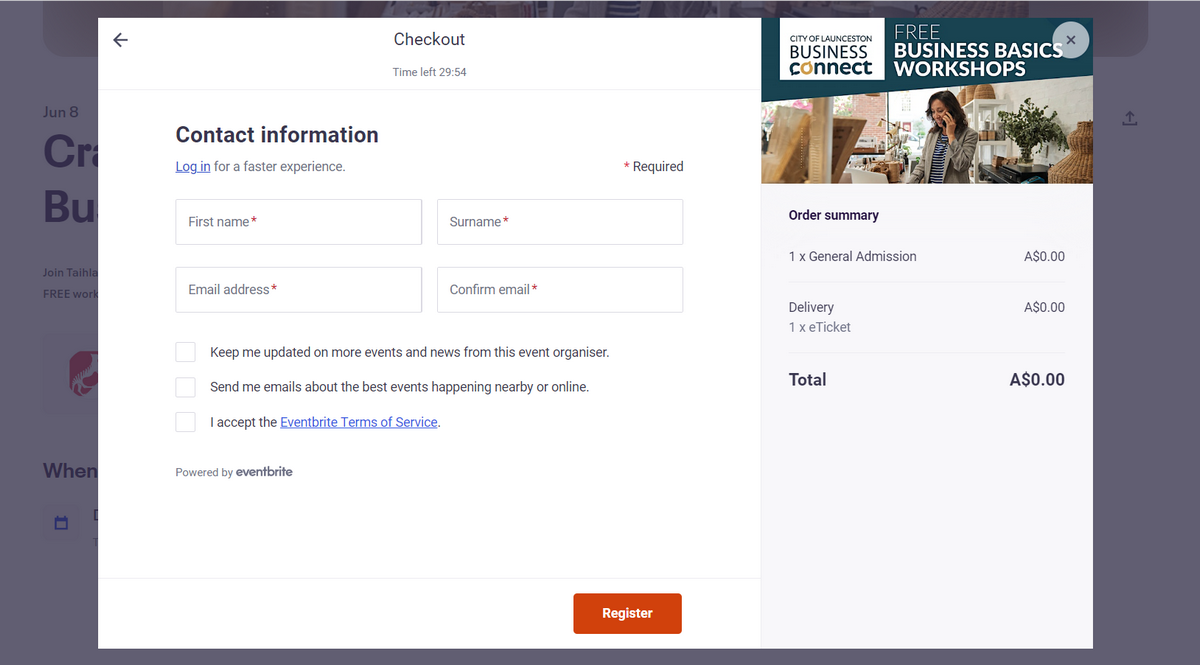 8. Reviews
People like it when you ask them for their opinions. Ask customers to leave feedback on your product or service to get an honest opinion and make the product better. As with subscription forms, keep it brief: the shorter the questionnaire, the more likely it is that the user will get to the end of it and click "Send". Of all personal information, it is important to collect the customer's name and email address.
You can also offer a discount or bonus for completing a review. This will give the user an extra incentive to provide a review.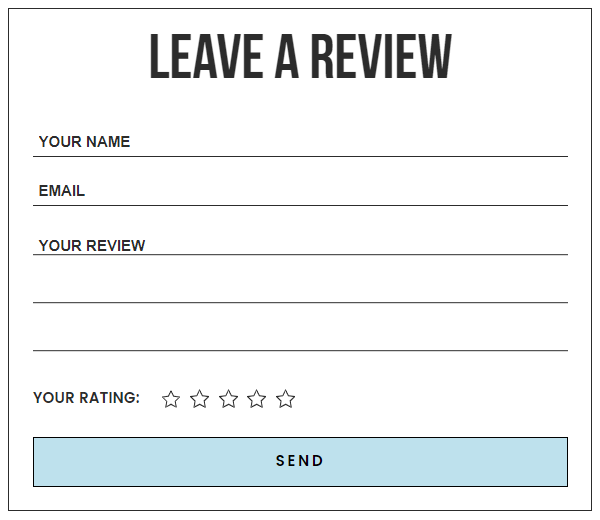 9. Lead magnet
A lead magnet is a bonus you offer for subscribing to newsletters. We've already looked at discounts mentioned in forms, but lead magnets can also be useful presentations, guides, checklists, a free consultation, or your product. A free trial for a certain period can also be an incentive for the user to leave their contacts. In addition, during this period the user will be able to "feel" the product, bringing them one step closer to purchase.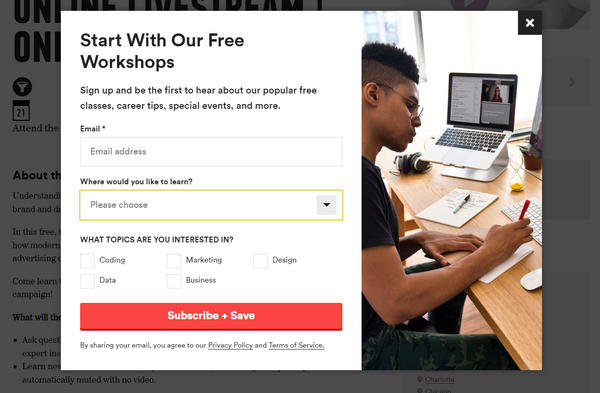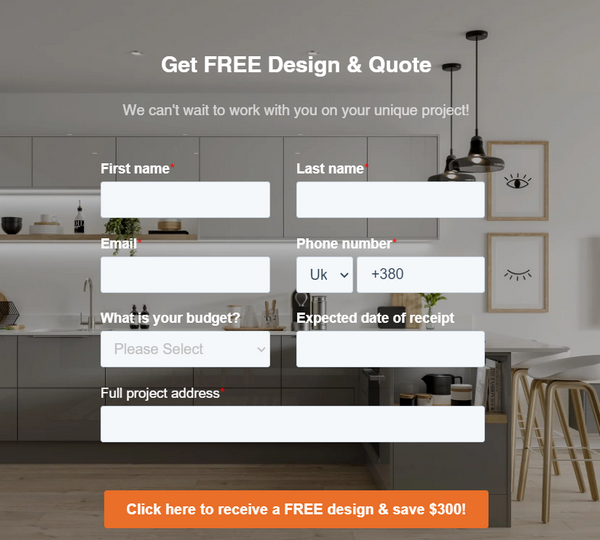 You can place such lead magnets on the site and in other places where you interact with potential customers: on pages in social networks, on individual landing pages, in the presentation for a webinar, and in catalogs.
10. Chatbot
Chatbots are a way for businesses to stay in touch with their audience at all times and for customers to get answers at any time of day or night. Customers can place orders through a chatbot, and it's also one way to compile a mailing database.
Contacts can be collected from order information forms and through invitations to sign up for newsletters.
What to consider before collecting contacts: the legal nuances of email lists
Consent to receive newsletters
In email marketing, reciprocity is important. Your audience should voluntarily agree to receive emails from you, and silence does not mean yes.
The user who subscribes to the newsletter must, at a minimum, check the checkbox to receive newsletters and, at a maximum, go through the double-opt in process.
Double-opt in is a two-step mail subscription confirmation. It is when you send an additional email asking users to confirm that they agree and want to receive the newsletter at their mailing address. And in some mailing services, double opt-in is mandatory for sending bulk emails.
Pros of double opt-in:
Quality contacts. If users pass the two-step check, you can be sure that they are interested in your brand.
High email deliverability. The double opt-in method helps marketers eliminate spam traps, misspelled emails, non-existent emails, and competitor attacks. It also helps avoid invalid or blacklisted emails that affect the reputation of the sender's domain.
GDPR compliance. Although double opt-in is not a condition of GDPR regulations (more on that below), it will be an additional reassurance to the user that you are not a spammer, your emails are legitimate, and their personal data will not end up on the Internet tomorrow.
Cons of double opt-in:
Slower database growth. Since the subscription process now consists of two steps, it takes twice as long to complete it. And some users may forget to check their email to confirm the subscription
Of course, you want to quickly gain a database and send them letters, but it's better to spend time on making it as high-quality as possible with only truly interested customers. Then, the costs will be lower and the conversions will be higher.
Data storage and the GDPR regulation
The GDPR (General Data Protection Regulation or General Data Protection Regulation) is an act of the European Union that establishes rules for the storage and processing of personal data in Europe.
Who does this concern? It involves those who plan to sell their products or services to the EU market and collect the contacts of EU residents.
Is it possible not to comply with GDPR? Only if you are not afraid of fines and losing the trust of your clients, because you are violating their rights. So if long-term relationships with your audience are still important to you and you don't want unnecessary legal problems, it's better not to take risks and build your marketing processes in accordance with all the rules.
How to segment an email list
Segmentation is the division of subscribers into different groups based on personal information, interests, and preferences. The goal of segmentation is to send more relevant offers, and as a result, increase conversions.
You can segment the base directly during the data collection through the questionnaire, or when the contact is already in the database. For example:
Based on the activity in the newsletters – the last reads and the number of conversions.
Based on orders – what was the average receipt, how many purchases were made, the date of the last purchase, and so on.
The main advantage of segmentation is that you can prepare and send the most personalized offers to each group of contacts, thereby increasing their loyalty to you.
In short...
An email list is a list of contacts who know about your brand, have interacted with it at some point, are minimally loyal to it, and have volunteered to receive emails.
The best method of obtaining an email list is to collect it yourself. Then the reputation of the domain will be maintained, and interest in the newsletters is much higher, as potential customers are already familiar with you.
There are different ways to gather a mailing database, and each niche has its own tool that works best. Whether to collect from the site, from social networks or chatbots, to offer a discount or a free consultation, it's up to you to decide how to motivate potential customers to sign up.
Before collecting information, keep in mind that you can only send bulk emails to contacts who agree to receive them. Place consent checkboxes in the subscription form or set up double opt-in (two-step confirmation).
Once your contacts are collected, take the time to think through how to segment them. This will make it possible to send the most relevant offers and increase mailing conversions.
FAQ
What is an email list?
A mailing list is a list of contacts who are familiar with the brand, voluntarily subscribe to news about the brand, and regularly receive newsletters from it.
How do I create an email list?
The best way to get a mailing list database is to collect it yourself, without resorting to methods such as buying or parsing. You can collect the base either directly from subscription forms or by other means:
registration and order forms;
lead magnets;
games and interactive features on the site;
webinars and other online events;
reviews and support chats;
chatbots.
What to do before collecting the mailing database?
Study the target audience, and analyze where and how you interact with potential customers. From these results, choose the best way to collect the mailing addresses.
Consider how to get consent to the newsletter: add a checkbox to obtain consent through the subscription form or set up double opt-in.
Learn the terms of data storage for your locale. If you work in the EU, ensure all your processes are compliant with GDPR regulations.
Found a mistake? Select it and press Ctrl + Enter