Complete Guide to Performance Max Assets and Specs
In Google Ads, Performance Max (PMax) is a new kind of campaign that works at all stages of the marketing funnel. PMax campaigns identify and track the user journey, focusing on conversions.
Not only that, PMax is powered by artificial intelligence. So, it is crucial to provide as much input as possible to launch and run this type of campaign effectively.
What does a PMax ad consist of?
PMax campaigns use the black box principle and machine learning algorithms to continuously test different combinations of ad assets. Based on the data obtained, the campaign then shows only the most effective ads in the relevant places, such as paid search results, YouTube, and Display Network. Therefore, for a PMax campaign to work at its best, advertisers must provide enough variations of texts, images, and videos.
To launch a campaign, go to PMax settings and fill in the assets, which are texts, images, and videos that will appear in the campaign. These assets will be used to create new clusters known as asset groups. Groups can be formed based on different principles and themes, such as brand, product category, and target group.
The PMax campaign mixes and compiles the assets of a group into ads for effective display on the Google network. Therefore, it is extremely important to provide the system with as much data as possible to ensure that your ads are shown in the correct format, in the best place, and to the right audience.
Text
Image
Video
Extensions.
PMax text assets
Text assets have six components:
Normal headlines. You can add a minimum of 3 and a maximum of 15 headlines to an asset. Each headline is up to 30 characters long.
Long headlines. You can create up to 5 long headlines, with a maximum of 90 characters for each. Google recommends creating as many long headlines as possible.
Descriptions. You can create a maximum of 5 descriptions that are up to 90 characters each. The recommended number of descriptions is 4, while the minimum is 2. Additional requirement: at least 1 description must be shorter than 60 characters.
Business name. PMax allows you to add one name that is a maximum of 25 characters long.

Call to action. The CTA is automated by default. Alternatively, you can select it from a drop-down list.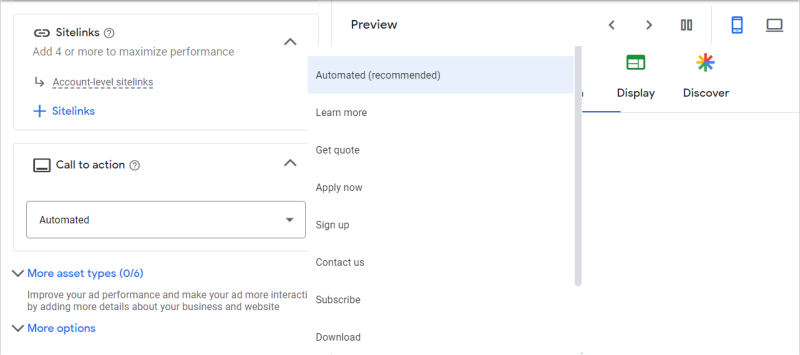 URL path. Maximum length 15 characters. Recommended number of assets: 2 (minimum: 1, maximum: 2).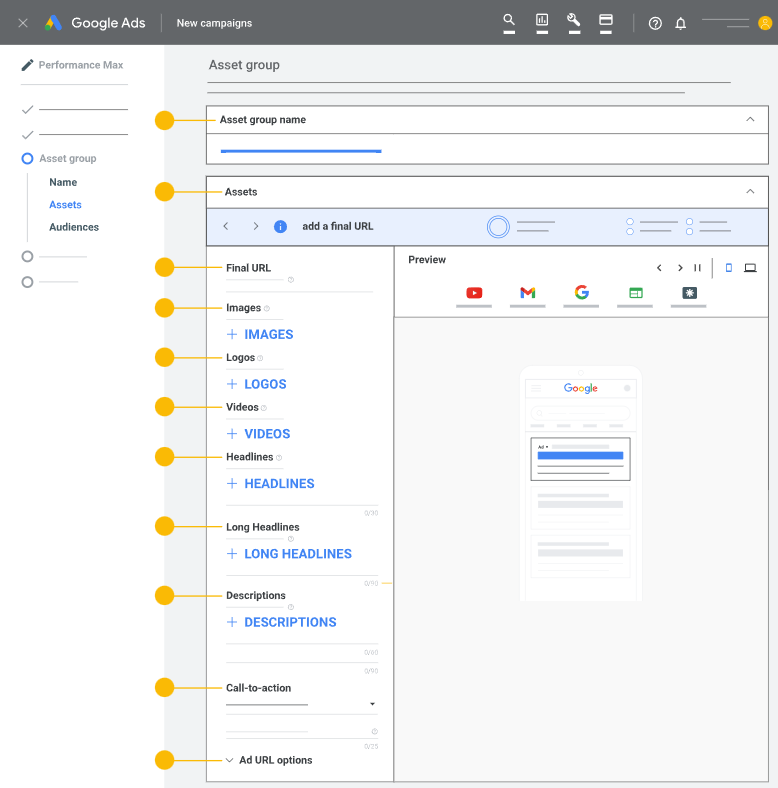 Image assets in PMax
There are five types of image assets in PMax campaigns:
| | | | | | |
| --- | --- | --- | --- | --- | --- |
| | Number of assets | Required ratio | Recommended size | Maximum file size | Recommendations |
| Landscape image | 3 (minimum: 1, maximum: 20) | 1.91:1 | 1200 x 628px, (minimum: 600 x 314px) | 5120 KB | Used in image search only |
| Square image | 3 (minimum: 1, maximum: 20) | 1:1 | 1200 x 1200px (minimum: 300 x 300px) | 5120 KB | Only for campaigns with the Store Visits feature. Can be edited in the interface. |
| Portrait image | 3 (minimum: 1, maximum: 20) | 4:5 | 960 x 1200px (minimum: 480 x 600px) | none | |
| Square logo | 1 (minimum: 1, maximum: 5) | 1:1 | 1200 x 1200px (minimum: 128 x 128px) | 5120 KB | |
| Landscape logo | 1 (minimum: 1, maximum: 5) | 4:1 | 1200 x 300px (minimum: 512 x 128px) | 5120 KB | |
Video assets in PMax campaigns
Video assets are specifically for YouTube, but they can also be displayed on the Display Network. You can add five video assets of different formats to one asset group. The main specifications for video assets are:
Minimum length: 10 seconds.
Required ratio: horizontal, vertical, or square.
Important. Videos in landscape format can automatically be resized by Google to square (1:1) or portrait (9:16) format if the corresponding video assets are missing or show poor performance.
If you don't add a video, it will be generated automatically based on other assets in the corresponding group. The auto-generated video will either be in the standard horizontal YouTube format or in a vertical YouTube Shorts format
When creating a video for an advertising campaign, pay attention to Google's recommendations for placing text or graphics in a video. This will help you avoid placing crucial content underneath the buttons. Another key tip is to add audio to your videos. Some users only listen to YouTube and do not look at the videos or do so only barely.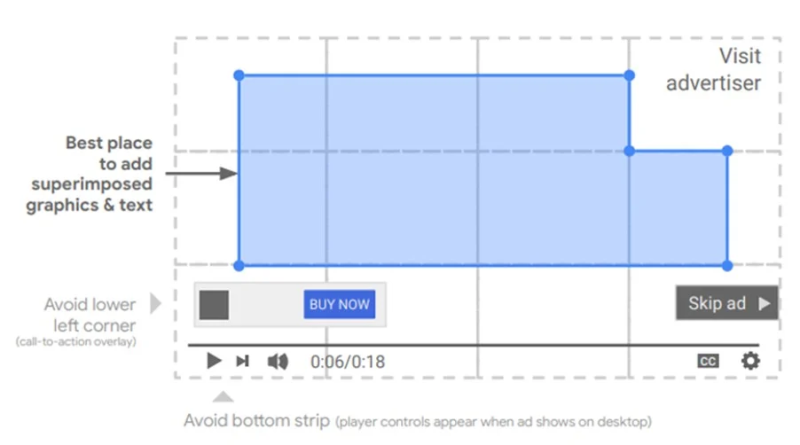 Asset-based extensions
Extensions or additional assets include offers, prices, calls, callouts, structured snippets, and lead forms for potential customers. Through asset-based extensions, you can add more information about your company to your PMax campaign.The increased visibility and prominence in search results will improve your ad performance and encourage users to take action. Remember to select extensions that are as relevant as possible to the campaign goals.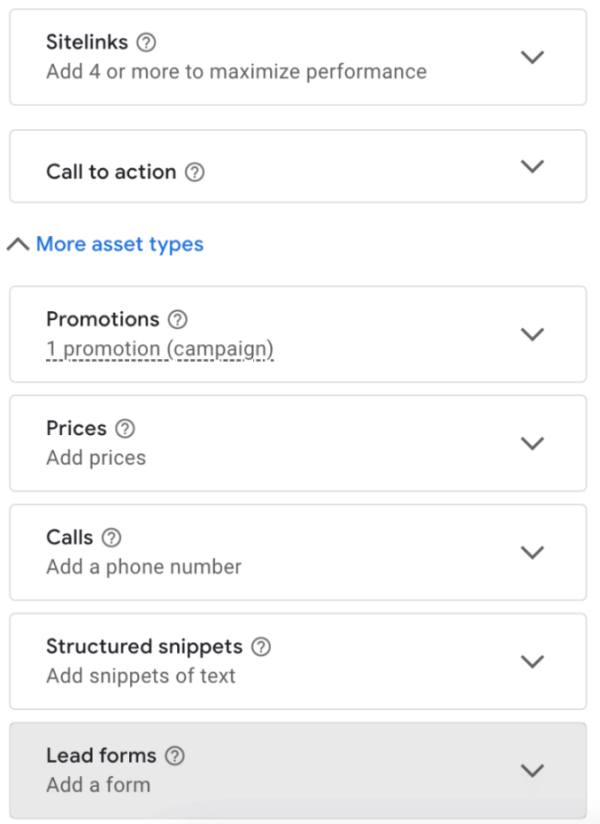 Read more about setting up PMax advertising campaigns:
Let's recap
PMax works on the basis of machine learning and the black box principle, so for an ad campaign to be effective, you need to provide a sufficient amount of input data in the correct format.
PMax ads are automatically generated from text, image, or video assets, and extensions.
Filling in all possible options for assets in PMax ads will allow the campaign to create the most effective ad and give you the best results.
FAQ
What are Performance Max assets?
Assets are creative expressions that include text, images, and videos. PMax uses these expressions to create ads on the Google network.
What assets does a Performance Max campaign include?
Assets can be categorized into text, image, and video assets. Text assets include a headline, long headline, description, business name, call to action, and display URL path. Image assets include landscape, square, and portrait images, as well as square and landscape logos.
How many characters can headlines and descriptions have in PMax campaigns?
The maximum length of headlines is 30 characters, while long headlines are limited to 90 characters. Descriptions are limited to 90 characters, except for one description that can contain only up to 60 characters.
How many headlines and descriptions can I add to PMax?
You can add 3 to 15 headlines and 1 to 5 long headlines. There can be 2 to 5 company descriptions.
What are the requirements for image assets in PMax?
Each image should be no more than 5120 KB. Additionally, the image should have the recommended size for its type, as follows:
landscape image (1.91:1): 1200 x 628px
square image (1:1): 1200 x 1200px
portrait image (4:5): 960 x 1200px
square logo (4:5): 1200 x 1200px
landscape logo (4:5): 1200 x 300px
What are the requirements for video assets in PMax?
PMax video assets need to be at least 10 seconds long and in either horizontal, square (1:1), or vertical (9:16) formats.
Do I need to add an ad extension in PMax?
Although ad extensions are not required to launch a campaign, it's highly recommended to add them. Extensions will boost the visibility and prominence of your ads in search results and provide additional engagement opportunities for users.
Found a mistake? Select it and press Ctrl + Enter